Entrepreneurs to compete at UToledo for $10,000 startup investment Oct. 24
October 21st, 2019 by Christine Billau
Five local startups will present their business ideas at the eighth annual Pitch & Pour competition sponsored by The University of Toledo's Launchpad Incubation program.
A Wi-Fi-enabled sump pump controller, a speech-therapy device to help children pronounce the "r" sound, and a system to protect Lake Erie from pollution are among the innovations vying for the $10,000 grand prize at 5:30 p.m. Thursday, Oct. 24 in the Nitschke Technology Commercialization Complex.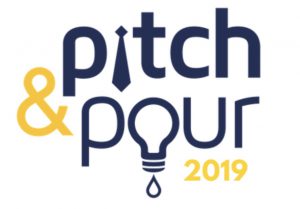 Teams have five minutes to pitch their business concepts to the top investors, venture capitalists, professors and business leaders in the area. Second place wins $5,000, and third place wins $2,500.
Attendees must pre-register for the free, public event at the Pitch & Pour website.
"Pitch & Pour has been a staple event for the entrepreneurial community for the past seven years, and we feel that this year's competitors have a lot of potential for growth and success," Brian Genide, director of incubation and venture development at UToledo, said. "We continue to work with the competitors and applicants once the event has ended. We act as advisors to ensure our entrepreneurs meet the growth milestones necessary for success."
The 2019 Pitch & Pour teams are:
Bite-R, a speech therapy device designed to help children produce the "r" sound. This device has been shown to reduce the time spent in speech therapy – saving schools money and improving children's lives.
Jaberu Sump Pump Controller, a Wi-Fi-enabled sump pump controller with a mobile app interface. The device can monitor and regulate multiple pumps, provide notifications of long cycles, and alert for high water levels and power failure.
PedoEndo Dental Innovation, a multi-sensor, hand-held dental probe that determines the health of a tooth without the need for verbal feedback from a patient.
Pelham Precious Metals, a disruptive antimicrobial, anti-odor, anti-infective and anti-HAI (healthcare-associated infection) coating for textiles. The coating adds protection to fabrics without interfering with the functionality of underlying coatings, such as fire retardants, wicking layers, water repellants and fabric softeners.
cHorizon, a three-tier system that measures, controls and extracts nutrients from a farm's water run-off before it makes its way to Lake Erie. It helps farmers monitor and manage soil and water resources to ensure the supply of clean water, improve soil health, build regenerative practices, and maximize profit within agricultural and hothouse industries.
This year's judges are all UToledo alumni and active entrepreneurs in Ohio and Indiana. They are:
Tony Pietrocola, president of Agile1, investor and board member with Metisentry;
Jason Daniels, president and CEO of JAYRAMON LLC;
Tracy Momany, vice president of plastic technologies at Guardian Medical USA and director of medical operations at Plastic Technologies Inc.;
Doug Rammel, president and founder of Abstract Reality Ventures and Social Net Watcher, and founding partner/investor of Didgebridge; and
Akib Amin, 2018 Pitch & Pour Winner and founder of GAFFL.
Pitch & Pour competitors are invited to join UToledo's Launchpad Incubation Program, which works to bolster innovation in northwest Ohio by providing access to capital, resources and expertise focused on enhancing community collaboration and communication for entrepreneurial development.
Launchpad Incubation at UToledo is one of northwest Ohio's leading business start-up and entrepreneurial assistance programs for innovative and high-tech concepts.  Launchpad specializes in concept advancement for new ventures and works with entrepreneurs to create profitable businesses for the region and beyond. Launchpad provides access to capital, business development resources and expertise focused on enhancing community collaboration and communication for entrepreneurial development.

Christine Billau is UT's Media Relations Specialist. Contact her at 419.530.2077 or christine.billau@utoledo.edu.
Email this author | All posts by Christine Billau
---