Erie Hack 2.0 competition at UToledo seeks to solve Lake Erie problems
April 24th, 2019 by Christine Billau
More than a dozen teams are set to compete at The University of Toledo in the first round of Erie Hack 2.0, an innovative water-solutions competition that includes more than $100,000 in prizes.
The program is organized by the Cleveland Water Alliance and brings together researchers, designers, engineers, developers and students around the region to build teams and develop innovations to accelerate technology solutions to Lake Erie's most pressing problems.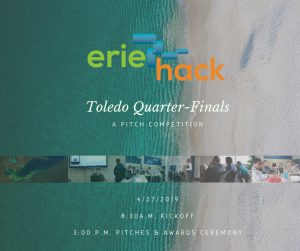 Winners of the regional competitions in Toledo, Detroit, Toronto, Cleveland, Erie and Buffalo advance to the semifinals Wednesday, June 5 in Detroit. Winners of the semifinals advance to the final Thursday, June 20 in Cleveland.
The competition is one of the events highlighting the 50th anniversary of the Cuyahoga River Fire and the progress made since 1969.
Toledo's quarterfinal kicks off 9 a.m. Saturday, April 27 at UToledo's Nitschke Technology Commercialization Complex with remarks from Congresswoman Marcy Kaptur and Toledo Mayor Wade Kapszukiewicz.
The event, which is free and open to the public, ends with an awards ceremony at 4:30 p.m.
"This is the second time we're hosting this event, and we're expecting even better projects and ideas to emerge this year,'' said Cleveland Water Alliance Executive Director Bryan Stubbs. "With so much focus on the Great Lakes from our new governor and the immense opportunity to create jobs around innovation on the lake, it's an exciting time."
"Resolution of our water challenges requires a clear definition of the core problems, paired with rigorous brainstorming and concept validation. Erie Hack is exactly that. Never before have I seen such a talented group of bright minds gathered in one place to solve an issue,'' said Blake Oatey, board member of the Cleveland Water Alliance and director of business development at Oatey, a Cleveland-based manufacturer and distributor of plumbing products.

Christine Billau is UT's Media Relations Specialist. Contact her at 419.530.2077 or christine.billau@utoledo.edu.
Email this author | All posts by Christine Billau
---