Archive for February, 2019
Thursday, February 28th, 2019
Dr. Gary Pollack has been selected to lead The University of Toledo College of Pharmacy and Pharmaceutical Sciences.
Pollack joins the University with more than 30 years' experience in higher education, most recently at Washington State University where he has served as dean of the College of Pharmacy since 2010. His appointment is effective Aug. 15.
"I am excited that Dr. Pollack will be joining us here at The University of Toledo. He is a respected scholar and successful leader who brings a notable breadth of experience that will benefit the College and the University as we continue to move forward," said Dr. Karen Bjorkman, interim provost and executive vice president for academic affairs.
Prior to joining Washington State, where he also serves as a professor in the Department of Pharmaceutical Sciences and was the university's vice provost for health sciences from 2011 to 2013, Pollack spent 26 years at University of North Carolina at Chapel Hill. He served as UNC's executive associate dean of the School of Pharmacy, chair and professor of the Division of Pharmaceutics and chair and professor of the Division of Drug Delivery and Disposition (formerly Pharmaceutics).
"The UT College of Pharmacy and Pharmaceutical Sciences is one of those rare pharmacy programs with a truly comprehensive mission: undergraduate, professional, and graduate education, coupled with faculty-led research and patient care," Pollack said. "Leading this vibrant community of educators, scholars and clinicians is an exciting prospect. I am very much looking forward to joining The University of Toledo and the broader Toledo community."
His research is focused on how drugs and toxicants affect the central nervous system, making major contributions to our understanding of opioid tolerance. Pollack is a Fellow of the American Association for the Advancement of Science and a Fellow of the American Association of Pharmaceutical Scientists.
Pollack serves currently on the Editorial Advisory Board of the Journal of Experimental Pharmacology, and served from 2002 to 2006 as Associate Editor of the Journal of Pharmaceutical Sciences. He also serves as a reviewer for numerous journals in his field, and as an ad hoc reviewer for the National Institutes of Health and the Health Effects Institute.
Pollack earned his doctorate in pharmaceutics from the State University of New York at Buffalo and bachelor's degree in chemistry/psychology from Knox College.
Bjorkman also thanked Dr. Amanda Bryant-Friedrich, interim dean of the College of Pharmacy and Pharmaceutical Sciences, for her leadership during the transition. She will return to her role as dean of the College of Graduate Studies and Vice Provost for Graduate Affairs, effective Aug. 15.
---
Tuesday, February 26th, 2019
The University of Toledo Engineering Career Development Center will host the Spring 2019 Engineering Career Expo from noon to 4 p.m. Wednesday, Feb. 27 in the Thompson Student Union Auditorium.
"This year continues to mark a milestone for the center: celebrating 20 years of placing more than 20,000 engineering co-ops," Angie Gorny, director of the Engineering Career Development Center, said.
More than 120 companies from across the United States and 700 engineering students, graduates and alumni will participate. Companies scheduled to have representatives on campus include Cooper Tire & Rubber Co., Dana Inc., GEM Inc., Johnson & Johnson — DePuy Synthes, GE Appliances, Honda, Matrix Service Co., Marathon Petroleum Corp., Owens Corning, Owens-Illinois Inc., PCC Airfoils, SSOE Group, and North Star Bluescope Steel LLC.
"This event is a dynamic networking and hiring experience for students to connect with companies seeking the talent they need for success," Gorny said. "The expo is exclusive to College of Engineering students who are enrolled in the mandatory co-op program, as well as College of Engineering alumni searching for full-time opportunities."
Employers are seeking undergraduate students to participate in engineering co-op assignments, as well as their leadership development programs, along with seniors and graduates for full-time employment.
"The current job outlook for engineering students at The University of Toledo Engineering College is certainly bright as indicated by the record number of students attending the college's career expos," Gorny said. "This reflects very positively on the quality of the University's engineering program and its students. It also demonstrates the vital and mutually beneficial partnership they have with industry participants."
The undergraduate mandatory co-op program is one of only eight mandatory engineering co-op programs in the country.
"Many students indicate that the co-op training is the reason they attend the College of Engineering at The University of Toledo," Gorny said. "Students experience one full year of professional engineering experience before they graduate, and they feel confident seeking full-time employment upon graduation. Co-op businesses are able to work with these students and determine how the student fits within their organization.  It's a win-win situation for both students and the companies who hire them."
---
Monday, February 25th, 2019
An independent coffee shop is celebrating its move to Gateway Plaza at The University of Toledo with a grand opening event Monday, Feb. 25.
Brew, which is open to the public at the retail center on the corner of UT Main Campus on Secor Road at Dorr Street, is offering $1 Americanos and free drip coffee or tea with the purchase of a pastry from 7 a.m. to 10 p.m.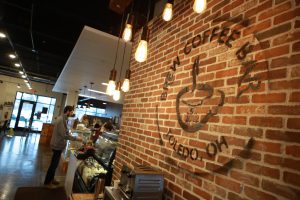 The coffee bar is located between Barnes & Noble University Bookstore and Huntington Bank. It moved to Gateway from its original location near campus on the south side of Dorr Street.
"We love coffee, and we opened our business in 2016 because we felt there was a need for coffee shops around The University of Toledo area," Jennifer Erd, owner of Brew, said. "Approximately 70 percent of our customers are students, so being closer to student housing, faculty and classrooms makes sense. Plus, Gateway gives us double the space."
Brew serves coffee from Zingerman's Coffee in Ann Arbor, along with local, made-from-scratch pastries and desserts from All Crumbs Artesian Bakery, 7 Little Cupcakes, Libby's 17 Second Cookies and So Sweet Lebanese and French Pastries.
Since the move, Brew added ice cream.
"We're selling pints by Hartzler Creamery out of Wooster, the same place we get our milk. It's delicious," Erd said. "With the ice cream, we've added affogatos to our menu – a scoop of vanilla ice cream drowned with a double shot of espresso. Coke floats are coming soon."
"Along with being an awesome local coffee shop, we want people to think of us as a nice, after-dinner option, too," she said. "We will continue to promote local artists by displaying and selling their work and offering open-mic sessions every month."
"Brew is a great addition to Gateway," Brenda Lee, president of the UT Foundation, said. "We are excited they have joined our vibrant campus."
Brew is located on the south end of the Gateway, which also includes Rice Blvd., Verizon Wireless Zone, Great Clips, Jimmy John's, Bubble Tea and Domino's Pizza.
Brew is open daily from 7 a.m. to 10 p.m.
Brew is an Alumni Association membership benefit partner. Alumni Association members can save 10 percent at Brew when they show their membership card.
---
Monday, February 25th, 2019
A team of scientists at The University of Toledo uncovered new, galling details in the intimate relationship between insects and plants, opening the door to new possibilities in protecting the source of wine and raisins worldwide from a major agricultural pest.
The biologists discovered grape phylloxera – the insect that nearly wiped out wine production at the end of the 19th century in France – hijacks a grape vine's reproductive programs to create a leaf gall, which it uses as a pseudo apartment for the parasite to siphon off the plant's nutrients. The research is published in the latest issue of Nature Scientific Reports.
A gall is an organ a little smaller than a marble on a plant that can look like a wart, flower or fruit and provides insects with a protected place to feed and reproduce.
"When galls form on a leaf, the flower genes are on. They shouldn't be activated, but the insect is manipulatively inserting its own signals into the pathway to get a flower-like result," said Dr. Heidi Appel, dean of the Jesup Scott Honors College at The University of Toledo and professor in the Department of Environmental Sciences.
The insect lays an egg and starts the process to exploit the plant's reproductive genetic machinery, directing the plant to create these structures.
Appel and Dr. Jack Schultz, senior executive director for research development at The University of Toledo, said Charles Darwin guessed at the idea in 1867 when he observed that the gall bears a certain degree of resemblance to the inside of a peach when cut open.
"We examined Darwin's hypothesis and found the insect forces the plant to use the same genes to make a gall that the plant uses to make a flower or fruit," Schultz said. "The plant produces the central part of a flower known as the carpel in a place the plant would never produce one on its own."
"In each case as we genetically held up a mirror to see the differences in the plant at each stage of galling, an insect injected some kind of signal into the plant," Appel said. "The signal took over the plant's development and told the plant to make a gall on a leaf instead of normal plant tissue."
Galls damage grape vines by draining resources and getting in the way of photosynthesis, resulting in lower yields.
By identifying the genes in grape vines that have to be activated for an insect to produce a gall, scientists can next find a way to block the insect from attacking the plant.
"While North American grape vines have developed the ability to resist phylloxera, one option is to cross breed plants to be genetically resistant," Schultz said. "Another option is to create a biologically based pesticide to spray on grape vines to manipulate the hormones in plants to be active at different times."
---
Friday, February 22nd, 2019
In the wake of allegations that Robert Kraft, the owner of the New England Patriots, solicited a prostitute, the director of The University of Toledo Human Trafficking and Social Justice Institute is available to speak with reporters over the phone about the criminal world of "modern day slavery."
"We need to focus on the demand-side of sexual exploitation," said Dr. Celia Williamson, professor of social work at The University of Toledo. "There are sometimes powerful people involved, and they are not above the law."
Williamson is a leader in the fight against human trafficking, defending the rights of women and girls on a local, national and international level through education, research and advocacy. Her work since 1993 has advanced the understanding of a horror that leaves victims suffering and hiding in plain sight.
She has consulted on anti-trafficking policies for the Ohio Attorney General's Human Trafficking Commission and the Ohio Governor's Human Trafficking Task Force.
Williamson hosts the oldest academic Human Trafficking Conference in the nation that in its 15th year welcomed more than 1,700 people – including 500 high school students – from 42 states and 30 countries.
UT's Human Trafficking and Social Justice Institute serves as home of the Lucas County Human Trafficking Coalition, a collaboration between the University, law enforcement and social service organizations to educate the community and provide a continuum of care to survivors of trafficking.
Contact Christine Billau at 312.805.3001 or christine.billau@utoledo.edu to connect with Williamson.
---
Tuesday, February 19th, 2019
Professional sales students from 36 universities across the United States will visit The University of Toledo College of Business and Innovation this weekend to compete in the fourth annual University of Toledo Invitational Sales Competition.
The Edward Schmidt School of Professional Sales at UT organizes this first and only national sales competition dedicated exclusively to juniors, sophomores and freshmen because graduating seniors are typically already placed in jobs due to high corporate demand.
"We believe that younger students are chomping at the bit to shine outside the shadow of a senior, and we are confident that they have the talent and coachability to compete on a national stage," said Deirdre Jones, director of the Edward Schmidt School of Professional Sales and the UT Invitational Sales Competition. "We are thrilled to bring tomorrow's top talent today to our sponsors so they can find the sales talent they need for internships and regular job placements."
The sales competition, which features nearly 200 role plays selling a product and more than 300 interviews, will take place Friday and Saturday, Feb. 22 and 23 in classrooms and meeting rooms throughout the Savage & Associates Business Complex on the UT Main Campus.
The first rounds of the competition will take place from 9:15 a.m. to 12:15 p.m. Friday, followed by the wild-card round from 1:45 to 3 p.m. and quarterfinals from 4 to 5:40 p.m. The competition will conclude Saturday with the semifinals from 8:30 to 9:20 a.m. and the finals from 10:30 a.m. to 1 p.m.
The winners of the competition will be recognized at an awards luncheon at 1:30 p.m. Saturday in the Thompson Student Union Auditorium.
The event also will feature a career fair for participating students from 9:15 a.m. to 12:15 p.m. Friday in the Thompson Student Union Ingman Room featuring sales leaders and recruiters from sponsoring companies.
More than 100 sales leaders and recruiters who participate serve as buyers and judges for the role plays and also interact with the students during coaching and interviewing sessions and the career fair.
Sponsors include 3M, Quicken Loans, Goodyear Tire and Rubber, International Paper and Procter and Gamble.
Participating universities include Baylor, Florida State University, Ball State, Oregon State, Temple and Purdue.
---
Monday, February 18th, 2019
Since she was a little girl growing up in Málaga, Spain, Dr. Ana C. Alba-Rubio brainstormed ways to motivate those around her to protect the planet.
"When I was 12 years old, I heard a neighboring community obtained a recycle bin," Alba-Rubio said. "I talked with my teacher and organized our own paper collection system. My friends and I hauled that garbage from school to the other neighborhood once a week to recycle."
Now an assistant professor of chemical engineering at The University of Toledo, she is pioneering a new method for factories to approach environmental stewardship and fight pollution with help from a five-year, $558,795 grant from the National Science Foundation.
The Faculty Early Career Development award, known as CAREER, is one of the most prestigious awards in support of junior faculty who exemplify the role of teacher-scholars through the integration of research and education.
Alba-Rubio is creating a dual-function material, which acts as an absorber and a catalyst, that could be placed at the top of industrial smokestacks as an alternative to current processes of capturing and sequestering carbon dioxide. The material would capture carbon dioxide and convert it into methanol and higher alcohols that could be fed into a fuel cell to produce electricity to power the plant.
Alba-Rubio's method would eliminate the energy requirement, corrosion and transportation issues associated with the processes currently used. Instead, the new material would transform carbon dioxide into a useful product on site.
"We must do as much as we can to reduce our carbon footprint and mitigate climate change," Alba-Rubio said. "Converting carbon dioxide into something useful could be a great economic benefit for the industry while reducing emissions."
World carbon dioxide emissions have increased 55 percent in the last 20 years, according to the Global Carbon Project, including 2.7 percent from 2017 to 2018, the largest jump in seven years.
As part of the grant-funded research, Alba-Rubio plans to engage students from elementary school to high school in her activities to expose them to chemical reactions and catalysis, as well as raise awareness of the effects of carbon dioxide on global warming.
"As a Hispanic woman, I have a strong interest in increasing the participation of underrepresented groups in science, and I will continue providing hands-on experiences to migrant students in Ohio's rural communities and other underrepresented students through the programs that The University of Toledo offers to Toledo Public Schools," Alba-Rubio said.
She is especially passionate about serving as a role model to encourage girls to pursue careers in science. Alba-Rubio is gathering support from other successful women across northwest Ohio in the fields of science, technology, engineering and mathematics to create a coloring book titled "Women Scientists Near You" to distribute to elementary schools throughout the region.
"The coloring book will feature stories of each of us to inspire girls to envision themselves on a similar path to success," Alba-Rubio said. "Each 'character' in the book will visit schools to share her experiences and do experiments. The goal is to catch their curiosity and build their confidence. Becoming a scientist is within their reach. It's an exciting career that can help change lives and create a better world."
---
Friday, February 15th, 2019
Two events will bring more than 600 area students to The University of Toledo to celebrate Engineers Week.
Founded in 1951, Engineers Week will be celebrated Feb. 17-23 and is dedicated to increasing understanding and interest in engineering and technology careers. The theme this year is "Engineers: Invent Amazing."
The UT College of Engineering will host its second annual Introduce a Girl to Engineering Day. More than 450 sixth- through eighth-graders from 20 school districts will visit the University from 10 a.m. to 2 p.m. Thursday, Feb. 21.
While on campus, the girls will tour the University's engineering facilities, eat lunch with UT engineering students, and spend the afternoon participating in hands-on activities.
"We're extremely excited for how much growth we've seen in the Introduce a Girl to Engineering Day, both in sheer numbers and the increase in exposure to more schools," said Bryan Bosch, manager of diversity, inclusion and community engagement in the UT College of Engineering. "There were 312 girls at the event last year."
Approximately 200 high school students from 24 districts will be on campus Tuesday, Feb. 19 to be an Engineer for a Day.
They will arrive at 9 a.m. and watch a movie, "Dream Big," in the Lois and Norman Nitschke Auditorium, and then learn about different careers during a tour of UT's engineering facilities, and engage in hands-on activities with UT engineering students. After lunch, the high school students will shadow a professional engineer in the community for the afternoon.
"We want to show students the wide range of possibilities a career in engineering offers," Bosch said. "Engineers design, invent and create things to make our world better — and they have a lot of fun, too."
---
Thursday, February 14th, 2019
We often hear about the psychological benefits of reconnecting with nature. Take a walk. Listen to birds chirping. Plant flowers.
Bringing people back into harmony with nature also can save wildlife.
The University of Toledo Lake Erie Center is hosting a free, public event about community-level solutions to wildlife conservation in an increasingly urban landscape.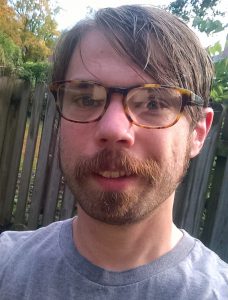 Matthew Shumar, program coordinator for the Ohio Bird Conservation Initiative and co-editor of "The Second Atlas of Breeding Birds in Ohio," will give a talk titled "It Takes a Village" 7 p.m. Thursday, Feb. 21 at the Lake Erie Center, 6200 Bayshore Road in Oregon.
The avian ecologist plans to speak about the Ohio Bird Conservation Initiative's Lights Out program designed to address light and glass issues that threaten birds in urban areas.
"Artificial lighting has become a major concern for migratory bird populations," Shumar said. "Birds attracted to bright lighting often fatally collide with buildings, and it is estimated that between 365 and 988 million birds are killed by collisions each year in the United States."
"Programs like the ones led by Matt are making a measurable difference in human impacts on migratory birds," said Dr. Henry Streby, ornithologist and assistant professor in the UT Department of Environmental Sciences. "Often the hardest part is gaining the attention of the public and policy makers about small changes that can make big differences for conservation. That's the hard work that Matt and his colleagues are taking on."
Streby studies rare songbirds and red-headed woodpeckers. His groundbreaking migration research revealed the key to population declines in golden-winged warblers.
The Ohio Bird Conservation Initiative is a collaboration of nonprofit groups, businesses, citizens and state and federal agencies working to advance bird conservation efforts.
Shumar's talk is part of the Lake Erie Center's Public Lecture Series.
A shuttle will be available to transport passengers from UT's Main Campus to the Lake Erie Center and back. The shuttle departs at 6:15 p.m. from the south side of Bowman-Oddy Laboratories, 3100 West Towerview Blvd. Passengers must reserve a spot.
Email lakeeriecenter@utoledo.edu or call 419.530.8360 to make a reservation for the shuttle.
The Lake Erie Center is UT's freshwater research and science education campus focused on finding solutions to water quality issues that face the Great Lakes, including harmful algal blooms, invasive species and pollutants.
---
Wednesday, February 13th, 2019
The University of Toledo is developing a virtual reality training to improve Ohio Medicaid providers' cultural competency and reduce implicit bias as a way to better understand the patients they serve. The virtual reality training focuses on the barriers to health care faced by those without stable, permanent housing.
UT faculty from the College of Medicine and Life Sciences and the College of Health and Human Services will conduct interviews and observe interactions in an area homeless shelter to build a realistic portrait of the health-care struggles experienced by individuals who depend on urban homeless shelters for their housing.
From that data, faculty and staff from the College of Medicine and Life Science, the School of Population Health in the College of Health and Human Services and the Interprofessional Immersive Simulation Center will create an interactive experience that will electronically place clinicians into a model homeless shelter as fly-on-the-wall observers.
"There's a lot of attention nowadays to how one's background and social structure impact not only their health but also how successful they are in using the health-care system," said Dr. Lance Dworkin, chair of UT's Department of Medicine and the primary investigator for the project. "If we understand that, we can integrate that knowledge into the care we provide so it's more effective."
The University also is building a robust evaluation component into the program that will monitor physical biomarkers such as heart rate, blood pressure and respiratory rate while participants are engaged in the simulation. Using assessment software developed by Dr. Scott Pappada, assistant professor of anesthesiology and bioengineering, and a co-investigator on the project, researchers will collect data before and after the simulation to learn how the program affects clinicians and whether it helps them connect with individuals who are marginalized by society.
The project is funded by a $1.24 million grant from the Ohio Department of Medicaid.
UT's work is part of a larger partnership between the Ohio Department of Medicaid and Ohio's medical schools, administered by the Ohio Colleges of Medicine Government Resource Center. Like many projects managed by GRC, the Medicaid Equity Simulation project is aimed at reducing health disparities, addressing the social determinants of health and improving patient care and health outcomes for Ohio's Medicaid population.
Over the course of the homeless shelter simulation, health-care providers will see rudimentary sleeping quarters, dining and social areas, observe the interactions between guests and staff and listen in on conversations gleaned from the real-life interviews.
"The big message here is how does one change clinical decision making based on what is learned about an individual in this environment," said Dr. Shipra Singh, assistant professor of health education and public health and a co-investigator on the project.
Singh, who is directing the scripts that will be used in the simulation, said those changes could be as simple as not forcing someone who has no access to reliable transportation to go to the back of the line if they're late for an appointment, or understanding that immediate lifestyle changes may not be possible.
"You need to listen to the patient rather than just look at them, and understand the cultural context they're coming from and what really matters to them," Singh said.
The program is expected to be ready to launch to Ohio Medicaid providers within The University of Toledo Medical Center in May and disseminated throughout the community by June.
---