UT joins national initiative focused on student success
November 20th, 2018 by Christine Billau
The University of Toledo is one of 130 public universities and systems selected to participate in an ambitious national effort to increase college access, close the achievement gap and award hundreds of thousands more degrees by 2025.
The Association of Public and Land-grant Universities, or APLU, recently announced the collaborators in the initiative, known as Powered by Publics: Scaling Student Success, who will work together within 16 clusters to implement innovative and effective practices to advance student success on their campuses.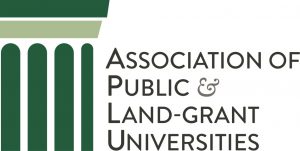 UT, which will be part of what is called the urban cluster, pledged along with all participants to join forces, share progress and refine, implement and scale innovative practices to help spur lasting change in higher education.
Powered by Publics represents the largest ever collaborative effort to improve college access; advance equity for low-income, minority and first-generation students; and increase college degrees awarded.
"The University of Toledo is proud to mobilize in this unprecedented effort to advance student success," UT President Sharon L. Gaber said. "Improving student and academic success is our top strategic priority and we are committed to working with our colleagues at public universities across the country to develop the best initiatives to support students to achieve their goals and also meet the economic and workforce needs of Ohio and the country."
"Over the past few years, we've witnessed a real and growing enthusiasm among public university leaders to advance college completion nationally," said APLU President Peter McPherson. "We have to seize the moment and mobilize institutions to improve not just college access, but also equity in student outcomes and the number of students who earn degrees. That's what Powered by Publics is all about and why we're thrilled to work with our member institutions toward such an important national goal."
Participating institutions reflect a wide variety of institutional characteristics, such as enrollment, student demographics, regional workforce needs and selectivity. The diversity is intended to help create reforms that can be adopted and scaled across the board.
Clusters will focus on different areas, such as financial aid and student financial literacy; data collection systems that monitor student progress; and career advising.
The effort will be overseen by APLU's Center for Public University Transformation, which was created this year and will regularly disseminate lessons learned from the participating institutions to the broader public higher education community.

Christine Billau is UT's Media Relations Specialist. Contact her at 419.530.2077 or christine.billau@utoledo.edu.
Email this author | All posts by Christine Billau
---