UT among schools named Best for Vets
November 5th, 2018 by Christine Billau
The University of Toledo has again been recognized as a top school for supporting student veterans.
UT is among 208 schools receiving the Best for Vets 2019 designation, according to the Military Times.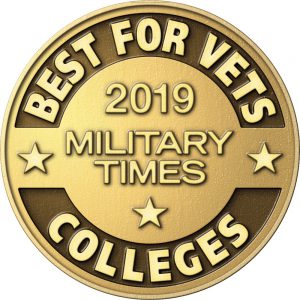 "We are happy to help our service men and women who enroll at The University of Toledo, and this Best for Vets designation recognizes our commitment," Dr. Barbara Kopp Miller, dean of University College, said. "It is an honor to help our veterans succeed."
"Military Times' Best for Vets designation is trusted throughout the veteran community as the mark of excellence for schools and other organizations that work with veterans, service members and military families. It can't be bought with advertising dollars — unlike some other supposedly veteran-friendly rankings — only earned through a record of steadfast service and dedication to those who have served," said George Altman, Military Times editor in charge of the rankings.
"Fewer than half of the roughly 500 colleges and universities that competed for the recognition earned the right to call themselves Best for Vets in 2019," he added. "Their efforts should be commended."
The rankings are based on the results of Military Times' annual survey — a comprehensive school-by-school assessment of veteran and military student services and rates of academic achievement — as well as a detailed review of public data collected by federal agencies.
Military Times' annual survey asks colleges and universities to disclose academic outcome and input data; describe many aspects of veteran culture on campus; and document a wide array of services, special policies, accommodations and financial incentives offered to students with military ties. Military Times also factors in data from the Veterans Affairs and Defense departments, as well as three Education Department sources: the Integrated Postsecondary Education Data Center, College Scorecard data and the Cohort Default Rate Database.
See the 2019 Best for Vets list on Military Times' website at rebootcamp.militarytimes.com.

Christine Billau is UT's Media Relations Specialist. Contact her at 419.530.2077 or christine.billau@utoledo.edu.
Email this author | All posts by Christine Billau
---