Author to discuss bystander inaction in free, public lectures titled 'The Crime of Complicity'
October 30th, 2018 by Christine Billau
Dr. Amos N. Guiora is the child of Holocaust survivors, and his paternal grandparents were murdered at Auschwitz.
The author and professor of law at The University of Utah who focuses on the role of the bystander is speaking at The University of Toledo next week.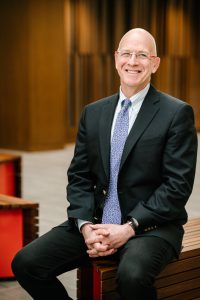 Guiora will present the David S. Stone Law Lecture Monday, Nov. 5 in the Law Center McQuade Auditorium. There will be two opportunities to attend this event: a lunch-and-learn lecture from noon to 1 p.m. and an evening lecture from 7 to 8:15 p.m.
The title of his talk is "The Crime of Complicity: The Bystander From the Holocaust to Today."
If you are a bystander and witness a crime, should intervention to prevent that crime be a legal obligation? Or is moral responsibility enough? In his 2017 book, "The Crime of Complicity: The Bystander in the Holocaust," Guiora addresses these profoundly important questions and the bystander-victim relationship from a deeply personal and legal perspective, focusing on the Holocaust and then exploring cases in contemporary society.
Sharing the experiences of his parents, who were Holocaust survivors, and his grandparents, who did not survive, and drawing on a wide range of historical material and interviews, Guiora examines the bystander during three distinct events: death marches, the German occupation of Holland, and the German occupation of Hungary. He explains that while the Third Reich created policy, its implementation was dependent on bystander non-intervention.
Bringing the issue of intervention into current perspective, he examines sexual assault cases at Vanderbilt and Stanford universities, as well as other crimes when bystanders chose whether or not to intervene, and the resulting consequences.
Guiora is a recognized scholar on national security and terrorism. He teaches criminal procedure, international law, global perspectives on counterterrorism, and religion and terrorism —incorporating innovative, scenario-based instruction to address national and international security issues and dilemmas.
Guiora earned his AB in history from Kenyon College, his JD from Case Western Reserve University School of Law, and his PhD from Leiden University.
The evening lecture is approved for 1.0 total Continuing Legal Education credit hours, with book sales and signing to follow, as well as a special tribute to Judge David Katz by U.S. District Judge Dan Aaron Polster.
"We are glad to continue our collaboration with the Toledo Jewish Community Foundation on this lecture series," said D. Benjamin Barros, dean of the UT College of Law. "The issues surrounding the obligations of bystanders are important and difficult, and I look forward to learning from Professor Guiora's talk."
This free, public lecture is co-sponsored by The University of Toledo College of Law and the Toledo Jewish Community Foundation of the Jewish Federation of Greater Toledo.
Register at utoledo.edu/law/events/stone-law-lecture.html.

Christine Billau is UT's Media Relations Specialist. Contact her at 419.530.2077 or christine.billau@utoledo.edu.
Email this author | All posts by Christine Billau
---