National prison reform researcher, author to discuss mass incarceration epidemic
October 12th, 2018 by Christine Billau
A national expert on prison reform is visiting The University of Toledo next week to give two free, public talks.
Dr. John F. Pfaff, professor of law at Fordham University, is the author of the 2017 book, "Locked In: The True Causes of Mass Incarceration and How to Achieve Real Reform."
"Dr. Pfaff's research shows that only by reducing the power and discretion of public prosecutors and reducing the length of prison sentences for violent offenses will we see any significant reduction in prison populations," said Dr. Renee Heberle, UT professor of political science and co-director of the UT Law and Social Thought Program.
On Tuesday, Oct. 16, Pfaff will give a talk titled "Moving Past the Standard Story: Rethinking the Causes of Mass Incarceration" at 7 p.m. in the Driscoll Alumni Center Auditorium.
And on Wednesday, Oct. 17, Pfaff will discuss "Sentencing Violent Offenders: Rethinking How We Confront Mass Incarceration" at 11:50 a.m. in Law Center Room 1002.
Pfaff spent 15 years researching imprisonment data to try to understand the 40-year boom in U.S. incarceration rates.
"The statistics are as simple as they are shocking: The United States is home to 5 percent of the world's population but 25 percent of its prisoners," he wrote in the introduction to "Locked In."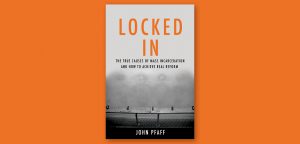 "Mass incarceration is one of the biggest social problems the United States faces today; our sprawling prison system imposes staggering economic, social, political and racial costs," he wrote.
"Professor Pfaff will discuss his research and recent book, which illuminates the previously underappreciated roles prosecutorial discretion and sentencing policy have played in driving up prison populations," Heberle said.
"While it is common to focus on recidivism rates, crime rates and non-violent drug offenders as causes for mass incarceration, Dr. Pfaff's careful empirical approach makes very clear that only limiting prosecutorial power and significantly reducing the length of sentences will ultimately render mass incarceration obsolete," she said.
The free, public events are sponsored by the UT College of Law and the UT Law and Social Thought Program.

Christine Billau is UT's Media Relations Specialist. Contact her at 419.530.2077 or christine.billau@utoledo.edu.
Email this author | All posts by Christine Billau
---