Filmmaker to discuss 'Recovery Boys' documentary, opioid epidemic
September 27th, 2018 by Christine Billau
An Academy Award-nominated filmmaker and director of the Netflix Original Documentary "Heroin(e)" is visiting The University of Toledo next week.
Elaine McMillion Sheldon, a Peabody Award-winning documentary filmmaker focused on the opioid crisis gripping her home state of West Virginia and much of the nation, will speak at the Jesup Scott Honors College Distinguished Lecture 6 p.m. Thursday, Oct. 4 in Collier Building Room 1000 on Health Science Campus.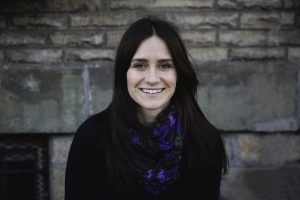 Attendees will watch a screening of her debut feature documentary, "Recovery Boys," which follows the lives of four men working to transform themselves after years of addiction. A question-and-answer session and dessert reception will follow.
"The number of people we lose to opioid overdoses daily tragically could not fit into most lecture halls on this campus," said Dr. Heidi Appel, dean of the Jesup Scott Honors College. "Sheldon's powerful message in the film is that despite all of the suffering reflected in this statistic, we can find hope."
Approximately 130 people die from opioid overdose every day across the country.
Not succumbing to sobering statistics representing stories of grief and loss, the film is optimistic. Recovery's path for these men runs through shattered relationships and strained sobrieties, but also new communities and the promises of lives better led. Their rehabilitation is facilitated by Jacob's Ladder, a rural West Virginia farmstead that promotes healing through mindful living and the natural rhythm of farm work.
"Whether you're a fan of documentaries, in the health professions, have had your life touched by the opioid crisis, or just want to meet an amazing young filmmaker out to change the world, you'll want to join us for this event," Appel said.
The event is free and open to the public. Register at utoledo.edu/honorslecture.
While on campus, Sheldon also will screen portions of "Heroin(e)" 8 a.m. Friday, Oct. 5 in Rocket Hall Room 1520.
At this second free, public event called "Coping With the Toll of Responding to Opioid Overdoses," Sheldon will participate in a discussion led by Dr. John Lewton, trauma intervention counselor and owner of Workplace Resources, and Dr. Cheryl McCullumsmith, UT professor and chair of psychiatry. The trio will talk about strategies and resources to promote the well-being of front-line responders and clinicians.

Christine Billau is UT's Media Relations Specialist. Contact her at 419.530.2077 or christine.billau@utoledo.edu.
Email this author | All posts by Christine Billau
---