UT students dig into history during archaeology field school at Side Cut Metropark
June 13th, 2018 by Christine Billau
If you walk the trails at Side Cut Metropark in Maumee, you may catch a glimpse of University of Toledo students armed with shovels and trowels on an archaeological dig.
"Our work in this area is intended to better understand the Native American use of the floodplain of the Maumee River," Dr. Melissa Baltus, archaeologist and assistant professor of anthropology, said. "We want to know if people were using this landscape for long-term villages or short-term resource extraction and campsites and when in the past this usage may have changed."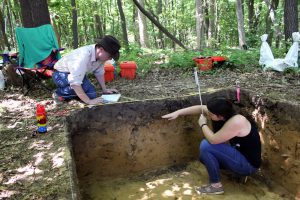 With permission from Metroparks Toledo and the Ohio Historic Preservation Office, Baltus is running the UT Archaeological Field School as a summer class to combine hands-on learning of archaeology techniques and local history research.
Artifacts students found last week during a survey at Side Cut led the team to this week's site in the park's Riverview Area.
"The refuse pit and the amount of pottery indicate likely habitation, and the different kinds of pottery suggest re-use of the site over many generations," Baltus said. "On the other hand, if we find the different types of pottery in the same contexts or in association with each other, this may suggest different groups of people gathering together at the same time."
The initial survey yielded grit-tempered pottery from the Late Woodland Period after A.D. 700, as well as shell-tempered pottery from the Late Pre-Contact Period between around A.D. 1300 and early contact with Europeans.
Students are receiving training in excavation techniques, record keeping, artifact identification, processing, cataloguing and classification.
Members of the media are invited to explore the excavation and interview the UT archaeologist and students from 10 a.m. to noon Thursday, June 14.
Baltus ran an Archaeology Field School at Wildwood Metropark in 2016.

Christine Billau is UT's Media Relations Specialist. Contact her at 419.530.2077 or christine.billau@utoledo.edu.
Email this author | All posts by Christine Billau
---