UT to recognize National Service Dog Month with talks, training demonstration Sept. 21
September 19th, 2017 by Christine Billau
To celebrate National Service Dog Month, The University of Toledo will host an event from 2 to 4 p.m. Thursday, Sept. 21 on the third floor of Carlson Library.
This free, public session will feature a talk by Dr. Janet Hoy-Gerlach, associate professor in the UT Social Work Program. Hoy-Gerlach will discuss her new book, "Human-Animal Interactions: A Social Work Guide." The book was co-authored with Scott Wehman, a UT alumnus who received a master's degree in social work in 2012.
"The focus of the new book is two-fold," Hoy-Gerlach said. "To raise awareness of the importance and benefits of the human-animal bond for human well-being and to increase the abilities of social workers and other helping professionals to respond to people in need who have animals."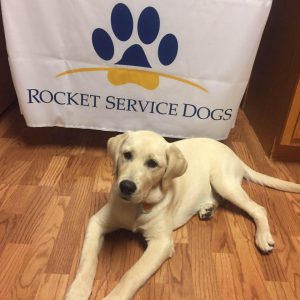 Rocket Service Dogs, a new student organization at UT, is eager to educate students on the service dog training process. The organization also will be at the event, along with several puppies that are in training.
"Knowledge about service dogs is important for the community because there is value in bringing awareness to the capabilities of the dogs, as well as the protections that they legally receive," said Summer Martin, vice president of Rocket Service Dogs. "It is important for people to understand the huge impact that an assistance dog can have on a person's life, along with the infinite number of services the dogs can provide."
Rocket Service Dogs partners with Assistance Dogs for Achieving Independence, a program of the Ability Center of Greater Toledo, to provide participants with information and resources for fostering and training the dogs in the program.
Jenny Barlos, client service manager for Assistance Dogs for Achieving Independence, also will be in attendance at the National Service Dog Month event to present and provide a training demonstration with a dog.
For more information on Rocket Service Dogs and how to foster a dog in training, contact rocketservicedogs@gmail.com.

Christine Billau is UT's Media Relations Specialist. Contact her at 419.530.2077 or christine.billau@utoledo.edu.
Email this author | All posts by Christine Billau
---