Archive for June, 2017
Wednesday, June 28th, 2017
Grab comfortable shoes and step it up at lunch to check out the new places featured in this summer's 33rd annual Discover Downtown Toledo Walking Tours.
The free, public tours will be held rain or shine from noon to 1 p.m. every Thursday from July 6 through Aug. 24.
Sponsored by the The University of Toledo Jack Ford Urban Affairs Center and the Toledo-Lucas County Public Library, the tours will be:
July 6 — Fifth Third Building. See the view from Toledo's tallest skyscraper. Meet in the lobby of One Seagate on Summit Street. Photo ID required for access to upper floors.
July 13 — The Oliver House, 27 Broadway St. Built in 1859, this is the Glass City's oldest commercial structure in continual use. Learn how the building has been adapted over the years. Meet in the parking lot.
July 20 — Adams Street and Uptown. Walk along Adams Street from 10th Street to 18th Street. Meet on the Toledo-Lucas County Public Library's north lawn at Adams and Michigan streets.
July 27 — Middlegrounds Metropark. See spectacular views of the city from Toledo's newest park. Meet at the main parking lot, 111 Ottawa St.
Aug. 3 — Westmoreland Historic Neighborhood. Experience one of Toledo's most elegant early 20th-century neighborhoods; it is a local and national historic district. Meet on the center island at Mt Vernon and Grand avenues.
Aug. 10 — Collingwood Arts Center. One of the earliest homes of the Old West End grew into a religious complex and then into one of the city's premier arts centers. Meet at 2413 Blvd. Parking available at center.
Aug. 17 — Royal Hotel. The new owners will discuss their restoration plans for the building. Meet in front of 337 Broadway St.
Aug. 24 — Old Orchard Neighborhood. Discover how this area got its name, and learn about its streets, architecture and early residents. Meet at Kenwood Boulevard and Pemberton Drive; park near Kenwood.
"We wanted to expand our offerings and explore other popular areas of Toledo this summer," said Dr. Neil Reid, UT professor of geography and director of the Jack Ford Urban Affairs Center. "The Middlegrounds Metropark, Royal Hotel, Collingwood Arts Center, and the Old Orchard and Westmoreland neighborhoods are new tours."
He added the tours are led by guides who are passionate about the city and trained in Toledo history and architecture.
Participants will receive a copy of the award-winning "Discover Downtown Toledo Walking Tour Guidebook."
For more information, call the Toledo-Lucas County Public Library Local History and Genealogy Department at 419.259.5233.
---
Tuesday, June 27th, 2017
The University of Toledo Water Task Force is hosting a free, public event about algal bloom toxins and the impact they can have on people.
Elizabeth Hamelin, analytical chemist for the Division of Laboratory Sciences in the Centers for Disease Control and Prevention's (CDC) National Center for Environmental Health in Atlanta, is giving a talk titled "Monitoring and Measuring Human Exposure to Algal Toxins" from 9 to 10 a.m. Thursday, June 29 in the Center for Creative Instruction Room 1200 on Health Science Campus.
Hamelin develops analytical methods to detect human exposure to toxins and poisons.
"Elizabeth Hamelin is a collaborator on microcystin research projects at UT, and her visit to campus is a great opportunity for the community to learn how scientists are examining what safe limits are for the public," David Kennedy, assistant professor in the Division of Cardiovascular Medicine in the UT College of Medicine and Life Sciences, said.
Kennedy's UT team is studying effects of algal bloom toxins on the liver using mice as a model.
"Microcystin is a toxin that specifically targets the liver, a vital organ that needs to be healthy in order to process the food you eat," Kennedy said. "We are reevaluating the level of microcystin exposure being called safe, whether it's swallowed while swimming at the beach or through the tap should toxic algae contaminate the public water supply."
The UT Water Task Force, which is comprised of faculty and researchers in diverse fields spanning the University's colleges, UT Medical Center and UT Lake Erie Center, serves as a resource for government officials and the public looking for expertise on investigating the causes and effects of algal blooms, the health of Lake Erie and the health of the communities depending on its water. The task force includes experts in economics, engineering, environmental sciences, chemistry and biochemistry, geography and planning, and medical microbiology and immunology.
Water quality is a major research focus at UT. With $12.5 million in active grants underway, UT experts are studying algal blooms, invasive species such as Asian carp, and pollutants. Researchers are looking for pathways to restore our greatest natural resource for future generations to ensure our communities continue to have access to safe drinking water.
Researchers and students help to protect the public drinking water supply for the greater Toledo area throughout summer algal bloom season by conducting water sampling to alert water treatment plant operators of any toxins heading toward the water intake. UT's 28-foot research vessel and early warning buoy enable UT to partner with the city of Toledo and the National Oceanic and Atmospheric Administration to monitor the health of the lake and provide real-time data.
---
Tuesday, June 27th, 2017
This summer The University of Toledo will host a five-week coding boot camp for people interested in learning how to write software and pursue a career in creating websites, mobile apps and video games.
The program hosted by Code City, a group of technology entrepreneurs in Toledo, is Monday, July 3 through Sunday, Aug. 6 in UT's Launchpad Incubation in the Nitschke Technology Commercialization Complex.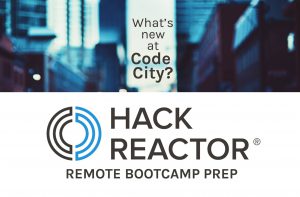 Participants will spend 30 hours per week during nights and weekends taking an online class to learn how to code.
The Toledo program, which is San Francisco-based Hack Reactor's pilot course in the Midwest, costs $250, and the registration deadline is Monday, July 3.
"This could be a fantastic opportunity for people in Toledo who want to become coders," said Nate Walke, co-founder of Code City. "At a time when we're seeing an exponential change in the tech sphere with self-driving cars, smart houses and automated everything, people who want to help build those things can learn how to do just that. They can literally build the future."
The first part of the Hack Reactor course covers JavaScript fundamentals. The rest of the curriculum covers computer science fundamentals, higher order functions, recursion and how to build a basic web application.
For more information and to register, go to codecity.co/hack-reactor-remote-2/.
---
Tuesday, June 27th, 2017
The University of Toledo is enrolling students for the first online PhD program approved in Ohio.
The Curriculum and Instruction: Special Education doctoral degree program starts in the fall semester and is open to up to six people across the country, specifically those who specialize in early childhood special education. It is the first such program to be offered online at a public or private university in the state.
"We are proud to play a pioneering role in the state of Ohio for making doctoral degrees more accessible to hard-working, full-time professionals who want to take the next step in their careers," UT President Sharon L. Gaber said. "This rigorous program of study is designed to prepare the leaders who will guide our education system into the future."
"Students can complete the program without having to set foot on UT's campus," said Dr. Laurie Dinnebeil, chair of the UT Department of Early Childhood, Higher Education and Special Education in the Judith Herb College of Education. "Students will have the opportunity to work with nationally known leaders in the field of early childhood special education, research and measurement."
Earning this doctoral degree would allow educators to advance into district, regional or state leadership positions. For example, they could serve as a state consultant to school districts, the director of a school district's special education program or work for agencies and organizations at the national level. They also would be able to teach at colleges and universities.
The 70-credit hour program is designed to be completed in less than five years by part-time students who register for six credit hours each semester, including summers.
All coursework is available online with the exception of two professional seminars that students can attend virtually using Skype or FaceTime technology if they cannot attend in person.
"I'd like to congratulate The University of Toledo for this innovative approach and for changing the dynamics of higher education by offering this degree," said Ohio Department of Higher Education Chancellor John Carey.
No matter the distance, students enrolled in the program will have access to all University services and resources relevant to the program, such as the UT Virtual Lab, and the library and all of its digital resources and databases. Students also will have access to supplementary support as needed, such as the UT Writing Center and College of Graduate Studies staff and resources.
Students will present information about their progress using web-based tools, such as discussion boards and webinars.
Course instructors, as well as the students' dissertation advisor and dissertation committee members, are already accustomed to working with students from a distance. UT offers an online master's degree and an education specialist degree program online, and students complete comprehensive examinations and master's projects online.
"Educational scholars are used to working by themselves in classrooms, schools or other settings that provide educational experiences," Dinnebeil said.  "That means that the quality of research that online students complete will not differ from the quality of research that traditional face-to-face doctoral students in our college complete."
To apply, go to utoledo.edu/admission.
---
Monday, June 26th, 2017
A librarian with more than 30 years of experience in academic libraries and museums will join The University of Toledo as the leader of University Libraries effective Aug. 1.
Beau Case comes to UT from the University of Michigan Library. During his 15 years at the University of Michigan, he served as head of the arts and humanities libraries and collections managing a $7 million budget and as field librarian for classical studies.
Prior to the University of Michigan, Case worked at The Ohio State University as associate professor and head of the Linguistics and West European Languages Library. He also worked in libraries at Indiana University and University of California at Los Angeles.
"I am proud to welcome Beau Case to The University of Toledo as dean of University Libraries," Dr. Andrew Hsu, provost and executive vice president for academic affairs, said. "His experience and understanding of the University research enterprise and learning environment will advance and strengthen our commitment to integrating new and emerging technologies with traditional library resources and services."
"This is a great time to join the UT community," Case said. "I was so impressed by the optimism and excitement I felt on campus during my interview and subsequent campus visits. I have had the chance to meet with longtime staff and faculty and with new administrators, and I was able to see both passion for tradition as well as for realizing a great future."
Case has master's degrees in library science and comparative literature from Indiana University and a bachelor's degree in English from the University of California at Los Angeles.
Case is a member of the editorial boards of Cambridge University Press; ProQuest; Collection Building; and Library Collections, Acquisitions and Technical Services.
UT University Libraries includes Carlson Library, Canaday Center for Special Collections and Mulford Health Science Library.
"Libraries are amazing at promoting and leveraging technology to enhance our collections and services," Case said. "We have been very successful in harnessing changes in IT and publishing to create ubiquity of information access on our campuses and in our communities. We must now concentrate on transforming our work to become more relevant and impactful in research, teaching and learning. Libraries and their expert staff, services, collections and spaces not only support the university mission, but also can enhance that mission by finding new ways to connect and partner with faculty and students in the research process and learning environments."
Case is familiar with OhioLINK institutions thanks to his time at Ohio State. He also regularly visits Ohio because this is where his wife's family lives.
"It is a dream come true to have been selected for this position – everything aligns so nicely professionally and personally," Case said.
Barbara Floyd, who had served as interim director, is retiring from the University after 31 years.
"We are grateful for Barbara's three decades of dedicated service to the University and her leadership during the last two years as interim director," Hsu said. "We wish her the best upon her well-deserved retirement."
---
Thursday, June 22nd, 2017
The University of Toledo President Sharon L. Gaber has been appointed to represent the Mid-American Conference on the NCAA Division I Presidential Forum.
The Presidential Forum, which consists of one president or chancellor from each of the 32 NCAA Division 1 Conferences, assists the NCAA Division I Board of Directors in accomplishing its strategic mission and helps ensure that the NCAA core value involving presidential leadership of intercollegiate athletics at the campus, conference and national level is achieved.
"I am honored to represent the Mid-American Conference as the Presidential Forum discusses and provides counsel on the issues facing the NCAA," Gaber said. "Intercollegiate athletics play an important role in higher education and I look forward to the opportunity to support our student-athletes and provide input on best practices for our campuses."
Gaber replaces Western Michigan University President John M. Dunn, who is retiring, as the MAC representative on the Presidential Forum.
The Mid-American Conference announced the appointments today.
---
Tuesday, June 20th, 2017
The U.S. Department of Education renewed funding for The University of Toledo Upward Bound program for the next five years.
The program that has been helping local high school students prepare for college and succeed for more than five decades will receive $417,693 a year through 2022 for a total of approximately $2 million.
"The University of Toledo is committed to helping low-income and first generation college students succeed," Pamela Rogers, director of UT Upward Bound, said. "We are grateful for the opportunity to continue impacting the lives of Toledo's students and plant seeds for higher education. After all, today's student is tomorrow's leader."
The funding allows the program to serve 100 high school students a year.
Rogers says for the last 24 years, 97 percent or more of participants have graduated high school, and the majority go on to college.
UT Upward Bound offers a six-week summer program on campus where students attend academic classes. This year 68 students are enrolled, and last year 60 students participated. Students also will travel to Washington, DC, this summer to visit colleges and cultural sites.
During the school year, the Upward Bound program offers workshops on taking tests, study skills and interviewing, as well as tutoring and financial aid advice.
"We want to raise high school GPAs to levels that make college entry possible," Rogers said. "Our goal is to help these students and their families follow their dreams."
---
Monday, June 19th, 2017
The Great Lakes Higher Education Corporation and Affiliates has awarded The University of Toledo a two-year, $420,000 grant to help low-income students who experience a financial emergency, such as an unexpected car repair or medical bill, focus on their studies and stay in college.
The Dash Emergency Grant allows UT to provide emergency grants for up to $1,000 per student to help pay for unexpected costs within 48 hours of the approved application.
UT is one of 32 four-year colleges in six states to be awarded $7.2 million in grant funding.
A student must meet income eligibility guidelines in order to receive a Dash Emergency Grant.
"Life is full of unexpected challenges and this grant provides another tool for us to help students through those emergencies so we can keep them in the classroom and on the path to graduation," UT President Sharon L. Gaber said.
Dr. Michele Soliz, UT assistant vice president for student success and inclusion, focuses on strategic retention initiatives and will serve as program director.
"I'm excited we received this highly competitive award," Soliz said. "Lack of financial aid is a main reason for not completing a degree. These funds will help students who find themselves in extreme circumstances that otherwise could mean the end of college. We will work collaboratively with partners across campus to make sure students are aware of these resources."
The UT Office of Multicultural and Student Success is hosting information sessions in July and August about how the application process works. The program will begin providing grants to students in fall 2017.
Since 2012, Great Lakes Higher Education Corporation and Affiliates has committed $3 million to fund emergency grant programs at two-year colleges. This is the first time Great Lakes is providing Dash Emergency Grants to four-year colleges in Arkansas, Iowa, Minnesota, North Dakota, Ohio and Wisconsin.
"We're pleased to extend our emergency grant program to four-year colleges dedicated to helping low-income students overcome financial obstacles," said Richard D. George, president and chief executive officer of Great Lakes. "In addition to helping more students progress to degree completion, we look forward to learning the nuances between programs at two-year and four-year colleges and sharing that knowledge with other institutions looking to establish emergency grant programs."
For more information, go to community.mygreatlakes.org/community/press-releases/issues/170615.
---
Wednesday, June 14th, 2017
Teenagers today and potential physicians tomorrow will learn the tools of the trade and practice their clinical skills at the 20th annual CampMed program at The University of Toledo.
The two-day CampMed program will be held Thursday, June 15 and Friday, June 16 on the UT Health Science Campus.
The 2017 class has 39 incoming freshman high school students from across northwest Ohio who will get a sampling of medical school participating in hands-on lessons such as learning to dress for the operating room and suturing wounds.
"It's imperative to reach out to young people early to nurture their interests in science and discovery. Their dreams for the future, which for some might include becoming a doctor, are attainable and we want to show them there are people who want to help," said Courtney K. Combs, director of the UT and Ohio Area Health Education Center (AHEC) programs.
"CampMed gives students the opportunity to learn first-hand what it's like to be in the medical field before they even start high school. The participants really enjoy learning from current students in the UT College of Medicine and Life Sciences."
CampMed is a scholarship program at no cost to the students, most of whom are first-generation college students and other underrepresented groups. The camp is sponsored by the UT AHEC program, which along with other programs throughout the country, strives to improve the health of individuals and communities by developing the healthcare workforce. First- and second-year UT medical students serve as camp counselors and the students also will interact with physicians and professors.
The students begin Thursday morning after the welcoming ceremonies with a Tools of the Trade session where they learn to use medical instruments such as blood pressure cuffs and stethoscopes. Lessons continue for two days with opportunities to tour a gross anatomy lab, make a cast and more.
** MEDIA OPPORTUNITY **
THURSDAY, JUNE 15
9:30 a.m. Tools of the Trade in Collier Building Room 1200
FRIDAY, JUNE 16
1 p.m. Suture Workshop in Health Education Building Room 103
CampMed, which began in 1998, is a competitive program that requires students to submit a letter of recommendation, a nomination from a science or math teacher or counselor and a personal essay to be chosen to participate.
---
Tuesday, June 13th, 2017
In honor of the upcoming total solar eclipse, the U.S. Postal Service is debuting a trailblazing stamp that features two images captured by Fred Espenak, a University of Toledo alumnus and retired NASA astrophysicist affectionately known as Mr. Eclipse.
The Forever Stamp uses thermochromic ink and changes upon touch. With the heat of a finger, Espenak's photo of the total eclipse of the sun transforms into an image of the full moon, also captured by Espenak.
"Other countries have used this technology, but it's the first time in the United States," Espenak said. "When you rub the stamp, a second image appears from the warmth of your finger. You'll see the total eclipse of the sun and, with the touch of your finger, you'll see the full moon."
On Monday, Aug. 21, a total solar eclipse will be visible from the United States mainland for the first time in 38 years.
"The track of the moon's shadow will cut diagonally across the nation from Oregon to South Carolina through 14 states," Espenak said. "Inside the 70-mile-wide path of totality, the moon will completely cover the sun as the landscape is plunged into an unsettling twilight, and the sun's glorious corona is revealed for more than two minutes."
Espenak has had a long career of chasing eclipses around the world. Planes, trains and automobiles have taken Espenak to 27 total eclipses on seven continents.
Millions have seen his work; Espenak's photos have been published in National Geographic, Nature and Newsweek.
To commemorate the Aug. 21 event, the Total Eclipse of the Sun Forever stamp will be released Tuesday, June 20, during a ceremony at the University of Wyoming in Laramie. Espenak and his wife will be there.
"I'm honored to have my photographs on a stamp. But more importantly, the stamp will spread the news about America's Great Eclipse to many more people," he said. "And what a fantastic opportunity. For a lot of people, this is the chance of a lifetime to see a total eclipse."
"Fred Espenak is another great example of a 'rocket scientist' who has really lived up to that name," said Dr. Karen Bjorkman, dean of the College of Natural Sciences and Mathematics; Distinguished University Professor of Astronomy; and Helen Luedtke Brooks Endowed Professor of Astronomy. "He has made solid contributions to NASA science missions for many years, and also is doing a wonderful job of sharing his passion for and knowledge of eclipses with the public both on national and international stages. We're really proud that he is an alumnus of The University of Toledo's Department of Physics and Astronomy."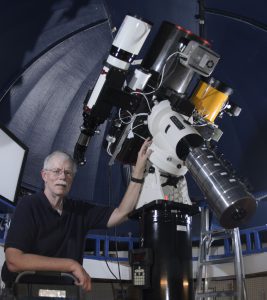 Espenak will return to his alma mater to speak Thursday, June 15, at 6:30 p.m. in UT's Memorial Field House Room 2100. He will preview the Great American Total Eclipse on Monday, Aug. 21 that will star the moon passing between the sun and Earth, which will be visible in the contiguous United States for the first time since 1979 — weather permitting.
During the free, public talk funded by the Helen Luedtke Brooks Endowed Professorship in Astronomy, the 1976 UT graduate who received a master of science degree in physics will discuss eclipses and share his eyewitness accounts around the globe through video and photos.
And he'll offer two words of advice: road trip.
"I'm going to show people what they can expect to see in Toledo and how to watch it using safe eye protection, but I'm also going to encourage people to start making plans for a car trip to the eclipse path of totality because that's where you have to be to see the total phase of the eclipse, and it's worth the drive.
"It's something you remember your entire life because it's so unusual from anything you've seen before," Espenak said. "The bright sun is completely gone in the sky, and you see this very strange-looking black disc, which is the unilluminated side of the moon, and it's surrounded by this gossamer, feathery halo that's the sun's corona, which is two million degrees. It's the only time you can see something that's two million degrees with the naked eye. It's such a stunning, overwhelming experience: The temperature drops probably 10 degrees as you go into totality, so you feel a chill in the air; animals react strangely; birds quiet down as if they're going to roost at night."
Espenak, a retired astrophysicist from NASA's Goddard Space Flight Center, operates the Bifrost Astronomical Observatory in Portal, Ariz. He is the author of "Eclipse Bulletin: Total Solar Eclipse 2017" and "Road Atlas for the Total Solar Eclipse 2017."
To view Espenak's work, go to mreclipse.com.
For more about the commemorative stamp, go to about.usps.com/news/national-releases/2017/pr17_020.htm. The public is asked to share the news on social media using the hashtag #EclipseStamps.
---