Archive for November, 2016
Wednesday, November 30th, 2016
Thursday, December 1, 2016
Radisson Hotel, 3100 Restaurant
8:00 a.m. Board of Trustees Social Breakfast

Wednesday, December 7, 2016
Driscoll Alumni Center, Board Room
5:30 p.m. Board of Trustees Social Dinner

Monday, December 12, 2016
Driscoll Alumni Center, Schmakel Room
10:30 a.m. Clinical Affairs Committee Meeting
1:00 p.m. Academic and Student Affairs Committee Meeting
1:15 p.m. Finance and Audit Committee Meeting
1:30 p.m. Trusteeship and Governance Committee Meeting
1:45 p.m. Board of Trustees Meeting
A luncheon will be served for Trustees after the morning session.
Any questions may be directed to the University Communications Office by calling 419.530.2410 or via email at meghan.cunningham@utoledo.edu.
---
Wednesday, November 30th, 2016
The University of Toledo Medical Center's Ryan White Program will host a forum discussing the many challenges of HIV and AIDS.
The free event will take place on World AIDS Day, Thursday, Dec. 1, in the Driscoll Alumni Center Auditorium on UT's Main Campus. Light refreshments will be served at a reception from 5 to 5:30 p.m. followed by a panel discussion.
"The goal of the Ryan White Program and World AIDS Day is to reduce the stigma surrounding the HIV epidemic and to open a dialogue to educate the public about the myths and facts associated with HIV," said Kennyetta White, minority outreach coordinator. "We need to work together to change public perceptions. While HIV infection rates are down, we still need to talk about risk factors and preventative measures."
Panel members will include individuals living with or affected by HIV, as well as community health-care and service providers. The panelists will offer insight into the world of HIV and field questions from audience members.
World AIDS Day has been recognized every year since 1988 to raise awareness of the AIDS pandemic and recognize those who have lost their lives to the disease.
"This forum is open to students, faculty, the HIV community and anyone else interested in learning more about HIV," said Te'Anne Townsend, senior public health major and intern with the Ryan White Program. "This is an opportunity to separate fact from fiction, educate the public, and work to end stigma."
UTMC's Ryan White Program offers high-quality comprehensive HIV/AIDS care services. The program uses a multidisciplinary model that incorporates health care, mental health services and case management for those affected by HIV/AIDS in Lucas County and the surrounding counties in northwest Ohio.
"We encourage UT students and young adults in the community to attend," said Megan Cooper, master of public health student and intern with the Ryan White Program. "It's important for young people to understand risks of contracting HIV and the effects it has on a community to make a difference for future generations."
---
Wednesday, November 30th, 2016
More than three weeks after Republican Donald Trump defeated Democrat Hillary Clinton in the 2016 presidential election, a panel of scholars at The University of Toledo will participate in a public forum to analyze the election cycle, its results and what happens next.
The event, which is open to the public and sponsored by the UT College of Law and the School for Interdisciplinary Studies in the College of Arts and Letters, is 7 p.m. Thursday, Dec. 1 in the Law Center Auditorium.
"We want to bring our community together to engage in constructive discussion and debate about the changes underway with Trump's victory," Dr. Renee Heberle, political science professor, said. "Topics will include appointments to the White House advisory staff and cabinet, historical comparisons to past presidential elections, constitutional issues and feminist perspectives on the campaign and outcome."
Panelists include Dr. Jeff Broxmeyer, assistant professor of political science; Dr. Jetsabe Caceres, assistant professor of political science and director of the Global Studies Program; Dr. Sharon Barnes, associate professor of women's and gender studies; Benjamin Davis, professor of law; and Rebecca Zietlow, the Charles W. Fornoff Professor of Law and Values.
After presentations from panelists, the audience will be invited to ask questions and offer input.
---
Tuesday, November 29th, 2016
The James Webb Space Telescope, successor to 26-year-old Hubble, will be the largest and most powerful ever sent into orbit when it blasts off in the fall of 2018.
To prepare for Webb's decade in space in search of a planet that could support life, NASA selected a University of Toledo PhD student studying small stars and the exoplanets closely orbiting them to join the team.
Kevin Hardegree-Ullman will contribute to choosing which planets the new space telescope will observe.
"There is going to be a lot of competition between astronomers for time on that telescope, which has an enormous gold-coated mirror and is much larger than Hubble," Hardegree-Ullman said. "Before Webb launches, we will choose the best stretches of sky to look for another Earth-like planet. The best candidates are around low-mass stars that are less than half the size of the sun. Those are the stars that I have been focused on for years. This is an awesome opportunity."
Because of his published work and experience collecting data about brown dwarfs using the Spitzer Space Telescope, Hardegree-Ullman won a NASA Graduate Fellowship that will pay for him to work with NASA scientists for six months.
In January Hardegree-Ullman heads to the NASA Infrared Processing and Analysis Center for Infrared Astronomy at the California Institute of Technology in Pasadena, Calif., to identify a handful of locations to target in our galaxy where it's most possible to find planets with water.
"We've already identified a bunch of star systems with planet candidates," Hardegree-Ullman said. "My job will be to make sure there is a planet there using the data from the Spitzer Telescope and then figure which of these planets are the best to look at in follow-up observations with the future telescope."
Hardegree-Ullman is the second UT PhD student in astronomy to recently win one of these competitive awards. Aditya Togi won the same NASA Graduate Fellowship in 2014.
"Kevin will get to interact with some of the best scientists in the world in an entirely new academic environment – something graduate students very rarely get to do," said Mike Cushing, associate professor of astronomy and director of UT's Ritter Planetarium and Hardegree-Ullman's faculty advisor.
Hardegree-Ullman worked as a NASA Space Grant intern in 2011 while an undergraduate at the University of Arizona. He studied a specific molecule in interstellar clouds where stars form.
The PhD student now hunts for exoplanets by identifying dimming patterns caused when a planet blocks out a portion of a star's light.
"It's easier to find a smaller planet around a smaller star," Hardegree-Ullman said. "Low-mass stars have a lower temperature, and that means a habitable planet has to orbit a lot closer to the star. It's beneficial to an astronomer because you might only have to wait a couple weeks to watch the transit and find an Earth-size planet that could potentially contain water. You can determine size and radius monitoring the star's light output. With a star the size of the sun, you have to wait an entire year."
"Winning this fellowship highlights the caliber of scientist that Kevin has become during his time at UT," Cushing said.
---
Friday, November 25th, 2016
Come hang out with Santa and Rudolph as they learn how to find their way home using constellations in The University of Toledo Ritter Planetarium's annual showing of "Santa's Secret Star."
The holiday program is shown on the full dome and targeted toward children four to eight years of age.
After Santa finishes his Christmas deliveries, he and his reindeer become lost. Without a compass, he and Rudolph turn to the constellations for help, and the stars lead them to the North Star, which guides them home.
The original show was written in 1988 by Ritter Planetarium Associate Director Alexander Mak, and it has been updated for the planetarium's new projection system.
"It's one of our more popular shows during the year," Mak said. "It's educational, it's entertaining, and it's seasonally appropriate."
Admission to the program is $7 for adults and $5 for children, senior citizens and UT community members. All children younger than four are free.
The first show of the season is 7:30 p.m. today (Friday, Nov. 25). The program will be held Fridays at 7:30 p.m. and Saturdays at 1 p.m. through Dec. 17. Doors will open 30 minutes prior to the show.
After Friday night programs, guests are taken to one of two of the observatories for sky viewing, weather permitting.
---
Monday, November 21st, 2016
The U.S. Department of Commerce awarded The University of Toledo $500,000 to help launch startup companies, move ideas to market and spur job creation through faculty research.
Nearly $15 million was given to 35 organizations from 19 states through the Economic Development Administration's Regional Innovation Strategies (RIS) program.
The total available to researchers in the northwest Ohio region is nearly $1.3 million after the University matched the i6 Challenge grant with an additional $767,903 through the Rocket Fuel Fund.
Researchers from academic and other non-profit institutions are eligible to receive funding.
"This is an incredible opportunity for UT faculty and academic researchers throughout the northwest Ohio region to apply for this funding and help move their new technologies toward commercialization, including women and minorities who are typically underrepresented in innovation and entrepreneurship," said Anne Izzi, licensing associate at UT's Office of Technology Transfer.
The selected recipients of Rocket Fuel grants will be awarded between $5,000 and $50,000 each to enhance the scope or patentability of inventions and improve market potential through targeted research, customer discovery and development of a prototype and business model.
"The RIS program advances innovation and capacity-building activities in regions across the country by addressing two essential core components that entrepreneurs need to take their ideas to market: programmatic support and access to capital," U.S. Commerce Secretary Penny Pritzker said. "As America's Innovation Agency, the Commerce Department has a key role to play in supporting the visionaries and job creators of tomorrow. Congratulations to today's awardees who will make U.S. communities, businesses, and the workforce more globally competitive."
Dr. William Messer, professor in the UT Department of Pharmacology and Experimental Therapeutics, plans to apply for i6 Challenge grant funding as his lab creates a drug to help autism patients make new patterns of behavior to live a more normal life.
"There is a lot of work to do, but we would like to move this compound into clinical trials to see if it can help treat restricted and repetitive behaviors associated with autism," Messer said. "We are exploring a number of options to obtain the funding needed to develop the patented technology, and the i6 Challenge grant represents an important new source of funding at the local level."
215 organizations applied for the grant funding, including nonprofits, institutions of higher education and entrepreneurship-focused organizations.
"The 2016 RIS grantees will reach a variety of communities and help entrepreneurs gain the edge they need to succeed," said Jay Williams, U.S. Assistant Secretary of Commerce for Economic Development. "The diversity in programs and regional representation proves that innovation and entrepreneurship are igniting all corners of the country and is a recognized tool for economic growth and resilience."
---
Monday, November 21st, 2016
Acoma Pueblo poet Sara Marie Ortiz will give the keynote address for The University of Toledo's celebration of Native American Heritage Month.
She will speak at 7:30 p.m. Monday, Nov. 28, in the Student Union Ingman Room. 
Ortiz is the author of a collection of poems, Red Milk, published in 2013. Her works have appeared in Ploughshares and New Poets of the West, as well as a 2011 anthology, Sing: Indigenous Poetry of the Americas. 
A filmmaker, she has worked on "Search for the World's Best Indian Taco" (2010), "Indios Primeros" 2010 and "Made in New Mexico" (2012). She is making a documentary on the life and legacy of her father, poet Simon J. Ortiz.
An indigenous peoples activist and performing artist, Ortiz received a bachelor of arts degree from the Institute of American Indian Arts and a master of fine arts degree from Antioch University Los Angeles. She is an education administrator in Burien, Wash.
The free, public talk is sponsored by the Office of Excellence and Multicultural Student Success, the Division of Student Affairs, and the Department of English Languages and Literature.
---
Thursday, November 17th, 2016
The University of Toledo and Detroit Red Wings are teaming up for the second year in a row to help UT business students find jobs in the sports management industry.
Representatives from 14 professional sports teams across the country will be on campus for the Ticket to Success Sales Workshop 9 a.m. to 4 p.m. Friday, Nov. 18 in Student Union Rooms 2582 and 2584.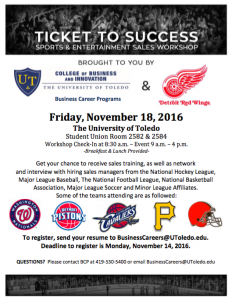 Undergraduate students in the UT College of Business and Innovation will receive sales training and network with sales managers who are hiring from the National Hockey League, Major League Baseball, National Football League, National Basketball Association, Major League Soccer and minor league affiliates.
Students also will interview for jobs with individual teams in the afternoon.
"This is primarily for students interested in marketing and sales positions," said Craig Turner, UT career recruiter adviser. "The Edward Schmidt School of Professional Sales is widely recognized as one of the top educational sales programs in the nation. We are proud these professional sports organizations are eager to recruit our talented students."
"We're always looking for the next sales star in our growing industry," said Paul Bee, director of ticket sales for the Detroit Red Wings. "The University of Toledo, which is right in our backyard, has a great business school. We want to create an environment to help those students grow."
Participating teams include the Cleveland Cavaliers, Pittsburgh Pirates, Detroit Lions, Detroit Pistons, Portland Trailblazers, Washington Nationals, Columbus Crew, Cleveland Browns, Columbus Blue Jackets and New Jersey Devils.
---
Thursday, November 17th, 2016
With tension nationwide between police and civilians, George W. Hayes Jr. believes some people have forgotten how to trust.
With the intent to bridge the trust level between young people in the Toledo and surrounding areas with men and women in uniform, The University of Toledo electrician and Toledo Bowling Senate junior coordinator organized the Build-A-Trust-Bowl-A-Thon.
The event will take place 11 a.m. Saturday, Nov. 19 at the Toledo Sports Center, 1516 Starr Ave. Police, firefighters, military, kids, students and community members are encouraged to attend.
Hayes said his hope is to make Toledo a better place, even if it's one event at a time. He has been involved in a youth bowling league for the past 32 years and has witnessed firsthand the issues affecting today's youth.
"People need to be able to tell someone when something bad happens; it helps us all in the long run," Hayes said. "Trust is a must. Not all folks in uniform are bad people, and the same goes for the individuals not in uniform."
The cost to bowl three games is $5 per person. Kids 17 and younger bowl for free courtesy of Jon Harris of McDonald's, who is helping sponsor the event.
There will be music and door prizes during the bowl-a-thon.
For more information, contact Hayes at george.hayes@utoledo.edu.
---
Thursday, November 17th, 2016
As winter approaches and the mercury drops, you may be tempted to snuggle a little closer to your bed partner overnight. But one University of Toledo Medical Center physician warns your warm and snuggly sleep position could cause nerve problems.
Dr. Nabil Ebraheim, professor and chair of the Department of Orthopedic Surgery, said a condition called radial nerve palsy can develop when the radial nerve is compressed near the elbow.
The radial nerve runs along the underside of the arm and controls the movement of the triceps muscle and is responsible for enabling extension of the wrist and fingers. It also controls sensation in part of the hand.
"Radial nerve palsy is often referred to as honeymoon palsy, due to the closer sleeping habits of newlyweds," he said. "When your partner falls asleep while laying on your arm, the radial nerve and surrounding muscles are compressed, which can cause numbness and prolonged tingling in the fingers or even restrict movement in the hand or wrist."
Wrist drop is a rare, but disabling condition that causes paralysis of the muscles that normally raise the hand at the wrist and can make it difficult to move the hand or fingers.
Radial nerve palsy is treated by supporting the wrist with a brace or splint and through physical therapy that helps to maintain muscle strength and reduce contracture. The nerve usually recovers within a few weeks, but in some cases it could take four to six months. Extreme cases, including wrist drop, could require surgery.
Ebraheim said the best way to avoid developing these conditions is to reevaluate the way you sleep.
"People should be mindful of their sleep position to reduce the risk of nerve injury," Ebraheim said. "It's best to avoid positions that place pressure on the upper arm either from snuggling up with a loved one or sleeping with your arm curled under your head."
---