'Reproductive Rights and Justice Beyond Roe v. Wade' Topic of April 13 Lecture
April 11th, 2022 by uteditor
A national expert on the reproductive rights movement will discuss how Roe v. Wade has had an outsized place in the understanding of reproductive rights as part of The University of Toledo College of Law's Cannon Lecture series.
Dr. Felicia Kornbluh, a professor of history and gender, sexuality and women's studies at the University of Vermont, will give her free, public lecture, titled "Both Sides: Reproductive Rights and Justice Beyond Roe v. Wade," at noon on Wednesday, April 13, in the McQuade Law Auditorium at the Law Center.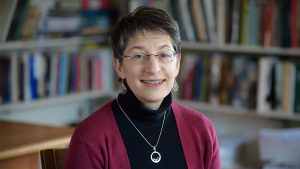 Kornbluh will draw upon the findings in her latest book, "A Woman's Life is a Human Life: My Mother, Our Neighbor, and Reproductive Rights and Justice — New York and the Nation." The forthcoming book, which is being published by Grove Atlantic Press, is a history of reproductive politics that starts with a pair of neighbors on the eighth floor of a New York City apartment building.
Kornbluh's research has followed her mother and her neighbor, Dr. Helen Rodríguez-Trías, into the feminist law-reform campaigns in which they made their most renowned contributions, efforts to decriminalize abortion in New York State that succeeded three years before Roe, and a campaign to regulate surgical sterilization in New York City that resulted in national regulations from the then-Department of Health, Education and Welfare, which has since been renamed the Department of Health and Human Services.
"We are excited to welcome Dr. Kornbluh," said Rebecca Zietlow, associate dean for academic affairs at the College of Law. "She is a nationally known expert on the history of the reproductive rights movement and a well-respected professor of history and gender studies."
Kornbluh publishes regularly for the scholarly and popular press, most recently publishing on abortion rights and the federal courts for The American Prospect, the Washington Post and The Forward. Kornbluh teaches the history of feminism, the history of U.S. law, the U.S. since 1945 and American Jewish history.
She also serves as chair of the board of directors of the Planned Parenthood Federation of America-Vermont Action Fund, which is on the verge of adding a Reproductive Liberty Amendment to the state constitution. Since moving to Vermont in 2009, Kornbluh has served as director of Gender, Sexuality and Women's Studies at the University of Vermont, president of the university's faculty union and a member of the state Commission on Women.
Kornbluh received her bachelor's degree from Harvard-Radcliffe and her Ph.D. from Princeton.
The Cannon Lecture Series was established in 1980 to honor former Toledo attorney Joseph A. Cannon. The series hosts nationally known individuals who explore both the humanistic dimensions and limitations of our legal system.
uteditor is
Email this author | All posts by uteditor
---