Artists to gather for annual Art on the Mall festival July 27
July 8th, 2014 by Meghan Cunningham
Painters, potters, crafters and more will return for The University of Toledo's Art on the Mall festival Sunday, July 27.
Celebrating its 22nd year, this UT tradition will be held on Centennial Mall on the University's Main Campus from 10 a.m. to 5 p.m.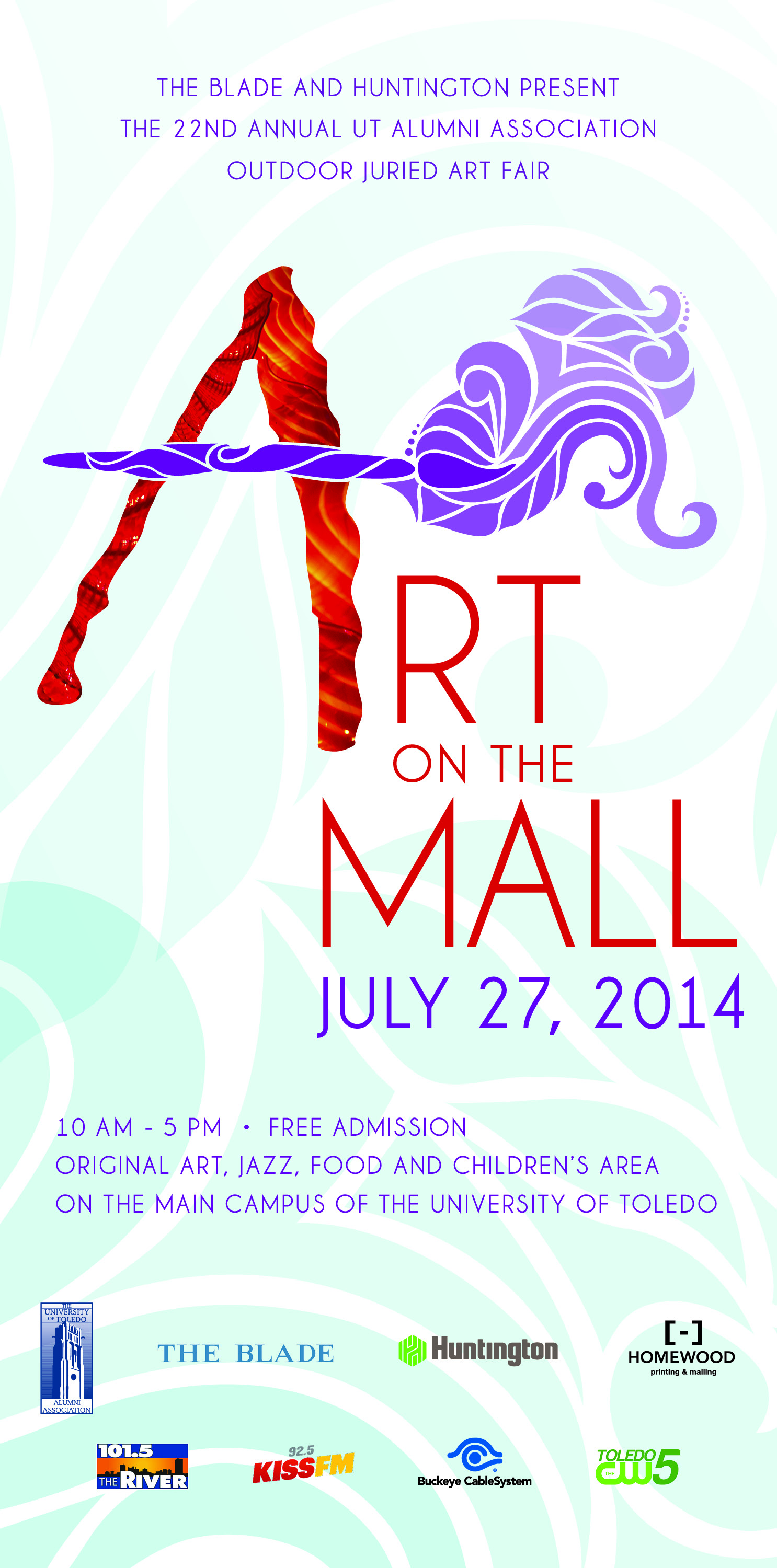 The free, public event will have more than 100 booths featuring multiple mediums that include acrylic, glass, jewelry, mixed media, pen and ink, oil, photography, pottery, textile, basketry, watercolor, wood work and more.
"The thing about this show is that as we go year to year, we grow and change a little bit, but we have that same feel of welcome back to campus," said Ansley Abrams-Frederick, director of alumni programming in the Office of Alumni Relations. "We have some really dedicated wonderful people that we get to be involved with each year. It's a labor of love. It's a project that's heavily supported by repeat business and by the community — especially the ones close at hand."
Each booth will have artwork available for sale by cash or guests can pay with a credit card at a payment booth in the Student Union.
Additionally, artists' works will be juried by critics from the Dayton Art Institute. Prizes will be granted to top artists and the highest award, UT's Best of Show, will be granted to the best artist with an affiliation to the University — current students, faculty, staff, retirees, alumni or parents.
Food and beverages will be for sale all day from Karen Anne's Kettle Corn, Opa! Gyros, Everhart SnoBiz, K & K Concessions, Asia Fusion Elite, Jeanie's Weenies and Let's Go Nuts — which will offer coffee and fruit smoothies for the first time in addition to German roasted nuts — and, new this year, Signature Spuds will provide baked potatoes with various toppings.
A beer garden also will be available for guests 21 and older with a valid ID.
Also new this year will be demonstrations by Wine & Canvas, a mobile art business that hosts group events teaching individuals how to paint while enjoying refreshments, which will take place throughout the day.
Guests can hear performances by talented students from the Toledo School for the Arts. Music will begin at 10 a.m. with The Urban Jazz Collective followed by Nervous Canyon, which is a Toledo School for the Arts alumni band. Next will be Afro-Caribbean Dance and Drum, and rounding out the show will be Glass City Steel. Musical entertainment is sponsored by Huntington.
Art on the Mall's presenting sponsors are The Blade and Huntington. Other sponsors include Buckeye CableSystem, Toledo 5 The CW, Homewood Press, Toledo-Lucas County Port Authority and Clear Channel Communications.
Free parking will be available in Lot 1 South, Lot 1 North, Lot 13 and Lot 10 with a shuttle to transport guests and their packages to and from Centennial Mall if needed.
Click here to download the Art on the Mall poster.
Media Coverage
The Blade (July 17, 2014)
The Blade (July 20, 2014)
The Blade (July 24, 2014)
The Blade (July 24, 2014)
WTOL 11 and 13 ABC (July 28, 2014)
13 ABC and NBC 24 (July 28, 2014)

Meghan Cunningham is UT's Director of University Communications. Contact her at 419.530.2410 or meghan.cunningham@utoledo.edu.
Email this author | All posts by Meghan Cunningham
---