Archive for the 'News Release' Category
Tuesday, March 30th, 2021
The University of Toledo continues its Dialogues on Diversity series with the next virtual town hall, "Stop Anti-Asian Hate, The Fight to Eliminate Racism in All Forms," taking place at noon Tuesday, April 6, on Webex.
"The COVID-19 pandemic has brought to light the blatant discrimination and violence that Asian, Asian American and Pacific Islander folks have experienced," said Aleiah Jones, manager of the Office of Multicultural Student Success. "The organization Stop AAPI Hate received 3,795 reports of anti-Asian hate incidents between March 2020 and February 2021. Anti-Asian hate is not a new phenomenon in our country. We mourn the victims of the recent attack in Atlanta and stand in solidarity with our AAPI community."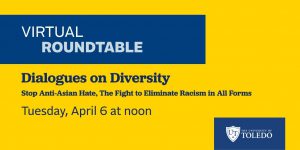 Sara Clark, director of the UToledo Center for International Studies and Programs, will moderate the discussion with participants including:
Dr. An Chung Cheng, professor of Spanish in the UToledo Department of World Languages and Cultures, and director of the Asian Studies Program;
Dr. Joseph Hara, Distinguished University Lecturer in the UToledo Department of World Languages and Cultures, and director of the Japanese program;
Hua Liu Sowa, Ph.D. student in UToledo's Judith Herb College of Education, and former chair of the Chinese Center of Toledo Board of Directors;
Carolyn Sowa, Toledo native who is a master's student in international law at Beijing University and a master's student in international relations at the London School of Economics; and
Xinren Yu, assistant director of the UToledo Center for International Studies and Programs.
Immediately following the event, the University Counseling Center with the Office of Multicultural Student Success and the Center for International Studies and Programs will host a support group for students. UToledo students can access the support group meeting on Invonet.
Additional resources are available at UToledo's Asian American and Pacific Islander Heritage Month webpage.
This is the 13th town hall in the series of recent virtual Dialogues on Diversity since George Floyd was killed in Minneapolis by a police officer, sparking protests nationwide against systemic racism.
---
Thursday, March 18th, 2021
Using data from NASA's Hubble Space Telescope, astronomy researchers at The University of Toledo found that torrential outflows of gas from infant stars may not stop them from growing.
The research published in the Astrophysical Journal squelches commonly assumed models of star formation.
The first author of the study is UToledo graduate student Nolan Habel.
"We looked at 304 young, still-forming stars called protostars in the star-forming region of Orion — the nearest major star-forming region to Earth," said Habel, a Ph.D. candidate in the Department of Physics and Astronomy. "Our results fly in the face of the most common explanation of how exactly protostars go from objects with dense envelopes of collapsing hydrogen gas to an isolated star."
In the largest survey of protostars to date, Habel and Dr. Tom Megeath, UToledo professor of physics and astronomy, focused on one question: how much of this gaseous material ends up on the star and how much is blown away from the star in the formation process?
"There are remarkable 'U'- or 'V'- shaped structures extending to the north and south of a protostar," Habel said. "They are actually hollowed-out cavities carved into the surrounding gas by hurricane-like winds or jets of material expelled from the poles of the protostar."
They expected that as a protostar gets older, they would see these cavities in the surrounding gas cloud sculpted by a forming star's outflow grow steadily, as theories propose, but they found this isn't necessarily the case.
The study shows no evidence that the cavities were growing steadily as the protostar aged.
"In one stellar formation model, if you start out with a small cavity, as the protostar evolves, its outflow creates an ever-larger cavity until the surrounding gas is eventually blown away, leaving an isolated star," Habel said.
The study shows that gas clearing by a star's outflow may not be as important in determining its final mass, as conventional theories suggest.
"Our observations indicate there is no progressive growth that we can find, so the cavities are not just steadily getting bigger until they push out all of the mass in the cloud. There must be some other reason why the gas doesn't all end up in a star."
The Hubble images reveal details of the cavities produced by protostars at various stages of evolution. The UToledo team used the images to measure the structures' shapes and estimate the volumes of gas swept away to make the openings. From this analysis, they could estimate the amount of mass that had been cleared out by the stars' outflows.
"We find that at the end of the protostellar phase, when most of the gas has fallen from the surrounding cloud onto the star, the young stars can still have fairly narrow cavities," Megeath said. "There is a commonly held picture that what halts the infall of gas and determines the masses of stars are the growth of these cavities as the outflows scoop up the gas. This has been a pretty fundamental idea of how star formation proceeds, but it just doesn't seem to fit the data here."
In addition to Hubble, the researchers also used data from NASA's Spitzer Space Telescope and the European Space Agency's Herschel Space Telescope, both of which are no longer operational.
Future telescopes such as NASA's upcoming James Webb Space Telescope will probe deeper into a protostar's formation process. Webb's spectroscopic observations will observe the inner regions of the gas envelopes surrounding protostars in infrared light, looking for outflows in the youngest sources. Webb also will help astronomers measure the accretion rate of material from the disks onto the stars, and study how the disks launch the outflows that clear the cavities.
---
Tuesday, March 9th, 2021
The Class of 2021 will have the opportunity to walk across the stage in the Glass Bowl to celebrate receiving their degrees.
The University of Toledo will hold multiple in-person commencement ceremonies to celebrate graduates in person while also adhering to COVID-19 safety protocols.
Now that the state of Ohio is allowing outdoor events at sporting venues to reopen at 30% capacity, spring commencement is able to take place Saturday, May 8, in the Glass Bowl. UToledo had initially begun plans for a virtual celebration.
The ceremonies on May 8 will recognize graduates from the colleges of Arts and Letters; the John B. and Lillian E. Neff College of Business and Innovation; Judith Herb College of Education; Engineering; Health and Human Services; Natural Sciences and Mathematics; Nursing; and University College.
Graduating students will be split into at least two groups for separate ceremonies and guests will be limited with tickets required. All attendees will be required to wear face masks and keep at least 6 feet from others not in their household.
Class of 2020 graduates who earned their degrees during the coronavirus pandemic are welcome to participate in the May ceremonies. RSVPs will be required for returning graduates.
"We're excited to have the opportunity to provide our graduates with an in-person celebration," UToledo President Gregory Postel said. "Our Rockets continue to demonstrate focus, perseverance and strength through their academic success, despite the challenges presented by COVID-19 during the last year. We look forward to celebrating the Class of 2021's achievements and resilience at our in-person spring commencement ceremonies."
For graduates who prefer to participate virtually, the ceremonies will be streamed online at utoledo.edu/commencement.
University leadership is collaborating with public health experts to carefully plan the commencement events and will share more details in the coming weeks.
UToledo alumna Irma Olguin, Jr. will remotely deliver the keynote address at the ceremonies.
Olguin is co-founder and chief executive officer of Bitwise Industries in Fresno, Calif. She graduated in 2004 from the UToledo College of Engineering with a bachelor's degree in computer science and engineering and went on to blaze a trail of inclusivity for women and minorities in the tech industry.
Last month, Bitwise Industries announced it is investing in Toledo. Olguin's tech company plans to open a branch in in the Jefferson Center building, Toledo's historic former post office, to provide paid apprenticeships to students from diverse and underserved communities to learn tech skills.
"Ms. Olguin is an outstanding UToledo alumna making an incredible impact on the world," said Dr. Karen Bjorkman, provost and executive vice president for academic affairs. "We are pleased to welcome the entrepreneur as our commencement speaker to inspire our newest alumni as they receive their degrees."
The colleges of Law; Medicine and Life Sciences; and Pharmacy and Pharmaceutical Sciences will each hold separate in-person ceremonies. And those receiving doctoral degrees will have the opportunity to participate in a separate hooding ceremony. More details will be shared in the coming weeks.
---
Wednesday, March 3rd, 2021
Dr. Gregory Postel was named the 18th president of The University of Toledo during a special Board of Trustees meeting on Wednesday.
The Board commended Postel for his tireless efforts since joining UToledo in the interim role last July. Board Chair Al Baker noted many of Postel's accomplishments including successfully leading the safe reopening of campus during the COVID-19 pandemic. Since the beginning of fall semester, UToledo has navigated the pandemic utilizing the Rocket Prevention Principles best practices, a proactive surveillance testing strategy and transparent communication. UToledo's reported positivity rate has remained below the state's reported positivity rate since tracking began in August.
In addition, Postel was recognized for the stabilization of hospital finances following a tumultuous year for The University of Toledo Medical Center exacerbated by the pandemic. Preliminary FY21 projections indicate a positive turnaround in revenue.
The University's growing research portfolio continues to grow with several recent multimillion dollar grants announced from the Department of Defense, NASA and NIH, to name just a few. The University's year-to-date research funding numbers are on track based on last year's goals.
Postel was actively involved in securing the institution's second named college – the John B. and Lillian E. Neff College of Business and Innovation, which was announced in December. He has assisted with a number of other private gifts to support the University.
"We are extremely grateful for Dr. Postel's leadership during this challenging transition and want to commend all members of our campus community who have stepped up to realize these accomplishments," Baker said. "Looking ahead, we know that we must continue this momentum if we are to realize our potential as a national, public research university where students obtain a world-class education and become part of a diverse community of leaders committed to improving the human condition in the region and the world."
Postel has identified eight key initiatives and appointed campus-wide working groups focused on creating a solid foundation upon which to build future growth. The Board applauded Postel for addressing challenges head-on and noted that stable leadership is critical as the University moves forward.
"Dr. Postel's leadership has been instrumental in stabilizing the institution, but perhaps more importantly, he is actively preparing The University of Toledo for the upcoming Higher Learning Commission visit in November 2021," Baker said. "After careful deliberation, including consultation with members of the University's senior leadership team, deans and faculty senate representatives, the Board was honored to appoint Dr. Postel to this position."
The board unanimously approved a resolution to continue his service to UToledo through June 2025.
"I am truly appreciative of and humbled by the vote of confidence from the Board of Trustees," Postel said. "I have found The University of Toledo to be an outstanding institution committed to student success. I look forward to working collaboratively with the dedicated leaders across our campuses to continue our positive momentum and achieve UToledo's full potential."
Postel has more than 25 years of leadership experience with university operations, academic medical centers and clinical research, as well as university governance, teaching and research. Prior to joining UToledo, he served as the senior client partner representing healthcare services and higher education at Korn Ferry, a global organizational consulting firm.
In addition to an accomplished career as an academic interventional neuroradiologist, Postel served 18 years as chair of the Department of Radiology at the UofL School of Medicine and held the positions of vice dean for clinical affairs and chair of the board at University Medical Center in Louisville. He was the founding board chair and later CEO of University of Louisville Physicians. Postel served as interim president of UofL in 2017-18 and also spent four years as its executive vice president for health affairs.
A graduate of the College of Wooster and Case Western Reserve University School of Medicine, Postel completed a residency in radiology at the Cleveland Clinic Foundation and a fellowship in neuroradiology at the Mayo Clinic Foundation.
He and his wife, Sally, have twin sons, Alex and Chris.
---
Monday, March 1st, 2021
BOARD OF TRUSTEES SPECIAL MEETING
Wednesday, March 3, 2021
9 a.m.
Join via Webex:
Meeting number (access code): 160 802 4241
Meeting password: UTBOTSPMTG
Join via Phone:
+1-415-655-0002
Meeting number (access code): 160 802 4241
The Board of Trustees will enter Executive Session
immediately upon convening the meeting to discuss
the employment and compensation of a public employee.
Any questions may be directed to the Office of University Marketing and Communications by calling 419.530.2410 or via email to meghan.cunningham@utoledo.edu.
---
Wednesday, February 24th, 2021
The Catharine S. Eberly Center for Women at The University of Toledo is hosting a one-day Gender Equity Summit Monday, March 1.
The inaugural summit, a virtual event with the theme "The State of Women," is free and open to the public.
"The Eberly Center for Women is bringing local stakeholders and changemakers together to explore the issues women face today and devise strategies to advance gender equity in the Toledo area," said Dr. Angela Fitzpatrick, director of the Eberly Center for Women. "We will delve into a range of topics including the COVID-19 pandemic, economics, education and racial justice."
Dr. Melina Abdullah, professor in the Department of Pan-African Studies at California State University, Los Angeles, will deliver the keynote address titled "Womanist Leadership" at 6 p.m.
The summit also includes panel discussions at 11 a.m., a workshop on how to advance intersectional gender equity at 1 p.m. and a networking session at 3:30 p.m.
The 2021 Gender Equity Summit is sponsored by the Eberly Center for Women, UToledo Department of Women's and Gender Studies, Toledo Lucas County Public Library Steinem Sisters Collection, United Way of Greater Toledo, Women of Toledo and YWCA of Northwest Ohio.
To register for the event and view the agenda, visit the Eberly Center website.
---
Tuesday, February 16th, 2021
The University of Toledo will be closed Tuesday, Feb. 16 due to inclement winter weather. Lucas County is currently under a Level 3 snow emergency. Roads are dangerous and closed to non-emergency personnel except for emergencies.
Only employees designated as essential to University operations should report to work.
No classes were scheduled for today as Tuesday, Feb. 16 had previously been a planned instructional break.
The University of Toledo Medical Center, as always, will remain open. Ambulatory care and clinics are closed. Patients will be contacted to reschedule.
Please check utoledo.edu/weather for updates.
---
Monday, February 15th, 2021
The military is adding fuel to the momentum of physicists at The University of Toledo who are advancing new frontiers in thin-film, highly efficient, low-cost photovoltaic technology to ensure a clean energy future.
The U.S. Air Force awarded UToledo $12.5 million to develop photovoltaic energy sheets that would live in space and harvest solar energy to transmit power wirelessly to Earth-based receivers or to other orbital or aerial instrumentation, such as communications satellites.
UToledo physicists will develop flexible solar cell sheets, each roughly the size of a piece of paper, that can be assembled and interconnected into much larger structures.
Although UToledo's focus does not include engineering the interconnected arrays, the vision is potentially massive: one space-based solar array could include tens of millions of sheets and extend to sizes as large as a square mile — that's more than three quarters the size of UToledo Main Campus. One array at this size could generate about 800 megawatts of electrical power — just shy of the power produced by the Davis Besse power plant between Toledo and Cleveland.
"With 37% stronger sunlight above the atmosphere than on a typical sunny day here on Earth's surface, orbital solar arrays offer a critical opportunity to harness renewable energy, achieve sustainability goals and provide strategic power for a wide range of orbital and airborne technologies," said Dr. Randall Ellingson, professor in the UToledo Department of Physics and Astronomy and member of the UToledo Wright Center for Photovoltaics Innovation and Commercialization who will lead the five-year project.
"This $12.5 million award recognizes our own University of Toledo as a national leader in solar cell technologies and in photovoltaic energy research," said Congresswoman Marcy Kaptur. "UToledo's broad partnerships with industry, government and academia represent the best of us and will help cement our region as a player for generations to come in solar manufacturing, research and development."
Building on UToledo's more than 30-year history advancing solar technology to power the world using clean energy, the physicists will continue developing the material science and photovoltaic technologies that are highly efficient, lightweight and durable in an outer-space environment.
They're building tandem solar cells — two different solar cells stacked on top of each other that more efficiently harvest the sun's spectrum — on very thin, flexible supporting materials.
"We have had great success accelerating the performance of solar cells and drawing record levels of power from the same amount of sunlight using the tandem technique with what are called perovskites," Ellingson said.
Perovskites are compound materials with a special crystal structure formed through chemistry.
The team will sandwich a variety of combinations of solar cells, including perovskites, silicon, cadmium telluride and copper indium gallium selenide, to raise the ceiling on what is achievable.
At the same time, the team will explore lightweight, flexible supporting material to create the large solar cell sheets. Those materials also need to be resilient, ultra-thin and tolerant to high and low temperatures. Semitransparent and very thin ceramic, plastics and glass are under consideration.
"Professor Ellingson and his team have demonstrated their ability to provide the Air Force with outstanding results over the years and the University is pleased that Representative Kaptur prioritizes projects that both advance the nation's leadership in cutting-edge solar energy technology and provide the Department of Defense with the highest level of support from University research," said Dr. Frank Calzonetti, UToledo vice president of research.
In 2019 the U.S. Air Force awarded Ellingson's team $7.4 million to develop solar technology to power space vehicles using sunlight.
"The Air Force has demanding specifications for its spaced-based power systems, and the advances being made in thin-film photovoltaics at UToledo coupled with our new photovoltaic sheets concept provide an avenue to meet them," said Dr. Michael Heben, UToledo professor of physics and McMaster endowed chair. "The faculty and staff at UToledo's Wright Center for Photovoltaics are proud to receive this award and excited about the challenge."
In 2019 the U.S. Department of Energy awarded UToledo $4.5 million to develop the next-generation solar panel by bringing a new, ultra-high efficiency material to the consumer market. As part of the project, Dr. Yanfa Yan, UToledo professor of physics, is working with the National Renewable Energy Laboratory and First Solar to develop industrially relevant methods for both the fabrication and performance prediction of low-cost, efficient and stable perovskite thin-film PV modules.
Also in 2019 UToledo was part of a $3.9 million award led by Colorado State University to collaborate with the National Renewable Energy Laboratory, First Solar and the University of Illinois at Chicago on a U.S. Department of Energy-funded project to improve the voltage and power produced by cadmium-telluride-based solar cells.
UToledo's Wright Center for Photovoltaics Innovation and Commercialization is a founding member of an organization called the U.S. Manufacturing of Advanced Perovskites Consortium, which is focused on moving a breakthrough new technology out of the lab and into the marketplace to enhance economic and national security. Partners include the U.S. Department of Energy's National Renewable Energy Laboratory in Golden, Colo.; Washington Clean Energy Testbeds at the University of Washington; University of North Carolina at Chapel Hill; and six domestic companies that are working to commercialize the technology.
The University created the Wright Center for Photovoltaics Innovation and Commercialization in January 2007 with an $18.6 million award from the Ohio Department of Development in response to a proposal led by Dr. Robert Collins, Distinguished University Professor and NEG Endowed Chair of Silicate and Materials Science. Matching contributions of $30 million from federal agencies, universities and industrial partners helped to launch the center, which works to strengthen the photovoltaics and manufacturing base in Ohio through materials and design innovation.
"Solar electricity now competes economically with fossil-fueled and nuclear electricity while avoiding significant atmospheric carbon emissions which drive climate change," Ellingson said.
"UToledo has assisted in driving down the cost of solar," Heben said. "Over the past 15 years the cost of solar has been reduced by a factor of 10, while the amount of solar annually deployed has grown by a factor of 100, currently amounting to about 2% of the U.S. electricity supply. Importantly, the transition to clean solar electricity that is occurring also is creating tremendous new job growth opportunities in many parts of our economy."
---
Monday, February 15th, 2021
The COVID-19 vaccine clinic scheduled for Tuesday, Feb. 16, at The University of Toledo Medical Center Outpatient Pharmacy is postponed to Wednesday, Feb. 17, due to the anticipation of significant snowfall.
Individuals who were scheduled to receive a dose of the vaccine during Tuesday's clinic should report to the UTMC Outpatient Pharmacy on Wednesday at the same time.
UTMC also is working to contact impacted patients directly using the contact information supplied upon registration.
For more information about the University's vaccine program as one of Ohio's vaccine providers visit utoledo.edu/coronavirus/vaccine.
---
Tuesday, February 9th, 2021
The University of Toledo is continuing its Dialogues on Diversity series with the next virtual town hall in the series titled "COVID-19 Vaccines and the Black Community" taking place 6 p.m. Tuesday, Feb. 16 on Webex.
"There are clear and well-documented historical reasons that Black folks may be apprehensive about vaccines and healthcare in general," said David Young, director of Toledo Excel and Special Projects at UToledo. "At the same time, COVID-19 has ravaged our communities, and we need to find the most expedient way to eradicate it. Our intent is not to convince or persuade anyone, but rather to provide facts and a transparent dialogue."
Participants include:
Dr. Joan Duggan, infectious disease specialist and professor of medicine at UToledo;
Dr. Kimberly Jenkins, associate dean of diversity and inclusion in the UToledo College of Medicine and Life Sciences;
Dr. Anthony Pattin, assistant professor of pharmacy practice at UToledo;
Dr. Rachel Dudley, assistant professor of women's and gender studies at UToledo;
Gwendolynn Gregory, director of nursing, clinical and community wellness services at the Toledo-Lucas County Health Department and program director of the Reproductive Health and Wellness Center; and
Rev. Willie Perryman, president of the Toledo chapter of the NAACP and pastor of Jerusalem Missionary Baptist Church.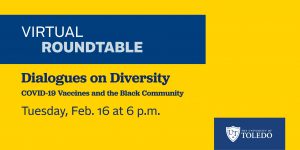 The UToledo Office of Diversity and Inclusion collaborated with Brothers on the Rise, Sister Circle and the UToledo College of Medicine and Life Sciences to organize the event.
This is the 11th town hall in the series of recent virtual Dialogues on Diversity since George Floyd was killed in Minneapolis by a police officer, sparking protests against systemic racism across the country.
The University of Toledo is a community that celebrates and respects people of all backgrounds and experiences. As an institution, we remain committed to building an inclusive environment free of racism, sexism, bigotry and other negative influences.
---