UToledo Archaeologist Awarded NSF Grant to Study Prehistoric City Creation
January 18th, 2023 by uteditor
The ancient Native American city of Cahokia is located near modern-day St. Louis, on the Illinois side of the Mississippi River.
That's where archaeologist Dr. Melissa Baltus, an associate professor of anthropology at The University of Toledo, does her prehistoric research going back nearly nine centuries.
The National Science Foundation recently awarded Baltus a five-year, $185,779 grant to study neighborhoods that surrounded the city of Cahokia and their role in the creation of the city.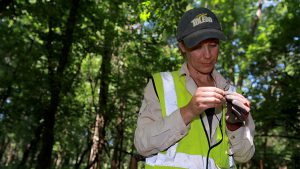 "We are pleased to receive NSF support for our archaeological investigation into whether outlying neighborhoods at the physical margins of the Native American city of Cahokia were socially peripheral or fully engaged in central city projects and how that affected the historical trajectory of that city," Baltus said. "This may help people understand the nuanced relationship between social investment and local participation, diversity of neighborhood identities, and the futures of modern cities from a bottom-up, grass-roots perspective that considers ideological engagement and a sense of belonging as much as material benefit."
The study, done in collaboration with Dr. Sarah Baires, associate professor of anthropology at Eastern Connecticut State University, will focus on the lived experiences and social dynamics of Indigenous people in two different neighborhoods of the past.
It's expected to take four seasons of field work and analysis.
Baltus will create field school opportunities for undergraduate students to learn techniques of archaeological survey and excavation, plus laboratory analysis during the academic year.
Baltus and Baires said this also is an opportunity for the local community around the ancient city, which is now largely comprised of immigrant or first-generation community members, to engage with and understand the similarities and differences between their modern experience of a city and those of people living in that space in the past.
"Supporting research with federal funding is critical to create jobs and improve our economy. We unleash more American innovation when we nurture all Ohio talent," U.S. Sen. Sherrod Brown said. "This award will help The University of Toledo advance our knowledge and continue Ohio's leadership in research and innovation."
The city of Cahokia was comprised of three precincts extending from St. Louis through East St. Louis to the bluff edge near Collinsville in Illinois.
"The outlying neighborhoods that we're exploring will be on the west and southeast edges of the Cahokia precinct, which forms the core of the Cahokia Mounds State Historic Site," Baltus said.
The research will take into consideration local investments like architecture, infrastructure and neighborhood organization and the potential benefits of those investments in the form of access to certain goods, spaces or activities that coincide with an outlying neighborhood actively participating in a city's public works and community projects.
"Archaeology is uniquely situated to address these questions over the course of a city's history, with a focus on material evidence for engagement, identity and inequality," Baltus and Baires wrote in the proposal to the NSF. "By considering neighborhood diversity in relation to level of investment in the city, one can understand whether social, economic and political ties created through intentional engagement led people to stay and continue to participate in that city or, conversely, whether a lack of such ties may lead to more rapid abandonment of those neighborhoods."
uteditor is
Email this author | All posts by uteditor
---