Archive for December, 2021
Tuesday, December 14th, 2021
Hill Harper, an actor on ABC's "The Good Doctor" and best-selling author, and Jeff Johnson, an award-winning journalist and alumnus of The University of Toledo, will speak at UToledo's 38th annual Conference for Aspiring Minority Youth.
The event sponsored by Toledo Excel, a longtime scholarship incentive program at UToledo, and Owens Corning is 8:30 a.m. Saturday, Jan. 29, in the Thompson Student Union Auditorium.
Advance registration is required for the free, public conference for seventh- and eighth-graders, high school students and parents; go to the event website to register.
All attendees will be required to wear face masks regardless of vaccination status.
Established in 1988, Toledo Excel helps underrepresented students, including African, Asian, Hispanic and Native Americans, achieve success in college. Through summer institutes, academic enhancement activities, and guidance through the admission process, students increase their self-esteem, cultural awareness and civic involvement.
"Every year this conference aims to educate and motivate underrepresented youth, their parents and the community," said David Young, director of Toledo Excel and special projects. "The ultimate goal is to influence youth to pursue higher education and be persistent no matter what barriers or challenges they may face."
This year's speakers advocate youth leadership, unlocking opportunities and financial literacy to close the racial wealth gap.
Harper, known for his roles on "The Good Doctor" and "CSI:NY," is founder of the Black Wall Street app, a digital wallet and cryptocurrency exchange platform to empower the financially excluded in remembrance of the race-fueled Tulsa Massacre in Oklahoma's Greenwood district, which was one of the wealthiest Black communities in the nation, on May 31, 1921.
Harper also is the founder of the Manifest Your Destiny Foundation, a nonprofit dedicated to empowering underserved youth through mentorship, scholarship and grant programs, and the author of four New York Times bestsellers: "Letters to a Young Brother," "Letters to a Young Sister," "The Conversation," and "The Wealth Cure," which chronicled his diagnosis with thyroid cancer and his journey to health. Former President Barack Obama appointed Harper in 2011 to the President's Cancer Panel.
Johnson is president of the Baltimore-based strategy firm JIJ Communications. He previously served as national director for the Youth and College Division of the NAACP and vice president of the Hip Hop Summit Action Network.
Johnson interviewed Obama during his administration as a journalist for BET and regularly provides content on The Root and the nationally syndicated Rickey Smiley Morning Show.
He serves on several boards including the Morehouse Research Institute, The Cleveland Foundation's African American Philanthropy Committee, and the historic Lincoln Theatre in Columbus.
While a UToledo student, Johnson served as president of the Black Student Union and Student Government.
---
Monday, December 13th, 2021
Across the U.S. road crews dump around 25 million metric tons of sodium chloride — much like table salt — to unfreeze roads each year and make them safe for travel.
Usage varies by state, but the amount of salt applied to icy roads annually in some regions can vary between approximately 3 and 18 pounds of salt per square meter, which is only about the size of a small kitchen table. 
As the use of deicing salts has tripled over the past 45 years, salt concentrations are increasing dramatically in streams, rivers, lakes and other sources of freshwater.
Overuse of road salts to melt away snow and ice is threatening human health and the environment as they wash into drinking water sources, and new research from The University of Toledo spotlights the urgent need for policy makers and environmental managers to adopt a variety of solutions.
The study titled "Road Salts, Human Safety and the Rising Salinity of Our Fresh Waters" is published in the journal Frontiers in Ecology and the Environment and presents how road salts hurt ecology, contaminate drinking water supplies and mobilize harmful chemicals, such as radon, mercury and lead, and then lays out suggested best management practices.
"The magnitude of the road salt contamination issue is substantial and requires immediate attention," said Dr. Bill Hintz, assistant professor of ecology at UToledo and lead author of the research based out of the UToledo Lake Erie Center. "Given that road deicers reduce car accidents by more than 78%, we worked to strike a careful balance between human safety and mitigating the negative environmental and health impacts triggered by dumping salt on our streets and highways to keep people safe and traffic moving."
In one major example, the researchers say overuse of road salts likely contributed to higher levels of corrosive chloride in the water supply in Flint, Mich., in 2014, leading to the release of lead from water distribution pipes.
Another example shows that high concentrations of deicing salt typically occur in private wells located near roads in lower elevations or downhill from highways.
The most common deicers are the inorganic salts sodium chloride, calcium chloride and magnesium chloride, all used both in solid and liquid or brine form.
The study examines how current federal safety limits for salt concentrations established by the U.S. Environmental Protection Agency in 1988 to protect fish, plants and other aquatic life in freshwater ecosystems are commonly surpassed.
Particularly alarming is the number of salinized streams. The research highlights recent studies that show urban streams with salt concentrations that are more than 20 to 30 times higher than the EPA chronic chloride threshold of 230 milligrams per liter.
"Current EPA thresholds are clearly not enough," Hintz said. "The impacts of deicing salts can be sublethal or lethal at current thresholds and recent research suggests that negative effects can occur at levels far below these thresholds."
The research suggests several solutions, including:
Proper storage facilities — covered structures with a concrete base;
Anti-icing, the application of liquids such as salt brines to road surfaces prior to winter storm events, which prevents ice from bonding to surfaces and aids removal operations;
Live-edge snowplows composed of multiple smaller plows on springs, which better conform to road surfaces compared to conventional plows with a single fixed edge, to increase the efficiency of snow and ice removal and reduce the need for deicing salt; and
Post-storm performance assessments to determine whether the treatment used was appropriate for the weather system and if it should be modified in the future.
"Given the lack of ecologically friendly and cost-effective alternatives, broad-scale adoption of best management practices is necessary to curb the increasing salinization of freshwater ecosystems resulting from the use of deicing salts," Hintz said.
Hintz collaborated with scientists from Montana State University and Rensselaer Polytechnic Institute on the study.
---
Monday, December 13th, 2021
The University of Toledo will host multiple in-person ceremonies to celebrate the success of the graduating Class of 2021 at fall Commencement.
The ceremonies for undergraduates will be 9 a.m. and 1 p.m. Saturday, Dec. 18, in Savage Arena.
The 9 a.m. ceremony recognizes graduates from the colleges of Arts and Letters; the John B. and Lillian E. Neff College of Business and Innovation; Judith Herb College of Education; Pharmacy and Pharmaceutical Sciences; and University College.
The 1 p.m. ceremony recognizes graduates from the colleges of Engineering; Health and Human Services; Natural Sciences and Mathematics; and Nursing.
Graduates receiving doctoral degrees will have the opportunity to participate in a separate hooding ceremony at the graduate commencement ceremony 6 p.m. Dec. 17, in Savage Arena.
"The Class of 2021 has demonstrated such focus, perseverance and strength throughout the challenges of the COVID-19 pandemic. We look forward to celebrating their achievements and resilience," UToledo President Gregory Postel said. "We are proud of their successes to date, and we can't wait to see all that they will accomplish as alumni."
UToledo alumnus and entrepreneur Tony Bova will deliver the keynote address at the undergraduate ceremonies.
Bova is co-founder and chief executive officer of Mobius, a startup focused on reducing carbon dioxide emissions by transforming industrial waste into a valuable resource that can be sold to manufacturers as raw material.
Bova, who graduated from UToledo with a bachelor's degree in chemistry in 2013, will address 1,401 candidates for degrees, including 1,360 bachelor's and 41 associate's candidates.
Dr. Kelli R. Brown, chancellor of Western Carolina University and a UToledo alumna, will address 567 candidates for degrees at the graduate commencement ceremony. The graduate ceremony will celebrate graduates with master's degrees, as well as doctoral hooding for Ph.D., Juris Doctor and other doctoral degrees.
Brown received a bachelor's degree in 1982 and a master of science and education in public health 1984 at UToledo. She also served as provost and senior vice president for academic affairs at Georgia College and State University.
Tickets are required for admission for all ceremonies. All attendees will be required to wear face masks regardless of vaccination status.
All ceremonies will be livestreamed at utoledo.edu/video.
---
Tuesday, December 7th, 2021
Making it safer for pedestrians to cross Monroe Street in front of the Toledo Museum of Art. Reducing recovery time for a broken bone by stimulating muscle movement. Programming an autonomous drone to identify and record security concerns in a building.
These are just a few examples of projects engineering students at The University of Toledo will present to the public at the Senior Design Expo from noon to 3 p.m. Friday, Dec. 10, on the first floor of Nitschke Hall.
"The Senior Design Expo is a tradition in The University of Toledo College of Engineering for decades as a showcase of student creativity and ingenuity in collaboration with community partners," said Dr. Mike Toole, dean of the UToledo College of Engineering.
As part of required senior design/capstone projects, about 50 UToledo engineering teams worked with local businesses, industries and federal agencies to help solve technical and business challenges.
Students will present their final prototypes, provide hands-on demonstrations and answer questions about their experiences at the expo.
On the project to improve bone fracture recovery time, Logan Dabney's five-member team created a device and sleeve for immobilized muscle stimulation that is designed to reduce the amount of muscle atrophy that occurs while wearing a cast, which will decrease the time needed for physical therapy.
"I actually pitched the idea to our group after conferring with one of my bioengineering friends because I've always been interested in creating products that could help ease day-to-day life or benefit someone's health," said Dabney, who is a dual major in electrical engineering and computer science and engineering and plans to pursue a career in software engineering after he graduates in the spring.
"I had to learn an entirely new framework and coding language to create our mobile application for our prototype. Overall, this experience gave me a better perspective on working from start to finish on a project that had multiple people working asynchronously."
Other projects that range from automotive and environmental to medical and motivational include:
An alarm clock attachment for a dumbbell that provides accountability to complete a customizable, pre-set workout every morning — the alarm pauses during the workout and is only disabled upon completion;
A uniform magnetic field using Helmholtz coils to test sensors and other parts that will be used in space applications where Earth's magnetic field does not interfere;
A necklace for people with dementia or Alzheimer's disease that serves as an invisible guardian by sending a notification to the caretaker's phone or designated devices whenever the patient gets too close to an exit of the home;
Designs to make it safer for pedestrians to cross Monroe Street in front of the Toledo Museum of Art without lowering the speed limit, such as reducing the number of lanes to one in each direction and adding a speed table;
A spare tire deployment system for pick-up trucks and SUVs that allows people to replace their flat tire without getting their hands dirty or bending down;
A phone app that helps individuals who are blind and visually impaired navigate within buildings, responding to vocal requests and audibly directing the path tracked by Bluetooth beacons placed in hallways;
An automatic cereal and milk dispenser operated by a mobile app intended for dispensing food in a convenient and sanitary manner;
A hydropower source that uses a river or stream to create enough wattage to power a cell phone; and
A new process for ball joint assembly at the Dana Toledo Driveline facility that will not fully depend on the operators for lubricating the ball joint socket yokes on the tube of an axle.
"We are very excited to return to our first in-person Senior Design Expo since the start of the pandemic," said Dr. Matt Franchetti, associate dean of undergraduate studies in the College of Engineering and coordinator for the Senior Design Expo. "Our students and senior design instructors have worked very hard on their projects."
All attendees of the Senior Design Expo will be required to wear face masks regardless of vaccination status.
---
Wednesday, December 1st, 2021
The University of Toledo Ritter Planetarium is showing "Santa's Secret Star" in full dome for children throughout the holiday season.
"Santa's Secret Star" is featured 7:30 p.m. on Fridays through Dec. 17 and 1 p.m. on Saturdays through Dec. 18.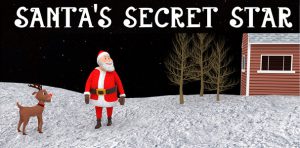 "Santa's Secret Star" is a story about Santa and Rudolph learning how to find their way back to the North Pole using constellations. After Santa finishes his Christmas deliveries, he and his reindeer become lost. Without a compass, he and Rudolph turn to the constellations for help, and the stars lead them to the North Star, which guides them home.
" 'Santa's Secret Star' was written and produced right here at The University of Toledo and has an original soundtrack written by UToledo music professor Lee Heritage," said Dr. Michael Cushing, professor of physics and astronomy and director of Ritter Planetarium.
Admission to the programs is $8 for adults and $6 for children, senior citizens and UToledo community members. Doors will open 30 minutes prior to the show.
---