Archive for October, 2021
Friday, October 29th, 2021
The impact of climate change on the Great Lakes as well as recent developments in climate change law and policy is the focus of the 21st Annual Great Lakes Water Conference at The University of Toledo.
The conference titled "Climate Change and the Great Lakes" will be conducted online as a live webinar Friday, Nov. 5, from 9 a.m. to 12:30 p.m.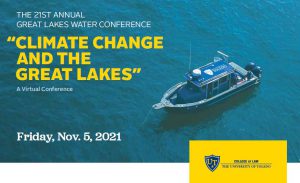 The conference is sponsored by the UToledo College of Law and its Legal Institute of the Great Lakes.
"Climate change is a global problem, but its impacts are felt locally," said Ken Kilbert, professor of law and director of the Legal Institute of the Great Lakes.
The conference will feature Kim Channell, a climatologist at the University of Michigan's Great Lakes Integrated Sciences and Assessments. Channell will discuss the impacts of climate change on the Great Lakes region, especially its water resources. Other speakers will address various aspects of climate change law and policy in the United States and Canada.
Registration for the half-day conference is free for the public and $50 for attorneys seeking 3.0 hours of Ohio Continuing Legal Education (CLE) credit.
For more information about the conference and to register by Nov. 3, visit utoledo.edu/law/events/great-lakes.
---
Thursday, October 28th, 2021
The University of Toledo is launching a national search for the next vice president and director of athletics to replace Mike O'Brien, who is retiring from the position at the end of his contract April 30, 2022.
UToledo is partnering with Collegiate Sports Associates, an executive search firm specializing in intercollegiate athletic hiring for colleges and universities.
The company has helped with several searches in the Mid-American Conference (MAC) recently, including the University of Akron, Miami University and Ball State University, as well as national searches for the University of Cincinnati, the University of Georgia and Michigan State University.
"Under Mike O'Brien's leadership, Rocket Athletics has developed a reputation for excellence in the classroom and on the field," UToledo President Gregory Postel said. "We must maintain this momentum and build upon our history of success. We are looking for a leader that shares Rocket Nation's enthusiasm, as well as a commitment to our institutional values including student-centeredness and diversity."
Douglas Huffner, associate vice president for risk management and chief risk officer, is the chair of UToledo's search committee. Also serving on the committee will be:
Jeff Cole, UToledo alumnus and senior director of corporate communication at Dana Incorporated;
Dana Hollie, professor of accounting in the UToledo John B. and Lillian E. Neff College of Business and Innovation and faculty athletics representative to the MAC and NCAA;
Brian Jones, senior associate athletic director for health and wellness;
Don Mewhort, UToledo alumnus and community business leader;
Collin Palmer, director of undergraduate admission;
Demond Pryor, director of recreational services;
Robert Steven, senior lecturer in the UToledo Department of Biological Sciences and member of Faculty Senate;
Madeline Vining, UToledo junior majoring in economics and student-athlete competing in track and field; and
Thomas Wakefield, director of the Frankel Cardiovascular Center at the University of Michigan and a member of The University of Toledo Foundation Board.
"Our committee represents UToledo's campus community ranging from a student's perspective to faculty, staff, alumni and donors," Huffner said. "I am confident our experiences and expertise we bring to the table will help us find the next great leader for the Rocket athletic program, one of the best in the MAC and one of the top mid-major athletic programs in the nation."
Under O'Brien's watch, the Rockets have won or shared 36 league titles in nine different sports. In addition, the Rockets have made 11 bowl appearances in football, four NIT appearances in men's basketball, an NCAA Tournament appearance in women's basketball in 2017, as well as eight WNIT appearances, including a WNIT championship crown in 2011. Toledo won the Jacoby Trophy as the MAC's top women's athletic program in 2011-12 and 2017-18.
In the classroom, Toledo has produced overall department GPAs above a 3.3 in each of the past four semesters, including a school-record GPA of 3.527 in spring 2020. Toledo has won the Mid-American Conference Institutional Academic Achievement Award, presented annually to the school with the highest GPA, in five of the last eight years.
Email ADSearch@utoledo.edu to give feedback to the search committee.
---
Thursday, October 28th, 2021
A researcher at The University of Toledo is using a unique semiconductor material to both shrink technology and cut energy use to help the U.S. Navy become more fuel and energy efficient.
The Office of Naval Research (ONR) awarded Dr. Raghav Khanna, associate professor in the Department of Electrical Engineering and Computer Science, a 3-year, $510,000 grant to design circuits that are smaller in size and more efficient for electric Navy ships and aerospace systems.
ONR, a funding agency within the U.S. Department of Defense, has awarded this grant to Khanna to encourage collaboration with the U.S. Navy's corporate research laboratory, the U.S. Naval Research Laboratory (NRL).
"We are proud to collaborate with the NRL on a project critical to both sustainability and national security," Khanna said. "Fuel economy and power efficiency translate to operational flexibility for our military."
Silicon is the most common component in power devices, but Khanna's team will design circuits using instead gallium nitride to be applied to what's called direct-current (DC) microgrids for electric Navy ships. The goal is to help make up to 20 kilovolt gallium nitride (GaN) power electronic devices to facilitate power distribution.
Khanna said next-generation microgrids, self-contained power distribution grids that can be on land running off solar and wind or on an electric navy ship at sea, will benefit from DC electricity.
Conventional power distribution grids run off alternating-current (AC), however, with the advent of newer circuit materials such as gallium nitride, research suggests that DC microgrids may be the power architecture of the future.
Gallium nitride technologies have been shown to deliver a higher performance compared to their silicon-based counterparts, particularly in DC microgrids, while reducing the energy and physical space needed to achieve that performance.
"Gallium nitride can operate at much higher voltages, frequencies and temperatures," Khanna said.
To be able to realize the high-voltage potential of future DC microgrid architectures, high-voltage power electronic devices are needed, such as the devices Khanna is modeling.
Khanna is modeling what the materials would look like and simulating how they would work, and the Naval Research Laboratory will take the UToledo models and fabricate the devices.
"Dr. Khanna and his group have been able to develop experimentally validated simulation models of these important high voltage GaN devices," said Dr. Andrew Koehler, electronics engineer at the Naval Research Laboratory. "Their models allow them to closely examine the physics that govern the device's operation, allowing innovation of new approaches to improve performance, manufacturability and reliability, which we can implement into our design and fabrication process."
The technology is being designed to be used aboard Navy ships for power generation systems, weapons systems and communications systems, which can all be electrified.
"We'll start with a 1-kilovolt device, and gradually move up to 5, 10 and 15. This will allow us to develop learning cycles at each incremental voltage, and hopefully the process will get faster and faster as we fulfill each milestone. By the end of three years, we hope to have a 20-kilovolt gallium nitride-based device," Khanna said.
One 20 kilovolt gallium nitride device can provide power for at least 20 Tesla car batteries.
Khanna, who focuses his research on next-generation power electronics, also is using gallium nitride in a NASA-funded project to improve power for space exploration. He will be internally collaborating with faculty within the UToledo College of Engineering who have expertise in materials to help achieve these objectives for both the U.S. Navy and NASA.
Prior to joining UToledo in 2015, Khanna worked for HRL Laboratories LLC in California where he was directly involved with the development of gallium nitride-based battery chargers for electric vehicles.
---
Tuesday, October 26th, 2021
The University of Toledo is continuing its Dialogues on Diversity series with a conversation about critical race theory.
The virtual event, which is the 17th in the series, is titled "Critical Race Theory, Explained" and will take place 6 p.m. Thursday, Oct. 28, on Webex.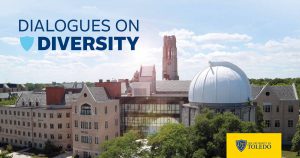 The discussion will explore critical race theory as an academic theory to explain practices that disadvantage some while rewarding others.
Panelists include Dr. Monita Mungo, assistant professor of sociology, and Aaron Baker, doctoral candidate in educational psychology and co-chair of the Judith Herb College of Education Diversity Committee.
"Existing for decades, critical race theory has found renewed popularity in current social discourse," Mungo said. "Experts from sociology, education and political science will explain what critical race theory is and how it is useful as a framework to examine the social production of unequal and unjust outcomes for racialized groups."
The discussion will be moderated by Quatez Scott, dean's fellow in the College of Graduate Studies and Ph.D. student in the Social and Philosophical Foundations of Education program.
The UToledo Office of Diversity and Inclusion organized the event.
UToledo launched the Dialogues on Diversity series in 2020 after George Floyd was killed in Minneapolis by a police officer, sparking protests nationwide against systemic racism.
The University of Toledo is a community that celebrates and respects people of all backgrounds and experiences. As an institution, we remain committed to building an inclusive environment free of racism, sexism, bigotry and other negative influences.
---
Thursday, October 21st, 2021
An engineering professor at The University of Toledo who was the first to make 3D objects with smart materials that can change form while retaining similar atomic structure, then snap back to their original shape when activated by heat is getting millions in federal funding to apply his expertise toward next-generation medical devices, airplanes and drones.
Dr. Mohammad Elahinia, Distinguished University Professor, director of the Institute for Applied Engineering Research and chair of the UToledo Department of Mechanical, Industrial and Manufacturing Engineering, has received $2.5 million to collaborate with the U.S. Department of Energy's Oak Ridge National Laboratory on a U.S. Department of Defense project to develop high-temperature shape memory alloys for 3D printing of advanced defense and aerospace functional components that could lead to smaller, lighter aircraft.
Shape memory alloys are critical for actuators used in medicine, defense, aerospace and automotive applications. Actuators are the components of a machine that control motion, like the mechanisms that trigger anti-lock brakes, open a valve or help a prosthetic limb move.
3D printing, in which you build a 3D shape by adding layer upon layer of a material, is officially known as additive manufacturing.
"We started research on additive manufacturing of shape memory alloys 10 years ago," Elahinia said. "Since that time, both additive manufacturing technology and processing of shape memory alloys advanced. However, several key technical challenges remain in this field, including new shape memory alloy development designed for additive manufacturing. This funding gives us a unique opportunity to solve these existing challenges."
Traditional shape memory alloy actuation systems are based on simple geometries. The objective of this project is to develop the materials and manufacturing processes to rapidly manufacture complex shape memory alloy geometries.
"Since the dawn of flight, Ohio has been a leader in testing the boundaries of what is possible," said Congresswoman Marcy Kaptur. "This federal funding for The University of Toledo's cutting-edge technological advancements will propel us even further, and we congratulate Dr. Elahinia and the entire team for their work to secure this award."
UToledo's breakthrough several years ago with high-temperature shape memory alloys enables faster and more powerful actuation, opening the door for possibilities such as replacing the heavy, noisy hydraulic systems in the wings of fighter jets, drones and commercial airplanes with lighter, less costly actuators.
"This grant is providing critical momentum to support the development of the additive manufacturing technology ecosystem that we are building at UToledo, which enables us to more effectively engage in translational research programs to serve defense, aerospace and automotive industries and their research-and-development needs," said Dr. Behrang Poorganji, a research professor and the advanced manufacturing director of the Institute of Applied Engineering Research, who also is leading the project.
"I'm excited about the partnership with The University of Toledo that is focused on additive manufacturing of advanced shape memory alloys," said Dr. Lonnie Love, a corporate fellow and section head for precision manufacturing and machining at Oak Ridge National Laboratory. "Oak Ridge National Laboratory's leadership in advanced manufacturing at the Manufacturing Demonstration Facility coupled with The University of Toledo's expertise in shape memory alloys will help advance the science in smart actuators."
---
Monday, October 18th, 2021
The University of Toledo is continuing its Dialogues on Diversity series with a conversation about intimate partner violence in recognition of Domestic Violence Awareness Month.
The virtual event, which is the first of the academic year and 16th in the series, is titled "Intersectionality in Intimate Partner Violence" and will take place 6 p.m. Thursday, Oct. 21, on Webex.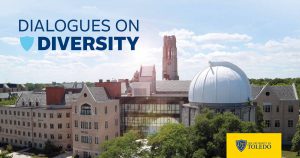 The discussion will be moderated by Dr. Angela Fitzpatrick, director of the Catharine S. Eberly Center for Women, focusing on how society does not treat all victims of abuse equally — from how social biases influence perceptions of survivors to how systemic inequities create barriers for care and assistance.
"According to the National Coalition Against Domestic Violence, one in three women and one in four men have experienced physical violence in their intimate relationships," Fitzpatrick said. "Using an intersectional lens allows us to take a closer look at how race, class, gender and sexuality shape a person's experience with intimate partner violence so that we can be better equipped to prevent this violence and support survivors."
Panelists include:
Vicky Kulicke, director of Title IX and Compliance and Title IX coordinator at UToledo;
Jamie Wlosowicz, assistant director for center operations at the UToledo Center for Student Advocacy and Wellness;
Rachael Gardner, director of domestic violence and sexual assault victim services at YWCA Northwest Ohio;
Deidra Lashley, executive director of Bethany House; and
Carolyn Wilson, training and technical assistance coordinator for BRAVO.
The UToledo Office of Diversity and Inclusion organized the event.
UToledo launched the Dialogues on Diversity series in 2020 after George Floyd was killed in Minneapolis by a police officer, sparking protests nationwide against systemic racism.
The University of Toledo is a community that celebrates and respects people of all backgrounds and experiences. As an institution, we remain committed to building an inclusive environment free of racism, sexism, bigotry and other negative influences.
---
Tuesday, October 5th, 2021
Researchers at The University of Toledo have developed an experimental vaccine that shows significant promise in preventing rheumatoid arthritis, a painful autoimmune disease that cannot currently be cured.
The findings, detailed in a paper published in the journal Proceedings of the National Academy of Sciences, represent a major breakthrough in the study of rheumatoid arthritis and autoimmune diseases in general.
One of the most common autoimmune diseases, rheumatoid arthritis occurs when the body's immune system attacks and breaks down healthy tissue — most notably the lining of joints in the hands, wrists, ankles and knees.
Some estimates suggest rheumatoid arthritis affects as much as 1% of the global population.
"In spite of its high prevalence, there is no cure and we don't entirely know what brings it on. This is true of nearly all autoimmune diseases, which makes treating or preventing them so difficult," said Dr. Ritu Chakravarti, an assistant professor in the UToledo College of Medicine and Life Sciences and the paper's lead author. "If we can successfully get this vaccine into the clinic, it would be revolutionary."
Chakravarti has for years studied a protein called 14-3-3 zeta and its role in immune pathologies, including aortic aneurysms and interleukin-17— a cytokine associated with autoimmune diseases. Based on their prior work, the research group was focused on the protein as a potential trigger for rheumatoid arthritis.
Instead, they found the opposite.
Rather than preventing rheumatoid arthritis, researchers discovered that removing the protein through gene-editing technology caused severe early onset arthritis in animal models.
Working under a new theory that the 14-3-3 zeta protein protects against rheumatoid arthritis, the team developed a protein-based vaccine using purified 14-3-3 zeta protein grown in a bacterial cell.
They found the vaccine promoted a strong and immediate — but long-lasting — response from the body's innate immune system, providing protection against the disease.
"Much to our happy surprise, the rheumatoid arthritis totally disappeared in animals that received a vaccine," Chakravarti said. "Sometimes there is no better way than serendipity. We happened to hit a wrong result, but it turned out to be the best result. Those kinds of scientific discoveries are very important in this field."
In addition to suppressing the development of arthritis, the vaccine also significantly improved bone quality — a finding that suggests there should be long-term benefits following immunization.
Currently, rheumatoid arthritis is treated primarily with corticosteroids, broad scale immunosuppressive drugs or newer, more targeted biologics that target a specific inflammatory process.
While those therapeutics can alleviate pain and slow the progression of the disease, they also can make patients more vulnerable to infection and, in the case of biologics, can be costly.
"We have not made any really big discoveries toward treating or preventing rheumatoid arthritis in many years," Chakravarti said. "Our approach is completely different. This is a vaccine-based strategy based on a novel target that we hope can treat or prevent rheumatoid arthritis. The potential here is huge."
Researchers have filed for a patent on their discovery and are seeking pharmaceutical industry partners to support safety and toxicity studies in hopes of establishing a preclinical trial.
---
Monday, October 4th, 2021
Human rights attorney Noura Erakat will present The University of Toledo's 21st Annual Maryse and Ramzy Mikhail Memorial Lecture.
The free, public lecture titled "We Broke a Dam: The Palestinian Intifada of Unity" is 3 p.m. Sunday, Oct. 10, in the Law Center McQuade Auditorium.
"This is fundamentally about a people's struggle for freedom and an aspiration that challenges the notion that Palestinian human rights is exceptional and contentious," Erakat said. "We are witnessing a monumental shift, one that is being ushered by Palestinian resistance, which has set us up for new horizons, at the precipice of new possibilities."
Erakat, an associate professor of Africana studies at Rutgers University, is the author of "Justice for Some: Law and the Question of Palestine" and non-resident fellow of the Religious Literacy Project at Harvard Divinity School.
Erakat's book received the Palestine Book Award and the Bronze Medal for the Independent Publishers Book Award in Current Events/Foreign Affairs.
"Each year, the Maryse and Ramzy Mikhail Memorial lecture brings to campus an important speaker on Arab culture, and Erakat will address one of the most seminal global issues of our time: the conflict between Israel and Palestine," said Dr. Melissa Gregory, associate dean for undergraduate education and curriculum in the College of Arts and Letters and professor of English. "The intense violence that occurred in occupied Palestinian territory this past May has ongoing and significant geopolitical implications well beyond the contested borders of the West Bank."
Erakat is co-founding editor of Jadaliyya, an e-magazine produced by the Arab Studies Institute, and editorial board member of the Journal of Palestine Studies.
She served as legal counsel for the Domestic Policy Subcommittee of the Oversight and Government Reform Committee in the U.S. House of Representatives from 2007 to 2009.
Prior to her work on Capitol Hill, Erakat served as the national grassroots organizer and legal advocate at the U.S. Campaign to End the Israeli Occupation. Noura also produced video documentaries, including "Gaza In Context" and "Black Palestinian Solidarity."
The free, public lecture has been a continuous event at The University of Toledo since 2001 and is sponsored by the College of Arts and Letters and the Mikhail Endowment Fund, which was originally established through a donation from the Mikhail family to honor the work and contributions of Maryse Mikhail and her involvement in educational, philanthropic and interfaith organizations.
The fund supports an annual lecture dealing with Arab culture, history, politics, economics and other aspects of life in the Middle East, including issues of peace and justice.
More information is available on the event website.
Those who wish to make a tax-deductible contribution to the fund can go to the UToledo Foundation website.
---
Friday, October 1st, 2021
The University of Toledo will celebrate the investiture of Dr. Gregory Postel as its 18th president 10 a.m. Friday, Oct. 8, in Nitschke Auditorium.
The traditional academic ceremony commemorating the beginning of a new president's tenure is part of UToledo's 2021 Homecoming activities leading up to the parade and Rocket football game against Northern Illinois University.
Postel joined UToledo in an interim role in July 2020, and the UToledo Board of Trustees appointed him UToledo's 18th president in March.
During his first year at UToledo, Postel led the safe reopening of campus during the COVID-19 pandemic and the stabilization of finances at The University of Toledo Medical Center.
"President Postel has already proven that he is the right leader, at the right time for our University," said Alfred Baker, chair of the UToledo Board of Trustees. "We are proud to formally install him as UToledo's 18th president. An investiture is a collegiate tradition, but also a community event because of UToledo's engagement across the region."
"I am proud to be part of an institution with such a rich, impactful history," Postel said. "Thank you to the community for the incredible welcome during an unprecedented year. I'm looking forward to all of the exciting Homecoming events and working together to chart our course for the University's future."
The event is free and open to all UToledo students, faculty, staff, alumni and the general public. It will feature a procession of UToledo faculty as well as delegates from other institutions of higher education in Ohio in full academic regalia.
The ceremony will be streamed live for those unable to attend in person at video.utoledo.edu.
Dr. Edward Halperin, chancellor and chief executive officer of New York Medical College and provost for biomedical affairs of the Touro College and University System, will give the investiture address. Halperin and Postel worked together at the University of Louisville (UofL).
Postel is the former interim president and executive vice president for health affairs at UofL. Prior to joining UToledo, he served as the senior client partner representing healthcare services and higher education at Korn Ferry, a global organizational consulting firm.
In addition to an accomplished career as an academic interventional neuroradiologist, Postel served 18 years as chair of the Department of Radiology at the UofL School of Medicine and held the positions of vice dean for clinical affairs and chair of the board at University Medical Center in Louisville. He was the founding board chair and later CEO of University of Louisville Physicians. Postel served as interim president of UofL in 2017-18 and also spent four years as its executive vice president for health affairs.
A graduate of the College of Wooster and Case Western Reserve University School of Medicine, Postel completed a residency in radiology at the Cleveland Clinic Foundation and a fellowship in neuroradiology at the Mayo Clinic Foundation.
---