Archive for August, 2021
Monday, August 30th, 2021
During the first week of classes for the fall semester, The University of Toledo will commemorate the end of the Centennial Mall enhancement project at the President's Backyard Barbecue.
UToledo President Gregory Postel will speak at the ribbon-cutting ceremony 11 a.m. Tuesday, Aug. 31, at the center of Centennial Mall, which features all new sidewalks to improve both the student experience and create a greener, more eco-friendly campus.
"The improvements have helped restore Centennial Mall to its original beauty," said Jason Toth, senior associate vice president for administration.
The President's Backyard Barbecue is from 11 a.m. to 1:30 p.m. at Centennial Mall on Main Campus and at the patio outside of Four Seasons Bistro on Health Science Campus. All UToledo students, faculty and staff are invited to the event that includes free food, outdoor games and activities, and giveaways including Beats Studio Buds, Amazon Echo Dots, TVs and gift cards.
"This year's President's Backyard BBQ promises to be a blast. We're excited we get to show students, faculty and staff just how special and appreciated they are as we begin our semester," said Dr. Pamela Rogers, director of Upward Bound and Upward Bound Math Science and committee chair for the event.
Over the summer, construction crews replaced deteriorated sidewalks to improve safety and altered some concrete pathways to help students, faculty and staff navigate Main Campus.
The campus community also can enjoy new planting beds at Memorial Field House and additional seating and congregating space at Brunner Garden on the south side of University Hall.
The improvements also improve stormwater management and water drainage on campus.
---
Wednesday, August 25th, 2021
The University of Toledo is welcoming students back to campus for the 2021-22 academic year.
Students began moving into their on-campus residence halls this week and UToledo President Gregory Postel will roll up his sleeves at 11:30 a.m. Thursday, Aug. 26, to personally help students and their families unpack their vehicles and get their belongings into their Parks Tower rooms.
The following day Dr. Postel and other campus leaders will welcome new Rockets at the New Student Convocation ceremony from noon to 1 p.m. Friday, Aug. 27, in Savage Arena, followed by a barbecue. The event kicks off a series of Welcome Weeks events taking place during the first weeks of fall semester.
Classes begin at UToledo on Monday, Aug. 30.
Other Welcome Weeks events include:
Saturday, Aug. 28 — Campus Activities and Programming Carnival, 8 to 11 p.m., Lot 10 on Main Campus. The carnival will feature activities such as a mechanical bull, rock climbing wall and extreme air, as well as carnival treats such as funnel sticks, snow cones and cotton candy.
Sunday, Aug. 29 —  Student Involvement Fair, 11 a.m. to 3 p.m., Centennial Mall. UToledo student organizations, campus departments and local campus partners will be on hand to connect with students and share information about opportunities to get involved outside of the classroom.
Tuesday, Aug. 31 — President's Backyard BBQ, 11 a.m. to 3 p.m. at Centennial Mall on Main Campus, and from 11 a.m. to 1:30 p.m. at the patio outside Four Seasons Bistro on Health Science Campus. All UToledo students, faculty and staff are invited for free food, activities and games.
Monday, Sept. 13 — Sundae on a Monday, 3 to 4 p.m., Centennial Mall. Enjoy an ice cream sundae and meet the University's senior leaders, including Dr. Gregory Postel, president, and Dr. Karen Bjorkman, provost and executive vice president for academic affairs.
Saturday, Sept. 18 — President's Tailgate, 1:30 to 3:30 p.m. in a tent near University Parks Trail and Rocket Hall. Stop by for free food before the UToledo-Colorado State football game.
---
Tuesday, August 10th, 2021
Singer, songwriter, fiddler and banjo picker Rhiannon Giddens is coming to The University of Toledo next month to give a free, public lecture.
The Grammy winner and MacArthur "Genius" grant recipient who explores the impact and continued relevance of early Black American music will share her story at the annual Edward Shapiro Distinguished Lecture 7 p.m. Monday, Sept. 13, at Doermann Theatre in University Hall.
Free admission tickets are required and available at the event website. Following CDC guidance, face masks are required. Doors open at 6 p.m. with first-come, first-served seating.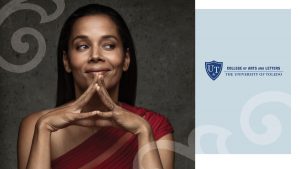 UToledo is partnering with the Toledo Symphony to welcome Giddens to town.
Giddens' lecture at UToledo follows her performance with the Toledo Symphony Orchestra 7 p.m. Sunday, Sept. 12, at the Toledo Museum of Art's Peristyle Theater featuring a program of jazz, blues, country, Gospel and Celtic music from her critically acclaimed albums.
"The Shapiro Lecture series is one of the premier intellectual events offered by the College of Arts and Letters at The University of Toledo," said Charlene Gilbert, dean of the UToledo College of Arts and Letters. "Each year we feature an individual who has reached the highest echelons of their profession, and this year we are honored to present musician, musicologist and historian Rhiannon Giddens.
"Ms. Giddens has made a name for herself both as a performer and an expert in music history, sharing the little-known but highly influential people and events that have shaped American music and society. Her work has earned her well-deserved awards, and we are thrilled to have her as our featured guest this year at The University of Toledo."
The annual lecture is made possible by the Shapiro endowment left by Dr. Edward Shapiro, professor emeritus of economics who retired in 1989, to provide opportunities for the University to bring world-renowned speakers to Toledo.
Past Shapiro Distinguished Lecture speakers include Elie Wiesel, Toni Morrison, Audra McDonald and Robert F. Kennedy Jr.
Tickets for Giddens' performance with the Toledo Symphony can be purchased by calling the box office at 419.246.8000 or visiting toledosymphony.com.
"Rhiannon Giddens is one of those artists who will go down in history for more than just their extraordinary talent," said Zak Vassar, president and CEO of the Toledo Alliance for the Performing Arts. "She is an all-around inspiring person, and her music reflects that. She fuses her operatic training with powerful, musical storytelling, giving a voice to some of the most important but forgotten people and events in history. We are proud to kick off our '21-22 season by bringing Rhiannon Giddens to our community. Her appearance is not to be missed."
Giddens' lifelong mission is to lift up people whose contributions to American musical history have previously been erased, and to work toward a more accurate understanding of the country's musical origins.
Giddens has performed for the Obamas at the White House, served as a Carnegie Hall "Perspectives" curator and received an inaugural Legacy of Americana Award from Nashville's National Museum of African American Music in partnership with the Americana Music Association.
Giddens began her musical studies at Oberlin Conservatory's Opera Theater. In 2005, Giddens attended the Black Banjo Gathering in Boone, North Carolina, where she met the future members of her band, the Carolina Chocolate Drops, the first African American string band to perform at the Grand Ole Opry. In 2011, the band won a Grammy for Best Traditional Folk Album for "Genuine Negro Jig."
In 2015, Giddens launched her solo career with the critically acclaimed album "Tomorrow Is My Turn," honoring the works of African American artists like Florence Quivar and Nina Simone.
Giddens made her acting debut with a recurring role on the hit television show "Nashville," playing the character of Hanna Lee "Hallie" Jordan, a young social worker with "the voice of an angel."
In 2018, Giddens became the host of the Metropolitan Opera's podcast series "Aria Code," which dives into some of the most legendary arias, exploring key moments in opera and how they affect the listener through emotions.
Giddens released a new album this year titled "They're Calling Me Home," which was recorded in Ireland during the COVID-19 lockdown and speaks of the longing for the comfort of home as well as the metaphorical "call home" of death, a tragic reality for so many during the pandemic.
---
Tuesday, August 3rd, 2021
Toxic algal blooms in the Great Lakes region cause mixed reactions in wildlife, from higher stress levels to weaker immune systems.
"We looked at four different species and found four different results," said Dr. Jeanine Refsnider, an associate professor of environmental sciences at The University of Toledo. "Although we are making substantial inroads toward understanding how microcystin affects human health, less is known about effects of microcystin on wildlife exposed to harmful algal blooms."
The UToledo research published in the journal Science of the Total Environment finds that physiological stress levels were higher in songbirds and snakes, and immune function was higher in snakes but lower in turtles, impacting their ability to fight off pathogens.
"While harmful algal blooms aren't directly causing exposed wildlife to die, the research suggests they are causing reptiles and birds to have generally worse health, putting their system at a disadvantage," Refsnider said. "The reptiles and birds are ramping up their response which can be harmful if you have a constantly elevated stress level in your body.
"In humans, if you have chronically high stress, you have distressed immune system. The indirect effects that stress has on other functions can be negative, such as lower reproductive output and population decline."
The research team, which included UToledo undergraduate students who are co-authors on the study, collected blood samples from two bird species and two reptile species in two locations: around Lake Erie wetlands before algal bloom season begins and Grand Lake St. Marys during algal bloom season.
The wildlife included in the study are barn swallows, red-winged blackbirds, Northern watersnakes and painted turtles.
Brittany Holliker, who graduated from UToledo in May 2020 with a bachelor's degree in biology, worked in the lab staining blood from watersnakes and tadpoles and analyzed them with a microscope to identify and record numbers of white blood cells.
"It is incredible that my undergraduate research is now part of a published study that can be used for wildlife conservation," said Holliker, who worked as an avian field technician in Mississippi after graduating from UToledo and is moving to Kansas to be a scaled quail field technician. "My experience at UT definitely helped me launch my career in wildlife biology by giving me the opportunity to become involved in interesting scientific research and by giving me knowledgeable professors who helped prepare me for the science field."
While the study found that turtles had weaker immune systems, snakes in the algal bloom site had stronger immune systems and birds showed no difference in immune function.
"Snakes are putting more energy into their immune system to fight off infection, but the extra immune energy has to come from somewhere else — maybe they're skinnier or maybe not reproducing quite as much," Refsnider said. "If they're increasing immune functioning to deal with the harmful algal bloom, that comes at a cost to something we haven't identified yet."
After identifying the inconsistent response of wildlife to harmful algal blooms, Refnsider next wants to track the movements of the animals through satellite or acoustic transmitters to see if they are changing their travel patterns to avoid experiencing the negative impacts.
---