Archive for February, 2021
Wednesday, February 24th, 2021
The Catharine S. Eberly Center for Women at The University of Toledo is hosting a one-day Gender Equity Summit Monday, March 1.
The inaugural summit, a virtual event with the theme "The State of Women," is free and open to the public.
"The Eberly Center for Women is bringing local stakeholders and changemakers together to explore the issues women face today and devise strategies to advance gender equity in the Toledo area," said Dr. Angela Fitzpatrick, director of the Eberly Center for Women. "We will delve into a range of topics including the COVID-19 pandemic, economics, education and racial justice."
Dr. Melina Abdullah, professor in the Department of Pan-African Studies at California State University, Los Angeles, will deliver the keynote address titled "Womanist Leadership" at 6 p.m.
The summit also includes panel discussions at 11 a.m., a workshop on how to advance intersectional gender equity at 1 p.m. and a networking session at 3:30 p.m.
The 2021 Gender Equity Summit is sponsored by the Eberly Center for Women, UToledo Department of Women's and Gender Studies, Toledo Lucas County Public Library Steinem Sisters Collection, United Way of Greater Toledo, Women of Toledo and YWCA of Northwest Ohio.
To register for the event and view the agenda, visit the Eberly Center website.
---
Tuesday, February 16th, 2021
The University of Toledo will be closed Tuesday, Feb. 16 due to inclement winter weather. Lucas County is currently under a Level 3 snow emergency. Roads are dangerous and closed to non-emergency personnel except for emergencies.
Only employees designated as essential to University operations should report to work.
No classes were scheduled for today as Tuesday, Feb. 16 had previously been a planned instructional break.
The University of Toledo Medical Center, as always, will remain open. Ambulatory care and clinics are closed. Patients will be contacted to reschedule.
Please check utoledo.edu/weather for updates.
---
Monday, February 15th, 2021
The military is adding fuel to the momentum of physicists at The University of Toledo who are advancing new frontiers in thin-film, highly efficient, low-cost photovoltaic technology to ensure a clean energy future.
The U.S. Air Force awarded UToledo $12.5 million to develop photovoltaic energy sheets that would live in space and harvest solar energy to transmit power wirelessly to Earth-based receivers or to other orbital or aerial instrumentation, such as communications satellites.
UToledo physicists will develop flexible solar cell sheets, each roughly the size of a piece of paper, that can be assembled and interconnected into much larger structures.
Although UToledo's focus does not include engineering the interconnected arrays, the vision is potentially massive: one space-based solar array could include tens of millions of sheets and extend to sizes as large as a square mile — that's more than three quarters the size of UToledo Main Campus. One array at this size could generate about 800 megawatts of electrical power — just shy of the power produced by the Davis Besse power plant between Toledo and Cleveland.
"With 37% stronger sunlight above the atmosphere than on a typical sunny day here on Earth's surface, orbital solar arrays offer a critical opportunity to harness renewable energy, achieve sustainability goals and provide strategic power for a wide range of orbital and airborne technologies," said Dr. Randall Ellingson, professor in the UToledo Department of Physics and Astronomy and member of the UToledo Wright Center for Photovoltaics Innovation and Commercialization who will lead the five-year project.
"This $12.5 million award recognizes our own University of Toledo as a national leader in solar cell technologies and in photovoltaic energy research," said Congresswoman Marcy Kaptur. "UToledo's broad partnerships with industry, government and academia represent the best of us and will help cement our region as a player for generations to come in solar manufacturing, research and development."
Building on UToledo's more than 30-year history advancing solar technology to power the world using clean energy, the physicists will continue developing the material science and photovoltaic technologies that are highly efficient, lightweight and durable in an outer-space environment.
They're building tandem solar cells — two different solar cells stacked on top of each other that more efficiently harvest the sun's spectrum — on very thin, flexible supporting materials.
"We have had great success accelerating the performance of solar cells and drawing record levels of power from the same amount of sunlight using the tandem technique with what are called perovskites," Ellingson said.
Perovskites are compound materials with a special crystal structure formed through chemistry.
The team will sandwich a variety of combinations of solar cells, including perovskites, silicon, cadmium telluride and copper indium gallium selenide, to raise the ceiling on what is achievable.
At the same time, the team will explore lightweight, flexible supporting material to create the large solar cell sheets. Those materials also need to be resilient, ultra-thin and tolerant to high and low temperatures. Semitransparent and very thin ceramic, plastics and glass are under consideration.
"Professor Ellingson and his team have demonstrated their ability to provide the Air Force with outstanding results over the years and the University is pleased that Representative Kaptur prioritizes projects that both advance the nation's leadership in cutting-edge solar energy technology and provide the Department of Defense with the highest level of support from University research," said Dr. Frank Calzonetti, UToledo vice president of research.
In 2019 the U.S. Air Force awarded Ellingson's team $7.4 million to develop solar technology to power space vehicles using sunlight.
"The Air Force has demanding specifications for its spaced-based power systems, and the advances being made in thin-film photovoltaics at UToledo coupled with our new photovoltaic sheets concept provide an avenue to meet them," said Dr. Michael Heben, UToledo professor of physics and McMaster endowed chair. "The faculty and staff at UToledo's Wright Center for Photovoltaics are proud to receive this award and excited about the challenge."
In 2019 the U.S. Department of Energy awarded UToledo $4.5 million to develop the next-generation solar panel by bringing a new, ultra-high efficiency material to the consumer market. As part of the project, Dr. Yanfa Yan, UToledo professor of physics, is working with the National Renewable Energy Laboratory and First Solar to develop industrially relevant methods for both the fabrication and performance prediction of low-cost, efficient and stable perovskite thin-film PV modules.
Also in 2019 UToledo was part of a $3.9 million award led by Colorado State University to collaborate with the National Renewable Energy Laboratory, First Solar and the University of Illinois at Chicago on a U.S. Department of Energy-funded project to improve the voltage and power produced by cadmium-telluride-based solar cells.
UToledo's Wright Center for Photovoltaics Innovation and Commercialization is a founding member of an organization called the U.S. Manufacturing of Advanced Perovskites Consortium, which is focused on moving a breakthrough new technology out of the lab and into the marketplace to enhance economic and national security. Partners include the U.S. Department of Energy's National Renewable Energy Laboratory in Golden, Colo.; Washington Clean Energy Testbeds at the University of Washington; University of North Carolina at Chapel Hill; and six domestic companies that are working to commercialize the technology.
The University created the Wright Center for Photovoltaics Innovation and Commercialization in January 2007 with an $18.6 million award from the Ohio Department of Development in response to a proposal led by Dr. Robert Collins, Distinguished University Professor and NEG Endowed Chair of Silicate and Materials Science. Matching contributions of $30 million from federal agencies, universities and industrial partners helped to launch the center, which works to strengthen the photovoltaics and manufacturing base in Ohio through materials and design innovation.
"Solar electricity now competes economically with fossil-fueled and nuclear electricity while avoiding significant atmospheric carbon emissions which drive climate change," Ellingson said.
"UToledo has assisted in driving down the cost of solar," Heben said. "Over the past 15 years the cost of solar has been reduced by a factor of 10, while the amount of solar annually deployed has grown by a factor of 100, currently amounting to about 2% of the U.S. electricity supply. Importantly, the transition to clean solar electricity that is occurring also is creating tremendous new job growth opportunities in many parts of our economy."
---
Monday, February 15th, 2021
The COVID-19 vaccine clinic scheduled for Tuesday, Feb. 16, at The University of Toledo Medical Center Outpatient Pharmacy is postponed to Wednesday, Feb. 17, due to the anticipation of significant snowfall.
Individuals who were scheduled to receive a dose of the vaccine during Tuesday's clinic should report to the UTMC Outpatient Pharmacy on Wednesday at the same time.
UTMC also is working to contact impacted patients directly using the contact information supplied upon registration.
For more information about the University's vaccine program as one of Ohio's vaccine providers visit utoledo.edu/coronavirus/vaccine.
---
Tuesday, February 9th, 2021
The University of Toledo is continuing its Dialogues on Diversity series with the next virtual town hall in the series titled "COVID-19 Vaccines and the Black Community" taking place 6 p.m. Tuesday, Feb. 16 on Webex.
"There are clear and well-documented historical reasons that Black folks may be apprehensive about vaccines and healthcare in general," said David Young, director of Toledo Excel and Special Projects at UToledo. "At the same time, COVID-19 has ravaged our communities, and we need to find the most expedient way to eradicate it. Our intent is not to convince or persuade anyone, but rather to provide facts and a transparent dialogue."
Participants include:
Dr. Joan Duggan, infectious disease specialist and professor of medicine at UToledo;
Dr. Kimberly Jenkins, associate dean of diversity and inclusion in the UToledo College of Medicine and Life Sciences;
Dr. Anthony Pattin, assistant professor of pharmacy practice at UToledo;
Dr. Rachel Dudley, assistant professor of women's and gender studies at UToledo;
Gwendolynn Gregory, director of nursing, clinical and community wellness services at the Toledo-Lucas County Health Department and program director of the Reproductive Health and Wellness Center; and
Rev. Willie Perryman, president of the Toledo chapter of the NAACP and pastor of Jerusalem Missionary Baptist Church.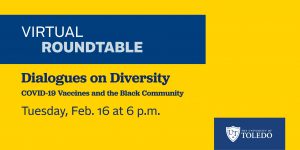 The UToledo Office of Diversity and Inclusion collaborated with Brothers on the Rise, Sister Circle and the UToledo College of Medicine and Life Sciences to organize the event.
This is the 11th town hall in the series of recent virtual Dialogues on Diversity since George Floyd was killed in Minneapolis by a police officer, sparking protests against systemic racism across the country.
The University of Toledo is a community that celebrates and respects people of all backgrounds and experiences. As an institution, we remain committed to building an inclusive environment free of racism, sexism, bigotry and other negative influences.
---