Archive for January, 2021
Monday, January 25th, 2021
In partnership with NASA and its additional $11.4 million in support, a researcher at The University of Toledo is expanding his work to transform how K-12 science is taught in the U.S. using more hands-on experiments and direct observations to solve environmental problems.
NASA extended for five years the UToledo-led project, which began in 2015 with $10 million in funding.
Dr. Kevin Czajkowski, professor of geography and planning in the UToledo College of Arts and Letters, is spearheading the development of new curriculum that relies on helping learners of all ages do real science using the resources of NASA and education partners across the country.
An average of 5,000 students each year participated in the project over the last five years from across the country.
"The main goal of our program is to have students create and do real science projects — authentic science, not something staged in a lab," Czajkowski said. "Some of the projects students have done are very cutting edge."
For example, a high school student in Toledo worked with an air quality scientist at NASA Langley Research Center in Virginia to look at how forest fires in California affect the air quality in Ohio.
"Working with a national expert in the area of air quality, the local teenager collected and analyzed data. The team discovered the forest fires made our skies murky, milky white in Toledo, but didn't affect air quality at the surface," Czajkowski said.
During the 50th anniversary of the Apollo 11 moon landing in 2019, the program enlisted local middle and high school students in a competition to recreate the historic lunar landing using robots and drones.
Plus, every year students from Ohio and Michigan ranging from kindergartners to college seniors come to UToledo to present research projects related to the Earth's environment. The most recent conferences have continued virtually during the coronavirus pandemic.
"Being science literate is to be able to ask questions and find out information, gather data and analyze the results," Czajkowski said. "Our project also is a way to encourage students to pursue STEM degrees."
UToledo's project is one of 27 funded with an annual $39 million commitment from NASA's Science Mission Directorate to implement the next phase of Science Activation — a community-based approach to connect NASA science with students.
"NASA science seeks to serve new communities and expand connections with our premier scientists and engineers. We do that through innovative partnering, and I couldn't be prouder of the cadre of awardees," said Thomas Zurbuchen, associate administrator for NASA's Science Mission Directorate.
The UToledo-led project, called "MISSION EARTH: Fusing GLOBE with NASA Assets to Build Systemic Innovation In STEM Education," leverages the resources of both NASA and Global Learning and Observations to Benefit the Environment (GLOBE), which is an international science and education program that connects students, teachers, scientists and citizens from different parts of the world to conduct real, hands-on science about their local environment and put it in a global perspective.
UToledo's partners in the project during the last five years include WestEd, a research and service agency in San Francisco with expertise in high school career readiness; Boston University that has expertise in elementary and college engineering practices; and Tennessee State University which provides its expertise in college service learning. University of California, Berkeley, NASA Langley Research Center and the technology company Science Systems and Applications Inc. (SSAI) at NASA Goddard Space Flight Center also are partners on the project.
The team will expand to include more schools and locations around the U.S. through 2026.
"We've already started a Great Lakes campaign, working with Defiance College, Northern Michigan University and State University of New York at Fredonia," Czajkowski said. "Our idea is to have these new partners duplicate what we're doing here at UToledo and at Boston University, Tennessee State, West Ed and UC Berkely in California. All of us are creating hubs and then working with other partners in our area. We find that you need a local person to work with the teachers and students."
---
Friday, January 22nd, 2021
The University of Toledo is continuing its Dialogues on Diversity series with the next virtual town hall in the series titled "The Path Forward — The Constitution and the Fragility of Democracy" taking place 6 p.m. Tuesday, Jan. 26 on Webex.
"We are quite fortunate to have such distinguished scholars here at the University who are able to help us better understand the constitutional questions and concerns raised by the events of Jan. 6," said Charlene Gilbert, dean of the UToledo College of Arts and Letters. "Higher education has an important role to play in defending our institutions and our modern democracy. I look forward to hearing the expert insights of our panelists and to an inclusive and informative discussion."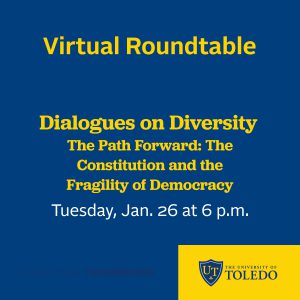 Gilbert will moderate the discussion with participants including:
Jeff Newton, UToledo Police chief and director of public safety;
Dr. Sam Nelson, associate professor and chair of the Department of Political Science and Public Administration;
D. Benjamin Barros, dean of the College of Law;
Benjamin Davis, professor of law; and
Dr. Monita Mungo, assistant professor of sociology.
This is the 10th in a series of recent virtual Dialogues on Diversity since George Floyd was killed in Minneapolis by a police officer, sparking protests against systemic racism across the country.
The University of Toledo is a community that celebrates and respects people of all backgrounds and experiences. As an institution, we remain committed to building an inclusive environment free of racism, sexism, bigotry and other negative influences.
---
Thursday, January 21st, 2021
The University of Toledo Lake Erie Center and its scientists will engage local teachers and hundreds of middle and high school students in hands-on learning on a new floating laboratory on the Maumee River.
The National Oceanic and Atmospheric Administration awarded UToledo a nearly $80,000 grant to fund the STEM educational project titled Maumee River FLOWS —floating laboratory on watershed science.
A central feature of the project is to transform the large Maumee River tour boat, the Sandpiper, into a laboratory for science and art classes by equipping it with sensors, sampling gear and water-testing equipment. Data available from NOAA buoys in nearby Lake Erie and U.S. Geological Survey river gauge stations will allow students to engage with live river and lake data throughout the year.
The funding, which runs through October 2022, also covers the cost of an estimated 30 science cruises aboard the Sandpiper during the 16 months of the project, which can accommodate about 600 students in total.
"Our goal is to foster in teachers and students an awareness and sense of connection with and responsibility for the waters of the Great Lakes," said Dr. Thomas Bridgeman, professor of ecology and director of the UToledo Lake Erie Center.
"Hundreds of school-age children cross the Maumee River every day, yet have never had the opportunity to venture onto the river or touch the water. Many have never even seen Lake Erie, a mere five miles downstream. We want to get students out on the river, touching the water and becoming aware of its influence on their Great Lake."
Focused on schools in and near the downtown area along the Maumee River, the project is joined by local partners including Toledo Public Schools, Toledo School for the Arts, Maritime Academy of Toledo, Lucas Soil and Water Conservation District, Partners for Clean Streams and the Sandpiper.
The Lake Erie Center plans to train 10 middle school and high school teachers to use the scientific equipment on board the Sandpiper and provide context to the adventure on the water when the class returns to school.
"The 2014 'Toledo Water Crisis' made everyone in the region aware of the problem of harmful algal blooms, what we call HABs," Bridgeman said. "Many residents, however, remain unaware of the central role of the Maumee River in gathering agricultural HAB-causing nutrients from the watershed and delivering them to Lake Erie and of the urban effects on the river stemming from storm-water drains, road salt runoff and sewage treatment plant outflows."
Students will reflect and present their "meaningful watershed educational experience" through science presentations or artistic media.
Students and teachers also will work on stewardship action projects that focus on urban effects on waterways, such as labelling and protecting street storm drains, installing rain barrels and rain gardens, designing alternate parking lot salting schemes, or stream litter removal.
The project is designed to accommodate social distancing and safety procedures required by the COVID-19 pandemic.
"The passenger deck of the Sandpiper is an ideal platform for a socially distanced learning experience," Bridgeman said. "Designed to carry 100 passengers, the Sandpiper can carry up to 50 passengers with social distancing and an ideal class size of up to 30 students."
The Lake Erie Center is UToledo's freshwater research and science education campus focused on finding solutions to water quality issues that face the Great Lakes, including harmful algal blooms, invasive species and pollutants.
---
Tuesday, January 19th, 2021
Valerie Jarrett, former senior advisor to the Obama administration, and Sybrina Fulton, mother of Trayvon Martin, will speak at The University of Toledo's 37th annual Conference for Aspiring Minority Youth.
Advance registration for the free, public conference is required; go to the event website.
This year Toledo Excel, a longtime scholarship incentive program at UToledo, partnered with Owens Corning to offer the free event at 10 a.m. on Saturday, Jan. 30, for seventh- and eighth-graders, high school students and parents. The event is virtual because of the coronavirus pandemic.
"Owens Corning was one of the original corporate supporters for Toledo Excel when we were founded 32 years ago. I could not be happier about us renewing our relationship in 2020," said David Young, director of Toledo Excel and Special Projects.
"Their generous gift allows us to take an already successful conference to the next level. The quality of speakers and programming we can now offer students and the Toledo community is extremely exciting. We would be excited to have one of them and are greatly blessed to have both."
Owens Corning donated $50,000 to support the conference.
"Owens Corning is fully committed to joining with our other community stakeholders to accelerate Toledo's journey to be an inclusive, thriving community of excellence that achieves equity and justice for everyone," said Leah Maguire, vice president of inclusion and diversity at Owens Corning.
"One of the critical paths on that journey will always be education, investing in our young people and supporting the goals of vital organizations like Toledo Excel."
Established in 1988, Toledo Excel helps underrepresented students, including African, Asian, Hispanic and Native Americans, achieve success in college. Through summer institutes, academic retreat weekends, campus visits and guidance through the admission process, students increase their self-esteem, cultural awareness and civic involvement.
This year's speakers have connections to two through lines of 2020: politics and race.
Jarrett is a senior distinguished fellow at the University of Chicago Law School and a senior advisor to the Obama Foundation. She serves as board chair of When We All Vote and co-chair of The United State of Women. Her New York Times bestselling memoir, "Finding My Voice: When the Perfect Plan Crumbles, the Adventure Begins," was published last year.
Jarrett served as the chief executive officer of The Habitat Company, chairman and chief executive officer of the Chicago Stock Exchange, chairman of the Chicago Transit Board, deputy chief of staff for Chicago Mayor Richard M. Daley, and practiced corporate, real estate and finance law for 10 years.
"Politics is very much on the mind of this nation with 2020 seeing such hotly contested races," Young said. "Ms. Jarrett, with her wealth of experience as senior advisor to President Obama for eight years, is a perfect voice in this climate. She also has a passion for strengthening communities."
Fulton has dedicated her life to transforming family tragedy into social change since her 17-year old-son Trayvon Martin was shot by George Zimmerman in 2012. Her book co-authored with Tracy Martin, "Rest in Power: The Enduring Life of Trayvon Martin," shares the story of her son's life and the rise of a movement that awoke a nation's conscience.
Fulton worked for the Miami-Dade County Housing Development Agency for more than 25 years. A Miami native, Fulton graduated from Florida Memorial University, where she earned a bachelor's degree in English.
"The tragedy Sybrina Fulton faced with the murder of her son Trayvon Martin is unfortunately the reality mothers in our community have faced at an alarming rate," Young said. "Many of the students who will be in attendance have lost brothers or sisters, cousins, friends and classmates. Ms. Fulton can speak to that pain and, of course, the questions about race and its role in her son's death and the aftermath."
National recording artist Isaiah Templeton is recording a special performance of his hit single "Everything Will Be Alright" for the conference.
---
Friday, January 8th, 2021
BOARD OF TRUSTEES MEETING
Monday, Jan. 11, 2021
Join via Webex:
Meeting number (access code): 180 398 9687
Meeting password: UTBOTJAN2021
Join via Phone:
+1-415-655-0002
Meeting number (access code): 180 398 9687
4:30 p.m. Privileging and Credentialing Subcommittee Meeting
This subcommittee of the Clinical Affairs Committee will enter
Executive Session immediately upon convening the meeting
to discuss privileged information related to the evaluation
of medical staff personnel appointments.
Any questions may be directed to the Office of University Marketing and Communications by calling 419.530.2410 or via email to meghan.cunningham@utoledo.edu.
---
Tuesday, January 5th, 2021
A play created by The University of Toledo Black Theatre Ensemble and students in the Department of Theatre and Film was selected to be showcased at this year's annual Kennedy Center American College Theater Festival for Region III.
Titled "20K Leagues Under the Sea" and based on the novel by Jules Verne, it uses the story of Captain Nemo's fight against injustice and oppression to reflect a contemporary narrative.
The play will be available to stream for free after the virtual festival concludes Saturday, Jan. 9. The School of Visual and Performing Arts will post a link to access the performance on its website.
Recorded in September, the production included primarily student writers, a team of student directors and a large ensemble-based cast. The performance was captured by students and faculty from the Department of Communications.
Being accepted into the festival puts the student work and production into consideration for national awards that will be announced in the spring.
In 2019, UToledo's production of "All Quiet on the Western Front" received the Kennedy Center's David Mark Cohen Playwrighting Award for outstanding new college play of the year.
The choice of UToledo's 2020-21 production came about last summer as the UToledo Black Theatre Ensemble and students in the Department of Theatre and Film searched for a project that would address the urgent conversation of social justice, while finding a way to safely and effectively perform during the global health crisis.
Believing the best way to learn theatre is through theatre-making, and knowing time was short and the avenues to do this safely were few, the ensemble set out to build a piece that sought to interrogate systems of oppression and injustice while finding an innovative way to share the story in this unprecedented time.
---
Tuesday, January 5th, 2021
The University of Toledo Medical Center is one of the first sites in the country to enroll patients in a National Institutes of Health study aimed at identifying promising COVID-19 treatments worthy of larger, more in-depth clinical trials.
The proof-of-concept study is intended to quickly screen out ineffective experimental treatments while rapidly advancing deployment of therapeutics that show significant benefit to hospitalized COVID-19 patients.
"This is a very important project," said Dr. Michael Ellis, an infectious disease specialist and chief medical officer at UTMC. "Right now, we have two primary treatments for COVID-19, the antiviral drug remdesivir and the steroid dexamethasone, but we critically need additional therapeutics. The purpose of this study is to quickly identify agents that could have a big impact in keeping patients off a ventilator, getting them out of the hospital sooner and reducing fatal infections."
The trial will enroll patients hospitalized with COVID-19 who require oxygen or mechanical ventilation who consent to participate. In the initial portion of the trial, UTMC will be treating patients selected for the clinical trial with either risankizumab or lenzilumab, which are monoclonal antibodies directed at different parts of the inflammatory response that are being investigated as potential treatments for COVID-19.
Both experimental drugs in the study will be paired with remdesivir, which has shown benefit to patients with severe COVID-19 infections.
Monoclonal antibodies are lab-made proteins based on the natural antibodies our immune system produces to fight off disease. Risankizumab was approved in 2019 for the treatment of severe plaque psoriasis. Lenzilumab is in late-stage development as a treatment for leukemia.
"As we treat COVID, our objectives are to stay safe, provide state-of-the-art care and participate in the public health response," Ellis said. "In this study, we're participating in a way beyond just Toledo."
The Phase 2, adaptive, randomized, double-blind placebo-controlled trial will examine both the safety and efficacy of the monoclonal antibodies compared to remdisivir alone.
Up to 40 U.S. sites will be involved in the study. Currently, UTMC is one of nine facilities recruiting participants.
---