UToledo to compete in new Esports Collegiate Conference
June 10th, 2020 by Christine Billau
Gamers, get ready.
The University of Toledo is one of the founding members of the Esports Collegiate Conference, which begins gaming competitions in the fall semester.
UToledo students will go through tryouts to join the varsity esports team, which will practice several times a week and compete against other universities in the Mid-American Conference (MAC).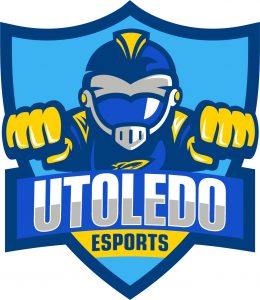 The MAC announced June 10 the new Esports Conference that will feature fall and spring seasons with teams from UToledo, University of Akron, Ball State University, Bowling Green State University, University at Buffalo, Central Michigan University, Eastern Michigan University, Kent State University, Miami University, Northern Illinois University, Ohio University and Western Michigan University.
"We are excited to be part of a historic opportunity for our students that facilitates high-quality gaming competition against MAC universities," Tony North Jr., assistant director of programs and leadership development in the UToledo Office of Recreational Services, said. "We're looking for high-character individuals with skills necessary to compete at a high level for esports, such as good hand eye coordination, fast reaction time, good reflexes, sound decision-making skills and good communication."
The Esports Collegiate Conference will provide structure, scheduling and championship opportunities for its membership, with competition beginning in the 2020-21 academic year. The conference is an independent entity and will operate separately from the MAC.
An Esports Collegiate Champion will be crowned in each game title with the champion earning an automatic bid to the national postseason tournament.
Titles being considered for fall 2020 are Rocket League, Fortnite, Super Smash Brothers, Madden or FIFA. Spring season competition will be in Overwatch and League of Legends.
"The creation of Esports Collegiate represents the foresight of our presidents to establish a stand-alone competitive framework for collegiate esports competitors and enthusiasts," MAC Commissioner Dr. Jon Steinbrecher said.
The number of players on a team depends on a game title.
"Each game title is essentially a different sport that requires a different roster size," North said. "In the spring, League of Legends will require a minimum of five players, as well as two or three subs, and Overwatch requires a minimum of six players, as well as two or three subs."
Students will have the opportunity to compete from their residence hall, home or a team location on campus.
"The nice things about esports is that you don't have to be in a specific location to compete," North said. "Students will have the ability to compete from wherever they are. However, we're working to finalize a temporary esports location on campus to host practices and competitions."
Information and criteria for UToledo tryouts will be announced when finalized.
Visit esports-collegiate.com for more information about the new conference.

Christine Billau is UT's Media Relations Specialist. Contact her at 419.530.2077 or christine.billau@utoledo.edu.
Email this author | All posts by Christine Billau
---