Archive for May, 2020
Saturday, May 30th, 2020
The University of Toledo is a community that celebrates and respects people of all backgrounds and experiences. As an institution, we remain committed to building an inclusive environment free of racism, sexism, bigotry and other negative influences.
The events of the past week have brought to light the critical role higher education can and must play in facilitating open and honest discussions that empower us as a community and a nation to translate our ideals into actionable change.
As such, UToledo will be hosting a virtual roundtable on Thursday, June 4 at 5:30 p.m. It is through this open dialogue that we can move forward, together, and breathe.
Access information will be released next week.
---
Wednesday, May 27th, 2020
Nearly half of individuals who contract COVID-19 experience changes in their sense of taste, a new analysis led by a University of Toledo researcher has found.
The systematic review, published in the journal Gastroenterology, could provide yet another diagnostic hint for clinicians who suspect their patients might have the disease.
"Earlier studies didn't note this symptom, and that was probably because of the severity of other symptoms like cough, fever and trouble breathing," said Dr. Muhammad Aziz, chief internal medicine resident at UToledo and the paper's lead author. "We were beginning to note that altered or lost sense of taste were also present, not just here and there, but in a significant proportion."
Aziz and his research collaborators analyzed data from five studies conducted between mid-January and the end of March. Of the 817 patients studied, 49.8% experienced changes to their sense of taste. Researchers suspect the true prevalence could be even higher because some of the studies were based on reviews of patient charts, which may not have noted every symptom.
"We propose that this symptom should be one of the screening symptoms in addition to the fever, shortness of breath and productive cough. Not just for suspected COIVD patients, but also for the general population to identify healthy carriers of the virus," Aziz said.
Prior research has found that a significant number of people who have COVID-19 don't know they've been infected and may be spreading the virus.
Aziz and his research collaborators suspect an altered sense of taste is more prevalent in patients with minor symptoms, though more studies are needed to validate that suspicion. Even so, changes in an individual's sense of taste could be a valuable way to identify carriers who are otherwise mostly asymptomatic.
Taste disorders are tied to a variety of viral illnesses. The review did not attempt to identify the reason that COVID-19 is causing changes in patients' sense of taste; however, researchers theorize it could be COVID-19's ability to bind to what's known as the ACE-2 receptor, which is expressed in epithelial cells on the tongue and mouth.
Because the novel coronavirus was unknown prior to its emergence in January, scientists have been moving rapidly to learn more about both the virus and the disease it causes.
Aziz said the drip of new information shows the need for more scientists to dig into the impacts of COVID-19.
"A lot of things are being missed, which is why I think researchers from every field should try to look into this and see if it's affecting their specialty in one way or another," he said. "Who knows what systems this virus is affecting. If we can catch it earlier in the disease course, we can prevent the spread of the virus and potentially have ways of managing it."
---
Tuesday, May 26th, 2020
Before water produced during hydraulic fracturing is disposed of in waterways or reused in agriculture and other industries, chemists at The University of Toledo are zeroing in on water quality and environmental concerns of fracking wastewater to determine if it is safe for reuse.
The research scientists of the new Dr. Nina McClelland Laboratory for Water Chemistry and Environmental Analysis at UToledo created a new method that simultaneously identified 201 chemical compounds in fracking wastewater, called produced water.
The research, which is published in the Journal of Separation Science and was carried out in collaboration with scientists at The University of Texas at Arlington, shows that many of the chemicals found in produced water are carcinogens, solvents and petroleum distillates that can directly contaminate drinking water sources.
"The issue with produced water is that this is a very new and overlooked source of pollution, and disposal and purification practices are not yet fully optimized to guarantee total removal of environmental pollutants," said Dr. Emanuela Gionfriddo, assistant professor of analytical chemistry in the UToledo Department of Chemistry and Biochemistry and the School of Green Chemistry and Engineering. "Our work aimed to provide a new, simple and cost-effective method for the comprehensive characterization of chemicals and fill the gap of knowledge currently existing about the chemical composition of this waste product of the oil and natural gas industry."
Scientists and natural gas companies are seeking creative ways to use produced water because current treatment processes to remove salts and radioactive substances – processes that include reverse osmosis and distillation – are expensive.
"Current methods for chemical characterization of produced water can give an estimate of the total amount of contamination but do not give information about what type of contamination is present," Gionfriddo said. "It could be that a molecule can be still very toxic even if present at very low concentration, or it has the potential to accumulate in the body over time, so the point is to know exactly what is in produced water, not only how much."
Gionfriddo's research outlines how the chemists developed and optimized a thin-film, solid-phase microextraction approach to characterize the organic compounds in the produced water.
The team identified many chemicals, including a pesticide called atrazine; 1,4-dioxane, an organic compound that is irritating to the eyes and respiratory tract; toluene, which at low exposure has health effects like confusion, weakness, and loss of vision and hearing; and polycyclic aromatic hydrocarbons, which have been linked to skin, lung, bladder, liver and stomach cancers.
"There are many chemicals that still need to be identified at this time," said Ronald Emmons, UToledo Ph.D. candidate. "More research also is needed to test the uptake of these chemicals in crops when produced water is recycled for agriculture. We need to study if and how these chemicals from the produced water can accumulate in the soil watered with produced water and if these chemicals can transfer from the soil to the crops."
The collaborative research between UToledo and UT Arlington will continue using the new method for screening the presence of toxic molecules in produced water samples from various sampling sites in Texas.
UToledo scientists also are developing new methods for the extraction of heavy metals and rare earth elements that will aid the full characterization of produced water samples.
---
Thursday, May 14th, 2020
The University of Toledo is among four Ohio universities to receive a total of $2.08 million from the Ohio Department of Higher Education's Harmful Algal Bloom Research Initiative in this year's round of state funding to address Lake Erie water quality and find solutions for algal bloom toxicity.
UToledo scientists situated on the western basin of Lake Erie from diverse research areas were awarded $613,436 to lead four projects related to protecting public health:
Dr. April Ames and Dr. Michael Valigosky, assistant professors in the School of Population Health in the College of Health and Human Services, will assess microcystin inhalation risk to shoreline populations;
Dr. Steven Haller, assistant professor in the Department of Medicine in the College of Medicine and Life Sciences, will work to create a new therapy for microcystin exposure and hepatotoxicity using naturally occurring Lake Erie bacteria that removes microcystin released by harmful algal blooms in drinking water;
Haller also will conduct deep phenotyping of human organ biobank specimens for cyanotoxin exposure in at-risk populations; and
Dr. Von Sigler, professor of environmental microbiology in the College of Natural Sciences and Mathematics, will investigate any risks to beach visitors who come in contact with sand along a beach which has had bloom-enriched water wash up on the shoreline.
"Foreshore sands are frequently contacted by beach visitors and are known to play a crucial role in accumulating bacteria, often harboring potentially pathogenic bacteria in densities exceeding those in nearby waters," Sigler said. "Although no data is currently available that describes the ecology of microcystis in sands, there is potential for human health impacts."
UToledo and Ohio State University lead the Harmful Algal Bloom Research Initiative, which consists of dozens of science teams across the state and is managed by Ohio Sea Grant.
Researchers from UToledo, Ohio State University, the University of Akron and Bowling Green State University will lead 12 newly announced projects – four from UToledo – to track blooms from the source, produce safe drinking water, protect public health and engage stakeholders.
The selected projects focus on reducing nutrient loading to Lake Erie, investigating algal toxin formation and human health impacts, studying bloom dynamics, and better informing water treatment plants how to remove toxins.
"Thanks in part to past HABRI projects, the primary threat of microcystin algal toxin to our Lake Erie-sourced drinking water has been greatly diminished," said Dr. Thomas Bridgeman, professor of ecology, director of the UToledo Lake Erie Center and co-chair of the Harmful Algal Bloom Research Initiative. "Even under the best-case scenario, however, we are likely to be living with harmful algal blooms for many years to come. This new set of HABRI projects allows us to follow up with questions about other algal toxins such as saxitoxin and anatoxin that we know much less about, long-term exposure to toxins, and secondary routes of exposure, such as inhalation."
Harmful algal blooms are not only a Lake Erie problem.
"Many lakes and rivers across Ohio are having similar issues," Bridgeman said. "Several new projects are dedicated to helping smaller Ohio lakes and rivers use remote sensing, groundwater tracing and improved toxin-testing methodology."
Previous HABRI projects have developed algal toxin early warning systems for water treatment plants, changed the way state agencies collect data for fish consumption advisories, and helped modify permit procedures for safer use of water treatment residuals as agricultural fertilizer.
"Lake Erie is an invaluable resource and a true treasure for the state of Ohio, and we have a responsibility to do all we can to preserve it and protect it," said Randy Gardner, chancellor of the Ohio Department of Higher Education. "I'm pleased that our university researchers are collaborating to lead this endeavor."
The projects also aid the efforts of state agencies such as the Ohio Environmental Protection Agency (OEPA), Ohio Department of Agriculture, Ohio Department of Health, and Ohio Department of Natural Resources.
"Direct engagement with these front-line agencies continues to allow HABRI scientists to develop research proposals that address both immediate and long-term needs of the people tackling this important statewide issue," said Dr. Kristen Fussell, assistant director of research and administration for Ohio Sea Grant, who leads the initiative's daily administration.
A total of $9.1 million in funding was made available through ODHE in 2015 and designated for five rounds of HABRI projects. Matching funding from participating Ohio universities increases the total investment to almost $19.5 million for more than 60 projects, demonstrating the state's overall commitment to solving the harmful algal bloom problem.
Information about HABRI projects, partner organizations and background on the initiative is available on the Ohio Sea Grant website.
The UToledo Water Task Force, which is comprised of faculty and researchers in diverse fields spanning the University, serves as a resource for government officials and the public looking for expertise on investigating the causes and effects of algal blooms, the health of Lake Erie and the health of the communities depending on its water. The task force includes experts in economics, engineering, environmental sciences, business, pharmacy, law, chemistry and biochemistry, geography and planning, and medical microbiology and immunology.
Water quality is a major research focus at UToledo, with experts studying algal blooms, invasive species such as Asian carp, and pollutants. Researchers are looking for pathways to restore our greatest natural resource for future generations to ensure our communities continue to have access to safe drinking water.
---
Thursday, May 14th, 2020
Feeling powerless to help her native country in Africa amid the coronavirus pandemic, an electrical engineer at The University of Toledo found a way for people in the Democratic Republic of the Congo (DRC) to build their own breathing machines from scratch using equipment and materials accessible to them.
Using Twitter, Dr. Ngalula Sandrine Mubenga, assistant professor of electrical engineering technology, tapped into her worldwide network of engineers with ties to the DRC and engineers and students inside the DRC.
Mubenga is the founder of the STEM DRC Initiative, a nonprofit organization that has awarded scholarships to pay all costs associated for more than 60 students in the Congo to go to college since 2018, including transportation and books.
"There are less than 1,200 ventilators in a country with nearly 85 million people, and about 50 of those machines are in the capital city of Kinshasa," Mubenga said. "Kinshasa will need a minimum of 200 ventilators by mid-May when COVID-19 cases are expected to peak in the Congo."
In the DRC, there are more than 1,000 confirmed cases of coronavirus, more than 40 deaths caused by the new coronavirus and about 3,000 suspected cases. An estimate last week showed the country had a maximum capacity of 200 tests per day for the whole country.
"When I was watching the news here in Ohio and heard the President of the United States announce that General Motors was going to build 100,000 ventilators, I thought, 'What is going on in the Congo?'" Mubenga said. "We have the opportunity, means, technology and knowledge to do that here, but the Congo is a state that is rebuilding its infrastructures with very few factories for assembly."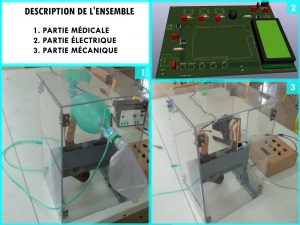 In three weeks, the team of about 20 people who answered her call to volunteer worked together – through videoconferencing and emails – and developed a prototype of a life-saving ventilator using open-source specs from the Massachusetts Institute of Technology. The working prototype next needs to undergo testing and certification, which Mubenga hopes to accomplish by the end of this year.
"It costs up to 30,000 U.S. dollars to buy a ventilator right now," Jonathan Ntiaka Muzakwene, who teaches engineering on the faculty of Loyola University of Congo, said. "Dr. Mubenga is timely to respond to the needs of our country and help save lives."
Mubenga teamed up with many partners, including a hospital in Kinshasa and the national trade school.
Dividing the team based on their talents, they built an emergency ventilator that makes use of Ambu resuscitator bags commonly hand-operated in hospitals by medical professionals to create airflow to a patient's lungs until a ventilator becomes available. The new device includes a mechanism that automates the squeezing and releasing motions.
"Instead of having a doctor or a nurse pressing the bag manually, we have a machine pumping the bag so the patient can breathe," Mubenga said.
Muzakwene and his engineering students inside the DRC made use of their school's 3D printer in their work to fabricate, assemble, program and test the prototype, a process made more challenging because of troubles with internet access, expert resources, and unclear laws and standards for validation of the technology.
"All the materials, components, parts and equipment necessary for the production of these ventilators are difficult to find here on site in the DRC," Muzakwene said. "The big challenge then is to find what we need to make these ventilators locally here in the country, challenges that the United States does not have."
"A ventilator is very delicate," Mubenga said. "You have medical, mechanical and electrical specifications that have to be met. And while MIT provided most of the design documents, it did not include the most important piece until very recently: the controls code of the model. We're talking about how to get feedback from different sensors to the microcontroller and adjust the system based on that feedback."
The controls adjust the timing and compression of the Ambu bag based on three main input parameters: the volume of air pushed into the lungs, the ratio between inspiration and expiration time, and the respiratory rate, or breath per minute.
The task is personal for Nicole Bisimwa, a student at Loyola University of Congo. She worries about friends, family and loved ones across the African country.
"The clinics of Ngaliema and university have only one ventilator each, which is sorely insufficient in case they have several patients who need it," Bisimwa said. "Limiting international trade is a barrier to supply, but we continue to find solutions to overcome this problem. Any help is welcome."
The project also is personal for Mubenga, who understands the life-changing power of technology. When she was 17 years old in the DRC, she waited three days for surgery after her appendix burst because there was no power at the hospital.
"I was living in a small town called Kikwit, far away from the big and beautiful capital city of Kinshasa," Mubenga said. "I was very sick, doctors needed to do surgery, but they couldn't find any gas to turn on the power generator. For three days, my life depended on electricity. I was praying. I could not eat. And decided if I made it alive, I would work to find a solution so people wouldn't die because of lack of electricity."
The hospital found fuel to power the generator, doctors did the surgery and Mubenga survived.
Mubenga started studying renewable energy at the UToledo College of Engineering in 2000 and earned a bachelor's degree, master's degree and Ph.D. in electrical engineering. After earning her professional engineer license in Ohio, she went on to found her company called the SMIN Power Group, which develops and installs solar power systems in communities throughout the DRC.
Mubenga next plans to test the ventilator prototype using software from the DRC that can be accessed online.
"We still have a lot to do, but this prototype is a big step," Mubenga said. "We are putting together the clinical team of doctors who will provide feedback so we can improve the device. After that we will proceed through certification. We have applied for funding to help spark production, but we're committed to continue volunteering our time, talent and resources. Taking action to find a solution is our way to bring light in this dark, gloomy time. It's the right thing to do."
---
Monday, May 11th, 2020
The University of Toledo is preparing to open campus for the fall 2020 semester with plans to resume face-to-face instruction.
Following the guidance of Ohio Gov. Mike DeWine, University officials have been discussing a number of scenarios to safely reopen on-campus operations. Among the considerations are personal protective equipment, the ability to maintain necessary social distancing and contact tracking measures, as well as robust cleaning and disinfecting of all campus facilities.
"We are doing everything in our power to prepare our campuses to open for the fall semester," said Dr. Karen Bjorkman, provost and executive vice president for academic affairs. "As the state of Ohio has begun a gradual and methodical reopening of the state, we expect to safely resume in-person education at The University of Toledo this fall."
Teams across the University have been developing plans to reopen the University's campuses following the March closure due to the COVID-19 pandemic. These groups are reviewing and preparing plans for all facets of campus operations, including research and sponsored programs, public safety, facilities management, information technology, residence life, dining services, etc. The teams will be recommending a number of new measures, guidelines and precautions needed to inhibit the spread of COVID-19.
Regular updates continue to be posted on the University's COVID-19 website. Should state or federal guidance cause a change in the University's plans for the fall, communication will be shared immediately with the campus community as has been UToledo's practice throughout the pandemic.
"It will take all of us — working together — to create and maintain a safe campus environment this fall," Bjorkman said.
---
Monday, May 11th, 2020
When the body faces stressful conditions such as high temperatures or lack of nutrients, cells produce the same large structures they make to combat virus infections.
Scientists at The University of Toledo discovered the connection that could be an attractive bulls-eye to aim for when identifying new antiviral targets and immune modulators to fight diverse viruses.
"In light of the ongoing COVID-19 pandemic, this is a promising avenue to protect people by enhancing immune response and stop the spread of deadly viral infections," Dr. Malathi Krishnamurthy, associate professor in the UToledo Department of Biological Sciences, said. "There is an urgent need to identify new drugs and new drug targets."
Research published in the Journal of Virology shows how cells in our body use a unique platform that is normally made during stress to combat virus infection. These new targets have potential to lead to new drug therapies to prevent serious damage to human health by harmful viruses.
"Understanding the molecular mechanisms of how the body defends itself is critical for the development of new treatment strategies against viruses," Krishnamurthy said. "Currently available antiviral therapies target viral replication or viral proteins, but high mutation rates of viruses often lead to drug resistance. Therefore, identification of host response pathways identified in these studies that are common to many viruses can be used to combat a broad range of viral infections, including SARS-CoV2, and improve human health."
In this study, the researchers demonstrated how a combination of proteins and RNAs called stress granules produced in response to different types of environmental stress also is produced when an enzyme present in all our cells called Ribonuclease L (RNase L) is "turned on" in virus-infected cells.
During virus infection, double-stranded RNA (dsRNA) molecules are produced that alert the host cells of an infection to activate immune pathways.
Specialized cells in our body sense these dsRNAs, which are unique to a virus-infected cell, and produce a chemical called interferon to protect the body and clear the virus infection.
These interferons activate RNase L, which is "turned on" by a small molecule that is produced only during virus infection, and its activity produces more dsRNA to produce more interferon to clear the virus.
"In addition to RNase L, several other proteins in our cells orchestrate response to virus infection, and timely expression and coordination of response is critical to fight viral infections," Krishnamurthy said.
Unlike the body's response to conventional stress, these stress granules produced during virus infection orchestrate a more effective and rapid response to increase interferon production to clear viruses.
"Many viruses adapt and evade these host response pathways, and knowledge gained from these studies may help scientists find targets that can prevent serious damage to human health by harmful viruses," Krishnamurthy said.
---
Thursday, May 7th, 2020
The University of Toledo has contracted with the Association of Governing Boards (AGB) Search firm to assist with hiring an interim president to assume the institution's chief leadership role following the departure of President Sharon L. Gaber announced last week.
"The Board has expressed support for the University's current leadership team and the dedicated faculty and staff who are all working incredibly hard to continue our academic mission in service to our students," UToledo Board of Trustees Chair Mary Ellen Pisanelli said. "Our priority is to hire a strong interim president with demonstrated financial and leadership skills to lead our campus during this transition."
AGB Search specializes in executive leadership searches exclusively for higher education, including interim positions. The firm has a strong reputation within the industry for identifying strong candidates — recently retired or late-career professionals — who are prepared to step in quickly and assist with a leadership transition.
The firm's managing principal and UToledo alumnus, Dr. Roderick McDavis, will lead the search. An experience higher education administrator himself, he has served as the president at a number of higher education institutions, including Ohio University, University of Minnesota, Boise State University, Seminole State College and Florida State College at Jacksonville. He earned his Ph.D. in counselor education from The University of Toledo.
The University is expected to launch a national search for the next president in the fall. The UToledo Board of Trustees has committed to keeping the campus and greater Toledo communities informed throughout the process.
"As stewards of one of Ohio's largest public research universities, I can't imagine a more important responsibility," Pisanelli said. "At the same time, we will continue to address the immediate and ongoing fiscal challenges that universities and hospitals across the nation are confronting including exploring all options regarding the future of UTMC."
---
Thursday, May 7th, 2020
The University of Toledo's Art on the Mall will not take place this summer due to the coronavirus pandemic.
This year's event would've been the 28th annual juried art fair featuring artists from around the country displaying and selling their creations in acrylic, glass, jewelry, mixed media, oil, pen and ink, photography, pottery, textiles, fibers, and many other forms.
"With the continued uncertainty surrounding the COVID-19 pandemic and for the safety of our alumni, artists, volunteers and community, The University of Toledo Alumni Association has made the difficult decision to cancel the 2020 Art on the Mall juried art show that was scheduled for July 26," Ansley Abrams-Frederick, director of alumni programming in the UToledo Office of Alumni Engagement, said.
This is the first time the University's signature summer tradition has been canceled since it started nearly three decades ago.
"We thank our artists, sponsors, volunteers, community and friends, and appreciate their understanding during these difficult times," Abrams-Frederick said. "We look forward to this event in the future."
---
Monday, May 4th, 2020
While public discussion during and after the 2016 presidential campaign between Donald Trump and Hillary Clinton largely focused on emails and email servers, a team of political science scholars zeroed in on email communications distributed by the campaigns and found that email is still an important campaign tool despite its mundane nature.
In their new research titled "The (surprisingly interesting) story of email in the 2016 presidential election" published in the Journal of Information Technology and Politics, Dr. Jeff Broxmeyer, assistant professor of political science at The University of Toledo, and Dr. Ben Epstein, associate professor of political science at DePaul University, explored 10 months of emails leading up to Election Day and analyzed ways that emails sent by campaigns reveal varied strategies and goals of campaigns.
Notably, Trump campaign e-mails were more participatory, fitting the populist theme of the campaign, and the Clinton campaign made the surprising strategic decision to stop direct e-mail communication to passive e-mail subscribers more than two months before Election Day.
"Trump's campaign was oddly silent with emails through the primary and the general up until October. When it revved up, turns out his campaign had fewer appeals to donate and more appeals to do something – show up to an event or make phone calls," Broxmeyer said. "That was a big outlier because we found that most of the top-tier candidates – the serious ones – ran sophisticated, full-gauge operations and used email extensively and almost entirely as an ATM to ply supporters with appeals for small donations, including Bernie Sanders despite his mobilizing rhetoric."
A window into campaign intensity, the researchers found that Clinton was sending eight emails a week to her supporters at peak; U.S. Senator Ted Cruz stopped campaign emails long before the Republican National Convention; Jim Gilmore, former governor of Virginia and chair of the Republican National Committee, didn't send a single email to supporters; and Lincoln Chaffee sent a total of eight campaign emails to his supporters.
The emails showed the degree to which campaigns existed on paper, but were not actively being run.
"Some candidates – also-rans – claimed they weren't getting enough attention from the press, but they didn't really try to communicate at all with their own supporters, people who went on the website and actually signed up to be on the email list," Broxmeyer said.
The researchers were surprised by the Clinton campaign's decision to stop sending emails to accounts that had not engaged with the campaign since signing up for emails.
"The Clinton campaign made that move in August, nearly three months before the end of the election and just as the Trump campaign started ramping up its email campaign," Epstein said.
"Overall this study demonstrates how some strategies, such as the frequency of emailing, focus on fundraising, and consistent forms of interactions have become widely accepted norms. It is clear that e-mail remains valuable for campaigns and an important subject for scholarship, despite its mundane nature."
---