Archive for March, 2020
Friday, March 27th, 2020
The University of Toledo Medical Center will soon be under new leadership with the promotion of its chief financial officer.
Richard Swaine will serve as chief executive officer of UTMC effective April 17.
Dan Barbee, who had led the hospital since 2016, has accepted a position as president of rural market for Mercy Health – Toledo.
"Rick will provide stable leadership amid the ongoing planning efforts underway to set a path forward for UTMC. I am confident that with the support of our outstanding physicians and hospital staff, our hospital is well positioned to weather this current global pandemic and future changes." UToledo President Sharon L. Gaber said.
"We look forward to working with Rick and continuing to provide high-quality healthcare for our patients," said Dr. Samer Khouri, UTMC chief of staff and chief of the Division of Cardiovascular Medicine. "There's never been a more critical time for teamwork in the healthcare industry."
Swaine was named UTMC's chief financial officer in March 2019. He joined UTMC from Beaumont Health System in Southfield, Mich., where he had served as senior vice president and hospital president of the 280-bed Beaumont Hospital Grosse Pointe since 20008. Swaine's long career at Beaumont spanned from 1985 to 2019 in which he also served as vice president of finance for Beaumont Hospital Royal Oak and Beaumont Hospital Troy.
---
Tuesday, March 24th, 2020
As the world grapples with the growing coronavirus pandemic, The University of Toledo has created a fund to assist students during this unprecedented time.
Rocket nation is asked to consider donating to the COVID-19 Student Emergency Support Crowdfunding Campaign.
The University of Toledo Foundation is partnering with the UToledo Division of Student Affairs with a goal to raise $30,000 by the end of the fiscal year. The campaign collected $10,000 in a matter of hours after launching, and, as of March 23, more than $20,000 has been raised.
"The outpouring of support since this fund launched has been amazing," UToledo President Sharon L. Gaber said. "We want to thank alumni, faculty, staff and friends of the University who are coming together to assist our students. We are Rockets helping Rockets."
"So many UToledo students are being impacted by this new reality we are living," Dr. Phillip "Flapp" Cockrell, vice president for student affairs and vice provost, said. "Within a week, 1,159 of our students can no longer work on campus, and 125 students are not able to return home to their native countries."
"Gifts through this campaign will alleviate some financial stress and worries for UToledo students who are struggling to maintain basic needs," said Dr. Michele Soliz, associate vice president for student success and inclusion.
This online giving campaign will provide emergency relief for students in need. Donations will help students facing financial hardships pay for housing, utilities, car repairs, medical bills, food and toiletries.
"Together, we can make a difference for our UToledo students," Cockrell said. "Gifts of any amount will be appreciated."
Make a donation and learn more about the drive on the COVID-19 Student Emergency Support Crowdfunding Campaign website.
UToledo students can apply for up to $500. For details, go to the Division of Student Affairs website.
"We encourage students in need to apply for help," Soliz said. "We will review applications and work with the Office of Financial Aid to distribute funds."
---
Tuesday, March 24th, 2020
The University of Toledo Medical Center's pathology laboratory now has the ability to test for COVID-19 and deliver results in less than 48 hours. The service will significantly reduce the waiting period for patients and their physicians to confirm a diagnosis.
UTMC is the first laboratory in northwest Ohio with the capability to test for COVID-19.
The medical center is working closely with the Toledo-Lucas County Health Department and other area hospitals to prioritize testing for patients who are hospitalized with severe pneumonia or who are in intensive care units with severe respiratory illness. UTMC also will test symptomatic first responders and healthcare providers who have had direct exposure to a confirmed COVID-19 case while not wearing personal protective equipment.
"Testing supplies are still limited and we have to be strategic about how we deploy our resources," said Mo Smith, associate vice president of patient care services and chief nursing officer at UTMC. "However, by working with our community partners, we can significantly increase the pace of testing in northwest Ohio as we work to fight this dangerous virus."
UTMC has the ability to process 180 samples per day. Patients will not be able to individually request a test. All testing must be ordered by healthcare professionals, following criteria established by the Ohio Department of Health.
---
Monday, March 23rd, 2020
To help undergraduate and graduate students at The University of Toledo who are concerned about maintaining grades this spring semester, several options are being offered that would allow them to complete their courses without a letter grade or have more time to finish this semester's coursework.
"We understand this is a challenging time as students have dramatically altered their way of life in response to the COVID-19 pandemic," said Dr. Karen Bjorkman, provost and executive vice president for academic affairs. "One way we can help during these unprecedented times is to provide more flexibility as students adjust to remote learning for the remainder of the spring semester."
Students will have the following options:
Pass/No Credit (PE/NE) Grade Option — Students can choose to receive a pass/no credit grade for spring semester courses rather than the regular letter grade. This option will have no impact on their GPA.
Incomplete (IE) Grade Option — Students can work with their instructors to request a unique Incomplete (IE) that the University is authorizing for this spring term because of the extraordinary circumstances we are in. This Incomplete also has no impact on this semester's GPA and gives students the ability to complete their coursework by the end of the fall 2020 semester.
Withdrawal Deadline Extended — The last day to withdraw from spring classes has been extended to May 1, 2020.
These options are being made available to provide students additional flexibility during this unique situation, however, students are strongly encouraged to contact their faculty and academic advisor to understand the impact these options could have on their program completion, plans for future professional or graduate programs, and/or eligibility for some licensures. Rocket Solution Central is available to answer questions about any financial aid implications.
---
Friday, March 20th, 2020
A total of 165 fourth-year medical students at The University of Toledo learned their residency placements Friday during a live-streamed, virtual Match Day event.
The annual Match Day celebration is a highly anticipated moment for medical students in the UToledo College of Medicine and Life Sciences and at medical schools across the country. Soon-to-be physicians discover at the same moment where they will spend the next three to seven years in residency as they train in their chosen specialties.
Under normal circumstances, students gather together in person with family and friends to share the experience of learning the next step in their careers. However, because of the ongoing COVID-19 pandemic and the need to limit large gatherings, UToledo celebrated the 2020 Match remotely.
"We know this is a very important time in the lives of our students, and one they expected to spend with friends and colleagues as they take one of the final steps before going out into the community as physicians," said Dr. Christopher Cooper, dean of the College of Medicine and Life Sciences. "We worked very hard to create something special despite the difficult realities we're living with right now. We are so proud of this class of fourth-year students who will soon be providing care in the communities in which they'll be practicing."
In addition to the 165 who learned their Match on Friday, two individuals had already matched with the U.S. Armed Forces, bringing the grand total to 167.
The number of students who matched with The University of Toledo College of Medicine and Life Sciences residency programs increased 30% over the previous year, while the total number of students staying in the greater northwest Ohio increased nearly 50% over the 2019 match.
"We are delighted so many of our students will be staying in our region as they begin their careers as physicians," Cooper said. "One of our key missions is to provide a pipeline of well-trained, well-qualified physicians to care for our region's health. It's encouraging to see such a large increase in the number of students who matched in northwest Ohio."
Among the other institutions where UToledo students will do their residency work are Yale, Brown, Emory, Duke, the University of Chicago, the University of Michigan, the Mayo Clinic, and the Cleveland Clinic.
---
Wednesday, March 18th, 2020
The University of Toledo will begin using a test-optional admissions model for aspiring Rockets to expand access to a high-quality college education during the global coronavirus (COVID-19) pandemic.
University leaders have been discussing the policy change and are moving forward with a pilot program now as high schools and testing centers across the country are closing to help stop the spread of coronavirus. Some states, including Washington and Texas, have announced canceling standardized testing requirements.
"These are unprecedented times, and it is critical that we innovate and provide flexibility," UToledo President Sharon L. Gaber said. "In addition to helping prospective students and their families during this current uncertainty, we are looking at test-optional admissions as an opportunity to expand access to a high-quality college education, enhance opportunities for academic excellence and increase socioeconomic diversity."
Additional flexibility will be implemented in the short term amid the closures during the coronavirus outbreak.
"Given the limited opportunity for high school students to access transcripts, AP exams, ACT testing and SAT testing, UToledo is moving to a test-optional model," Jim Anderson, vice president of enrollment management, said. "We will use self-reported grades and high school GPA to conditionally admit students until final transcripts are available."
A student may choose to submit their SAT and/or ACT score(s) if they believe it will be a benefit in the admissions review process. However, the University will evaluate each applicant based on the path they choose. If they prefer not to use a test score, the University will consider a more holistic, robust view of their record, including high school grade point average and community participation, in the admissions review process.
While there may be some exceptions for specific scholarships or highly competitive programs, the new trial period of the test optional admission policy aims to encompass more diverse predictors of college success and attract students from a wide variety of backgrounds who perform well in the classroom but may not perform well on standardized tests.
Students who are home-schooled or attend high schools that do not provide grades do not qualify to be test-optional.
As evidence has shown that standardized test scores are not the best indicator of a student's potential, this innovative admissions approach is gaining momentum across the country with more than 1,000 U.S. colleges adopting the practice, according to the National Center for Fair & Open Test.
UToledo has a longstanding commitment to educational accessibility and student success. The University's continued investments in student support services and the dedication of success coaches and academic advisors are reflected in the highest undergraduate fall-to-spring retention rate in at least 12 years and the University's most recent record high six-year graduation rate.
For more information, visit utoledo.edu/admission/freshman/test-optional-test.html.
---
Tuesday, March 17th, 2020
The University of Toledo is implementing additional measures to help prevent the spread of disease during the novel coronavirus (COVID-19) pandemic.
Employees will begin working remotely effective Thursday, March 19 with only authorized employees working on campus. Those employees who cannot complete their responsibilities off campus will use paid leave. University leaders will reassess staffing plans on or before April 3.
On the advice of the Centers for Disease Control to not hold events with 50 or more people, UToledo's spring commencement planned for May 9 in the Glass Bowl is canceled, along with all other related commencement and convocation events. Graduates will be invited to return to campus for the University's winter commencement ceremonies on Dec. 12.
"We are in unprecedented times as we all grapple with this global coronavirus pandemic. These are difficult, but necessary decisions to ensure the health and safety of our entire campus community," UToledo President Sharon L. Gaber said. "We are sincerely disappointed that we will not have an opportunity to celebrate our students' success at spring commencement. We are currently looking for other ways we can recognize the Class of 2020."
The staffing changes and cancelation of commencement are the latest actions UToledo has taken to address the coronavirus pandemic. As previously announced, all courses will be delivered remotely beginning tomorrow and through the end of the spring semester and students who live on campus are in the process of moving out before residence halls close on March 22.
For the latest information on the University's response to the coronavirus pandemic, visit utoledo.edu/coronavirus.
---
Tuesday, March 10th, 2020
The University of Toledo and Toledo Public Schools are partnering to renovate Driscoll Center to be the new location for Toledo Early College High School (TECHS).
Join UToledo President Sharon L. Gaber and TPS Superintendent Romules Durant on an early construction tour at 1 p.m. Wednesday, March 11 at the Driscoll Center, located on the corner of West Bancroft Street and University Hills Boulevard.
UToledo and TPS approved in December a long-term lease agreement to move Toledo Early College from its current location on the Scott Park Campus. This will bring students closer to Main Campus and provide more opportunities to experience the college atmosphere.
TECHS is a college preparatory program for students in 7th to 12th grades that focuses on college readiness with curriculum designed to accelerate students into college courses at UToledo. More than half of the high school graduates go on to continue their education at UToledo.
The $3.5 million renovation underway on the two-story building, which is jointly funded by UToledo and TPS, will create 20 classrooms and a dining and multipurpose room with a prep kitchen. The 300-seat auditorium will remain for school assemblies and other large events.
TECHS plans to be in the new location for the 2020-21 academic year.
---
Friday, March 6th, 2020
UPDATE: BOARD OF TRUSTEES MEETINGS
Monday, March 9, 2020
5 p.m. Privileging and Credentialing Subcommittee Meeting
Libbey Hall, Second Floor Main Dining Room
This subcommittee will enter Executive Session immediately upon convening
the meeting to discuss privileged information related to the evaluation of
medical staff personnel appointments.
5:30 p.m. Special Board of Trustees Meeting and Dinner
Libbey Hall, Second Floor Main Dining Room
This Special Board of Trustees meeting will be held to discuss and take action on
amendments to the Board of Trustees bylaw 3364-1-11 "The University of Toledo
Medical Center and Clinical Operations" in order to be able to also discuss and take
action on amendments to the medical staff bylaws. An Executive Session will be
held to discuss trade secret under the Ohio Uniform Trade Secret Act, O.R.C.
Section 1333.61, et. seq. and the sale of property.
Any questions may be directed to the Office of University Marketing and Communications by calling 419.530.2410 or via email to meghan.cunningham@utoledo.edu.
---
Tuesday, March 3rd, 2020
The University of Toledo will host a public forum featuring health experts to address the latest information on the novel coronavirus, now known as COVID-19.
The forum, "Protecting Health: Addressing the Spread of the Novel Coronavirus," will be held from 3 to 4:30 p.m. Wednesday, March 4, in Collier Building Room 1000A on the UToledo Health Science Campus.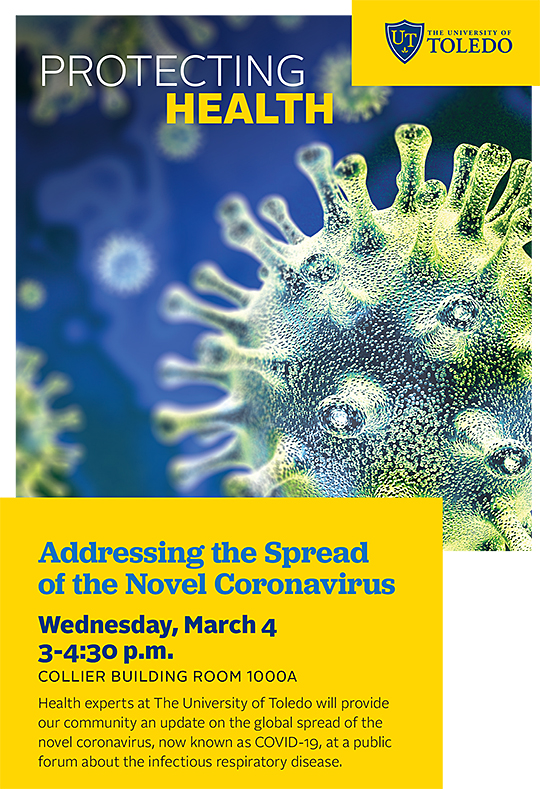 A panel of UToledo faculty experts will address the causes of the disease and how it spreads, ways to avoid exposure to infectious diseases, and efforts underway to respond to the outbreak. The discussion will be moderated by Dr. Joan Duggan, an infectious disease specialist and professor of medicine in the UToledo College of Medicine and Life Sciences.
UToledo experts on the panel will include:
Dr. Jennifer Hanrahan, associate professor of medicine and chief of the Division of Infectious Disease;
Dr. Jason Huntley, associate professor of medical microbiology and immunology;
Dr. Linda Lewandowski, professor and dean of the College of Nursing; and
Dr. R. Travis Taylor, assistant professor of medical microbiology and immunology.
The panel discussion will be followed by a question-and-answer session with guests in attendance. For those unable to make it to campus, the forum will be streamed live at utoledo.edu/video.
The free event is sponsored by the UToledo Office of Research and Sponsored Programs.
---