Archive for September, 2019
Tuesday, September 24th, 2019
The author of "Ferguson's Fault Lines: The Race Quake That Rocked a Nation" will speak at The University of Toledo this week.
Kimberly Norwood, Henry H. Oberschelp Professor of Law at Washington University School of Law in St. Louis, will examine the institutional, systemic and cultural structures that resulted in racially disparate treatment in Ferguson five years ago.
Her free, public lecture, "Ferguson Five Years Later: A Look at the Legal and Social Reverberations in Ferguson and Around the Nation," is a part of the College of Law's Cannon Lecture Series.
The event is at noon Thursday, Sept. 26 in the UToledo Law Center McQuade Auditorium.
"We are honored to host a scholar and advocate of Professor Norwood's stature," said Geoffrey Rapp, associate dean for academic affairs and Harold A. Anderson Professor of Law and Values at the UToledo College of Law. "Her insights into the limitations of the legal system for addressing persistent racial discrimination have had a profound impact on how we think about lasting and difficult questions."
In Norwood's book published in 2016, she used Michael Brown's death and the protests in Ferguson as the foundation for a study on how various laws, social conditions, and economic and political policies may negatively impact the lives of black and brown people in America — contributing to racial and socioeconomic conflict.
Norwood's research focuses on colorism, implicit bias and the intersection of race, class and public education in America. She is a commissioner on the American Bar Association's Commission on Racial and Ethnic Diversity in the Profession, a commissioner on the Missouri Supreme Court Commission on Racial and Ethnic Fairness, and a member of the Monitoring Team for the U.S. v. Ferguson Consent Decree.
Norwood is the first black woman in Washington University's history to receive tenure. She recently was named the 2019 Woman of the Year by the Missouri Lawyers Media. Norwood is a graduate of Fordham University and received her law degree from the University of Missouri-Columbia.
The Cannon Lecture Series was established in 1980 to honor former Toledo attorney Joseph A. Cannon. The series hosts nationally known individuals who explore both the humanistic dimensions and limitations of the legal system.
---
Monday, September 23rd, 2019
The former CEO of Tabasco will deliver the keynote address at the 2019 KeyBank Global Leaders Forum hosted by KeyBank and The University of Toledo Family Business Center.
Tony Simmons, great-great-grandson of the creator of Tabasco sauce, is the seventh family member to assume leadership of the family-owned and operated McIlhenny Company on Avery Island in Louisiana over five generations.
The event, titled "A Hot Topic: Success in a Changing Retail Market," begins at 7:30 a.m. Thursday, Sept. 26 at the Hilton Garden Inn, 6165 Levis Commons Blvd. in Perrysburg.
Registration is required for the free, public event. Register online at utoledo.edu/centers/cfb/KeyBankLeadership.html.
Simmons plans to focus on the Tabasco brand, his recipe for success, and how to address the needs of both the family and the business.
The keynote address begins at 8 a.m., followed by a panel of local business leaders who will discuss governance and boards within a family business. Members of the panel include Simmons; Steve Wurth, president and CEO of Wurtec; Aly Sterling, president of Aly Sterling Philanthropy; and Joe Shrader, president of Shrader Tire and Oil.
The KeyBank Global Leaders Form Fund was established with the UToledo Family Business Center to bring world business leaders to our community to share their stories and engage conversations for local companies to achieve success for their business. KeyBank shares the center's passion for learning — whether it's for the student population or the local business community.
The UToledo Family Business Center is a member-driven organization with more than 200 family business members that provides support specifically designed for family businesses — places that have a special dynamic, one not always served by traditional "best practices" advice. Family dynamics impact family business; the UToledo Family Business Center makes that the core of its mission.
---
Thursday, September 19th, 2019
Toxins produced during harmful algal blooms may be more harmful to people than previously known.
Researchers at The University of Toledo College of Medicine and Life Sciences sought out to examine how microcystin might affect individuals with non-alcoholic fatty liver disease, a widespread condition that is frequently asymptomatic. They found the toxin can significantly amplify the disease at levels below what would harm a healthy liver.
The study, published last month in the journal Toxins, follows earlier research from UToledo that found clear evidence that microcystin exposure worsens the severity of pre-existing colitis. Microcystin is a by-product of the cyanobacteria found in what is commonly known as blue-green algae.
"The take home message from our research is there are certain groups of people who need to pay extra attention and may be more susceptible to microcystin toxins. We may need to explore special preventative guidelines for those people in terms of how much microcystin they are exposed to through drinking water or other means," said Dr. David Kennedy, an assistant professor of medicine at UToledo and one of the study's lead authors.
Aided by nutrient runoff and warming waters, seasonal blooms of blue-green algae are flourishing across much of the United States. Not all algal blooms produce toxins, but many do.
Potentially dangerous concentrations of microcystin have been found this year in ponds in New York City's Central Park, along the Mississippi Gulf Coast, reservoirs in California, and a portion of Lake Erie's coastline near Toledo.
While no human deaths have been linked to microcystin in the United States, deaths have been reported elsewhere — most notably among a group of kidney dialysis patients in Brazil. There also have been reports this year of pet dogs dying after exposure to blue-green algae in Texas, North Carolina and Georgia.
With annual blooms becoming more frequent and intense, researchers in the UToledo College of Medicine and Life Sciences wanted to better understand how the toxins might affect people already suffering from conditions that affect organ systems microcystin is known to attack, such as the liver.
"It's a gray area in terms of what microcystin is really doing to you if you have a pre-existing disease state. Are you more susceptible? Are we going to have to go back and re-evaluate what we consider safe in a person with a pre-existing disease state? It's important we start providing answers to these questions," said Dr. Steven Haller, UToledo assistant professor of medicine.
In the liver study, researchers examined how chronic, low-level exposure of microcystin affected mice with non-alcoholic fatty liver disease compared to mice with healthy livers.
At microcystin ingestion levels below the No Observed Adverse Effect Level for healthy mice, analysis showed significant exacerbation of liver damage in mice with fatty liver disease. Researchers observed no liver damage in mice who started the experiment with healthy livers.
"Current exposure limits from the World Health Organization and the U.S. Environmental Protection Agency for humans are based off studies done in healthy animals," Haller said. "The results of this study suggest there may be a need to review those guidelines for people with pre-existing conditions."
They also noted major differences in how microcystin was processed by the kidneys in the two test groups.
In mice with non-alcoholic fatty liver disease, elevated levels of microcystin were found in the blood plasma, but were not detectable in the plasma of healthy mice. Mice with non-alcoholic fatty liver disease also excreted far less microcystin in their urine.
The differences seen in how microcystin was processed between the two test groups suggests that kidney function may play an important role in the increased susceptibility of the mice with pre-existing liver disease.
"This may be highly relevant to help us understand the deaths that occurred in kidney dialysis patients, and point to the need to pay particular attention to at-risk patient populations as we design preventative, diagnostic and therapeutic strategies," Kennedy said.
The results from the liver study build on prior work from Kennedy and Haller looking at how microcystin exposure might affect individuals with inflammatory bowel disease, another common condition that impacts an estimated 1 million Americans.
In that study, published in June, the researchers demonstrated that exposure to MC-LR prolongs and worsens the severity of pre-existing colitis, contributing to significant weight loss, bleeding, and higher numbers of signaling molecules that cause inflammation.
"Based on this data we're coming up with insights into how we can potentially treat exposures if they do occur," Kennedy said. "This is giving us a number of insights into how we might help patients, especially patients who are vulnerable or susceptible if there was an exposure."
The lead author of the paper published in August was doctoral student Apurva Lad. Doctoral student Robin Su was the author on the paper about inflammatory bowel disease published in June.
---
Thursday, September 19th, 2019
Maggie Buchele doesn't graduate from The University of Toledo College of Engineering for three more months, but she already secured a full-time job as a project engineer with Marathon Petroleum Corporation.
The fourth-year mechanical engineering major traces her success back to the college's career expo two years ago when she first met representatives from the company, which is ranked No. 31 on the Fortune 500 list.
"I chose UToledo because of the College of Engineering's mandatory co-op program, which gives you amazing work experience as a student," said Buchele, who completed two co-ops working at Marathon in Findlay, Ohio. "Companies are getting more specific on who they will hire, and UToledo's co-op program gives them a perfect opportunity to see if you will be a good fit as a permanent employee."
In 2018 the College of Engineering placed 1,745 students into co-ops with companies that paid students an average wage of $17.54 an hour.
More than 700 UToledo engineering students and alumni are once again connecting with employers from more than 175 companies across the U.S. at the Fall 2019 Engineering Career Expo from noon to 4 p.m. Tuesday, Sept. 24 in Savage Arena.
The networking event is part of a year-long celebration of a milestone for the UToledo Shah Center for Engineering Career Development: 20 years of placing more than 20,000 engineering co-ops.
In addition to Marathon Petroleum Corp., participating companies include Cooper Tire & Rubber Co., Dana Incorporated, GEM Inc., Johnson & Johnson – DePuy Synthes, GE Appliances, Honda, Owens Corning, Owens-Illinois, Inc., PCC Airfoils, SSOE Group and North Star Bluescope Steel.
Employers are seeking undergraduate students to participate in engineering co-op assignments, as well as their leadership development programs, along with seniors and graduates for full-time employment.
Buchele completed co-ops at two other companies in addition to Marathon.
"After my co-ops, I knew Marathon was the right fit for me. After my second co-op with them, they offered me a permanent position starting February 2020," said Buchele, who accepted the position. "I would never have received a job offer from Marathon at another university."
---
Tuesday, September 17th, 2019
The University of Toledo is honoring a successful alumna who inspired generations of students to pursue careers in chemistry and focused her life's work on improving water quality and the preservation of safe drinking water around the globe.
A dedication ceremony for the new Dr. Nina McClelland Laboratory for Water Chemistry and Environmental Analysis in The University of Toledo College of Natural Sciences and Mathematics is 3:30 p.m. Thursday, Sept. 19 in Bowman-Oddy Laboratories Room 2059.
The namesake of the new chemistry lab will attend the event.
"We are proud to recognize Dr. McClelland's important contributions to science and to The University of Toledo," UToledo President Sharon L. Gaber said. "Water quality is a critical area of research at our University, and this new lab will benefit our scientists and students in their search for solutions to protect public health and the environment."
The lab features state-of-the-art equipment, including novel extraction and microextraction technology and high-resolution mass spectrometry, tandem mass spectrometry and an advanced imaging system.
McClelland, UToledo dean emerita, retired from the University in 2011 after serving as dean of the UToledo College of Arts and Sciences, as well as working in the Provost's Office. She began at UToledo in 2003 as an adjunct professor in the Department of Chemistry.
McClelland served as chair of the Board of Directors for the American Chemical Society, the world's largest scientific organization. She also served as chairman, president and chief executive officer during her more than 30 years with NSF International, an independent, not-for-profit organization dedicated to certifying products and writing standards for food, water and consumer goods.
She has served on several major committees, including the National Institute of Standards and Technology in the U.S. Department of Commerce, the National Drinking Water Advisory Council in the U.S. Environmental Protection Agency, and the Committee on Water Treatment Chemicals in the National Academy of Sciences' National Research Council.
McClelland earned bachelor and master of science degrees from UToledo in 1951 and 1963, respectively. She received her doctoral degree in environmental chemistry from the University of Michigan in 1968. UToledo awarded her an honorary doctorate in science in 2003.
---
Monday, September 16th, 2019
More than 70 people will become U.S. citizens during a naturalization ceremony at 11 a.m. Tuesday, Sept. 17 in the Law Center McQuade Auditorium on The University of Toledo's Main Campus.
Judge Mary Ann Whipple of the U.S. Bankruptcy Court for the Northern District of Ohio will preside over the ceremony, which will celebrate Constitution Day at the University.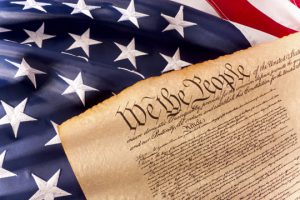 UToledo President Sharon L. Gaber will give welcome remarks at the event, which will feature alumna Grisoranyel Barrios as this year's guest speaker.
Barrios moved from Venezuela to Toledo when she was 7 years old. She attended Springfield Local Schools before coming to The University of Toledo, where she received a bachelor of arts degree in political science and a bachelor of social work degree in 2018.
She is pursuing a master's degree in social work specializing in policy at Washington University in St. Louis and plans to graduate in December.
Barrios attended the 2017 naturalization ceremony, where she opened the court, and became a U.S. citizen in March 2019.
"I look forward to participating in the ceremony yet again, but this time as a UToledo alumna and a U.S. citizen," Barrios said.
"Hosting this naturalization ceremony on campus is a wonderful way to celebrate Constitution Day and to honor our country's history," Diane Miller, chief of staff and associate vice president for government relations, said. "It is so moving to watch individuals achieve their dreams of becoming U.S. citizens."
Constitution Day is annually observed in America to commemorate the formation and signing of the Constitution of the United States on Sept. 17, 1787.
The free, public event is sponsored by the Office of Government Relations and the Center for International Studies and Programs.
---
Monday, September 16th, 2019
The National Science Foundation awarded $999,984 to The University of Toledo to operate an innovative program that supports academically talented and low-income students who want to pursue an engineering degree.
The program known as GEARSET – which stands for Greater Equity, Access and Readiness for Success in Engineering and Technology – creates an alternative pathway to a bachelor's degree in engineering for first-year students who did not meet the College of Engineering's requirements and were admitted into University College's Department of Exploratory Studies.
"This population is generally more diverse in terms of both ethnicity and socioeconomic status than the demographic trends for engineering colleges across the country," said program leader Dr. Lesley Berhan, associate professor in the UToledo Department of Mechanical, Industrial and Manufacturing Engineering and associate dean for diversity, inclusion and community engagement.
"GEARSET will ultimately increase diversity in the College of Engineering – a priority for both the University and employers who hire our graduates," said Dr. Mike Toole, dean of the UToledo College of Engineering.
"Our pursuit of inclusive excellence is a key part of our strategic plan, our core values and what we do on a daily basis. This grant will enable us to provide a new pathway to a degree in engineering for deserving students, further enabling us to provide a diverse pipeline of talented engineers to the region."
Students who meet the program's admission criteria, which include testing into trigonometry and a minimum high school grade point average of 3.0, will meet regularly with engineering advisors and enroll in courses designed to introduce engineering principles, applications of mathematics and professional development, in addition to other courses needed to meet the College of Engineering's transfer requirements.
"By building a sense of belonging, developing the students' engineering identity, and shortening the time to transfer colleges, we will foster a more inclusive environment in the College of Engineering that is more reflective of the community we serve and the University as a whole," Berhan said.
As part of the five-year grant, two cohorts of low-income students also will receive a scholarship for up to seven semesters once they transfer into the College of Engineering. The scholarships, based on need, would average $6,400 a year.
Berhan said GEARSET, which debuted as a pilot program with a total of 32 students at the start of the 2019-20 academic year, is designed to help students who may have had limited access to college- and career-counseling in high school.
"Some students may have an interest in being an engineer but may not have had the exposure or opportunities that others have in high school," Berhan said. "Those students can still be great engineers. We have to rethink how we define potential and recognize that talent comes in all forms."
The NSF grant starts Jan. 1 and can support scholarships for approximately 40 students, as well as curriculum, advising and programming for an estimated 150 additional students. The program is accepting all students, but only low-income students will be eligible for scholarships.
"This award represents an important step forward in the effort to foster STEM education in our community," said U.S. Rep. Marcy Kaptur. "By creating a pipeline for more socio-economic and ethnically diverse engineering students in our region, this funding provides a pathway for future minds to break into these important fields. The award is a model to ensure our students are at the table for the economic future of our community."
Berhan leads many diversity initiatives aimed at encouraging more students to pursue engineering careers, such as the annual Introduce a Girl to Engineering Day.
"The long-term benefits to the college and the community are incredible," Berhan said. "We are working on several different fronts to improve math and science preparedness, access, and student success."
---
Sunday, September 15th, 2019
UPDATE: BOARD OF TRUSTEES MEETINGS
Monday, Sept. 16, 2019
Libbey Hall, Second Floor Main Dining Room
11 a.m. Clinical Affairs Committee Meeting
1 p.m. Academic and Student Affairs Committee Meeting
1:15 p.m. Finance and Audit Committee Meeting
1:30 p.m. Trusteeship and Governance Committee Meeting
1:45 p.m. Board of Trustees Meeting
Libbey Hall, Third Floor Conference Room
12:30 p.m. Special Board of Trustees Meeting and Luncheon
The Board of Trustees will enter Executive Session immediately upon convening the meeting to discuss the employment of a public employee. Trustees also will appoint a Secretary to the Board.
Any questions may be directed to the Office of University Marketing and Communications by calling 419.530.2410 or via email to meghan.cunningham@utoledo.edu.
---
Friday, September 13th, 2019
UPDATE: BOARD OF TRUSTEES MEETINGS
Monday, Sept. 16, 2019
Libbey Hall, Second Floor Main Dining Room
11 a.m. Clinical Affairs Committee Meeting
1 p.m. Academic and Student Affairs Committee Meeting
1:15 p.m. Finance and Audit Committee Meeting
1:30 p.m. Trusteeship and Governance Committee Meeting
1:45 p.m. Board of Trustees Meeting
Libbey Hall, Third Floor Conference Room
12:30 p.m. Special Board of Trustees Meeting and Luncheon
The Board of Trustees will enter Executive Session immediately upon convening the meeting to discuss the employment of a public employee.
Any questions may be directed to the Office of University Marketing and Communications by calling 419.530.2410 or via email to meghan.cunningham@utoledo.edu.
---
Thursday, September 12th, 2019
In the wake of high-profile sex trafficking charges against financier Jeffrey Epstein and singer R. Kelly, this dark world of modern-day slavery is under an intense spotlight and garnering global attention.
Survivors, researchers and advocates around the world are coming together next week for the 16th Annual International Human Trafficking and Social Justice Conference at The University of Toledo.

This year marks the largest event since the conference began at UToledo in 2004 and for the first time features an art exhibit in collaboration with the UToledo Department of Art to raise critical consciousness for social justice.
"We are proud so many people want to learn about human trafficking," said Dr. Celia Williamson, Distinguished University Professor and director of the UToledo Human Trafficking and Social Justice Institute. "Our conference brings sex and labor trafficking out of the shadows and helps end abuse. More than ever before, we have the opportunity to educate, collaborate and save lives."
The conference, which – to date – has welcomed presenters from 42 states and 30 countries, is Thursday and Friday, Sept. 19 and 20 in the Thompson Student Union on Main Campus.
UToledo's Human Trafficking and Social Justice Institute and the Lucas County Human Trafficking Coalition host the conference.
Williamson recently published a new book titled "A Seat at the Table: The Courage to Care About Trafficking Victims," which tells her life story and transition from at-risk for trafficking to a world-renown social worker and researcher, working directly with victims and revolutionizing global anti-trafficking efforts.
At this year's conference, Williamson will unveil her new, free human trafficking risk assessment tool (HTRISK) that she developed with support from the Ohio Children's Trust Fund, as well as release the findings from her study of 400 Ohio youth. That presentation is 9 a.m. Friday, Sept. 20 in the Thompson Student Union Ingman Room. Watch the livestream at toledoalumni.org/membership/affiliates/2019-human-trafficking.html.
"With limited time, money and resources, advocates need to know which youth are at the highest risk for sex trafficking and then do their best to prevent it," Williamson said.
Media also are invited from 9 to 10 a.m. Wednesday, Sept. 18 when 475 high school students from the area will gather in the Thompson Student Union Auditorium for Human Trafficking 101, where they also will learn about dating violence and participate in a poetry slam.
For a full schedule of presentations, visit traffickingconference.com.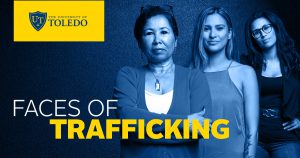 New this year, the UToledo Human Trafficking and Social Justice Institute and the College of Arts and Letters partnered together for an art exhibit titled "Faces of Trafficking," which features people from the greater Toledo community who are leading the fight to end trafficking.
"It is an opportunity to bring to life the people impacted by human trafficking and to provide a path for the community to join the fight," Barbara Miner, professor and chair of the UToledo Department of Art, said.
The tall black-and-white photography installation called "The Pillars" features people on the front lines in the war against trafficking.
"These are warriors holding up the ceiling of hope," Miner said. "Using an arresting, striking style, we're showcasing people like Celia Williamson as well as medical and law enforcement professionals among others who work under the radar and often go unnoticed, but who are working tirelessly to protect people suffering through contemporary slavery."
Artwork created by current and former art students in response to trafficking stories and the global issue also will be on display.
The exhibit is free and open to the public from Thursday, Sept. 19 through Friday, Dec. 6 at the UToledo Center for the Visual Arts, 620 Art Museum Drive. The hours are 9 a.m. to 5 p.m. Monday through Friday, and 10 a.m. to 5 p.m. Saturday and Sunday.
The UToledo Center for the Visual Arts also is featuring a special project, "A Thousand Hands, A Million Stars," a collaboration uniting visual art, poetry, music and dance produced by former UToledo faculty member Denise Ritter Bernardini.
---