UToledo to launch kayaking on campus as students are welcomed back
August 20th, 2019 by Christine Billau
The University of Toledo is welcoming students for the 2019-20 academic year with the debut of kayaking on campus, newly renovated classrooms and fun events to celebrate and motivate for a successful, engaging semester.
UToledo President Sharon L. Gaber will roll up her sleeves to help students unpack their belongings and move into their residence hall from 10 to 11 a.m. Friday, Aug. 23 at Parks Tower.
Fall classes at UToledo begin Monday, Aug. 26.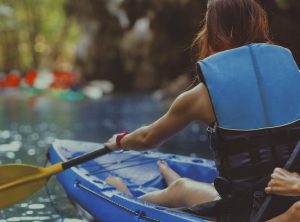 The University will host a ribbon-cutting ceremony to unveil the new kayak launch and pedestrian bridge leading to Savage Arena 3:30 p.m. Wednesday, Aug. 28 near lot 2 along North Towerview Blvd. The prefabricated steel truss bridge features a redesigned plaza with a seating area at the north end overlooking the Ottawa River.
"We look forward to the return of the energy and excitement that students bring to a new academic year," Gaber said. "With the addition of Lime scooters last year and now kayaks, we are offering a variety of fun ways for students to enjoy our beautiful campus and community."
Recreational Services will provide kayaks, paddles, life vests and helmets from 10 a.m. to 6 p.m. seven days a week. Kayak rental is free with a membership to the Student Recreation Center.
Soccer games are returning to Main Campus for the first time in 23 years. A dedication ceremony for the new soccer field – Paul Hotmer Field – will be held prior to kickoff of the first match 7 p.m. Thursday, Aug. 29 when the women's soccer team takes on the University of Illinois at Chicago.
Three new active learning centers are opening on the second floor of Snyder Memorial this fall semester and one in Gillham Hall. These technology-rich classrooms are designed to allow students to collaborate with each other, share work in progress, get rapid feedback, and provide instructors with access to all parts of the classroom.
UToledo renovated the auditorium in McMaster Hall over the summer and eight classrooms in Stranahan Hall. Two of those are computer labs for the College of Business and Innovation, and six are general purpose tiered classrooms.
New Rockets will be welcomed to UToledo at the New Student Convocation at 4 p.m. Sunday, Aug. 25 in the Glass Bowl (Rain location: Savage Arena) when Gaber and faculty and staff members will greet new students and talk about what it means to be a Rocket. The event will be followed by a barbecue in the Flatlands.
During the first few weeks of classes, the Office of Student Involvement and Leadership in the Division of Student Affairs has planned a number of events to encourage students to meet new friends, have fun and learn about the University.
The events to welcome students to the new school year include:
Friday, Aug. 23
Paint Party, 8 p.m., the Flatlands. Students are invited to dance, paint and make new friends. This event is sponsored by Campus Activities and Programming.
Monday, Aug. 26
Sundae on a Monday with President Gaber, 4 p.m., Centennial Mall. Meet President Gaber and taste free ice cream.
Wednesday, Aug. 28
Student Involvement Fair and Part-Time Job Fair, 11 a.m. to 2:30 p.m., Centennial Mall. Rain locations: Thompson Student Union Auditorium and Rooms 2582 and 2584.
Thursday, Aug. 29
Women's Soccer Match, 7 p.m., Paul Hotmer Field inside the UToledo track on the west side of Savage Arena. Be there when the Rockets return to play on Main Campus. After a dedication ceremony, Toledo will take on the University of Illinois at Chicago. Tickets are $6 and $4 for 18 and younger; UToledo employees can purhcase tickets at half price; UToledo students are admitted free with ID. Go to the Toledo Rockets' ticket website or call 419.530.GOLD (4653).
Tuesday, Sept. 10
President's Backyard BBQ, noon to 2 p.m., Centennial Mall. Rain location: Health Education Center.
Pep Rally, 12:30 p.m., Centennial Mall, steps outside Thompson Student Union.
Saturday, Sept. 14
President's Tailgate, 4:30 to 6:30 p.m., grass area north of Rocket Hall. Students are invited to meet President Gaber. Stop by for free food before the UToledo vs. Murray State game.
Toledo vs. Murray State, 7 p.m., Glass Bowl. Students are admitted free with their Rocket ID; faculty and staff can buy tickets half price with ID.
For a full list of events, go to utoledo.edu/studentaffairs/welcomeweek.

Christine Billau is UT's Media Relations Specialist. Contact her at 419.530.2077 or christine.billau@utoledo.edu.
Email this author | All posts by Christine Billau
---