Archive for June, 2019
Thursday, June 27th, 2019
For cancer to be successful — from its point of view, anyway — the disease has to find a way to break out beyond its initial foothold and spread throughout the body. Newly published research from The University of Toledo could bring fresh insight into one of the first ways cancers proliferate.
Dr. Rafael Garcia-Mata, an associate professor of biological sciences, recently identified a protein complex that regulates how epithelial cells bond together in such tight connections.
There are more than 150 different types of epithelial cells that carry out essential functions in a wide variety of tissues. Those jobs include making our skin resilient, producing the mucus that lines and guards our airways, and helping with the absorption of nutrients in our digestive system.
The discovery, which builds on Garcia-Mata's research focus of how cancer cells spread throughout the body, is intriguing because it explains the behavior of cells that are by far the most common starting place for cancer.
"Eighty percent of cancers originate from epithelial cells and most cancers will have to disassemble the adhesion system to grow and spread," Garcia-Mata said. "If we understand how these adhesive structures are built, we can also try to understand what happens when cancer cells disassemble them."
His research was published June 27 in the Journal of Cell Biology.
Epithelial tissues line the outer surfaces of organs and blood vessels throughout the body, as well as the inner surfaces of cavities in many internal organs. Their ability to form nearly impermeable junctions enables them to establish boundaries that separate the inside of organs and other tissues from the outside environment.
The way epithelial cells link together is unique in biology and involves a large number of components that work in synchrony to control their assembly. However, the science behind how they manage to form such perfect bonds has up to now been elusive.
"The way these cells organize is very important. What we've identified is a new molecular mechanism that controls a lot of the properties that make the 'right' epithelial tissues," Garcia-Mata said. "Understanding how they normally function allows you to understand what happens when things go wrong."
The implications of these findings go well beyond cancer. Garcia-Mata's research also helps explain how cells coordinate to generate organ cavities, which may broaden our knowledge of early development and organ formation. It could add significant new pathways for explaining conditions such as asthma and inflammatory bowel disease.
"A lot of diseases are essentially leaky epithelia. Understanding how these structures are modulated may help us learn why we get some of these diseases," he said.
Garcia-Mata's research into epithelial cells grew out of prior National Institutes of Health grant-funded work investigating how cancer cells spread away from the primary tumor.
"My lab studies basic, hardcore cell biology. This is where we make discoveries that lead to our ability to understand and target particular diseases, and the initial event in most cancers is the disassembly of these epithelial structures," he said.
---
Wednesday, June 19th, 2019
The University of Toledo will offer an open house Saturday, June 22, as part of its support of the city's "Take It Off, Toledo!" wellness and weight loss challenge.
Community residents looking for an opportunity to try a ninja course, work out, and explore the UToledo Rec's wellness programs are invited to the Student Recreation Center from 10 a.m. to 8 p.m.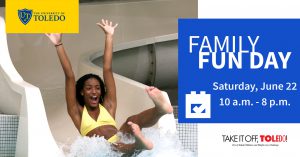 Free parking is available in lot 18.
All guests must enter through the Oak Room to sign waivers and receive wristbands. All minors must be accompanied by an adult.
From 10:30 a.m. to 1:30 p.m. on Saturday, the UToledo Student Recreation Center will offer:
Competitive You!

Ninja Challenge Course (10:30 a.m. to 1:30 p.m.).
Youthful You!

Parent/Child Yoga in Fitness Studio (10:30 a.m. to 11:30 a.m.);
Dodgeball in Auxiliary Gym (11:30 a.m. to 12:30 p.m.); and
Kickball on Carter Field (12:30 p.m. to 1:30 p.m.).
Healthy You!

Fitness Assessments in Wellness Suite (10:30 a.m. to 11:30 a.m.);
Meditation Yoga in Fitness Studio (11:30 a.m. to 12:30 p.m.);
Health Screenings (10 a.m. to noon); and
Wellness Labyrinth on Court Three (12:30 p.m. to 1:30 p.m.).
Rocky and Rocksy are scheduled to make guest appearances. Food trucks will be available from 11:00 a.m. to 2 p.m.
Community members are welcome to use the facility and its amenities between 10 a.m. and 8 p.m. Activities will include:
Climb Wall (10:30 a.m. to 4 p.m.);
Swimming (pool closes at 7 p.m.);
Basketball;
Pickleball;
Table tennis;
Volleyball;
Air hockey;
Sand volleyball (weather permitting);
Corn hole; and
Badminton.
---
Tuesday, June 18th, 2019
NOTE: Out of an abundance of caution, The University of Toledo is working with the Ohio Department of Natural Resources to examine the terminology used in this study related to fracking wells. We value the research integrity of our University and hold ourselves to the highest standards as our researchers work to advance science.
A new study at The University of Toledo connects the proximity of fracking to higher household concentrations of radon gas, the second leading cause of lung cancer in the U.S.
Measuring and geocoding data from 118,421 homes across all 88 counties in Ohio between 2007 and 2014, scientists found that closer distance to fracking wells is linked to higher indoor radon concentrations.
"The shorter the distance a home is from a fracking well, the higher the radon concentration. The larger the distance, the lower the radon concentration," Dr. Ashok Kumar, Distinguished University Professor and chair of the UToledo Department of Civil and Environmental Engineering, said.
The study also found the average radon concentrations among all tested homes across the state are higher than safe levels outlined by U.S. Environmental Protection Agency and World Health Organization standards. The average is 5.76 pCi/l, while the EPA threshold is 4.0 pCi/l. The postal code 43557 in the city of Stryker has the highest radon concentration at 141.85 pCi/l for this data set.
"We care about air quality," Dr. Yanqing Xu, assistant professor in the UToledo Department of Geography and Planning, said. "Our motivation is to save the lives of Ohioans. I hope this eye-opening research inspires families across the state to take action and have their homes tested for radon and, if needed, install mitigation systems to protect their loved ones."
The results of the study were recently published in the journal Frontiers in Public Health. The research is a collaboration between UToledo's Department of Civil and Environmental Engineering and Department of Geography and Planning. The radon data collection was supported by grants from the Ohio Department of Health and the U.S. Environmental Protection Agency.
Radon, which cannot be smelled or seen, begins as uranium found naturally in soil, water and rocks, but transforms into gas as it decays.
Fracking, or drilling the rock formation via hydraulic fracturing, stimulates the flow of natural gas. In Ohio, natural gas is available in deposits of the ancient Marcellus and Utica shales.
Most fracking wells are located in eastern Ohio, while Athens County has the highest number of fracking wells with 108. Fulton County is the only county with more than 20 fracking wells in western Ohio.
The researchers used data from the publicly accessible Ohio Radon Information System (ORIS), which the UToledo Department of Civil and Environmental Engineering started developing more than 25 years ago and maintains to improve public knowledge about indoor radon concentration. Licensed testers collect data each year in basements and first floors of homes in Ohio's 1,496 zip codes.
"You can find the average radon concentration in your zip code on the website," Kumar said.
Xu, a health geographer who previously studied obesity, installed a radon mitigation system after testing her home with a $10 kit.
"Shale is not in Toledo, but radon can get into homes because of uranium concentration in the soil, unrelated to fracking," Xu said. "My 2-year-old son likes to play in the basement, but radon concentration is higher in the basement. I did not hesitate even though the system cost around $1,000."
The data in the study are from self-reported devices and not distributed equally throughout Ohio.
---
Monday, June 17th, 2019
As Americans head to backyard barbecues, baseball games and other fun in the sun this summer, it's crucial to protect your skin from harmful ultraviolet rays.
"Skin cancer is still one of the fastest growing cancers in the United States," said Dr. Lorie Gottwald, chief of dermatology at The University of Toledo Medical Center. "We need to stress protection all year long, but summer is usually the time we are out and about, and ambient sunlight is indeed a risk factor for skin cancer."
On Monday, June 24, from 1 to 4 p.m. the Dermatology Department at UTMC will host a free skin cancer screening event for UToledo employees and all military veterans.
While there is no cost, registration is required by calling 419.383.6315. The screenings will take place at the UTMC Dermatology Clinic in Suite F at the Ruppert Health Center.
"We want to continue to fight the war against skin cancer and also recognize the contributions of our vets," Gottwald said.
Each screening will take approximately 15 minutes. Participants will receive a sunscreen sample and information on skin cancer awareness.
If UTMC clinicians notice something that may need intervention, they will provide a screening sheet that patients can take to a dermatologist of their choice. No biopsies will be taken during the screening event.
One in five Americans will develop a form of skin cancer in their lifetime, according to the American Dermatological Association, making it the most common form of cancer in the country.
While some types of skin cancer are highly curable, it can be deadly. Melanoma — the most dangerous kind — will lead to an estimated 7,230 deaths in 2019.
If you are going to be spending time in the sun — even just going for a walk at lunchtime — Gottwald said you should be wearing an approved sunscreen.
"The standard recommendation is SPF 30 or higher, and higher numbers do offer more protection," she said. "Also, remember to reapply the sunscreen every two hours, especially if you're sweating."
---
Wednesday, June 12th, 2019
Scientists and students at The University of Toledo work tirelessly to study the waters of Lake Erie and its tributaries in the fight against harmful algal blooms and invasive Asian carp. They also evaluate potential for reintroducing historic fish, such as sturgeon.
This summer, families are invited to board the Sandpiper and cruise the Maumee River while learning how researchers at the UToledo Lake Erie Center collect water information.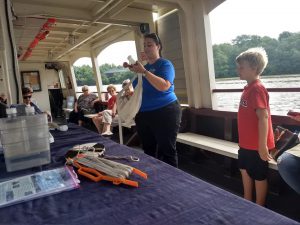 "The Maumee River may look like just a muddy river, but it's full of life," Dr. Thomas Bridgeman, UToledo professor of ecology and director of the UToledo Lake Erie Center, said. "We show kids how sediment and algae affect water clarity, but they also get to see the tiny, shrimp-like animals that are eating the algae and – in turn – feeding the fish that make western Lake Erie the 'Walleye Capital of the World.'"
The two-hour "Discover the River" cruise starts at 10 a.m. every Saturday through August at the dock at Water Street and Jefferson Avenue near Promenade Park in downtown Toledo.
Admission to the 100-passenger Sandpiper is $19. Children younger than 12 are $11. Purchase tickets in advance at sandpiperboat.com.
---
Tuesday, June 11th, 2019
The University of Toledo will provide more than three dozen teens from across northwest Ohio a hands-on introduction to studying medicine during the University's annual CampMed program.
The students, all of whom will be high school freshmen this fall, will be on Health Science Campus Thursday and Friday, June 13 and 14.
Now in its 22nd year, CampMed gives students who excel in science and mathematics a window into what it's like to pursue a career as a physician or medical researcher.
"We want to inspire these students and help give them an outline of how to prepare for an education in medicine," said Courtney K. Combs, director of the UToledo and Ohio Area Health Education Center programs. "As much as CampMed is educational — and it really is — we also want it to be a fun time for the kids. It's summer. It's camp. It might be the first time they're surrounded by kids their own age who have the same interests. We try to make it as hands-on as possible."
Under the guidance of UToledo faculty members and physicians, the students will be taught Heartsaver CPR, learn how to suture, and practice forming a cast. They'll also receive hands-on tours of the Emergency Department at The University of Toledo Medical Center, the gross anatomy lab, and the Interprofessional and Immersive Simulation Center.
Second- and third-year medical students serve as camp counselors.
Most of the students who attend CampMed are underrepresented minorities in medicine, from underserved rural or urban communities, or the first in their family planning to attend college.
"We want to encourage these students to help them realize that a career in medicine is a realistic goal for them. Some of them may have never even been on a college campus before," Combs said. "We want to provide that exposure to let them know if they work hard and are serious about their schoolwork now, this could be an option and The University of Toledo College of Medicine would welcome them."
CampMed, which began in 1998, was implemented by and is coordinated through the UToledo Area Health Education Center program, which works to improve the well-being of individuals and communities by developing the health-care workforce.
The competitive scholarship program requires students to submit a letter of recommendation from a science or math teacher or guidance counselor, grade transcripts, and a personal essay to be chosen to participate.
**MEDIA OPPORTUNITIES***
Thursday, June 13
Tools of the Trade, 9:30 to 10:30 a.m., Collier Building Room 1200
Perioperative Experience, 1 to 4 p.m., Health Education Building Room 103
Friday, June 14
Heartsaver CPR, 9:15 to 11:30 a.m., Collier Building Basement
Suture Workshop, 1 to 4 p.m., Health Education Building Room 105
Casting, 1 to 4 p.m., Orthopedic Center Room 1715
---
Monday, June 10th, 2019
Two innovative professors at The University of Toledo from different fields of expertise teamed up to create a clever, common-sense way to solve a problem in treating prostate cancer, the second leading cause of cancer in men.
Recognizing the potential, the Ohio Third Frontier Commission awarded $150,000 to the startup company founded by the mechanical engineer and medical physicist to develop and commercialize the new technology they invented that allows a higher level of radiation to safely be delivered at each session, decreasing significantly the number of treatment sessions needed to eradicate the cancer, while reducing damage to nearby, healthy tissue.
Dr. Mohammad Elahinia, professor and chair of the UToledo Department of Mechanical, Industrial and Manufacturing Engineering, and Dr. Ishmael Parsai, professor and chief medical physicist in the UToledo Radiation Oncology Department and director of the Graduate Medical Physics Program, created the company called Retractor with the support of UToledo Launchpad Incubation, Rocket Innovations and the National Science Foundation's I-Corps program.
The new, patent-pending technology, which is being tested on cadavers, is a minimally invasive device that moves the rectum away from the vicinity of the radiation fields targeting the prostate cancer. This allows for the delivery of higher doses of more focused radiation beams, resulting in shorter treatment days while reducing damage to healthy rectal tissue.
"The rectal retractor provides a safer, more efficient way to treat prostate cancer," Elahinia said. "The medical device is inserted into the body and set in motion by passing a small electrical current in a reliable, clean, silent process known as nitinol actuation, solving the persistent challenge in radiation therapy of prostate tumors."
"Instead of a patient undergoing daily radiation treatment sessions for nearly two months in a conventional method of radiotherapy, he can come in and have five sessions," Parsai said.
Through his work with patients at the Eleanor N. Dana Cancer Center at The University of Toledo Medical Center, Parsai came up with the idea for the rectal retractor and approached Elahinia to engineer a prototype.
"Normally during radiation therapy for prostate cancer, we work to reduce as much as possible the impact of the radiation dose on any healthy organs, such as the bladder and rectum, but often some damage to healthy, nearby tissue is unavoidable," Parsai said. "This new device, however, allows us to move the rectum out of the field of radiation so we can eliminate the risk of sacrificing healthy tissue while safely delivering a higher dose for more effective treatment of the tumor. This especially is promising when implementing what is called high dose-rate brachytherapy, as well as newer techniques such as stereotactic body radiotherapy for treatment of prostate cancer."
While the retractor will mainly serve prostate cancer patients, it also can be applied during radiation therapy for all pelvic tumors, such as cervical, uterine, vaginal and endometrial cancers.
The award to Retractor is part of $2.25 million awarded by the Ohio Third Frontier Commission to develop new technologies and move them out of the lab and into the marketplace.
"Ohio's world-class research and medical institutions are developing breakthrough technologies," said Lydia L. Mihalik, director of the Ohio Development Services Agency and chair of the Ohio Third Frontier Commission. "We are helping get these products to market where they can make a difference."
The Ohio Third Frontier Technology Validation and Start-up Fund provides grants to Ohio institutions of higher education and other nonprofit research institutions. The funding is to demonstrate that a technology is commercially viable through activities such as testing and prototyping. The ultimate goal is to commercialize the technologies.
Retractor is a success story for UToledo's Launchpad Incubation program and Rocket Fuel Fund. LaunchPad Incubation provides entrepreneurial assistance, state-of-the-art facilities and valuable resources to early-stage, technology-based concepts and startup companies. The Rocket Fuel Fund is a program in the UToledo Office of Research funded by the U.S. Economic Development Administration to support early stage technology development.
"We serve the community, faculty, staff and students," Brian Genide, director of incubation and venture development at Launchpad, said. "Our team helps with the advancement of early-stage technology concepts, providing funding support for feasibility testing, proof-of-concept validation and prototyping. Our team also has proven to increase the success of grant applications."
Launchpad Incubation is located in the Nitschke Technology Commercialization Complex. Go to utoledo.edu/incubator for more information on how the program helps launch new businesses.
---
Wednesday, June 5th, 2019
The Eleanor N. Dana Cancer Center at The University of Toledo Medical Center will host its fifth annual Cancer Survivor Celebration on Thursday, June 6.
"Each year of survivorship is a reason for joy," said Renee Schick, manager of Renee's Survivor Shop in the Dana Cancer Center. "We want to recognize and honor our patients and their caregivers for their strength and courage through the diagnosis and treatment of cancer."
The annual event, which will take place from 5:30 to 8 p.m., honors and celebrates the Dana Cancer Center's past and present patients, as well as their loved ones, for their strength, courage and survivorship.
Survivors and their guests will be treated to inspirational stories, food, music, a photo booth and displays from a number of area support groups. Cancer treatment experts including UTMC oncologist Dr. Danae Hamouda also will be on hand.
This year's guest speaker will be Dr. Michelle Masterson, a breast cancer survivor, retired associate professor and former director of the Physical Therapy Program in the College of Health and Human Services.
"I hope my story can inspire and help others to stay strong and positive, to fight hard, and to never give up," Masterson said. "I also hope this celebration helps to get the word out to the Toledo community that we have excellent, expert, comprehensive and compassionate cancer care right here at the UTMC Dana Cancer Center."
The event is free, but reservations are requested. Email eleanorndanacancercenter@utoledo.edu or call 419.383.5243.
---
Tuesday, June 4th, 2019
The National Youth Sports Program at The University of Toledo is celebrating its 50th year of providing income eligible youth with free educational and athletic activities.
The three-week summer camp, which kicked off yesterday, will be held weekdays from 10:30 a.m. to 3:30 p.m. through Friday, June 21.
About 150 area youth between the ages of 9 and 16 are expected to participate in this year's program, which helps children build social skills, confidence and healthy lifestyles.
"For 50 years, the administration at The University of Toledo has seen the National Youth Sports Program as an asset to the community and to the University. There's a lot of credit due to a lot of people, and I'm proud we're able to continue offering this enriching experience," said Dr. Ruthie Kucharewski, professor and chair in the School of Exercise and Rehabilitation Sciences, and administrator of the National Youth Sports Program.
A celebration to recognize the 50th university will be held at noon on Sunday, June 9, in the Health Education Center gym.
The National Youth Sports Program was established by an act of Congress in 1968. UToledo was one of the first universities in the country to offer the federally funded program the following year. Though federal funding for the program has since been cut, UToledo continues to host the camp annually through fundraising and in-kind donations.
More than 14,000 children are estimated to have participated during the program's 50 year history.
Participants receive instruction in a number of sports and recreational activities, such as soccer, basketball, track, swimming and fishing. Today's schedule includes basketball, softball and flag football.
In addition to the athletic and recreation therapy activities, the youth are provided educational and health programs; academic tutoring; information about nutrition and personal hygiene; peer-refusal skills; and alcohol, tobacco and other drug seminars.
The camp also has several field trips scheduled, including visits to the Indian Creek Zoo and Side Cut Metropark, and features a local guest speaker every day at lunch to inspire the children to become the best version of themselves.
"We want to make our community's youth well-rounded individuals. We're helping them to grow emotionally, psychologically, physically and socially through a variety of constructive recreational activities and educational experiences," Kucharewski said. "I think that the experiences the children have at NYSP helps stimulate their imagination about their future, about what they might aspire to be when they grow up."
---