Archive for April, 2019
Tuesday, April 30th, 2019
The commencement ceremony for The University of Toledo College of Law will be held at 1 p.m. Sunday, May 5 in the Thompson Student Union Auditorium.
Angelita Cruz Bridges, a 2000 alumna of the College of Law, will deliver remarks to the graduating class of approximately 70 law graduates.
Cruz Bridges serves as an assistant U.S. attorney for the Northern District of Ohio. She litigates both affirmative and defensive civil cases on behalf of the United States, including those filed under the False Claims Act, the Federal Tort Claims Act and Title VII. She also represents U.S. interests in civil rights cases enforcing federal anti-discrimination laws in the areas of fair housing, disability rights and education.
She has received numerous commendations, including the 2015 Director's Award from the Director of the Executive Office of U.S. Attorneys for her superior performance investigating financial fraud.
Throughout her career, she has served in leadership roles with the Toledo Women's Bar Association, Toledo Bar Association, and Thurgood Marshall Law Association. She is currently a member of the Zepf Center Board of Trustees and the Toledo Zoo Board of Trustees, and is president of the Toledo Chapter of Jack and Jill of America.
"I am delighted that Angelita Cruz Bridges will speak to our graduates at commencement," said College of Law Dean D. Benjamin Barros. "She is a leading lawyer in Toledo and does incredibly important work in her role as an assistant United States attorney. She also is a leader in our community and devotes both her professional and personal time to public service. I look forward to hearing her advice and encouragement for our new graduates."
---
Monday, April 29th, 2019
More than 200 students from Ohio and Michigan ranging from kindergartners to college seniors will present research projects related to the Earth's environment from 9:30 a.m. to 1:30 p.m. Wednesday, May 1 at The University of Toledo.
Teams investigated a wide variety of topics, including:
How does our energy use relate to surface temperature at our school?;
Which Michigan city uses the healthiest raw water for drinking water: Detroit, Monroe or Wyandotte?;
Urban heat islands in Lucas County;
Tracing It Back: Forensic soil science; and
Effects of select weather factors on surface temperature during a polar vortex.
The annual SATELLITES student research conference is part of the GLOBE MISSION EARTH project, a $10 million project funded by NASA and led by a UToledo researcher that is transforming the way science is taught to students throughout the United States.
Dr. Kevin Czajkowski, professor of geography and planning, has been spearheading this effort to introduce authentic science to K-12 students through projects that rely on hands-on experiments to build knowledge using the resources of NASA and education partners across the country.
Czajkowski will give the keynote presentation at 11:45 a.m.
The student presentations will take place from 9:40 to 11:45 a.m. in Thompson Student Union's Ingman Room and Room 2582.
Judges for the conference are local scientists and teachers.
Awards will be presented at 1 p.m. to each grade level category: K-5, 6-8, 9-12, 13-16. A peer choice award also will be presented.
"Science is more fun when students are participating in data collection and the scientific process, as opposed to conducting preplanned experiments in a classroom or lab," Czajkowski said. "Through these research projects, students answer their own science questions about their environment by creating hypotheses, collecting data, analyzing data, drawing conclusions and sharing their results through their poster presentation."
Czajkowski created the SATELLITES program, which stands for Students and Teachers Exploring Local Landscapes to Interpret the Earth from Space.
Through the SATELLITES program, students have access to GLOBE resources to help answer their research questions. GLOBE is the acronym for Global Learning and Observations to Benefit the Environment, which is an international science and education program that connects students, teachers, scientists and citizens from different parts of the world to conduct real, hands-on science about their local environment and put it in a global perspective.
---
Monday, April 29th, 2019
Katie Holmes, a native Toledoan who rose to fame as an actor, producer and director, will return to her hometown to deliver the keynote address during The University of Toledo's undergraduate commencement ceremony Saturday, May 4.
A Notre Dame Academy alumna and international icon of screen, stage and film, Holmes will address 2,078 candidates for degrees — 2,023 bachelor's and 55 associate's candidates. The event will take place at 10 a.m. in the Glass Bowl.
The University's graduate commencement ceremony is scheduled the same day at 3 p.m. in the Glass Bowl, and will commemorate 915 candidates for doctoral, education specialist and master's degrees, as well as graduate certificates. Analese Alvarez, an educator and musician who has recorded with the Grammy Award-winning rock group Fleetwood Mac, will be the keynote speaker. She is a candidate for a doctoral degree.
Both ceremonies are open to the public and can be viewed live at video.utoledo.edu.
President Sharon L. Gaber will present Holmes with an honorary doctor of humane letters before the keynote address.
"The University of Toledo is pleased to welcome Katie Holmes as our commencement speaker to inspire our newest alumni as they celebrate receiving their degrees," Gaber said. "As a Toledo native with close, personal connections to the University, we are eager for her to share her experiences and accomplishments in the entertainment industry and as an entrepreneur and philanthropist."
An exceptional student at Notre Dame Academy, Holmes was accepted to Columbia University, but deferred to embark on an entertainment career. She made her feature film debut in "The Ice Storm" in 1997, then established herself as a rising young actor the next year in the television show "Dawson's Creek." For six years, she played Joey Potter, a character still recognized in pop culture.
Holmes has appeared in supporting or starring roles in more than 30 films and television programs, including acclaimed performances as Jacqueline Bouvier Kennedy in "The Kennedys" and "The Kennedys: After Camelot," Hannah Green in "Wonder Boys," and Rachel Dawson in "Batman Begins."
Her credits as a director and producer include "All We Had," "Touched With Fire," "The Romantics" and "The Kennedys: Decline and Fall."
Holmes made her Broadway debut in a revival of Arthur Miller's "All My Sons" in 2008 and played the role of Lorna in "Dead Accounts" in 2012.
As an entrepreneur, Holmes managed and designed a well-received fashion line, Holmes & Yang, with Jeanne Yang from 2009 to 2014.
Her philanthropic efforts include the Dizzy Feet Foundation, an organization Holmes co-founded in 2009 that increases access to dance education in the United States.
Graduate ceremony speaker Alvarez has been an educator for nearly two decades and is a candidate for an education doctorate in educational administration and supervision.
The Santa Barbara, Calif., native has enjoyed an outstanding career teaching high school music, highlighted by leading her previous school's music department to become a Grammy Signature Schools recipient in 2015. She has continued teaching music while pursuing her doctorate at UToledo by serving as a graduate assistant for the Rocket Marching Band and athletic bands since 2015.
Alvarez's long career as a musician includes credits recording with Fleetwood Mac on "The Dance" and appearances on "The Rosie O'Donnell Show" and Nickelodeon's "The Big Help." She also was a member of the Los Angeles Laker Band, a subset of the University of Southern California's Trojan Marching Band. She has performed with numerous professional ensembles, including The Desert Winds and the Gold Coast Wind Ensemble.
A volunteer club advisor for Gay Straight Alliances, Alvarez co-chaired the Southern Nevada chapter of the Gay, Lesbian, Straight Education Network and served the Gay and Lesbian Center of Las Vegas. During the past year, she has been executive director at Equality Toledo, where she has worked to support the local community.
Alvarez earned a bachelor of music degree from the University of Southern California and a master of music degree from Northern Arizona University, both in music education.
UToledo's spring commencement ceremonies will recognize graduates from the colleges of Arts and Letters; Business and Innovation; Judith Herb College of Education; Engineering; Graduate Studies; Health and Human Services; Natural Sciences and Mathematics; Nursing; Pharmacy and Pharmaceutical Sciences; and University College.
UToledo's College of Law will host its commencement ceremony 1 p.m. Sunday, May 5 in the Thompson Student Union Auditorium. Angelita Cruz Bridges, a 2000 graduate of the College of Law who serves as an assistant United States attorney for the Northern District of Ohio, will give the commencement address.
The next week — 4 p.m. Friday, May 10 — the College of Medicine and Life Sciences will hold its commencement ceremony in Savage Arena. Dr. Scott Parazynski, a physician and inventor whose career included serving 17 years as an astronaut, during which time he flew five space shuttle missions and conducted seven spacewalks, will be the speaker.
For more information, visit utoledo.edu/commencement.
---
Friday, April 26th, 2019
Dr. Matt Foss, assistant professor in The University of Toledo Department of Theatre and Film, won a national playwriting award at the Kennedy Center for the Performing Arts in Washington, D.C.
His adaptation of "All Quiet on the Western Front" is the recipient of the Kennedy Center's David Mark Cohen National Playwriting Award.
The play was performed at the University last November.
The award includes a cash prize, membership in the Dramatists Guild and the Playwrights' Center of Minneapolis, and a professional development residency during summer 2019.
Foss accepted his award last week during the National Festival at the Kennedy Center.
Supported by the Kennedy Center American College Theater Festival, the Association for Theatre in Higher Education, and the Dramatic Publishing Co., the David Mark Cohen National Playwriting Award is presented in an effort to promote the writing and production of new plays and to provide incentive to college and university theater production departments to foster the growth and development of playwrights through the public presentations of unpublished, full-length plays or a collection of shorter works for the stage that have not received a professional production.
In 2016, Foss' touring production of "The Glass Menagerie" was performed at Russia's Moscow Art Theatre. He adapted and directed Upton Sinclair's "The Jungle" for Oracle Productions in Chicago in 2014. The production received Chicago Jeff Award nominations for outstanding production, director, ensemble, and won for best new adaptation.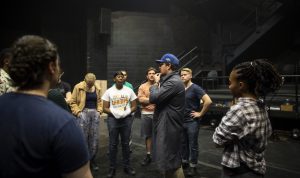 In 2012, his production of "Six Characters" at Iowa State University received the Kennedy Center's American College Theater Festival's National Award for Outstanding Production of a Play and Outstanding Director of a Play. He was a recipient of the Association for Theatre in Higher Education/Kennedy Center's American College Theater Festival's Prize for Innovative Teaching in 2013.
Foss received a master of fine arts degree in acting from Chicago's Roosevelt University and doctorate in theatre studies and directing from Wayne State University in Detroit.
Recent professional credits include Chicago Shakespeare Theatre, Oracle Theatre, Montana Shakespeare in the Parks, American Blues Theatre, the Jewish Ensemble Theatre and Tipping Point Theatre.
---
Wednesday, April 24th, 2019
More than a dozen teams are set to compete at The University of Toledo in the first round of Erie Hack 2.0, an innovative water-solutions competition that includes more than $100,000 in prizes.
The program is organized by the Cleveland Water Alliance and brings together researchers, designers, engineers, developers and students around the region to build teams and develop innovations to accelerate technology solutions to Lake Erie's most pressing problems.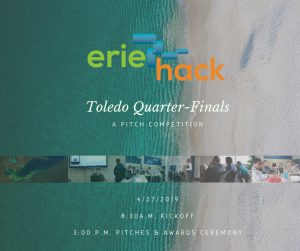 Winners of the regional competitions in Toledo, Detroit, Toronto, Cleveland, Erie and Buffalo advance to the semifinals Wednesday, June 5 in Detroit. Winners of the semifinals advance to the final Thursday, June 20 in Cleveland.
The competition is one of the events highlighting the 50th anniversary of the Cuyahoga River Fire and the progress made since 1969.
Toledo's quarterfinal kicks off 9 a.m. Saturday, April 27 at UToledo's Nitschke Technology Commercialization Complex with remarks from Congresswoman Marcy Kaptur and Toledo Mayor Wade Kapszukiewicz.
The event, which is free and open to the public, ends with an awards ceremony at 4:30 p.m.
"This is the second time we're hosting this event, and we're expecting even better projects and ideas to emerge this year,'' said Cleveland Water Alliance Executive Director Bryan Stubbs. "With so much focus on the Great Lakes from our new governor and the immense opportunity to create jobs around innovation on the lake, it's an exciting time."
"Resolution of our water challenges requires a clear definition of the core problems, paired with rigorous brainstorming and concept validation. Erie Hack is exactly that. Never before have I seen such a talented group of bright minds gathered in one place to solve an issue,'' said Blake Oatey, board member of the Cleveland Water Alliance and director of business development at Oatey, a Cleveland-based manufacturer and distributor of plumbing products.
---
Tuesday, April 16th, 2019
While scientists at The University of Toledo are protecting the Great Lakes from invasive grass carp by targeting tributaries to Lake Erie, teams in Illinois are focused on blocking bighead and silver carp – also known as flying fish – from entering Lake Michigan.
Kevin Irons, manager for the aquatic nuisance species program at the Illinois Department of Natural Resources, will give a presentation titled "Asian carp: How efforts in Illinois are protecting the Great Lakes" 7 p.m. Thursday, April 18 at the UToledo Lake Erie Center, 6200 Bayshore Road in Oregon.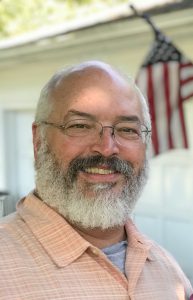 Irons, who grew up in northwest Ohio and has led the Asian carp efforts from Illinois since 2010, will discuss collaborative efforts proving successful in preventing the arrival of Asian carp to the Great Lakes and reducing the population where they are found in Chicago-area waterways.
"Anchored by a system of U.S. Army Corps of Engineers electric dispersal barriers and deterrence fencing, the Illinois Department of Natural Resources coordinates on-the-water efforts to accurately identify where carp are and where they are not," Irons said. "I also want to highlight our contracted fishing and removal program that has shown a 96-percent decline in the population front over the past seven years."
"The work being done by Kevin Irons on Asian carp species in Illinois is important to the river ecosystems where several species of invasive carp have become abundant," Dr. Christine Mayer, professor in the UToledo Department of Environmental Sciences and Lake Erie Center, said. "While grass carp are currently the only one of the Asian carp species present and reproducing in the Great Lakes, fishery managers and researchers in the Great Lakes benefit from knowing how control and management of Asian carp species has been approached in Midwestern rivers."
The public is invited to the free event, which is part of the Lake Erie Center's Public Lecture Series.
A shuttle will be available to transport visitors from UT's Main Campus to the Lake Erie Center and back. The shuttle departs at 6:15 p.m. from the south side of Bowman-Oddy Laboratories, 3100 West Towerview Blvd. Passengers must reserve a spot.
Email lakeeriecenter@utoledo.edu or call 419.530.8360 to make a reservation for the shuttle.
The Lake Erie Center is UT's freshwater research and science education campus focused on finding solutions to water quality issues that face the Great Lakes, including harmful algal blooms, invasive species and pollutants.
---
Monday, April 15th, 2019
The Student Nurses Association at The University of Toledo is aiming to register 1,000 potential bone marrow donors next week during a two-day blitz that could be the starting point for saving someone's life.
The registration drive will take place Monday and Tuesday, April 15, and 16, from 9 a.m. to 3 p.m. in the Thompson Student Union and Nitschke Hall on Main Campus, and in the Collier Building on Health Science Campus. Signs will be posted. The event coincides with National Donate Life Month.
Bone marrow transplants are often the best — and in some cases, only — treatment for a range of diseases, including blood cancers like leukemia and genetic conditions such as sickle cell anemia.
"We have been touched by people who have had these diagnoses," said Shannon Rafferty, vice president of the Student Nurses Association. "We wanted to spearhead an educational program and register donors. You have the potential to save someone's life by doing this."
The Student Nurses Association is partnering with DKMS, an international nonprofit based in Germany, to conduct the donor drive.
Volunteers from the University's College of Nursing will explain to potential donors how the transplant process works, guide them through a registration form, and take three quick cheek swabs.
The swabs are then sealed up and sent back to DKMS to be cataloged, with the results ultimately being placed on the Be The Match Registry operated by the National Marrow Donor Program.
More than two-thirds of patients requiring a bone marrow transplant must look outside their immediate family to find a match, making international registries crucial to pairing willing donors to individuals in need of a transplant.
That was the case for a family friend of Patricia Sopko, an instructor in the College of Nursing and advisor of the University's Student Nurses Association chapter.
The 16-year-old girl needed a bone marrow transplant after a blood cancer diagnosis. A match was found in the United Kingdom and an infusion was done in the States, but the cancer recently came back. She's currently awaiting another match for a second bone marrow transplant.
Rafferty, a senior working toward a bachelor of science degree in nursing, said that personal connection was one reason the group decided to make a priority of registering new donors. They did their first drive last year during Relay for Life, collecting about 100 new donors.
Next week's effort is one of the largest initiates they've undertaken.
"Volunteering is a huge thing our board believes in," Rafferty said. "That's one of the reasons we went into nursing — we have a passion to help people in our community. We're trying to make a change."
The group will again be sharing the story of Sopko's friend to illustrate the need for donors and the potential impact they could make. While people on the registry can't specify a wish to donate to a specific individual, the fact that so many are prepared to help is encouraging to those waiting on a life-saving donation.
"It made a huge difference for my friend's daughter," Sopko said. "It was like we were fighting for her life. She felt so much more hopeful seeing people were willing to do this."
---
Thursday, April 11th, 2019
The University of Toledo's Physician Assistant Studies Program has been granted full accreditation in recognition of the high-quality education provided to students in a program that meets or exceeds national standards.
The Accreditation Review Commission on Education for the Physician Assistant (ARC-PA) notified the University in a letter sent April 11 that its accreditation has been restored. The program is now on accreditation-continued status, which is in effect until its next review in September 2027. The program had been on accreditation-probation status.
"We are proud ARC-PA recognized our efforts to enhance the quality of our PA program and continually improve on our processes and procedures," said Dr. Christopher Cooper, dean of the College of Medicine and Life Sciences. "We have remained committed to our students in the program throughout this process and are happy to share this positive outcome with them."
"We are pleased with this outcome and I want to thank the leadership from the College of Medicine and Life Sciences, College of Graduate Studies and the Provost's Office for their efforts to develop and implement an action plan focused on enriching the academic experience for the students in our Physician Assistant Studies Program," UToledo President Sharon L. Gaber said.
The University's accreditation status is:
The Accreditation Review Commission on Education for the Physician Assistant, Inc. (ARC-PA) has granted Accreditation-Continued status to the University of Toledo Physician Assistant Program sponsored by the University of Toledo. Accreditation-Continued is an accreditation status granted when a currently accredited program is in compliance with the ARCPA Standards.
Accreditation remains in effect until the program closes or withdraws from the accreditation process or until accreditation is withdrawn for failure to comply with the Standards. The approximate date for the next validation review of the program by the ARC-PA will be 2027 September. The review date is contingent upon continued compliance with the Accreditation Standards and ARC-PA policy.
---
Thursday, April 4th, 2019
The University of Toledo equestrian team is hosting Horses for Humanity to help care for shelter dogs in need of forever homes.
The public event is from 11 a.m. to 3 p.m. Wednesday, April 10 in the grassy area south of Memorial Field House on Main Campus.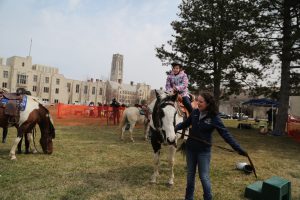 Several horses will be on campus for people to ride for a donation of at least $3. The team also is accepting paper towels, dog toys, dog treats and blankets.
Donations collected will go to Lucas County Canine Care and Control to support animals up for adoption.
Visitors also will have the opportunity to pet and adopt dogs accompanied by volunteers with Lucas County Canine Care and Control.
"We want to support the work being done in the Toledo area to take care of stray and homeless dogs," Andrea Woo, co-president of the UToledo equestrian team, said. "Horses and dogs are such incredibly therapeutic animals. We are excited to share the joy our horses bring us with our campus community, while working to help these loving dogs up for adoption."
Members of the equestrian team will be on hand to assist in riding horses.
---
Tuesday, April 2nd, 2019
The University of Toledo Medical Center, in partnership with Life Connection of Ohio, will mark the beginning of National Donate Life Month with a flag-raising ceremony Thursday, April 4.
The annual event is meant to serve as a reminder of the ongoing need for organ and tissue donors, as well as to recognize those whose donations have helped save lives and those who are living today because of an organ transplant.
The ceremony will begin at 10 a.m. outside UTMC's main entrance, near Mulford Library.
Attendees will include hospital leaders, officials from Life Connection Ohio, and two women who will speak about how their lives were changed after organ transplant surgery. One of the women scheduled to speak received a life-saving kidney transplant at UTMC in 2018.
More than 110,000 Americans are currently awaiting organ transplants, and a new name is added to the nation's organ transplant waitlist every 10 minutes. Approximately 80 percent of those on the waitlist need a kidney.
UTMC is northwest Ohio's only organ transplant center. In 2018, the hospital performed 88 kidney transplants.
The hospital also will be raising money throughout the month of April with a bike raffle to offset the cost of sending a UTMC transplant recipient to the 2020 Transplant Games in New Jersey.
Tickets for the bike, which was donated by local bike shop Cyclewerks, may be purchased for $2 each.
For more information on organ and tissue donation or to register as a donor, visit donatelifeohio.org.
---