Archive for March, 2019
Thursday, March 28th, 2019
The University of Toledo, as part of its ongoing commitment to address the opioid epidemic in northwest Ohio and beyond, will host an educational resource expo and hold a community-wide teach-in on Friday, April 5.
Together, the events are meant to serve as a day of community impact that will provide links to community resources and a data-driven overview of the epidemic, while addressing myths and misconceptions that can serve as a barrier to seeking treatment.
"There tends to be a social stigma associated with opioid use disorder, but it's important that people understand opioid use disorder is a complex brain disease that affects people from all backgrounds," said Dr. Amy Thompson, professor of public health and vice provost for faculty affairs who serves as co-chair of the UToledo Opioid Task Force. "By reducing that stigma, we can help save lives."
The 2019 University of Toledo/Community Opioid Prevention Resource Fair and Expo will be held from noon to 7 p.m. Friday, April 5, in the Thompson Student Union Auditorium.
The expo will feature a variety of speakers who will outline how opioids work, the difference between safe, medically necessary use and opioid use disorder, the effect of opioid use disorder on a variety of age groups, and prevention and treatment methods.
Naloxone training will be offered throughout the day and there will be a variety of community service providers on hand to help connect attendees to key resources. Supervised children's activities also will be provided.
Registration is not necessary for the free, public event. However, professionals in the fields of nursing, social work and counseling who wish to receive continuing education credit do need to register in advance at the UToledo Opioid Task Force website.
The UToledo Opioid Task Force, alongside a number of community partners, has also developed a tool-kit to provide educational materials that can be shared at schools, workplaces, churches and other area organizations for The University of Toledo/Community Partners Regional Teach-In.
"We want to meet people where they are to ensure that everyone in our community has access to information and resources that will help them understand opioid use disorder and where they can find help and support for themselves or loved ones," said Dr. Linda Lewandowski, dean of the College of Nursing who co-chairs the UToledo Opioid Task Force. "We hope to reach as many people throughout the community as possible on April 5."
In addition to written materials, UToledo can arrange for expert speakers to visit participating organizations.
More information on the expo and teach-in can be found on the UToledo Opioid Task Force website.
---
Thursday, March 28th, 2019
President Sharon L. Gaber will celebrate The University of Toledo's recent accomplishments and share her vision for the future during her State of the University address 4 p.m. Wednesday, April 3, in the Thompson Student Union Auditorium.
"Our University community has achieved so much together in the last year, and we are making an impact thanks to the dedication of our faculty, staff and students," Gaber said. "We look forward to this annual moment to celebrate our successes, our exciting new directions, and the many people who make our campus such a great place to learn."
This will be Gaber's third State of the University address since being named president in July 2015.
The event is free and open to the public. Community guests are asked to park in Area 10 next to Glass Bowl or the East Parking Garage by the North Entrance off Bancroft Street.
---
Tuesday, March 26th, 2019
The University of Toledo Police Department and the Office of Recreational Services will conduct a training exercise on March 30 to test the response of campus law enforcement in the event of a violent intruder within a University building.
The active shooter simulation will take place from 8 to 9:45 a.m. inside the Student Recreation Center on Main Campus. The training is scheduled to be complete before the Student Recreation Center opens at 10 a.m.
Similar to other active shooter training exercises University police have conducted, campus safety officials will test first responders' communication, response and scene management. This exercise, however, also will test the response of more than 160 staff and students who work in the Student Recreation Center.
"We've been doing active shooter exercises for many years and we continue to build upon previous experience," University Police Chief and Director of Public Safety Jeff Newton said. "It's an opportunity for officers to train in their response to an active aggressor and also for the students and staff to train in their ALICE principles."
ALICE, which is an acronym that stands for alert, lockdown, inform, counter and evacuate, is a national program that instructs participants on how to survive an active shooter situation. The University regularly offers ALICE training to students, faculty and staff.
Many of the staff and students participating in the March 30 exercise have undergone ALICE training. Demond Pryor, director of the Office of Recreational Services, said it is important to provide training that readies students for a variety of situations.
"We feel it is our responsibility to prepare our students for potential incidents in our facility and to increase their awareness of how to respond to an incident in the community," Pryor said.
Signs will be posted that say "UT Police Training Event" around the Student Recreation Center. In the event of a real emergency, the public address and UT Alert systems would be activated to inform the campus community that a dangerous situation is occurring and to stay clear.
Regular police training exercises are a key part of the University's mission to ensure a safe campus environment.
"It's important for every location to prepare," Newton said "We've seen that no location is immune to this type of violence. Churches, movie theaters, shopping malls, workplaces and schools are all potential targets for an aggressor. It's really prudent for everyone to train. We want to ensure we're providing the safest environment possible for our students and staff."
To learn what to do in the event of an emergency and for more information on the University's emergency preparedness plans and procedures, please visit emergency.utoledo.edu.
---
Monday, March 25th, 2019
The craft brewery boom is good for home values.
Using Charlotte, North Carolina, as a case study, researchers at The University of Toledo and the University of North Carolina at Charlotte found that craft breweries have a positive impact on residential property values.
Condominiums in center-city neighborhoods show a nearly 3-percent increase on sales price after a brewery opened within a half mile.
Single family homes in center-city neighborhoods saw a nearly 10-percent increase after a brewery opened within a half mile.
The study, which is published in Growth and Change: A Journal of Urban and Regional Policy, found no significant impacts on commercial property values.
"Being able to walk to a craft brewery in the evening or late afternoon on the weekend is considered a positive amenity that would – for some people – be attractive when looking at a house," said Dr. Neil Reid, professor of geography and planning at The University of Toledo who is affectionately known as the "Beer Professor." "There is a different attitude toward a craft brewery. It's perceived differently than a liquor store or bar."
In Charlotte, a relatively large and growing city with an increasing competition for land and housing, 21 breweries opened between March 2009 and October 2016.
For the study, researchers focused on properties sold between 2002 and 2017 within a half mile buffer of a brewery and found that while many areas in close proximity to a craft brewery appear to have been associated with relatively higher price premiums even before the opening of the brewery, breweries tend to add to this premium.
"These results are informative to policymakers considering revising zoning laws and other regulations in efforts to promote the growth of craft breweries and spur economic development in their local economies," said Dr. Isabelle Nilsson, assistant professor in the Department of Geography and Earth Sciences at the University of North Carolina at Charlotte.
Nilsson earned a Ph.D. in spatially integrated social science at UToledo in 2015 and her master's in economics at UToledo in 2011.
Reid's previous research has shown that craft breweries often tend to be located in neighborhoods that have recently experienced economic distress, and craft breweries have played a key part in revitalization efforts in many urban areas by restoring old, abandoned buildings.
Craft breweries contributed $76.2 billion in economic impacts to the U.S. economy in 2017, including more than 500,000 total jobs with more than 135,000 jobs directly at breweries or brewpubs, according to the Brewers Association.
"This new research shows that craft breweries contribute to increased property tax revenues for local governments, in addition to job creation and aiding neighborhood revitalization efforts," Reid said. "However, the effects to residential property values may not be as significant in places with higher rates of vacancies and lower population growth, as well as in more established cities such as Chicago or New York."
In a separate study recently published in Papers in Regional Science, the researchers took a close look at craft brewery closures in Chicago, Denver and Portland from 2012 through 2016 after a decade of rapid industry growth.
In those four years, 27 craft breweries closed and 225 opened for business.
Peak growth in all three cities took place in 2013 and 2014, and since then the number of entries into the market have declined while the number of closures has increased.
"I think that the craft brewing industry is following a natural progression, with rapid growth at the onset followed by diminishing growth rates as it matures," Nilsson said. "As it continues to mature, we will see shakeouts involving closures of less competitive breweries."
The economic geographers found that being in a cluster does not have a significant effect on brewery survival.
"Many craft brewers who open a business choose to locate close to the competition to draw more people in for brewery hopping, though it also is partly driven by zoning restrictions, too," Reid said. "However, clustering also creates a more competitive environment, which can make it harder for one to remain open."
Although closures do not appear to occur in brewery districts or in areas with a high concentration of breweries, closures tend to occur in more residential areas outside of downtowns.
Closed breweries had an average of one other brewery within one mile, while those that were still open as of 2016 had around 2.5 other breweries surrounding them.
The researchers also identified other trends related to business survival:
Being in a neighborhood where incomes are higher is positively related to brewery survival.
As the population of white and millennials in a neighborhood increases, the probability of a brewery surviving decreases.
Higher population density also is associated with greater likelihood of closure.
"Even though millennials are driving the industry and craft beer drinkers are predominantly white, income is more important than racial composition or age composition," Reid said.
Dr. Oleg Smirnov, associate professor of economics at UToledo, and UToledo doctoral student Matt Lehnert also served as co-authors on the study of closures in the craft brewing industry.
To learn more about the evolving appetite of craft beer drinkers and the experimentation of craft brewers, read Reid's blog about the beer industry.
---
Thursday, March 21st, 2019
Spending time with seniors, visiting patients in the hospital, helping with spring cleanup — these are a few of the assignments on the list for The University of Toledo's Big Event.
The largest student-run service project will take place Saturday, March 23.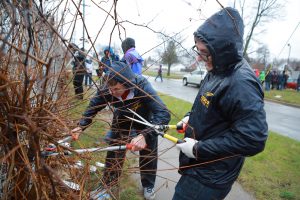 More than 1,000 University students, faculty, staff and alumni are expected to pitch in this year across the Toledo area.
"It is inspiring to see participants come together from all backgrounds to make a difference in the city we all have the privilege to call home during our time at the University," Tara Roeder, a senior majoring in accounting and director of the Big Event, said.
Volunteers can check in starting at 9 a.m. at the Student Recreation Center. An opening ceremony will take place at 10 a.m. and feature two speakers: Ken Leslie, founder of Veterans Matter and 1 Matters, and University alumnus Matt Rubin, president and CEO of Crane Development Ltd. in Toledo, who was involved with the Big Event when he was a student.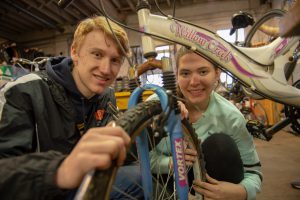 The Big Event provides University students a chance to show their appreciation and give back to surrounding communities by completing service projects.
University volunteers will be assigned to more than 50 locations in the area, according to Dylan Vonderhuevel, a senior majoring in pre-med biology and director of job sites for the Big Event.
Locations include:
Toledo Bikes! at 1114 Washington St. to help repair recycled bicycles at the nonprofit organization from noon to 2 p.m.
UToledo's Stranahan Arboretum at 4131 Tantara Dr. from noon to 2 p.m. to clean up damage sustained from the winter's ice storm.
"I realize I've been very lucky to grow up with the family I have and be able to attend college, so I have always wanted to help others who have been less fortunate," Vonderhuevel said.
"I hope participants leave this event inspired and with a newfound or renewed passion for service," Roeder said.
---
Tuesday, March 19th, 2019
While investigating why cholesterol-lowering drugs called statins cause negative side effects such as blurred vision, short-term memory loss or increased risk for diabetes, cellular chemists at The University of Toledo discovered several previously unknown benefits.
It is well-established statins can help lower the risk of heart attack by lowering blood cholesterol, but statins also may play a protective role in the event of a heart attack because they can suppress a biological process that disrupts cardiac function.
By suppressing the activity of key cellular receptors called G protein-coupled receptors (GPCRs) and their interacting partners called G proteins, statins have the potential to alter various bodily functions controlled by this important pathway, according to research published in the journal Molecular Pharmacology.
"We believe this and our future investigations can help physicians make more informed decisions about prescribing statins, opening a whole new door to what statins can do in addition to cholesterol control," said Dr. Ajith Karunarathne, assistant professor in The University of Toledo Department of Chemistry and Biochemistry.
GPCR signaling pathways are crucial to our survival. They are the largest pharmaceutical drug target – more than one-third of all drugs on the market – because GPCR pathways regulate the body by controlling a variety of functions from vision to heart rate and neurotransmission.
Statins are designed to target and inhibit the cholesterol-synthesis pathway, which is why it is an effective and popular drug to lower cholesterol. But parts of the cholesterol-synthesis pathway are needed for the GPCR signaling pathway to function, which explains the temporary negative side effects while taking statins, such as blurred vision or short-term memory loss.
The UToledo scientists also revealed another crucial finding: The cholesterol-lowering drugs reduce the ability of migratory cells, such as cancer and immune cells, to travel.
When testing GPCR-directed cell invasion, Karunarathne's lab found that statins reduced movement more than 10-fold compared to the control group.
"This indicated that GPCR-governed cancer cell migration also can be reduced by statins," Karunarathne said.
The research was done using cells, not human patients. Karunarathne's lab uses light to control cell behavior – through a novel method named subcellular optogenetics – and studies the way cells respond to light through signal transduction pathways.
"We observed that different types of statins induce very different deviations or changes to G proteins in the GPCR pathway," Mithila Tennakoon, a UToledo Ph.D. student in Karunarathne's lab and first author of the study, said.
"The side effects of statins are not uniform," Karunarathne said. "Cells in the eyes, brain, heart and lungs can have completely different impact levels because they have different types of G proteins."
These findings help explain the molecular sources for side effects of statins, which Karunarathne's lab discovered can have different effects on tissues and organs.
This research was supported by a grant from the National Institute of General Medical Sciences, part of the National Institutes of Health.
---
Monday, March 18th, 2019
A former director of the National Science Foundation who is known worldwide for her work in addressing water quality issues will visit The University of Toledo next week as part of the Jesup Scott Honors College Distinguished Lecture Series.
Dr. Rita Colwell was the first scientist to discover cholera can enter a dormant state and lurk in water until conditions are again favorable for it to grow. Her finding opened the door to new research about the link between the natural environment, climate and the spread of infectious diseases.
She is currently working with the British government on a project to track and better respond to likely cholera outbreaks.
"Dr. Colwell is one of the most influential and well-known life scientists in the world today," said Dr. Heidi Appel, dean of the Jesup Scott Honors College. "She is a leader not only in her academic discipline, but in pulling people together from many academic disciplines to focus on water quality and interdisciplinary approaches to solve major societal challenges."
Colwell is scheduled to present a pair of lectures at UToledo:
A public presentation of how connections between climate and oceans affect human health at 6 p.m. on Monday, March 25, in Doermann Theatre on Main Campus.
A technical talk about how next-generation DNA sequencing has revolutionized the study of the relationship between microbial communities and how that new knowledge can be used in diagnostics, drug development, public health and water safety at noon on Tuesday, March 26 in Radisson Hotel Suite C on Health Science Campus.
Both lectures are open to the public, but reservations are requested to the technical talk luncheon. Guests are encouraged to attend both events.
Much of Colwell's six decades of research has been dedicated to understanding and preventing cholera outbreaks. Among her many discoveries, she demonstrated how algal blooms, spurred by high nutrient loads and warming ocean waters, increases the population of cholera-carrying zooplankton.
Though Lake Erie's algal blooms raise concerns of microcystin — not cholera — Colwell's innovative research methods and multidisciplinary way of developing solutions could prove a helpful roadmap to addressing the problem in northwest Ohio.
"We believe the kinds of tools she's developed and the way of thinking about interdisciplinary research-based problem solving will be of interest and value to the people in our region who are dedicated to protecting water quality," Appel said.
Colwell was the first woman to lead the National Science Foundation, serving as director from 1998 to 2004. She was awarded the National Medal of Science in 2006 and the Stockholm Water Prize in 2010.
She has a bachelor's degree in bacteriology, master's degree in genetics and doctorate in oceanography. She holds distinguished professorships at both University of Maryland at College Park and Johns Hopkins University Bloomberg School of Public Health.
---
Monday, March 18th, 2019
The community is invited to a free, public talk on fishing, conservation and healthy habitat at The University of Toledo Lake Erie Center.
Brad White, president of the Fallen Timbers chapter of Trout Unlimited and an avid fly fisherman, will speak 7 p.m. Thursday, March 21 at the Lake Erie Center, 6200 Bayshore Road in Oregon.
Trout Unlimited, which has about 300,000 members nationwide, is a nonprofit organization that works to conserve, protect and restore North America's cold-water fisheries and their watersheds. The local chapter has 300 members.
"I want to introduce people to Trout Unlimited and talk about the varied activities and programs we get involved in, such as our Trout in the Classroom program," said White, a retired software entrepreneur in Perrysburg. "We also host events for veterans, stream cleanups and more. Our efforts in the Great Lakes region continue to expand."
White also serves as vice president of the Merickel-Farley Trout Club and a member of the Anglers of the Au Sable, Fly Fishers International and the North Branch Boys.
The local chapter of Trout Unlimited meets monthly in Maumee and takes trips to locations where trout and salmon can be found.
"Even though the western basin of Lake Erie is not a hot spot for cold-water fish, Trout Unlimited is interested in local problems on the lake," Dr. Christine Mayer, professor in the UToledo Department of Environmental Sciences and Lake Erie Center, said. "Most members are avid anglers who also care deeply about conservation."
White's talk is part of the Lake Erie Center's Public Lecture Series.
A shuttle will be available to transport visitors from UT's Main Campus to the Lake Erie Center and back. The shuttle departs at 6:15 p.m. from the south side of Bowman-Oddy Laboratories, 3100 West Towerview Blvd. Passengers must reserve a spot. Email lakeeriecenter@utoledo.edu or call 419.530.8360 to make a reservation for the shuttle.
The Lake Erie Center is UT's freshwater research and science education campus focused on finding solutions to water quality issues that face the Great Lakes, including harmful algal blooms, invasive species and pollutants.
---
Wednesday, March 13th, 2019
Keith E. Whittington, the William Nelson Cromwell Professor of Politics at Princeton University, will discuss the importance of free speech at universities as part of The University of Toledo College of Law's Stranahan Lecture series.
His lecture, "Why We Should Value Campus Free Speech," will be delivered at noon Wednesday, March 20 in the Law Center McQuade Auditorium.
Whittington will explain the need to protect free speech at universities to enhance the mission of assembling and nurturing an open and diverse community of scholars, teachers and students. As argued in his award-winning recent book, "Speak Freely: Why Universities Must Defend Free Speech," he will examine how relationships between the critical functions of the university and the principles of free speech can help resolve difficult challenges that confront modern universities.
"Free speech, which for so long has been a cornerstone of American universities, has recently come under significant pressure at universities across the country," said Lee J. Strang, John W. Stoepler Professor of Law and Values at the College of Law. "Professor Whittington will argue that free speech is fundamental to the mission of modern universities as centers of research and teaching."
A prolific scholar, Whittington's publications include nine books and dozens of articles and essays on constitutional law, politics and history, and American political thought. He is a Fellow with the National Center for Free Speech and Civic Engagement, and is a member of the American Academy of the Arts and Sciences.
The winner of numerous book, scholarly and teaching awards, Whittington completed his undergraduate degree at the University of Texas at Austin and earned his doctorate in political science at Yale University.
This free, public lecture is a part of the Stranahan National Issues Forum and is sponsored by the College of Law and its chapter of the Federalist Society for Law and Public Policy Studies.
There will be book sales and signings before and after the free event, which will be streamed live by The University of Toledo Alumni Association at toledoalumni.org/events/law-lecture.html.
---
Tuesday, March 12th, 2019
Marriage certificates. Military records. Census data. Obituaries. Documentation – when mined and mapped from generation to generation – adds up to ancestry.
The University of Toledo Department of History is hosting a free, public event to help members of the African-American community discover their family trees.
"African Americans can experience 'brick walls' when tracing their family roots due to slavery and lack of documents and records regarding people of color before 1870," Dr. Shirley Green, instructor in the UToledo Department of History, said. "Our genealogy workshop is a continuation of Black History Month and reconnecting to the strength of the people who came before you."
Green, a retired Toledo police officer and director of the Toledo Police Museum, will lead the Workshop in African-American Genealogy 5 p.m. Wednesday, March 20 in University Hall Room 5260.
"We plan to provide a general overview of African-American genealogy and assist individuals to start their own genealogical research," Green said. "Members of the local African-American group called Journey also will be in attendance to answer questions."
---