State honors UT algae expert for leadership of Ohio Harmful Algal Bloom Research Initiative
October 22nd, 2018 by Christine Billau
Ohio Department of Higher Education Chancellor John Carey visited The University of Toledo Lake Erie Center today to honor UT's harmful algal bloom expert for his role leading the state's Harmful Algal Bloom Research Initiative, which consists of more than 30 science teams at universities across the state seeking solutions to address toxic algae in Lake Erie.
Carey recognized Dr. Tom Bridgeman, ecology professor and director of the UT Lake Erie Center, with the Chancellor's Award, which recognizes exemplary faculty, administration and students who have gone above and beyond the call of duty in using the power of higher education to impact the communities where they are located and for the greater good of all of Ohio.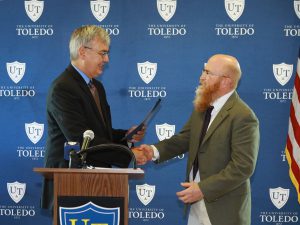 "I'm proud of the work that has been done thus far, and of the example of effective collaboration that has been set thanks to Dr. Bridgeman's leadership and expertise," Carey said.
"It has been an honor to help lead the Harmful Algal Bloom Research Initiative for the Ohio Department of Higher Education," Bridgeman said. "The Chancellor recognized that Ohio's university researchers had the potential to contribute to solving the HAB problem. Since the start of the initiative, researchers have been working hard to provide science that can be used by state agencies in designing solutions. Not only are we providing answers to the pressing questions on how to manage and prevent HABs now, we are training the next generation of scientists who will be called upon to help solve future environmental problems."
Bridgeman has monitored, tracked and studied algae in the Great Lakes for nearly two decades. He created a new method to measure how much harmful algae there is in the lake during the course of the summer and has compared the bloom from one year to another since 2002.
He helps sound the early warning for water treatment plant operators throughout algal bloom season, which recently ended for the year.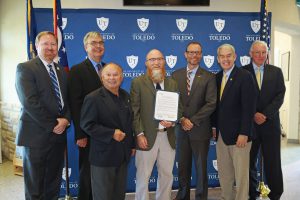 Bridgeman also connects with legislative policy makers to raise awareness about his research exploring ways to protect the lake and ensure communities continue to have access to safe drinking water.
Lance Himes, director of the Ohio Department of Health, and Craig Butler, director of the Ohio Environmental Protection Agency, also spoke at the award ceremony.
The Lake Erie Center is UT's freshwater research and science education campus focused on finding solutions to water quality issues that face the Great Lakes, including harmful algal blooms, invasive species and pollutants.

Christine Billau is UT's Media Relations Specialist. Contact her at 419.530.2077 or christine.billau@utoledo.edu.
Email this author | All posts by Christine Billau
---