Archive for October, 2018
Wednesday, October 31st, 2018
A talk by a modern medicine woman, a chance to make a dream catcher, and a film screening are some of the events that will take place at The University of Toledo in November for Native American Heritage Month.  
"We are thrilled to host Deborah 'Eagle Cloud' Ayres, who will share her experience as a medicine woman," said Dr. Michele Soliz, associate vice president for student success and inclusion in the Division of Student Affairs. "Other events this month will celebrate the contributions and cultural richness of Native Americans."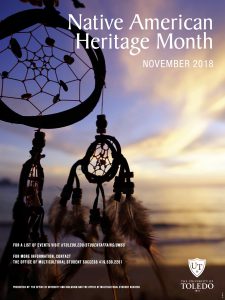 Ayres will give the keynote address, "Indigenous Healing for Modern Times," 5 p.m. Wednesday, Nov. 14 in Thompson Student Union Room 3018.   
"Healing is the inward journey back to your divine self: The body, mind and heart are various paths to your center," Ayres wrote on her Facebook page.  
She is an expert in Native American spirituality and runs a healing practice in Sylvania. 
Listed by date, other events taking place will be: 
Monday, Nov. 5 — Native American Heritage Month Kickoff: Three Sister Soup Tasting, 11 a.m. to 2 p.m. in the Thompson Student Union Trimble Lounge. Stop by to sample the soup that is a combination of beans, corn and squash, foods traditionally grown by many Native American tribes.

 

 Wednesday, Nov. 7 — Native American Heritage Month Diversity Dialogue, 5:30 p.m., Thompson Student Union Room 2584. The discussion will focus on issues that affect Native Americans and how these issues are relevant today in multiple marginalized communities.
Thursday, Nov. 15 — Create Your Own Dream Catcher, noon to 2 p.m., Thompson Student Union Trimble Lounge. Learn the symbolism of the dream catcher and make your own protective charm.

 

 Wednesday, Nov. 28 — Film screening, "Reel Injun," 6 p.m., Memorial Field House Room 1200.The 2009 Canadian documentary explores the portrayal of Native Americans in film. The 85-minute film traces how images of Native Americans in cinema have influenced understanding and misunderstanding of their culture and history.

 
---
Wednesday, October 31st, 2018
November is National Novel Writing Month. The challenge is to write 50,000 words in 30 days.
The University of Toledo Carlson Library is hosting writing sessions all month to help inspire writers. Plus, a young adult author will lead a writing workshop and book signing Tuesday, Nov. 6.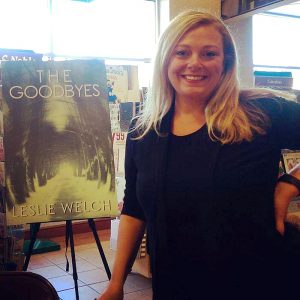 "If you put work on a page, you are a writer," said Leslie Welch, dispelling the notion of an aspiring writer.
Welch, who plans to share insights and provide encouragement, is the author of the acclaimed debut novel "The Goodbyes." The 2016 book is about unrequited love that inspires a musician to stardom — and the power of goodbye.
She will sign books at the Barnes & Noble University Bookstore from noon to 2 p.m.
Following the book signing, Welch will conduct a writing working workshop in Carlson Library Room 2024 from 3:30 to 5:30 p.m. on "How to Draft Your Novel." She will discuss starting a log line, building a plot, creating memorable characters, developing a platform, and finishing your first draft.
The book signing and workshop are part of the University's involvement in National Novel Writing Month (NaNoWriMo).
"NaNoWriMo is a fantastic resource for all writers because you have to make a lot of compromises to get it done, and it forces you into a creative state you couldn't otherwise access with unlimited time," said Welch, who has participated in the event the past 13 years.
"'The Goodbyes' was written on NaNoWriMo," she continued, "and I was 10,000 words short on the last day. I sat in Panera Bread for 10 hours, my butt was numb, my hands were sore, but I finished that book. If I can do it, you can, too."
Welch was born in Toledo and moved to Philadelphia in her preteen years. She graduated from Penn State and resides in the Washington, D.C., area.
She offered advice for authors hailing from the Toledo area: "Write what you know. I know you think your setting is boring; it isn't. It will feel real if you write from your daily experience in the Midwest."
More information about NaNoWriMo and Welch's visit can be found at libguides.utoledo.edu/nanowrimo.
---
Tuesday, October 30th, 2018
The number of graduates from The University of Toledo College of Law who passed the July bar exam in Ohio on the first try is well above the state average.
The newly released data shows the first-time passage rate for UT law graduates taking the bar exam is 84 percent, up from 74 percent last year in July. The state average in Ohio this year is 79 percent.
"We have done a lot in the past three years to revamp our bar program, and it is gratifying to see positive results," D. Benjamin Barros, dean of the UT College of Law, said. "We hope to continue this positive trend into the future as we see the impact of improved credentials of first-year students entering UT Law and further improvements to our bar program."
The UT College of Law is committed to preparing students for a successful career with programming and partnerships dedicated to bar passage.
In the last few years, Toledo Law aligned its curriculum to bar-tested subjects, developed a new first-year support program, expanded its third-year bar prep course, and implemented a legal analysis course and academic success contracts.
The UT College of Law also created the position of director of academic success and bar preparation. This position held by Lesa Byrnes oversees the Bar Passage program that is designed to prepare both third-year students and graduates for the bar exam. Through post-graduation mentoring, every Toledo Law graduate is paired with a faculty mentor to provide support during bar exam study.
Most recently, Toledo Law partnered with BARBRI, a company headquartered in Texas, to offer student access to its comprehensive bar review course with flexible classroom, online and mobile learning environments.
---
Tuesday, October 30th, 2018
A marketing professional experienced in higher education branding and crisis communications will join The University of Toledo to lead the Office of University Marketing and Communications.
Dr. Adrienne King, vice president of university advancement for Murray State University in Murray, Ky., will join UT Jan. 7 as associate vice president of marketing and communications.
At Murray State, King has led the branding, marketing and communication, alumni relations and development teams, as well as the Town & Gown Partnership Program since 2015. Under her leadership, the university completed a comprehensive marketing plan to increase the academic perception of the institution and strategically changed the academic profile of incoming students, grew private support by an average of 47 percent, and tripled the size of the university's alumni association.
Prior to Murray State, King held similar leadership positions for several higher education institutions as the director of marketing and communications for Idaho State University, director of relations and communications for West Virginia University Institute of Technology, and director of marketing for University of Charleston.
"The University's marketing team has an important role to engage prospective students, our alumni, the campus community and all of our external stakeholders as we highlight the many successes of The University of Toledo," UT President Sharon L. Gaber said. "Adrienne's experience and passion for higher education will provide strong leadership to help advance our efforts to better tell the UT story and elevate the University's reputation."
"I am honored to have been selected by President Gaber to help The University of Toledo showcase the well-earned reputation for a world-class education and excellence in research, scholarship and clinical practice," King said. "With the University's 150th anniversary quickly approaching, it's an exciting time to be a Rocket. I am so impressed with the passion and momentum shared by the entire UT community. It's obvious that Toledo is a very special place."
King's previous marketing teams have won more than 20 regional and national awards from organizations such as the Public Relations Society of America and the Council for Advancement and Support of Education for their work on recruitment initiatives, crisis communications, social media campaigns and fundraising/crowdfunding projects.
King has a doctor of education degree in educational leadership in higher education administration and a master's degree in integrated marketing communications from West Virginia University, and bachelor's degrees in graphic design and advertising and public relations from Marietta College. She also is a graduate of the 2018 Leadership America program, a national executive leadership program designed for senior-level women who represent the broadest spectrum of professional, cultural, geographic and ethnic diversity.
---
Tuesday, October 30th, 2018
Dr. Amos N. Guiora is the child of Holocaust survivors, and his paternal grandparents were murdered at Auschwitz.
The author and professor of law at The University of Utah who focuses on the role of the bystander is speaking at The University of Toledo next week.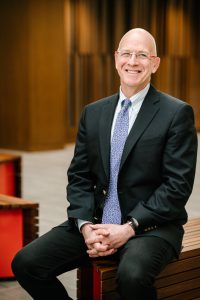 Guiora will present the David S. Stone Law Lecture Monday, Nov. 5 in the Law Center McQuade Auditorium. There will be two opportunities to attend this event: a lunch-and-learn lecture from noon to 1 p.m. and an evening lecture from 7 to 8:15 p.m.
The title of his talk is "The Crime of Complicity: The Bystander From the Holocaust to Today."
If you are a bystander and witness a crime, should intervention to prevent that crime be a legal obligation? Or is moral responsibility enough? In his 2017 book, "The Crime of Complicity: The Bystander in the Holocaust," Guiora addresses these profoundly important questions and the bystander-victim relationship from a deeply personal and legal perspective, focusing on the Holocaust and then exploring cases in contemporary society.
Sharing the experiences of his parents, who were Holocaust survivors, and his grandparents, who did not survive, and drawing on a wide range of historical material and interviews, Guiora examines the bystander during three distinct events: death marches, the German occupation of Holland, and the German occupation of Hungary. He explains that while the Third Reich created policy, its implementation was dependent on bystander non-intervention.
Bringing the issue of intervention into current perspective, he examines sexual assault cases at Vanderbilt and Stanford universities, as well as other crimes when bystanders chose whether or not to intervene, and the resulting consequences.
Guiora is a recognized scholar on national security and terrorism. He teaches criminal procedure, international law, global perspectives on counterterrorism, and religion and terrorism —incorporating innovative, scenario-based instruction to address national and international security issues and dilemmas.
Guiora earned his AB in history from Kenyon College, his JD from Case Western Reserve University School of Law, and his PhD from Leiden University.
The evening lecture is approved for 1.0 total Continuing Legal Education credit hours, with book sales and signing to follow, as well as a special tribute to Judge David Katz by U.S. District Judge Dan Aaron Polster.
"We are glad to continue our collaboration with the Toledo Jewish Community Foundation on this lecture series," said D. Benjamin Barros, dean of the UT College of Law. "The issues surrounding the obligations of bystanders are important and difficult, and I look forward to learning from Professor Guiora's talk."
This free, public lecture is co-sponsored by The University of Toledo College of Law and the Toledo Jewish Community Foundation of the Jewish Federation of Greater Toledo.
Register at utoledo.edu/law/events/stone-law-lecture.html.
---
Monday, October 29th, 2018
The University of Toledo chapter of the Student Veterans of America is hosting a flag retirement ceremony 10 a.m. Thursday, Nov. 8 by the steps of the Thompson Student Union. 
Flags in need of retirement can be donated at collection points across the community, including area Home Depots, Lowe's, Churchill's Market in Maumee and Perrysburg, and the Bass Pro Shop in Rossford.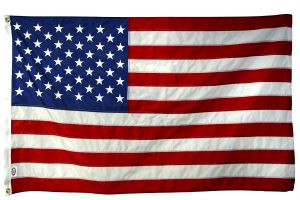 The practice was once carried out by the Andersons before being passed to the UT Student Veterans of America. This will be the fifth annual flag retirement ceremony carried out by the UT chapter. 
"Every part of the ceremony is very meaningful, and we want the Toledo area to see the respect the flag deserves in its retirement," said Brandon Kalbfliesh, president of the UT Chapter of the Student Veterans of America. "That flag means everything to those of us who serve our country." 
The event also is used to build awareness about the history of the flag and the proper way to dispose of a flag that is no longer suitable for display.  
---
Monday, October 29th, 2018
Regionalization of water and sewer systems will be the focus of the 18th annual Great Lakes Water Conference this week at The University of Toledo College of Law.
The conference titled "Regional Water and More" will take place from 8:30 a.m. to 3 p.m. Friday, Nov. 2 in the Law Center McQuade Auditorium.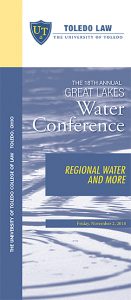 "Regionalization of water services is an important issue across the nation," said Ken Kilbert, UT professor of law and director of the Legal Institute of the Great Lakes. "Locally this conference could not be more timely in light of the ballot question facing city of Toledo voters on Nov. 6 regarding a regional water commission."
The keynote speaker is Darren Nichols, executive director of the Great Lakes Commission, at 8:45 a.m.
The first panel discussion at 9:15 a.m. concentrates on Ohio, including a possible regional approach to drinking water among the city of Toledo and nearby communities.
The second panel at 11 a.m. addresses the trend toward regionalization of water and sewer systems beyond Ohio, including the new regional authority in the Detroit area.
A third panel at 1:30 p.m. focuses on the rights of recreational paddlers versus private landowners; developments in the legal fight against algae in Lake Erie; and regulation of discharges of pollutants to groundwater under the federal Clean Water Act.
The one-day conference sponsored by the UT College of Law and its Legal Institute of the Great Lakes is free to the public. Registration is $75 for attorneys seeking 4.5 hours of Ohio Continuing Legal Education credit.
For more information about the conference, go to utoledo.edu/law/academics/ligl/conferences.
---
Wednesday, October 24th, 2018
The overall public health of a community appears to correspond with the likelihood of mass shooting events, while many gun control laws do not, according to preliminary research out of The University of Toledo College of Medicine and Life Sciences.
Dr. Stephen Markowiak, a general surgery research fellow at UT, found mass shootings tend to happen more in communities that have issues with overcrowding, higher rates of income inequality, lower rates of socialization and a disconnect between mental health needs and mental health providers.
"The communities that have suffered through mass shootings tend to be much less healthy than the national average, both from a standpoint of physical health and mental health," Markowiak said. "We need to think about this problem through the lens of public health and encourage more objective research."
Markowiak presented his research findings Tuesday, Oct. 23, at the American College of Surgeons Clinical Congress 2018.
Markowiak used data from the Federal Bureau of Investigations, U.S. Census, Robert Woods Johnson Foundation and Giffords Law Center for Gun Violence to develop a slate of common characteristics of communities where 186 mass shootings have occurred.
For the purpose of the study, a mass shooting was defined as a single incident in which four or more people are killed, not including the gunman. Researchers excluded shootings that had a clear motive.
One of the intriguing findings of the research is that six of the 11 common state gun control measures Markowiak examined did not correspond with a lowered occurrence of mass shooting events. In fact, some pointed to a higher incidence.
"While the data show stricter gun control laws are associated with lower levels of overall violent crime, mass shootings appear to be the exception to the rule," Markowiak said. "That sort of supports our notion that these are a different phenomenon than your average everyday crime."
Five gun control measures, however, did correlate with a lower incidence of mass shootings — mandatory reporting of mental health records to the National Incident Criminal Background Check System, bans on open carrying of firearms, laws preventing child access, laws disarming dangerous persons and mandatory waiting periods.
Markowiak and research collaborators did not seek to promote any political position on gun violence but rather show it is possible to study mass shootings in a way that's objective and apolitical.
The researchers did, however, say they believe Congress needs to take more action to ensure there is solid data available to researchers looking at the issue and to clarify that the U.S. Centers for Disease Control can investigate gun violence as a public health issue.
Although the last Congressional spending bill specified the 1996 Dickey Amendment was not an outright ban on the CDC researching gun violence as it had widely been understood, the amendment remains on the books. There's also the so-called Tiahrt Amendment that restricts the Bureau of Alcohol, Tobacco, Firearms and Explosives from releasing much of its data to researchers.
"From a public health study standpoint, those amendments need to be revised if we're going to ever address this issue in a more comprehensive way than we've done," Markowiak said.
Co-authors include Dr. Philip Welch, assistant professor in Bowling Green State University's Department of Public and Allied Health, and Dr. David Heidt, a trauma surgeon who formerly worked at The University of Toledo Medical Center and now works at St. Joseph Mercy Health System in Ann Arbor, Mich.
---
Tuesday, October 23rd, 2018
It's only recently in the great history of medicine that a disease could genuinely be cured. Hippocrates practiced 2,500 years ago, but simple antibacterial drugs that could knock out illnesses like pneumonia or strep throat weren't widely available until the late 1940s.
With cures elusive, the focus of physicians was doing what they could to make the patient whole. That mission is still important today, said Dr. Ann Berger, chief of Pain and Palliative Care at the National Institutes of Health Clinical Center who is speaking at The University of Toledo this week.
"In medicine there can be healing or curing. Most illnesses at this point in time we are not actually curing," Berger said. "But what we can do in medicine is help people heal. The common thread of healing is putting together mind, body and spirit. Even when we do cure patients, trying to help the person reach psychosocial spiritual healing is extremely important and desired by the patient."
Berger will discuss the theory and history of healing in a lecture titled "The Importance of Psychosocial Spiritual Healing in Healthcare" as the featured speaker Thursday, Oct. 25, at the 10th annual S. Amjad Hussain Visiting Lecture in the History of Medicine and Surgery at UT.
The lecture, which begins at 5 p.m. in Collier Building Room 1000 on UT's Health Science Campus, is free and open to the public.
A 1988 graduate of the Medical College of Ohio, Berger helped shape the field of palliative care. She lectures nationally and internationally and has published extensively in the field. Berger also edited the first textbook on palliative care and supportive oncology in the country.
She has been chief of Pain and Palliative Care at the NIH Clinical Center since 2000.
Berger said there is a long string running throughout the history of healing medicine that link the same ideas of connecting the mind, body and spirit.
"If you go through all the world's different cultures, from traditional Chinese medicine to Native American medicine, you see this," Berger said. "We'll not only talk about how different cultures thought about healing, but we'll also discuss what we can do as health-care professionals and how healing occurs by doing something intentionally."
The S. Amjad Hussain Visiting Lecture in the History of Medicine and Surgery was created in honor of Dr. Hussain, professor emeritus of cardiovascular surgery and humanities, a former member of the UT Board of Trustees and columnist for The Blade.
"She is a graduate of our medical school and has made a name for herself in palliative care, which has become a well-recognized specialty in the practice of medicine," Hussain said. "To bring in someone who is the head of a federal agency in charge of this particular specialty is great for us at The University of Toledo."
RSVPs are requested; email hscevents@utoledo.edu or call 419.383.6300.
---
Monday, October 22nd, 2018
Ohio Department of Higher Education Chancellor John Carey visited The University of Toledo Lake Erie Center today to honor UT's harmful algal bloom expert for his role leading the state's Harmful Algal Bloom Research Initiative, which consists of more than 30 science teams at universities across the state seeking solutions to address toxic algae in Lake Erie.
Carey recognized Dr. Tom Bridgeman, ecology professor and director of the UT Lake Erie Center, with the Chancellor's Award, which recognizes exemplary faculty, administration and students who have gone above and beyond the call of duty in using the power of higher education to impact the communities where they are located and for the greater good of all of Ohio.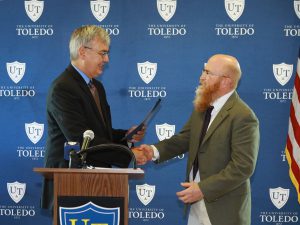 "I'm proud of the work that has been done thus far, and of the example of effective collaboration that has been set thanks to Dr. Bridgeman's leadership and expertise," Carey said.
"It has been an honor to help lead the Harmful Algal Bloom Research Initiative for the Ohio Department of Higher Education," Bridgeman said. "The Chancellor recognized that Ohio's university researchers had the potential to contribute to solving the HAB problem. Since the start of the initiative, researchers have been working hard to provide science that can be used by state agencies in designing solutions. Not only are we providing answers to the pressing questions on how to manage and prevent HABs now, we are training the next generation of scientists who will be called upon to help solve future environmental problems."
Bridgeman has monitored, tracked and studied algae in the Great Lakes for nearly two decades. He created a new method to measure how much harmful algae there is in the lake during the course of the summer and has compared the bloom from one year to another since 2002.
He helps sound the early warning for water treatment plant operators throughout algal bloom season, which recently ended for the year.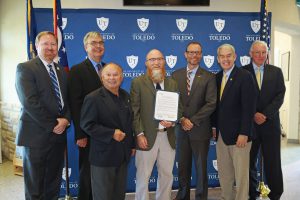 Bridgeman also connects with legislative policy makers to raise awareness about his research exploring ways to protect the lake and ensure communities continue to have access to safe drinking water.
Lance Himes, director of the Ohio Department of Health, and Craig Butler, director of the Ohio Environmental Protection Agency, also spoke at the award ceremony.
The Lake Erie Center is UT's freshwater research and science education campus focused on finding solutions to water quality issues that face the Great Lakes, including harmful algal blooms, invasive species and pollutants.
---