Archive for September, 2018
Thursday, September 27th, 2018
An Academy Award-nominated filmmaker and director of the Netflix Original Documentary "Heroin(e)" is visiting The University of Toledo next week.
Elaine McMillion Sheldon, a Peabody Award-winning documentary filmmaker focused on the opioid crisis gripping her home state of West Virginia and much of the nation, will speak at the Jesup Scott Honors College Distinguished Lecture 6 p.m. Thursday, Oct. 4 in Collier Building Room 1000 on Health Science Campus.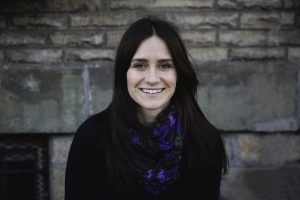 Attendees will watch a screening of her debut feature documentary, "Recovery Boys," which follows the lives of four men working to transform themselves after years of addiction. A question-and-answer session and dessert reception will follow.
"The number of people we lose to opioid overdoses daily tragically could not fit into most lecture halls on this campus," said Dr. Heidi Appel, dean of the Jesup Scott Honors College. "Sheldon's powerful message in the film is that despite all of the suffering reflected in this statistic, we can find hope."
Approximately 130 people die from opioid overdose every day across the country.
Not succumbing to sobering statistics representing stories of grief and loss, the film is optimistic. Recovery's path for these men runs through shattered relationships and strained sobrieties, but also new communities and the promises of lives better led. Their rehabilitation is facilitated by Jacob's Ladder, a rural West Virginia farmstead that promotes healing through mindful living and the natural rhythm of farm work.
"Whether you're a fan of documentaries, in the health professions, have had your life touched by the opioid crisis, or just want to meet an amazing young filmmaker out to change the world, you'll want to join us for this event," Appel said.
The event is free and open to the public. Register at utoledo.edu/honorslecture.
While on campus, Sheldon also will screen portions of "Heroin(e)" 8 a.m. Friday, Oct. 5 in Rocket Hall Room 1520.
At this second free, public event called "Coping With the Toll of Responding to Opioid Overdoses," Sheldon will participate in a discussion led by Dr. John Lewton, trauma intervention counselor and owner of Workplace Resources, and Dr. Cheryl McCullumsmith, UT professor and chair of psychiatry. The trio will talk about strategies and resources to promote the well-being of front-line responders and clinicians.
---
Wednesday, September 26th, 2018
The University of Toledo will hold its 21st annual Banned Books Vigil to celebrate the right to read, think, speak and create freely without censorship.
The free, public event will take place from 9 a.m. to 5 p.m. Thursday, Sept. 27 in Carlson Library Room 1005. Programs will start every 30 minutes during the event that coincides with the American Library Association's Banned Books Week, Sept. 23-29.
"We emphasize taking a moment to think about how fortunate we are to live in a country where we can express our views and read the views of controversial people because, in a lot of places, freedom of expression is not a right," said Dr. Paulette D. Kilmer, UT professor of communication and coordinator of the UT Banned Books Coalition.
Classic books such as "The Catcher in the Rye," "To Kill a Mockingbird" and "The Color Purple" are a few of the novels that have been challenged or banned from libraries and classrooms. And every year, new books are added to the banned list.
Banned Books Week strives to celebrate and make these books easily available to students and bring together the entire reading community.
"It's very important for us to remind students that they need to enjoy this freedom to read, create, think and speak," said Arjun Sabharwal, UT associate professor of library administration and digital initiative librarian.
Banned books and door prizes will be given away throughout the day at the event. In addition, light snacks and refreshments will be served along with 20-minute presentations by guest speakers throughout the day.
"My expectation is that people enjoy themselves and just take a few minutes to think about our wonderful First Amendment and the right to think and read freely because the battle for the First Amendment is never over," Kilmer added.
Topics and speakers for the event will be:
9 a.m. — "Welcome: Read on!" by Dr. David Tucker, UT professor and chair of communication, and Beau Case, dean of University Libraries.
9:30 a.m. — "Forty-One Years of Free Speech" by Tucker.
10 a.m. — "The 10 Biggest News Stories You've Never Heard of" by Lou Hebert, Toledo broadcaster and historian.
10:30 a.m. — "Book Burning Videos: Indiana Jones, Eyewitnesses and Ray Bradbury."
11 a.m. — "Pandora, Lilith and Eve: Three Superheroes" by Warren Woodberry, Toledo writer.
11:30 a.m. — "Writing From Prison, Challenging Mass Incarceration" by Dr. Renee Heberle, UT professor of political science and co-director of the Program in Law and Social Thought.
Noon — Charlene Gilbert, dean of the UT College of Arts and Letters, will give the Dr. Linda Smith Lecture titled "Free Your Mind: 20 Books That Changed the World."
1 p.m. — "Crippling the Banned Book and Taking Back Crazy" by Dr. Allyson Day, UT assistant professor of disability studies.
1:30 p.m. — "Ginsberg's 'Howl': A Poem That Changed Poetry and Culture" by Dr. Glenn Sheldon, UT honors professor of humanities.
2 p.m. — Banned episode of "American Dad" titled "Don't Look a Smith Horse in the Mouth."
2:30 p.m. — "Editorials: Views, Not News" by Areeba Shah, editor of The Independent Collegian.
3 p.m. — "Jeopardy!" hosted by The Independent Collegian.
3:30 p.m. — "Controversy Over Transgender Content in George" by Dr. Sharon Barnes, UT associate professor and chair of women's and gender studies.
4 p.m. — "In the Gutters of Palomar" by Dr. Matt Yockey, UT associate professor of theatre.
4:30 p.m. — "Breaking the Sound Barrier of Propriety" by Dr. Ed Lingan, UT professor and chair of theatre.
Kilmer said the UT Banned Books Vigil would not be possible without help from numerous generous sponsors on campus and in the community. She gave a special thanks to the Office of the President; the Office of the Provost; University Libraries; Jesup Scott Honors College; the UT School of Visual and Performing Arts; and the UT Communication Department.
---
Wednesday, September 26th, 2018
The University of Toledo researchers brought in $27.1 million in new grants to fund research during the 2018 fiscal year, contributing to a five-year high in external research funding.
When combining the 39.5 percent increase in new awards compared to 2017 with renewal grants awarded to continue progress on previously funded projects, the total amount of grants awarded to UT in 2018 climbed to $46.6 million, an increase of 21 percent compared to the previous year.
"Our research portfolio is growing," UT President Sharon L. Gaber said. "The University's faculty members are leaders in their academic disciplines who are making important advancements in their field of study and helping UT achieve national research prominence."
The number of grants jumped 15 percent in fiscal year 2018, from 282 in 2017 to 326. Of those, the number of new awards increased 11 percent, from 163 to 182.
"My office has seen grant awards increase across the entire campus in a wide range of disciplines, showing a strong faculty response in supporting the University's commitment to building research," Vice President for Research Frank Calzonetti said. "I am particularly impressed by the number of new awards, compared to awards to continue previously funded projects. These new awards are mostly for projects that have met agency merit review criteria and have a higher probability of future funding."
Federal awards in 2018 include:
$2.4 million from the U.S. Department of Energy to Dr. Sridhar Viamajala, professor in the UT Department of Chemical Engineering, for a project titled "A comprehensive strategy for stable, high productivity cultivation of microalgae with controllable biomass composition;"
$1.8 million from the Air Force Research Laboratory to Dr. Randy Ellingson, professor in the Department of Physics and Astronomy, for a project titled "Ultra-high Efficiency and Lightweight Thin-Film Photovoltaic Electricity for Portable, On-Demand Power for Defense Applications;" and
$438,172 from the National Institutes of Health to Dr. Heather Conti, assistant professor in the UT Department of Biological Sciences, for a project titled "Novel Role for B-defensin 3 in the Regulation of Innate Lymphocytes and Oral Mucosal Immune Responses."
For more information about UT's research enterprise, visit utoledo.edu/research.
---
Tuesday, September 25th, 2018
A national expert on Islamic and U.S. constitutional law will present the annual Cannon Lecture at The University of Toledo College of Law at noon Thursday, Sept. 27 in the Law Center McQuade Auditorium.
Dr. Asifa Quraishi-Landes, professor of law at the University of Wisconsin Law School, will give a talk titled "Islamic Family Law in the United States: Islamophobia, American Secularism, and American Muslims."
As state court judges wrestle with how and whether to accommodate religious-based claims in divorce litigation, "anti-Sharia" law bills have proliferated in states across the country. Quraishi-Landes will summarize the legal landscape of Islamic family law cases in the U.S. over the years and will discuss what the future might mean for American secularism and for American Muslims living here.
"In an increasingly pluralistic society, our legal institutions have sometimes stumbled in handling diverse religious traditions," said Geoffrey Rapp, associate dean for academic affairs in the UT College of Law. "This year's Cannon Lecturer, Professor Quraishi-Landes, will offer insights into the treatment of Islamic family law in American courts."
Quraishi-Landes, who focuses on modern Islamic constitutional theory, teaches in the areas of constitutional law and Islamic law.
She is president of the National Association of Muslim Lawyers and serves on the governing board of the Association of America Law Schools (AALS) Section on Islamic Law. She is working on a book manuscript, "Islamic Reconstitutionalism," in which she proposes a new model of Islamic constitutionalism for today's Muslim-majority countries.
Quraishi-Landes is a 2009 Carnegie Scholar and 2012 Guggenheim Fellow. Previously, she served as a public delegate on the U.S. Delegation to the United Nations Commission on the Status of Women; president and board member of KARAMAH: Muslim Women Lawyers for Human Rights; fellow with the Institute for Social Policy and Understanding; and advisor to the Pew Task Force on Religion and Public Life.
Quraishi-Landes received a bachelor of arts degree from the University of California-Berkeley, a juris doctor from the University of California-Davis, a doctor of juridical science from Harvard Law School, and a master of laws degree from Columbia Law School.
This free, public event is part of the Cannon Lecture Series that was established in 1980 to honor former Toledo attorney Joseph A. Cannon. The series hosts nationally known individuals who explore both the humanistic dimensions and limitations of the legal system.
---
Tuesday, September 25th, 2018
Approximately 650 students in The University of Toledo College of Business and Innovation will participate in the college's annual autumn job fair from 1 to 4 p.m. Thursday, Sept. 27 in the Thompson Student Union.
Among the 120 companies recruiting business students on campus will be Amazon, Welltower, Coca-Cola, Intuit, Dana Incorporated, Mercy Health, Ohio Department of Taxation and EY.
"We are truly excited and pleased for our students by the fact that so many well-known companies are coming to the UT College of Business and Innovation to find the talent they need," said Terribeth Gordon-Moore, senior associate dean of the college. "This reflects very positively on the quality of both our programs and our students. It also demonstrates the extremely dynamic and mutually beneficial relationship enjoyed by the College of Business and Innovation and recruiters for major national companies."
Employers are looking for undergraduate students to participate in business internships and leadership development programs, as well as for seniors and graduates seeking full-time employment.
"We strongly encourage our freshman students to attend the job fair, engage these company representatives, and begin a relationship with these employers now," Gordon-Moore said.
More than 85 percent of UT College of Business and Innovation students participate in internships, and the job placement rate for spring 2018 business graduates was more than 90 percent.
"This semiannual job fair is part of what we do to prepare our students for their futures," Gordon-Moore explained, adding that the college's Business Career Programs office works year-round to assist students in acquiring internships and jobs upon graduation. "We strive to provide the necessary resources so our students can conduct their own tailored job searches."
---
Monday, September 24th, 2018
The University of Toledo Engineering Career Development Center will host the Fall 2018 Engineering Career Expo from 12:30 to 4:30 p.m. Wednesday, Sept. 26 at Savage Arena.
"This year marks a milestone for the center: celebrating 20 years of placing more than 20,000 engineering co-ops," said Angie Gorny, interim director of the Engineering Career Development Center.
More than 190 companies from across the United States and 700 UT engineering students and alumni are expected at the event.
Employers are seeking undergraduate students to participate in engineering co-op assignments, as well as their leadership development programs, along with seniors and graduates for full-time employment.
Companies scheduled to participate include Automatic Handling, BP, Cooper Tire & Rubber Co., Dana Inc., GEM Inc., Johnson & Johnson — DePuy Synthes, First Energy Corp., GE Appliances (a Haier Co.), Honda, Libbey Inc., Matrix, Marathon Petroleum Corp., Owens Corning, Owens-Illinois Inc., PCC Airfoils, SSOE Group, and the Lathrop Co.
"This event is a dynamic networking and hiring experience for students to connect with companies seeking the talent they need for success," Gorny said. "The expo is exclusive to UT College of Engineering students who are enrolled in the mandatory co-op program, as well as UT engineering alumni searching for full-time opportunities."
The UT undergraduate mandatory co-op program is one of only eight mandatory engineering co-op programs in the country.
"Many students indicate our co-op training is the reason they attend the College of Engineering at The University of Toledo," Gorny said. "Our students have one full year of professional engineering experience before they graduate, and they feel confident seeking full-time employment upon graduation. Co-op businesses are able to work with these students and determine how the student fits within their organization. It's a win-win situation for our students and the companies who hire them."
Since the launch of the co-op program, the event has grown in size each year and this fall has been relocated to Savage Arena.
"The demand for our co-op students is evidenced by the increase in the number of companies participating this fall," Gorny said.
The college hosts semiannual career expos to offer UT students the opportunity to network with potential employers. It allows employers to meet UT students to determine if they would be a good fit in their organizations.
"The current job outlook for engineering students in The University of Toledo Engineering College is certainly bright as indicated by the record number of students registered to attend the fall expo," Gorny said. "This reflects very positively on the quality of The University of Toledo's engineering program and our students. It also demonstrates our vital and mutually beneficial partnership we have with our industry participants."
---
Monday, September 24th, 2018
Zanny Minton Beddoes, editor-in-chief of The Economist, will deliver the 2018 Edward Shapiro Distinguished Lecture 7 p.m. Wednesday, Oct. 3 in Doermann Theatre.
Named one of the "most powerful women in the world" by Forbes, Beddoes is a renowned global economics expert, sought-after for her authoritative perspectives on the world economy — past, present and future.
Beddoes' talk at The University of Toledo is titled "What's Next? Making Sense of a Global Economy."
In this big-picture presentation, Beddoes will reveal the interplay of democracy, demography, technology, energy and government policies as the ultimate drivers of economic change. Topics will include:
How is Europe displaying attributes typical of Japan, where economies are no longer shrinking, but stagnant?
Emerging market economies are being tested — a candid look at which have promise and those that could collapse under the pressure.
As the first female editor in The Economist's more than 170-year history, Beddoes enlightens audiences on financial and economic trends with prescient analysis that is detailed yet comprehensive in scope.
"We are excited to host Zanny Minton Beddoes here on the UT campus," said Charlene Gilbert, dean of the UT College of Arts and Letters. "Her role as a thought leader on the national and international stage is truly impressive. As one of Forbes' 100 most powerful women in the world, we are sure her remarks will be both timely and insightful. The College of Arts and Letters is deeply committed to bringing speakers of this caliber to our campus, providing our students and our community with exposure to some of the world's most important leaders and intellectuals."
Tickets for the free, public Edward Shapiro Distinguished Lecture are available at utoledo.edu/al/shapiro-lecture.
The annual lecture is made possible by the Shapiro endowment left by Dr. Edward Shapiro, professor emeritus of economics, who retired in 1989 and wanted to provide opportunities for the University to bring world-renowned speakers to Toledo.
Past Shapiro Distinguished Lecture speakers include Elie Wiesel, Oliver Sacks, Robert F. Kennedy Jr., Toni Morrison, Wynton Marsalis, E.J. Dionne Jr. and Audra McDonald.
---
Monday, September 17th, 2018
The University of Toledo College of Engineering and AAA Northwest Ohio are hosting the fourth in a series of free, public talks to educate consumers about how smart vehicles will impact the world.
The seminar focused on transportation infrastructure and autonomous vehicles is from 9 to 11 a.m. Friday, Sept. 21 in UT's Nitschke Auditorium.
Speakers include Jim Barna, executive director of DriveOhio; Randy Cole, executive director of the Ohio Turnpike and Infrastructure Commission; and Zach Huhn, chief executive officer of Venture Smarter.
All speakers will participate in a panel discussion with Dr. Eddie Chou, UT professor of civil and environmental engineering and director of the Transportation Systems Research Lab, and Laurie Adams, managing principal and director of traffic safety at DGL Consulting Engineers.
Register for the free, public seminar online at utoledo.edu/engineering/techtakesthewheel.html.
The next seminar in the Technology Takes the Wheel series will be Nov. 2 and focuses on accessibility. Previous events examined cybersecurity and public transportation.
---
Thursday, September 13th, 2018
Several events at The University of Toledo are planned to honor Hispanic Heritage Month, Sept. 15 to Oct. 15. 
"Hispanic Heritage Month highlights the contributions of Hispanics/Latinx people in history and contemporary society by bringing awareness to emerging issues," Aleiah Jones, program coordinator with the Office of Multicultural Student Success, said. "We are excited to bring more than a dozen events to campus this year." 
Listed by date, events facilitated through the Office of Multicultural Student Success and the Latino Student Union include: 
Monday, Sept. 17 — Hispanic Heritage Month Kickoff Luncheon, noon to 2 p.m., Thompson Student Union Room 2584. Stop by for a free taco bar courtesy of La Michoacana and learn more about Hispanic/Latino student organizations and departments.

 

Thursday, Sept. 20 — Diamante Awards, 6 p.m., Center for Fine and Performing Arts at Owens Community College. Awards for Latino leadership and achievements in northwest Ohio will be presented at this event, which is co-sponsored by UT, Bowling Green State University,OwensCommunity College and Herzing University. Tickets are $75 for the public and $25 for students in advance at eventbrite.com/e/2018-diamante-awards-tickets-48200533092.

 

Monday, Oct. 1 — Film Screening, "Gay and Undocumented: Moises Serrano Fights for Justice," 7:30 p.m., University Hall Room 4280.Follow the story of Serranos, an undocumented gay man living in rural North Carolina.
Wednesday, Oct. 3 — Latino Business Owners Panel, 7 p.m., Scott Park Student Center on Scott Park Campus. Local Latino business owners will share their stories.
Saturday, Oct. 6 — Latino Alumni Affiliate Homecoming Tailgate, 10 a.m., lot 10 north of the Glass Bowl. Psych up for the UT-BGSU football game. Bring a dish to share.
Monday, Oct. 8 — Film Screening, "Crossing Arizona," 6 p.m., Carlson Library Room 1005. A panel discussion will be held after the documentary that focuses on illegal immigration and border security on the U.S.-Mexico border.
Friday, Oct. 12 — NAMI's Latino Mental Health Forum, 8 a.m. to 4 p.m., Thompson Student Union Auditorium. The National Association of Mental Illness of Greater Toledo will host its fourth annual forum; this year's theme is "Emerging Issues in Behavioral Health." Sessions will examine the impact of trauma, working with families, and the substance abuse epidemic. The event is free, but space is limited; register at eventbrite.com/e/nami-4th-annual-latino-mental-health-forum-emerging-issues-in-behavioral-health-tickets-48606797239.

 

Sunday, Oct. 14 — Unidos: Keeping Families Together Fundraiser, 5 to 7 p.m., Thompson Student Union Ingman Room. Immigration will be discussed. The event is free, but donations will be accepted at the door for Advocates for Basic Legal Equality of Toledo.
Monday, Oct. 15 — Film Screening, "Frida," 7:30 p.m., University Hall Room 4280.Watch the biopic drama about surrealist Mexican painter Frida Kahlo.
For more information, go to  utoledo.edu/studentaffairs/omss/history_and_heritage/hispanic_heritage_month.html. 
---
Thursday, September 13th, 2018
The 15th Annual International Human Trafficking and Social Justice Conference at The University of Toledo will host almost 90 presentations from researchers, advocates and survivors over the course of two days.
Heroin as a method of control and the connection between sex trafficking and drug addiction are among the issues to be explored.
The conference, which brings the sex and labor trafficking trades out of the shadows and helps end abuse through education and advocacy, is Thursday and Friday, Sept. 20 and 21 in the Thompson Student Union on Main Campus.
UT's Human Trafficking and Social Justice Institute and the Lucas County Human Trafficking Coalition host the conference.
"We are celebrating 15 years of global collaboration to go beyond the idea of rescue and restore to have a profound understanding of emancipation and liberation from modern-day slavery," Dr. Celia Williamson, UT professor of social work and director of the UT Human Trafficking and Social Justice Institute, said. "This conference is an amazing experience where we see people connect to a new thought and open their hearts to vulnerable and stigmatized men and women."
To date, the trafficking conference has welcomed presenters from 34 states and 25 countries to educate social service, health care, and criminal justice professionals on human trafficking and the needs and risks of survivors, as well as their customers and traffickers. The conference lays the groundwork for future collaborative research, advocacy and program development.
Presentations in the Thompson Student Union include:
"What I Wanted was the Drugs: Heroin as a Method of Control in a Case Study on Sex Trafficking" 9 a.m. Thursday, Sept. 20 in Room 2582 by Dr. Jesse Bach, director emeritus of The Imagine Foundation; Dr. George Tsagaris, associate professor in the School of Social Work at Cleveland State University; and Christine Buddner, paralegal and member of the Cleveland State University human trafficking research team.
"Critical Linkages: Opiate Addiction and Elevated Risk of Human Trafficking" 11:30 a.m. Thursday, Sept. 20 in Room 3010-A by Dr. Amy Thompson, UT professor of public health and co-chair of UT's opioid task force; Dr. Joan Duggan, chief of infectious diseases at the UT Medical Center and medical director of the UT Ryan White Program; Dr. Jamie Dowling Tawes, assistant director of the UT Ryan White Program; and Courtney Stewart, social worker and chemical dependency counselor with the Toledo Lucas County Health Department's Northwest Ohio Syringe Services harm reduction program.
"A Childhood Sex Trafficking Survivor's Story and Perspectives" 9 a.m. Thursday, Sept. 20 in the Auditorium by Kylee Gregg, a survivor of childhood sex trafficking who wants to share her story to help save others.
"Internet Sex Trafficking: Will the Monster Stop Growing?" 1:30 p.m. Thursday, Sept. 20 in the Ingman Room by Maureen Guirguis, director of the Northeast Ohio Human Trafficking Law Clinic.
"Theatre for Youth: A Tool for Tackling Trafficking" 10:15 a.m. Thursday, Sept. 20 in Room 3020 by Dr. Jo Beth Gonzalez, theatre teacher at Bowling Green High School and leader of the BGHS Human Trafficking Awareness Troupe, which is made up of students who perform "Lily's Shadow,"; and Roxanna Schroeder-Arce, associate professor in the University of Texas at Austin's Department of Theatre and Dance and co-playwright of "Lily's Shadow," which illustrates signs of abuse in victims, strategies traffickers use to coerce young victims into the system, and tactics for escaping perilous situations.
"Not #MeToo: How Gender-based Work and Micro/Macro-aggressions Impede Trafficking Survivors of Color from Accessing Services" 4 p.m. Thursday, Sept. 20 in the Ingman Room by Dr. Tyffani Monford Dent, a psychologist who has collaborated on projects addressing sexual violence.
"Correlates of Human Trafficking Risk: Implications for Screening, Referral and Intervention among Substance Abuse Populations" 4 p.m. Thursday, Sept. 20 in Room 2582 by Isis Martel, medical sciences researcher at the University of Arkansas.
For additional information and a full schedule of presentations, visit traffickingconference.com.
---