Archive for July, 2018
Tuesday, July 31st, 2018
The University of Toledo College of Medicine and Life Sciences will recognize first-year medical students during its official white coat ceremony 10 a.m. Thursday, Aug. 2 in Nitschke Auditorium.
The ceremony, held during the week of orientation, welcomes medical students to the college and prepares them for undertaking a medical career. Highlights of the event include a welcome from the dean of the college, a keynote address on humanism in medicine, and the presentation of white coats and recitation of the Medical Student Pledge of Ethics.
Dr. Christopher Cooper, executive vice president of clinical affairs and dean of the College of Medicine and Life Sciences, will officiate the ceremony in which 175 medical students will receive their white coats.
"This ceremony underscores the foundation of the medical profession for first-year medical students," Cooper said. "The white coat serves as a symbol of their entry into medical school. Secondly, it reiterates their commitment to professionalism, continuing education, and their service to others through medical care."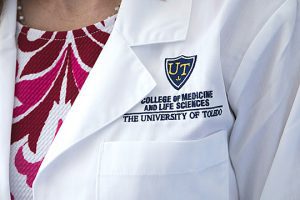 Nearly 75 percent of the new students are Ohio residents, and more than 30 percent are from northwest Ohio.
In addition, nearly 10 percent of the class studied at UT. A quarter of the incoming students have master's degrees, half of which are from the University.
The annual ceremony will conclude orientation week for the medical students.
In addition to College of Medicine and Life Sciences, the UT College of Pharmacy and Pharmaceutical Sciences holds a white coat ceremony for third-year PharmD students, and the UT College of Health and Human Services presents white coats to first-year physical therapy and occupational therapy doctoral students and respiratory care students in their junior year, which is the first year of their professional program. And the College of Nursing has a white coat ceremony for students in the Bachelor of Science in Nursing Program and the Clinical Nursing Leader Program.
---
Monday, July 23rd, 2018
Art on the Mall will take over UT's Centennial Mall from 10 a.m. to 5 p.m. Sunday, July 29.
This summer marks the free, public event's 26th year of showcasing a variety of art on Main Campus. Attendees will have the opportunity to view and purchase original art, including acrylic, glass, jewelry, mixed media, photography, pottery and more.
"We welcome and encourage everyone to attend one of northwest Ohio's signature art shows," said Ansley Abrams-Frederick, director of alumni programming in the UT Office of Alumni and Annual Engagement. "It's a great way to spend a summer day — looking at amazing artwork on our beautiful campus."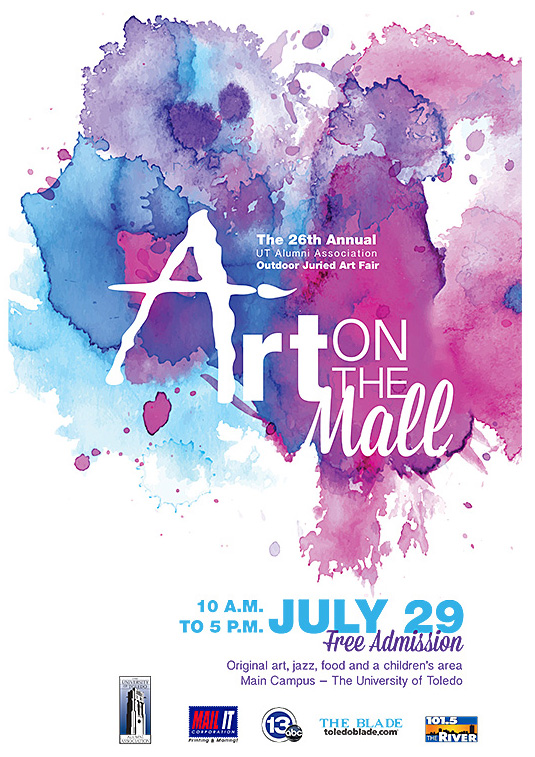 A total of 115 artists will have artwork for sale by cash, or guests can pay using a credit card at the artist's booth or credit card station located in the Thompson Student Union.
Representatives from the Ft. Wayne Museum of Art will jury the works with prizes being awarded to the top artists. UT's Best of Show award will be given to an artist with an affiliation to the University; students, faculty, staff, retirees, alumni and parents are eligible for this honor.
Throughout the event, guests can listen to live jazz with performances from UT student and alumni groups Minor Frett and the Twenty TwentyFour.
Food and beverages will be for sale throughout the day from vendors that will include Big C's Smoked Barbeque, Karen Anne's Kettle Corn, Opa! Gyros, Java Sensations/Let's Go Nuts, Quinn's Concessions, Jeanie's Comfort Cuisine, Snowie Daze, the Petite Fleet, and K & K Concessions.
A beer and wine garden will offer a selection of adult beverages for guests 21 and older with a valid ID. This year the show will feature three flavors of craft beer from one of the area's newest establishments, Patron Saints Brewery on Bancroft Street.
In addition, faculty and students from UT's Ceramics Program in the Department of Art will demonstrate their skills in front of the Thompson Student Union and give guests the chance to "throw a pot." The UT art students also will have a booth with their work available for sale.
An area for young artists will allow children to create their own masterpieces.
Free parking for the event will be available in lot 1 south, lot 1 north and lot 13 with a golf cart shuttle service available to transport guests and their purchases to and from Centennial Mall.
Art on the Mall is supported by community sponsors 13 ABC, The Andersons Inc., The Blade, the Toledo-Lucas County Port Authority, Mail It, The University of Toledo Federal Credit Union and 101.5 The River.
---
Monday, July 23rd, 2018
Mars will be visible to the naked eye in late July as the planet approaches its closet point to Earth since 2003 – 35.8 million miles away.
Astronomers at The University of Toledo are hosting Mars Watch 2018 to share the UT telescope with the public for a view of what is called opposition, the point when Mars and the sun are on directly opposite sides of the Earth as the planets orbit around the sun.
"Due to the orbit of Mars and Earth, Mars is really only well placed for observing from Earth for a month or two every two years or so," Alex Mak, associate director of UT Ritter Planetarium, said. "The end of July and early August mark one of those opportunities."
The Brooks Observatory in McMaster Hall will be open to the public for four nights — from 9:30 to 10:30 p.m. on Thursday, July 26; Monday, July 30; Tuesday, July 31, and Wednesday, Aug. 1. Visitors are invited to meet in the lobby of McMaster Hall where they will be guided up to the observatory.
"Mars is the planet that has fascinated humanity for the longest," Mak said. "From its retrograde motion in the sky and its blood red color to the question of whether Mars has or had life, it is a planet that has never failed to make us wonder."
The event is dependent on clear skies. Admission is $2 for adults and $1 for children 5 through 12. Children 4 and younger are admitted free.
---
Monday, July 9th, 2018
A neuroscientist at The University of Toledo is creating a new way to help people face their fears.
The National Institute of Mental Health awarded Dr. Jianyang Du, assistant professor in the UT Department of Biological Sciences, a five-year, $1.75 million grant to develop a method to modify fearful memories, which could lead to new treatment options for mental health illnesses, such as post-traumatic stress disorder, anxiety, depression and schizophrenia.
"Excessive fear memories such as war-time trauma or a near-death experience can be crippling," Du said. "However, fear memories also can be critical for survival. Developing means to either erase or to strengthen fear memory could aid understanding of how memories are formed and may suggest novel therapeutic strategies."
Du, who studies how protons regulate brain circuits and behaviors, found in mouse brains that manipulating pH in the amygdala can influence or control fear memories during recollection, creating a short window of increased susceptibility to either erase or enhance the memory.
Du manipulates the pH levels by using carbon dioxide inhalation and activating key molecular components of the central nervous system called acid-sensing ion channels, which spread throughout the body and allow for transmission of signals in the nervous system. The acid-sensing ion channels are important targets for pharmaceutical drug designers because of their importance to learning and memory.
"Our goal is to uncover the cellular and molecular mechanisms by which traumatic memories are stored in the brain and how carbon-dioxide inhalation and acid-sensing ion channels influence or control emotional behaviors, such as anxiety and depression," Du said. "The ability to rewire the brain to modify existing fearful memories is very important as it relates to mental disorders."
---
Tuesday, July 3rd, 2018
The average person encounters cosmic rays when the fast, tiny particles shoot through the clouds and cause bright pixels on photos. Very few actually reach the ground and they are not known to be harmful.
Astrophysicists long believed those lightweight protons or electrons moving close to the speed of light reach Earth's atmosphere after supernova explosions, deflecting off electromagnetic fields in their scrambled path through space that ultimately masks their origin.
However, a groundbreaking new study involving NASA's NuSTAR space telescope shows the most luminous and massive stellar system within 10,000 light years also is a source of cosmic rays that sometimes reach Earth, no explosion necessary.
The Eta Carinae discovery, which was published this week in the journal Nature Astronomy, was made by an international team, which includes an astronomer at The University of Toledo.
Dr. Noel Richardson, postdoctoral research associate in the UT Department of Physics and Astronomy, analyzed data from NuSTAR observations of Eta Carinae acquired between March 2014 and June 2016. The space telescope, which was launched in 2012 and can focus X-rays of much greater energy than any previous telescope, detects a source emitting X-rays above 30,000 electron volts at a rate of motion approaching the speed of light.
"Most stars can't produce that much energy," Richardson said. "Eta Carinae is one of only three star systems NuSTAR has been able to observe. The new technology allowed us to push what we understand about the high-energy universe. And we discovered that we don't always need an exploding star, but rather two stars with massive winds pushing out cosmic rays."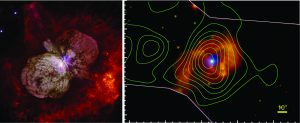 The raging winds from Eta Carinae's two tightly orbiting stars smash together at speeds of more than six million miles per hour approximately every five years. Temperatures reach many tens of millions of degrees – enough to emit X-rays.
"Both of Eta Carinae's stars drive powerful outflows called stellar winds," Dr. Michael Corcoran, team member at NASA's Goddard Space Flight Center, said. "Where these winds clash changes during the orbital cycle, which produces a periodic signal in low-energy X-rays we've tracked for more than two decades."
"We know the blast waves of exploded stars can accelerate cosmic ray particles to speeds comparable to that of light, an incredible energy boost," said Dr. Kenji Hamaguchi, astrophysicist at NASA's Goddard Space Flight Center in Greenbelt, Maryland, and lead author of the study. "Similar processes must occur in other extreme environments. Our analysis indicates Eta Carinae is one of them."
Eta Carinae's primary star is almost 100 times more massive and five million times more luminous than the sun. That star also is famous for losing 10 suns worth of material – huge amounts of gas and dust – into space in an enormous explosion in the 1830s that briefly made it the second-brightest star in the sky.
Richardson studies massive stars and also was part of the international team that captured the first sharp image of Eta Carinae's violent wind collision zone and discovered new and unexpected structures in 2016.
In addition to UT and NASA's Goddard Space Flight Center, researchers from the University of Maryland in Baltimore County, Catholic University of America, California Institute of Technology, University of Leeds, Hiroshima University, University of Utah and San Jose State University contributed to the new study.
Use this link to view NASA's press release and video.
---
Tuesday, July 3rd, 2018
Maj. Michael Penney, professor and chair of the Military Science and Leadership Department at The University of Toledo, will be promoted by the U.S. Army to lieutenant colonel Friday, July 6.
The ceremony will take place at 11 a.m. in Savage Arena Grogan Room.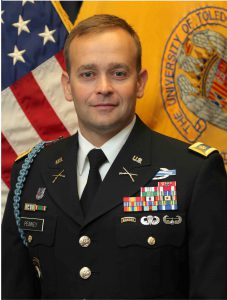 Penney is originally from North Texas and received a BBA from Midwestern State University in Wichita Falls, Texas. Since then, he has earned master's degrees from both Webster University and the Army's School of Advanced Military Science.
He was commissioned by the Army's Officer Candidate School in 2002.
Penney came to UT from Carson, Colo., where he served from 2014 to 2017. His time there included two operational deployments — to Europe and to Afghanistan.
Last July, Penney joined the UT faculty as professor and chair of military science and leadership.
Through his department chair position, Penney oversees recruiting, retention, preparation and leadership development of cadets along their path toward their goal of being awarded a commission as an officer in the U.S. Army, Army Reserves or the Army National Guard.
He also instructs Military Science and Leadership Level Four Cadets throughout their transition from Cadet to Army Officer and works directly with UT's University College and its ROTC program.
"My role as head of the ROTC program here at UT is one of the most important and rewarding jobs the Army has given to me to this point," Penney said. "Leader development is crucial in the Army of today, and having some impact on the lives of future Army leaders is one of the best jobs."
Penney will remain at UT for one more year and then take command of a battalion in South Carolina.
"This promotion to lieutenant colonel is an important one along the path to reaching my ultimate Army career goals," Penney said. "But when I think about my nearly 16 years of commissioned service, I think more of those who have helped me along the way; specifically, those who I have served alongside and those who I have had the honor to lead at some point, and, most importantly, my family."
---