Archive for June, 2018
Wednesday, June 27th, 2018
Joseph Slater, a labor law professor at The University of Toledo and expert on public employee unions, released this analysis about the Supreme Court's ruling Wednesday, June 27:
"Today in the Janus decision, the Supreme Court sent a seismic wave at the American labor movement, overturning a 41-year-old precedent and holding that union security clauses – provisions in union contracts that require members of union bargaining units to pay for the costs of representing them in contract negotiations and grievances – violate the First Amendment. Because labor law creates a legal obligation for unions to represent members of bargaining units regardless of whether they pay dues or not, this decision practically will create huge financial problems for public sector unions, as they will now have to support 'free riders.' Because public employees make up nearly half of all union members in the U.S., this will also have a destructive effect on the labor movement as a whole.  The 5-4 decision also raises more questions than it answers about the free speech rights of individual public employees."
"Ohio is one of the states in which this decision will have the most effect. About half the states are already 'right to work' states, so, for example, in most of the south and in the plain states, this decision won't make a difference. But in states that currently authorize union security clauses – Ohio, New York, California, the west and eastern coastal states – this will make a big difference, and really hurt unions."
Please contact Christine Billau at christine.billau@utoledo.edu or 419.530.2077 to connect for further comment with Slater, the Eugene N. Balk Professor of Law and Values at UT.
---
Tuesday, June 19th, 2018
The University of Toledo's opioid task force is hosting training sessions on Tuesday, June 19 for faculty, staff and students interested in learning how to deliver the opioid antidote Narcan.
The training sessions are not open to the public.
UT participants registered in advance to receive free Narcan and learn how to administer it at one of three one-hour sessions that will take place at 11:30 a.m., 12:30 p.m. and 1:30 p.m. in the Mulford Café, which is in the basement of Mulford Library on Health Science Campus. UT President Sharon L. Gaber will participate in the 11:30 a.m. training session.
Narcan, which is known by the generic name naloxone, is an over-the-counter drug that is used to revive a person believed to be suffering an overdose by blocking the effects of opioids in the brain. It is not, however, a substitute for medical help, and 911 should be called whenever an overdose is suspected, even when Narcan is administered.
The Toledo Lucas County Health Department distributes Narcan free of charge to anyone who has been trained to use it. Representatives from the health department will facilitate the training and distribution.
The University Counseling Center, UT Police, Rocket Wellness and the Division of Student Affairs will have staff on site with information about addiction, safety and wellness resources.
"Educating our faculty, staff and students on Narcan and some of the resources we have on our campus to help address the opioid epidemic is important to the University," said Dr. Amy Thompson, professor of public health and co-chair of UT's opioid task force. "On average, there are three deaths in our county each week from opioids, and it is common to see well over 150 overdoses each month. Narcan is used in many of these overdoses to save lives, and it's important we are prepared and equipped to help when we can."
---
Monday, June 18th, 2018
The University of Toledo has identified three areas of research excellence as it pursues its goal of achieving national recognition for contributions to advancing knowledge.
UT's current areas of research excellence identified by the University Research Council and endorsed by external reviews are:
Astronomy and Astrophysics;
Solar Energy, Water Quality and Sustainable Technologies; and
Cell Architecture and Dynamics.
"These areas emerged from a yearlong review process and were selected because of the highly accomplished faculty members UT has in these areas who are recognized nationally for contributions to their fields of study," Vice President for Research Frank Calzonetti said. "Identifying these areas of excellence will help promote the University's standing as a strong research university and create opportunities for collaboration."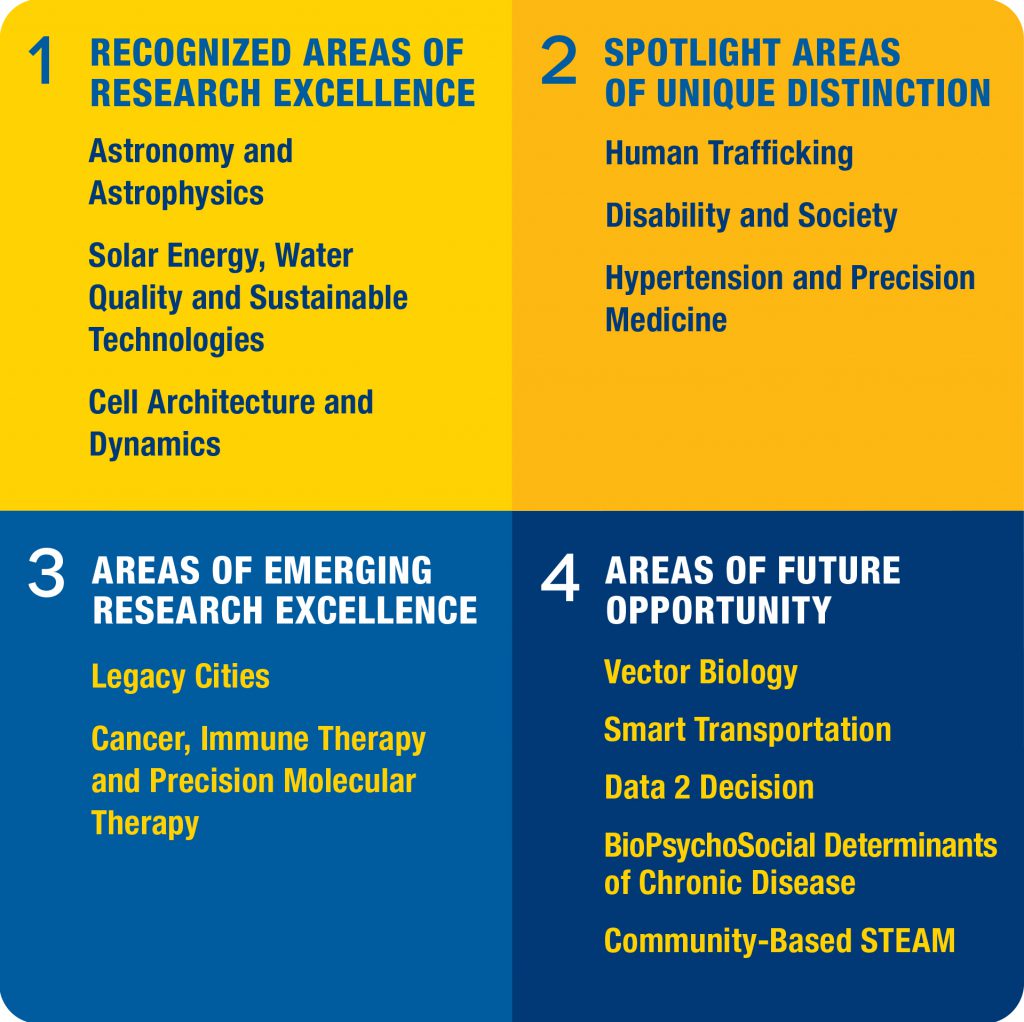 This will be a continual process with ongoing invitations to consider new areas and to update existing areas of excellence, Calzonetti said.
UT astronomers have produced groundbreaking discoveries in the origins of stars and star clusters. They have access to highly competitive time on the world's best telescopes, including NASA's Spitzer Space Telescope and the European Space Agency's Herschel Space Observatory. UT also is a partner with Lowell Observatory, which provides guaranteed access to the Discovery Channel Telescope in Arizona. The University regularly engages undergraduate and graduate students in research projects with that telescope.
The strength of the University's astronomy and astrophysics program was recognized nationally in 2016 when UT was selected to join the prestigious Association of Universities for Research in Astronomy (AURA), which includes many of the country's top programs.
Solar energy, water quality, and sustainable technologies were identified in part due to the University's strong reputation in research, development, and commercialization of thin-film photovoltaic technologies. For example, in solar energy Dr. Yanfa Yan, Ohio Research Scholar chair and UT professor of physics, has one of the strongest publication records among researchers in his field.
The UT Lake Erie Center receives attention for its work studying harmful algal blooms in Lake Erie and its efforts to protect the quality of the region's drinking water. Additional faculty members are making important contributions to green chemistry and other sustainability studies.
The cell architecture and dynamics category recognizes the basic science researchers involved in the study of the cell and its structures to better understand cell movement and how that affects disease progression. For example, Dr. Rafael Garcia-Mata, associate professor of biological sciences, has three active National Institutes of Health grants to study the migration of cancer cells away from the primary tumor and their subsequent metastasis to distant organs.
The identification of these areas of research excellence and a plan to advance them is part of the University's strategic plan. As part of the process to identify existing strong research programs, the Office of Research and Sponsored Programs also recognized spotlight areas of unique distinction, areas of emerging research excellence and areas of future opportunity.
The spotlight areas of unique distinction include programs that have received national recognition with strong faculty leadership, but with few faculty experts on campus currently advancing that field of study. Those spotlight areas identified are:
Human Trafficking, led by social work professor Dr. Celia Williamson and supported by the UT Human Trafficking and Social Justice Institute;
Disability and Society, which includes professor Kim E. Nielson, who is the author of the only book to cover the entirety of American disability history titled, "A Disability History of the United States." UT also offers the only humanities-based undergraduate degree in disabilities studies; and
Hypertension and Precision Medicine, led by Distinguished University Professor Dr. Bina Joe, a recognized leader in the field of genetic determinants of high blood pressure.
Identified areas of emerging research excellence are those with growth opportunities based upon the significance of their work to science and society. The areas that could benefit from further development are:
Legacy Cities, which includes a collaborative group of faculty members across the social sciences who study how former industrial cities that experienced massive decline are being reinvented, and
Cancer, Immune Therapy and Precision Molecular Therapy, which features advances in targeting specific genes or proteins for more effective and less invasive treatment options.
Lastly, areas of future opportunity were identified where a group of faculty members are working in an area of emerging importance in science, technology and society. The areas that could gain recognition through focused investment are:
Vector Biology, which studies mosquitos and other insects that transmit diseases and affect public health;
Smart Transportation, which includes advances in autonomous vehicles;
Data 2 Decision, which is the study of big data and how it is used, analyzed and protected;
BioPsychoSocial Determinants of Chronic Disease, which studies the economic and social conditions that impact health factors, such as the work underway by UT's opioid task force; and
Community-Based STEAM, which features community partnerships, such as with the Toledo Museum of Art, that advance the arts and promote continued education. STEAM is an acronym for science, technology, engineering, art and math.
"The University of Toledo has strong research programs across the institution," said Jack Schultz, senior executive director for research development. "Our goal with this process was to identify those areas with a high level of recognition at the national level. We look forward to exploring opportunities to elevate their standing and bring more attention to these areas of research excellence."
The identification of the University's focus areas does not imply that research without these designations will be unsupported. The University values all faculty research and the contributions each faculty member makes in their fields.
---
Monday, June 18th, 2018
In a strong show of support for The University of Toledo President Sharon L. Gaber's leadership, the UT Board of Trustees approved Monday an amended contract to continue her presidency for the next five years.
The term of the amended contract is from July 1, 2018 through June 30, 2023. Her original contract was set to expire in June 2020.
"Dr. Gaber's leadership has put UT on a positive trajectory toward the ambitious goal of being a top public research university, and the campus is energized because of the great work underway to support our students and the Toledo community," Board Chair Steven Cavanaugh said.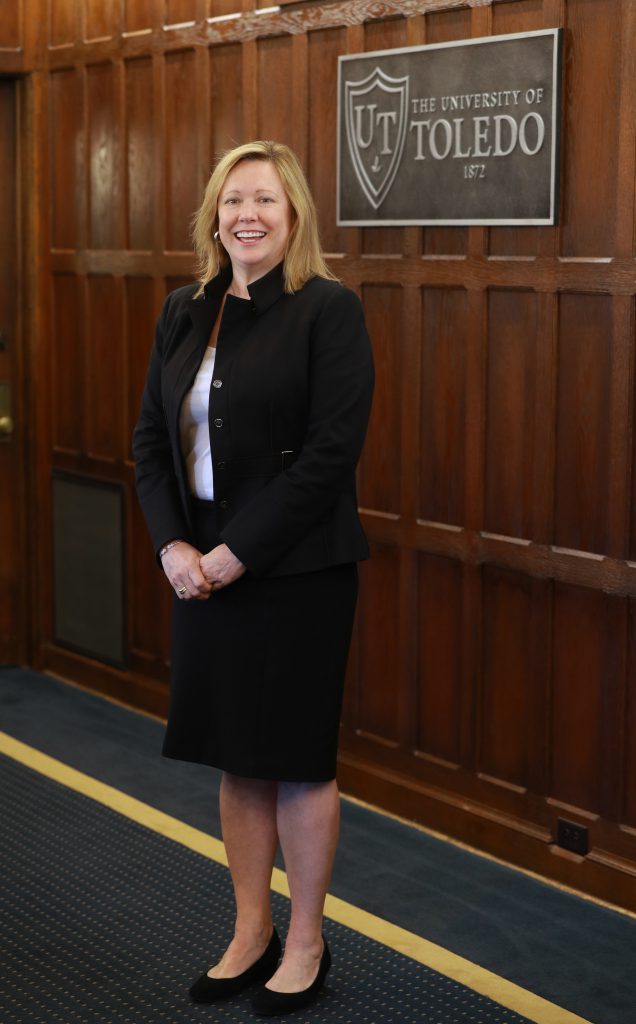 The amended and restated employment agreement updates the president's base salary and includes specific performance metrics aligned with the University's strategic plan. The president's overall compensation is directly tied to achievement of the metrics.
The contract extension for Gaber was approved as part of the Board of Trustees' annual review of the University's leader in which they praised the positive momentum of the institution.
"I am thankful to have the support of the Board of Trustees to continue to lead this fantastic university," Gaber said. "It truly is a team effort to work together collaboratively to make progress on achieving our strategic priorities. I am proud of what we've been able to accomplish these past three years, and I'm excited about what we can achieve in the years ahead."
The Board commended Gaber's commitment to student success, noting that student retention rates at UT are the highest in at least 18 years, and the largest number of candidates for degrees in at least 20 years participated in spring commencement.
The new Toledo Tuition Guarantee was recognized as a positive initiative to provide more transparency to students and their families. In addition, UT was recognized this year for its value by several external sources. Schools.com ranked UT Ohio's best four-year college when analyzing criteria such as affordability, flexibility and student services. The website LendEDU also ranked UT the top Ohio public college for the lowest student debt.
The trustees specifically noted the improved research portfolio of the institution. The total number of research award dollars is at a five-year high. The board noted that three researchers were named Fellows of the prestigious American Association for the Advancement of Sciences, and several UT students were awarded highly competitive scholarships, including the Goldwater Scholarship and a Sarnoff Fellowship.
Also enhancing UT's reputation is the strong athletics program with two new Mid-American Conference championships by the football and women's soccer teams. UT was awarded the Jacoby Trophy as the top women's athletic program in the MAC and in the fall, all student-athletes achieved a record high combined GPA of 3.29.
Individually, Gaber was named one of the top five higher education leaders to watch. She was appointed to the NCAA Strategic Planning Committee, Inter-University Council Executive Committee and serves on the MAC Finance Committee, of which she will be the chair next year.
This year the University also received the largest gift in UT's history from Welltower, which gave UT real estate and a headquarter building valued at $30 million. It will serve as an additional campus where the Division of Advancement will continue to build relationships with our alumni and donors. The number of donors to the institution grew by more than 10 percent this year.
The increase in philanthropic support and additional initiatives have put UT in a strong financial position, confirmed by the University's bond rating being reaffirmed by Standard & Poor's and Moody's. UT approved this year a new contract with the American Association of University Professors, one of five bargaining agreements approved in the last two years. A new transportation partnership with TARTA will save the University approximately $2 million by not replacing the aging bus fleet while extending free bus rides to students, faculty and staff throughout the community.
As part of the performance review, the board voted to give the president a performance incentive per her hiring contract. The funding comes from unrestricted funds that were generated from investment earnings and allocated to a Board of Trustees account with the UT Foundation.
---
Thursday, June 14th, 2018
The University of Toledo College of Engineering and AAA Northwest Ohio are hosting the third in a series of free, public talks to educate consumers about how smart vehicles will impact the world.
The seminar focused on public transportation and self-driving buses is from 9 to 11 a.m. Thursday, June 21 in UT's Nitschke Auditorium.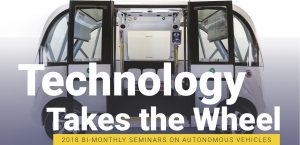 Speakers include Jim Gee, general manager of the Toledo Area Regional Transit Authority; Chris Pauly, director of business development in North America for NAVYA; and Lt. Col. (retired) John Tucker, sales specialist for Path Master Inc.
All speakers also will participate in a panel discussion with Dr. Eddie Chou, UT professor of civil and environmental engineering and director of the Transportation Systems Research Lab, and Dr. Bhuiyan Alam, associate professor in the UT Department of Geography and Planning.
"Self-driving buses that are wirelessly connected with riders could provide convenient, flexible and affordable service as an alternative to driving," Chou said. "Public transportation will continue to be an important part of the mobility solution, but it needs to adapt and embrace new technologies and paradigms and perhaps form public-private partnerships to provide desirable services."
NAVYA, a manufacturer of fully autonomous, fully electric 15-passenger shuttles and six-passenger taxi cabs, will have an autonomous, driverless bus with no steering wheel parked at UT.
"Ever-advancing technology is bringing autonomous vehicle technology to our roadways, perhaps quicker than some may have anticipated," Edgar Avila, AAA executive vice president, said. "Public self-driving shuttle buses are already in use across the country, like the AAA-sponsored bus offering service in Las Vegas and the electric shuttle that began offering rides on the University of Michigan Campus this spring."
"The steps taken today will positively impact the community by enhancing safety and improving mobility as this region progresses toward the connected and autonomous technologies of the future," Tucker said.
Register for the free, public seminar online at utoledo.edu/engineering/webforms/TTTWJune.html.
Upcoming topics in the series include infrastructure and government regulation in September and accessibility in November.
---
Wednesday, June 13th, 2018
An expert in marketing, consumer behavior and sales force management with administrative experience in higher education has been named dean of The University of Toledo College of Business and Innovation.
Dr. Anne L. Balazs will join UT on Aug. 13 from Eastern Michigan University where she is interim dean of the College of Business.
"I am proud to welcome Dr. Anne Balazs to The University of Toledo as dean of the College of Business and Innovation," Dr. Andrew Hsu, provost and executive vice president for academic affairs, said. "She is an experienced leader with a track record of moving organizations forward through collaborations with faculty and industry partners."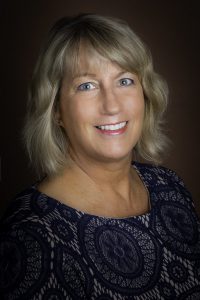 "It's a great joy and honor to join The University of Toledo College of Business and Innovation with its impressive faculty, staff, students, supportive alumni and business community partners," Balazs said. "This is a strong base from which to build and prepare the next generation of leaders for the global marketplace."
Balazs will be the first woman to serve as dean of the UT College of Business and Innovation. Amy Morrison served as interim dean of the college from 1965 to 1966.
"I have learned from many strong female leaders throughout my career of nearly 30 years," Balazs said. "I'm looking forward to joining the leadership team and moving UT onward and upward."
During her 10 years at EMU, Balazs also served as interim assistant vice president and director of graduate studies, interim director of graduate studies, special assistant to the dean of the College of Business, head of the Department of Marketing and professor of marketing.
Prior to EMU, Balazs worked at Mississippi University for Women as interim dean of the College of Business, head of the Division of Business and Communications, and associate professor of marketing. She started her teaching career at University of Oklahoma as an assistant professor of marketing.
"Dr. Balazs' extensive administrative experience as department chair at two different institutions and her experience as interim dean also at two different institutions distinguished her as a candidate," Hsu said. "Our stakeholders were particularly impressed with her understanding of the accreditation process through the Association to Advance Collegiate Schools of Business."
"The goal is to show the world what we do in Toledo," Balazs said. "I plan to promote the college and all it has to offer to a wide audience. Research productivity and sharing of the knowledge we create is important. The accomplishments of the faculty and students are great stories to share. Success breeds success."
Balazs holds a PhD in business administration from the University of Massachusetts at Amherst, studied masters-level coursework in economics at Boston University while working at Fidelity Investments, and earned a bachelor's degree in economics from Smith College.
Her research has been published in the Journal of International Business, Journal of Consumer Affairs, Psychology & Marketing and the Journal of Business Research.
Balazs is familiar with Toledo, not only because she currently lives about an hour away.
"I first experienced the UT campus in the winter of 2014 as a fellow for the American Council on Education," Balazs said. "My family has been to the Toledo Zoo, Toledo Museum of Art and Mud Hens games. Plus, I am of Hungarian descent and enjoy visiting the Birmingham community that serves as home to Tony Packo's. Toledo already feels like home."
Balazs' husband is Dr. Peter B. Wood, criminologist on the faculty at EMU. The couple has three children. Margaret, 19, is a sophomore at the University of Alabama. Twins Andrew and Sophie, 16, are entering their sophomore year at Saline High School in the fall.
Hsu thanked Dr. Hassan HassabElnaby for his leadership while serving as interim dean since October. He will return to the position of associate dean for graduate programs and research for the UT College of Business and Innovation.
---
Wednesday, June 13th, 2018
If you walk the trails at Side Cut Metropark in Maumee, you may catch a glimpse of University of Toledo students armed with shovels and trowels on an archaeological dig.
"Our work in this area is intended to better understand the Native American use of the floodplain of the Maumee River," Dr. Melissa Baltus, archaeologist and assistant professor of anthropology, said. "We want to know if people were using this landscape for long-term villages or short-term resource extraction and campsites and when in the past this usage may have changed."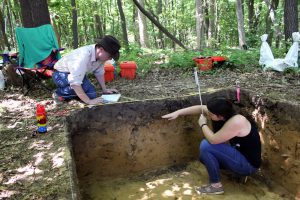 With permission from Metroparks Toledo and the Ohio Historic Preservation Office, Baltus is running the UT Archaeological Field School as a summer class to combine hands-on learning of archaeology techniques and local history research.
Artifacts students found last week during a survey at Side Cut led the team to this week's site in the park's Riverview Area.
"The refuse pit and the amount of pottery indicate likely habitation, and the different kinds of pottery suggest re-use of the site over many generations," Baltus said. "On the other hand, if we find the different types of pottery in the same contexts or in association with each other, this may suggest different groups of people gathering together at the same time."
The initial survey yielded grit-tempered pottery from the Late Woodland Period after A.D. 700, as well as shell-tempered pottery from the Late Pre-Contact Period between around A.D. 1300 and early contact with Europeans.
Students are receiving training in excavation techniques, record keeping, artifact identification, processing, cataloguing and classification.
Members of the media are invited to explore the excavation and interview the UT archaeologist and students from 10 a.m. to noon Thursday, June 14.
Baltus ran an Archaeology Field School at Wildwood Metropark in 2016.
---
Tuesday, June 12th, 2018
Thirty-nine students from northwest Ohio will experience what it's like to study medicine this week at The University of Toledo's CampMed program.
The high school freshmen will be on Health Science Campus Thursday and Friday, June 14 and 15.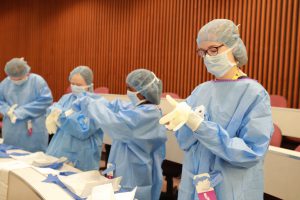 From preparing to dress for the operating room to learning how to make a cast and suture, the students will participate in several hands-on lessons during the program.
"CampMed is a wonderful program for underserved high school students from northwest Ohio to be exposed to careers in medicine and health care while learning about the educational opportunities available to them on The University of Toledo Health Science Campus," said Courtney K. Combs, director of the UT and Ohio Area Health Education Center programs.
The students will begin Thursday morning after the welcoming ceremonies with a tools-of-the-trade session where they will learn to use medical instruments, including blood pressure cuffs and stethoscopes. Lessons will continue for two days with opportunities to tour a gross anatomy lab, the Jacobs Interprofessional Immersive Simulation Center and a plastination museum.
"Campers are often first-generation college, underrepresented minorities, and/or live in rural or urban underserved communities," Combs said. "They are all high-achieving individuals who show an interest in STEMM, and CampMed provides the exposure and inspiration needed to pursue a career in medicine or health care."
CampMed, which began in 1998, is coordinated through the UT Area Health Education Center program, which works to improve the well-being of individuals and communities by developing the health-care workforce.
The competitive scholarship program requires students to submit a letter of recommendation, a nomination from a science or math teacher or counselor, and a personal essay to be chosen to participate.
First- and second-year UT medical students serve as camp counselors, and the campers also interact with physicians and faculty members.
Media opportunities:
Thursday, June 14, 1 to 4 p.m.
Perioperative experience — Health Education Building Room 103
Plastination Museum — Block Health Science Building Basement
Friday, June 15
Heartsaver CPR — 9:15 to 11:30 a.m. in Collier Building Basement
Casting — 1 to 4 p.m. in Orthopaedic Center Room 1715
Suture Workshop — 1 to 4 p.m. in Health Education Building Room 105
---
Thursday, June 7th, 2018
Life doesn't begin the way we thought it did.
A new study at The University of Toledo shows that a father donates not one, but two centrioles through the sperm during fertilization, and the newly discovered sperm structure may contribute to infertility, miscarriages and birth defects.
The newly discovered centriole functions similarly and along with the known centriole. However, it is structured differently.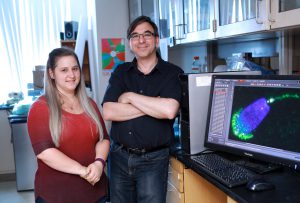 "This research is significant because abnormalities in the formation and function of the atypical centriole may be the root of infertility of unknown cause in couples who have no treatment options available to them," said Dr. Tomer Avidor-Reiss, professor in the UT Department of Biological Sciences. "It also may have a role in early pregnancy loss and embryo development defects."
The centriole is the only essential cellular structure contributed solely by the father. It is the origin of all of the centrioles in the trillions of cells that make up the adult human body. Centrioles are essential for building the cell's antennae, known as cilia, and cytoskeleton, as well as completing accurate cell division.
A zygote, or fertilized egg cell, needs two centrioles to start life. It was previously thought that sperm provides a single centriole to the egg and then duplicates itself.
"Since the mother's egg does not provide centrioles, and the father's sperm possesses only one recognizable centriole, we wanted to know where the second centriole in zygotes comes from," Avidor-Reiss said. "We found the previously elusive centriole using cutting-edge techniques and microscopes. It was overlooked in the past because it's completely different from the known centriole in terms of structure and protein composition."
The atypical centriole contains a small core set of proteins needed for the known sperm centriole to form a fully functional centriole after fertilization in the zygote using the egg's proteins.
This discovery may provide new avenues for diagnostics and therapeutic strategies for male infertility and insights into early embryo developmental defects, according to the research titled "A Novel Atypical Sperm Centriole is Functional During Human Fertilization" that was published today in Nature Communications.
In addition to human sperm, Avidor-Reiss and his research team studied the sperm of flies, beetles and cattle.
"The whole idea for this study started with the fly," said Lilli Fishman, UT PhD candidate who is being honored with the 2018 Lalor Foundation Merit Award from the Society for the Study of Reproduction for her work on the project. "Basic fly research indicated the misconception in sperm structure. It has been a great experience to be part of the ensuing process that included incredible scientists from four states and two countries."
The cutting-edge techniques and microscopes used on this research include super-resolution microscopy; electron microscopy with high-pressure freezing; and correlative light and electron microscopy.
"The super-resolution microscopy was critical for this discovery," Avidor-Reiss said. "The technology allows you to see proteins at the highest resolution."
The University of Toronto, National Cancer Institute, University of Michigan, and University of Pittsburgh also contributed to the research.
Avidor-Reiss and his team are taking this research to the clinical level.
"We are working with the Urology Department at The University of Toledo Medical Center to study the clinical implications of the atypical centriole to figure out if it's associated with infertility and what kind of infertility," Avidor-Reiss said.
---
Tuesday, June 5th, 2018
The fourth annual Cancer Survivorship Celebration will be from 5:30 to 8 p.m. Thursday, June 7 at the Eleanor N. Dana Cancer Center at The University of Toledo Medical Center in recognition of National Cancer Survivor Month in June.
"Each year of survivorship is a reason for joy," said Renee Schick, manager of Renee's Survivor Shop in the Dana Cancer Center. "We want to recognize and honor our patients and their caregivers for their strength and courage through the diagnosis and treatment of cancer."
Survivors and their guests will be treated to stories of inspiration, live music, a photo booth, refreshments and door prizes. They also will have the opportunity to participate in a collaborative mural painting with a local artist and others touched by cancer.
Experts will be on hand to answer questions and provide advice for survivors in caring for themselves during and after cancer treatment. Patients will receive information about survivorship care, options for treating lymphedema, wound care, nutrition advice and health coaching. Renee's Survivor Shop will be open.
"The cancer journey is so different for each patient," said Michelle Giovanoli, radiation oncologist therapy manager at the cancer center and breast cancer survivor. "We want to be a resource for continuing support as our patients and their families celebrate life beyond a cancer diagnosis."
Nearly 200 survivors and their loved ones, along with doctors, nurses and other care providers, are expected to attend.
The event is free, but reservations are requested. Email eleanorndanacancercenter@utoledo.edu or call 419.383.5243.
---