Archive for February, 2018
Monday, February 5th, 2018
University of Toledo alumna and foreign policy analyst Shamila Chaudhary will return to campus to deliver a lecture titled "The Meaning of America, at Home and Abroad" 6 p.m. Thursday, Feb. 8 in Doermann Theatre.
The free, public event marks the second of the 2017-18 Jesup Scott Honors College Distinguished Lecture series.
Chaudhary, a foreign policy analyst and photographer based in Washington, D.C., will discuss the U.S. role in the world and its connection to the social and economic landscapes of life within the United States. She will address the many transformations underway in American identity and culture as they relate to politics, the humanities, law and international affairs.
"Shamila Chaudhary is a former Obama White House and State Department official and a frequent commentator on CNN and BBC. She is also an author and her article in The Atlantic magazine describing a multifaith Middle Eastern refugee community in Toledo is a wonderful read," said Dr. Heidi Appel, dean of the Jesup Scott Honors College. "Altogether, she represents the amazing career possible with an honors degree in the humanities from The University of Toledo, and I'm excited for our students to meet her."
Chaudhary is senior adviser to Dean Vali Nasr of the Johns Hopkins University School for Advanced International Studies. She also has a blog titled "All Things Foreign," where she shares comments and essays on foreign policy and current events.
Chaudhary received a bachelor's degree in English literature and women's studies from The University of Toledo in 1999.
Tickets are free by visiting utoledo.edu/honorslecture.
For questions and tickets for groups larger than 10, contact the Jesup Scott Honors College at honors@utoledo.edu  or 419.530.6030.
---
Monday, February 5th, 2018
Toledo Mayor Wade Kapszukiewicz, University of Toledo Provost Andrew Hsu, Toledo City Councilwoman Cecelia Adams and other local celebrities will help serve and support the 10th Annual Celebrity Wait Night from 6 to 9 p.m. Thursday, Feb. 8 at Parkway Place, 2592 Parkway Plaza in Maumee.
The event is hosted by the Catharine S. Eberly Center for Women and will include a dinner served by local Toledo celebrities, a silent auction and live entertainment.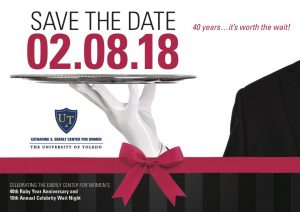 Last year more than 400 people attended, but this year the event is sold-out with more than 530 guests expected to attend.
"This night is so vitally important to our students who are receiving scholarships and to our programming meant to empower women," said Dr. Shanda Gore, UT associate vice president for the Catharine S. Eberly Center for Women. "Guests can expect to see our scholarship recipients, experience live entertainment and celebrate our 40th anniversary, making the center one of the oldest in the country. We do hope no one forgets to tip their waiter!"
The dinner will raise money for scholarships, as well as several of the center's programs and services, including its signature Women's Success Series and Kate's Closet, a professional women's clothing closet providing complimentary professional attire to UT students and clients of the center.
Some silent auction items that will be available for attendees to bid on include a 2.5-hour private cruise for 22 on an 80-foot yacht complete with captain; a three-day stay at a condo in Michigan; and a watercolor painting with matting and framing done live by award-winning artist Aaron Bivins.
"We want supporters to come out to have fun, but we also want them to know how their money is positively impacting deserving students and the clients that need our programming," Gore said.
For more information about the event or the Eberly Center, call 419.530.8570 or visit utoledo.edu/centers/eberly.
---
Thursday, February 1st, 2018
More students are enrolled at The University of Toledo this spring semester thanks to increased efforts to support student success.
The total enrollment for spring semester 2018 is 19,236 students, according to official 15-day census numbers. There were 19,221 students enrolled in spring semester 2017.
Spring enrollment reflects an improved undergraduate fall-to-spring-semester retention rate of 90.6 percent for the current 2017-18 academic year. It was 89.3 percent for 2016-17 and 89.1 percent for the 2015-16 academic year.
"Student success is the reason we are here," UT President Sharon L. Gaber said. "All of us at the University, from the academic colleges to the student affairs staff, are focused on supporting our students in and out of the classroom. I am proud those efforts are having a positive impact on our retention rates and will be reflected in our graduation rates in the future."
Included in the spring enrollment are 14,860 undergraduate students and 4,376 graduate and professional students. There were 14,858 undergraduates and 4,363 graduate and professional students enrolled in spring 2017.
---
Thursday, February 1st, 2018
As vehicles equipped with self-driving technologies are poised to become the future of transportation, The University of Toledo College of Engineering and AAA Northwest Ohio are teaming up to host a series of free, public talks to educate consumers about how smart cars will impact the world.
The first seminar in the bi-monthly series to help drivers be informed, prepared and comfortable with the shift in mobility is from 3 to 5 p.m. Wednesday, Feb. 7 in UT's Nitschke Auditorium. General Motors will have an autonomous vehicle on site.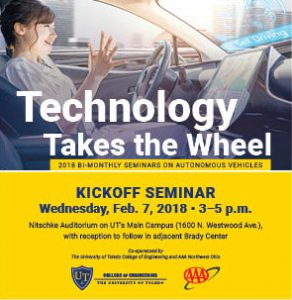 Speakers include Dave Hobbs, field service training instructor for Delphi Products and Service Solutions, and Greg Brannon, director of automotive engineering and industry relations for AAA. Both speakers will participate in a panel discussion featuring UT engineering researchers Dr. Eddie Chou, Dr. Ahmad Javaid and Dr. Jared Oluoch.
"The biggest impact of autonomous vehicles in the near future will be a significant reduction in the number of traffic crashes, therefore saving thousands of lives each year," said Chou, professor of civil engineering and director of the Transportation Systems Research Laboratory at UT. "It will fundamentally change transportation mobility and how people travel."
Immediately prior to the event, media is invited from 1:30 to 2:30 p.m. to experience riding in a self-driving car.
"Autonomous cars have the potential to reduce traffic congestion, provide infotainment services to road users, and reduce carbon emissions," said Oluoch, UT assistant professor of computer science and engineering technology. "While this is a promising technology, it also is a double-edged sword. Security concerns and job losses are emerging as some of the primary challenges of autonomous-vehicle technology. This seminar series is the first among many to highlight the technology behind autonomous cars and the promise it holds for the future."
Register for the free, public seminar online at utoledo.edu/engineering/webforms/technologytakesthewheelform.html.
The next event in the series will be Friday, April 13 and focus on the topic of autonomous vehicles and cybersecurity.
American drivers are beginning to embrace self-driving vehicles, with male and millennial drivers most accepting of the new automotive technology, according to a new study by AAA.
The annual survey reveals that 63 percent of U.S. drivers report feeling afraid to ride in a fully self-driving vehicle, a decrease from 78 percent in early 2017. Millennial and male drivers are the most trusting of autonomous technologies, with only half of those drivers reporting they would be afraid to ride in a self-driving car.
"Americans are starting to feel more comfortable with the idea of self-driving vehicles," Brannon said. "Compared to just a year ago, AAA found that 20 million more U.S. drivers would trust a self-driving vehicle to take them for a ride."
The new survey results come as state officials take steps to move the conversation on autonomous vehicles forward in Ohio. The Ohio House Transportation and Public Safety Committee began hearings on the development of the new technology last year.
---