Archive for February, 2018
Wednesday, February 28th, 2018
The University of Toledo has several events planned in honor of Women's History Month, including a gala, self-defense class, leadership symposium and women's history jeopardy.
Dr. Tonya M. Matthews, president and chief executive officer of the Michigan Science Center in Detroit, will give the UT Women's History Month keynote lecture 6:30 p.m. Tuesday, March 20 in the Driscoll Alumni Center Auditorium. She will discuss strong female leaders and their diverse management styles, especially women in science, technology, engineering, math and medicine.
"This month's carefully planned events are not only about recognizing strong women leaders, but celebrating the historical contributions of women in the greater society," Dr. Shanda Gore, associate vice president of the Catharine S. Eberly Center for Women, said. "It is critical that we continue to educate, empower and, through collaboration, engage our campus community in relevant, timely conversations that impact us all."
"Women's History Month celebrates the vital role that women have played in all aspects of our society," said Danielle Stamper, interim program coordinator in the Office of Multicultural Student Success. "Recognizing the accomplishments of women from diverse backgrounds allows us to add strength and inspiration to our own lives and stories."
A display marking the 40th anniversary of the Catharine S. Eberly Center for Women will be on exhibit on the first floor of Carlson Library. The display is presented by the Ward M. Canaday Center for Special Collections.
Listed by date, additional events at the University include:
Thursday, March 1
"Herstory" Month Kickoff, 11 a.m. to 2 p.m., Thompson Student Union Trimble Lounge. Learn about women who made "herstory," take a photo with a "shero," and learn about events taking place during Women's History Month.
Tuesday, March 6
Toledo Women in Leadership Symposium, 8 to 11:30 a.m., Thompson Student Union Ingman Room. "Women Blazing Trails" is the theme of this year's event, which will feature area leaders, including Dr. Amanda Bryant-Friedrich, dean of the UT College of Graduate Studies. Topics to be covered include caring for your whole self and how to handle difficult conversations with confidence. Cost: $99. Register: wilsymposium.com/2018-symposiums/2018-toledo/#reg-cta.
Monday, March 12
Women's Leadership Development Workshop, 5:30 to 6:30 p.m., Catharine S. Eberly Center for Women, Tucker Hall Room 0180. This six-week program will continue on Mondays at the same time and place through April 16. Live 4 Change LLC will present this workshop designed for women who want to pursue leadership roles or refresh their leadership skills. Register for the free program by calling the Eberly Center at 419.530.8570.
Tuesday, March 13
Film screening of "Afuera," 5 p.m., Thompson Student Union Room 2582. This 2016 dramatic short follows a transgender woman who starts to work in the sex trade to survive and receives an ultimatum from her boyfriend.
Wednesday, March 14
Women in Business: From Concept to Culmination, 5:30 to 7:30 p.m., Scott Park Campus. The Minority Business Development Center and the Toledo Ohio Minority Business Assistance Center are sponsoring this program that will discuss how to start a business, including formation options, capital resources, networking, and marketing and promotion. Register for the free event: 419.530.3344.
Thursday, March 15
Self-Defense for Women, 5:30 to 8:30 p.m., Eberly Center for Women, Tucker Hall Room 0180. Retired UT Police Officer Jill Goldberg will lead this Rape Aggression Defense System program that will teach hands-on tactics to use against an attacker. Participants will need to sign a waiver and should wear comfortable clothing and shoes. Cost $25; free for UT students. Space is limited; register by calling the Eberly Center at 419.530.8570.
Friday, March 23
Women of Color Symposium, 8:30 a.m. to 5 p.m., Thompson Student Union Room 2582. "Navigating a Primarily White Institution" will be the theme of the event, which will be presented by the UT Office of Diversity and Inclusion. Register: utoledo.edu/diversity/webforms/womenofcolor.html.
Fifth Annual Women's Gala, 7:30 to 10 p.m., Thompson Student Union Ingman Room. "The Skin I'm In" is the theme this year. Tickets — price to be announced — will be available at Ask Rocky.
Wednesday, March 28
Women's History Jeopardy, 6 p.m., Memorial Field House Room 1030. Learn about amazing women who have been left out of most textbooks. Prizes will be provided by the History Department, Office of Multicultural Student Success, and the Office for Diversity and Inclusion.
---
Wednesday, February 28th, 2018
The University of Toledo is hosting a training workshop to teach water treatment plant operators, scientists and public health officials how to use software that forecasts increases in algal toxins during algal bloom season so that swimmers and boaters can be warned to avoid exposure and water treatment plants can take measures to appropriately treat the raw water.
Media is invited from 10 to 11 a.m. Thursday, March 1 at the UT Lake Erie Center, 6200 Bayshore Rd. in Oregon.
For the last three years, researchers at The University of Toledo have been collecting environmental data in Lake Erie during algal bloom season to help the U.S. Geological Survey develop a model to estimate the probability of exceeding a threshold that indicates an increase in harmful algal bloom toxins, like microcystin, in Ohio waters.
Using the database of samples gathered at seven water treatment plant intakes and four recreational sites throughout the state, including the public beach at Maumee Bay State Park, the U.S. Geological Survey's model can now be applied using the Virtual Beach Software developed by the U.S. Environmental Protection Agency.
The software is the same program UT uses to make daily E. coli bacteria forecasts for the public beach at Maumee Bay State Park during the summer. However, the new model for algal toxins also incorporates live data from the network of buoys in the western Lake Erie basin. The buoys are equipped with what is called the YSI EXO sonde, a black and blue instrument comprised of several probes to measure various water quality parameters, including how much blue-green algae is present, water temperature, clarity, oxygen levels, turbidity and pH.
"Instead of waiting for test results from water samples, we can make real-time predictions for increases in algal toxins using environmental factors such as turbidity, pH, phycocyanin, wind direction and rainfall," Pam Struffolino, UT Lake Erie Center research operations manager, said. "The exposure probability model is ready to go once approved by the EPA, and we want to be sure the people we are training can add data, read results and use the software to help their communities be safe."
Trainers are comprised of representatives from UT, U.S. Geological Survey, U.S. Environmental Protection Agency, Limnotech and NASA.
Struffolino said water treatment plants are expected to begin using the software once operators are trained. Leaders are evaluating how the results will be publicly posted similar to the E. coli testing and when that will begin.
"The model will improve every year as we go along because we will continue to add data," Struffolino said.
---
Tuesday, February 27th, 2018
The annual long-distance migration of rare, tiny songbirds that reproduce in the Great Lakes region and Appalachian Mountains is no longer a mystery.
By tracking one of the smallest species ever monitored over thousands of miles using cutting-edge technology, a team of ornithologists led by scientists at The University of Toledo found that it is where golden-winged warblers spend the winter in the tropics that determines if a population is declining or stable, not factors associated with the breeding grounds thousands of miles north in the United States and Canada.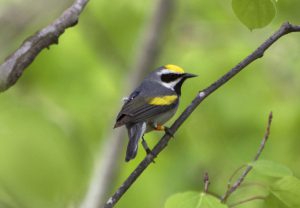 Over the course of the five-year study, the scientists found that different populations of the birds, which are about the size of a ping-pong ball and weigh less than three pennies, do not mix between their separate northern nesting grounds occupied during the spring and summer and the tropical sites where they spend the winter.
Mapped using data from 76 light level geolocators recovered from the birds, each population shows strong migratory connectivity, or geographic segregation, that confirms that populations of the birds stay together in different locations for the seasons throughout the year. This strong link between breeding and non-breeding areas means that populations may be exposed to different threats and conditions during the winter.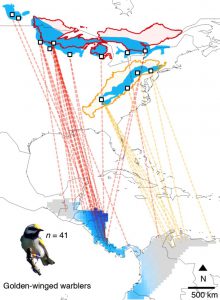 According to the study recently published in the Proceedings of the National Academy of Sciences, golden-winged warblers from declining populations spend winters in northern South America. Stable populations of the species spend winters in Central America.
"They're separate, and it's remarkable," said Gunnar Kramer, PhD student researcher in environmental sciences at UT. "Most species we track like this don't show strong connections between breeding sites and wintering sites."
"These golden-winged warblers that breed throughout the Great Lakes region and Appalachian Mountains are going to different areas in the winter," said Dr. Henry Streby, assistant professor in the UT Department of Environmental Sciences. "That's pivotal because those tropical areas experienced different rates of forest loss during the last 60 years. When we look at forest-loss rates, it correlates closely with golden-winged warbler population changes on breeding grounds thousands of miles away."
When it comes to saving the species that is under consideration for federal Endangered Species protection, the researchers say conservationists should switch their focus away from places where their efforts cannot benefit the species and toward restoring habitat and preventing further deforestation in northern Venezuela, "which is, unfortunately, one of the most difficult places to do conservation work in the Americas," Streby said.
"If the winter habitat keeps disappearing, the warblers that winter in northern South America won't survive and come back to the Appalachian Mountains no matter how much breeding habitat is available to them," Streby said.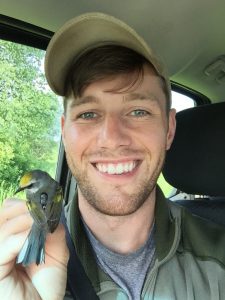 Kramer and Streby tracked the birds using the geolocators attached to the birds with tiny backpacks around their legs. Figure-eight harnesses secured the geolocator backpacks, which contained a battery, a computer chip and a light sensor. The whole thing weighs less than half of a paper clip and does not inhibit flight or movement.
"The light sensor records ambient light and stores it with a time stamp on the unit every couple minutes," Kramer said. "We used differences in day length and changes in how fast dawn and dusk occur to predict daily locations of the birds throughout the year. Based on how long the day and night are and features of the transitions between day and night, you can tell with reasonable accuracy where you are on the planet."
Unlike other heavier tracking devices, geolocators do not transmit data, so the researchers had to recapture every bird marked with a geolocator and remove the device to recover data.
"Comprehensive studies like this one show the importance of understanding the complex relationships migratory species have with different environments throughout the year and demonstrate that songbirds that spend the summer in our backyards may be experiencing challenging conditions elsewhere that are causing declines," Kramer said. "These studies also provide information that can immediately be used to start improving conservation efforts, and that's really exciting."
The UT researchers collaborated with scientists from several universities and agencies, including the U.S. Geological Survey, University of Tennessee and West Virginia University.
Funding was provided by the U.S. Fish and Wildlife Service, the U.S. Geological Survey and the National Science Foundation.
---
Monday, February 26th, 2018
Dr. Rubin Patterson, professor and chair of sociology and criminology at Howard University, will return this week to The University of Toledo campus and a city he called home for more than two decades to discuss his book focusing on the black experience in the Glass City.
"Black Toledo: A Documentary History of the African-American Experience in Toledo, Ohio" was published by Brill in November as a hardcover and will be published as a paperback by Haymarket Books in December.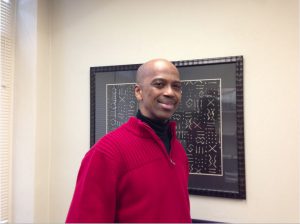 Patterson will talk about "Black Toledo" 6 p.m. Wednesday, Feb. 28 in UT Law Center Room 1002. The free, public event is hosted by the UT Africana Studies Program and the UT College of Arts and Letters in honor of Black History Month.
"We are very happy to welcome back Rubin to talk about this landmark book," Angela M. Siner, director of anthropology and the UT Africana Studies Program, said.
Editors Patterson and Dr. Abdul Alkalimat, professor emeritus of African-American studies at the University of Illinois at Urbana-Champaign, met at UT. Alkalimat was the first director of the Africana Studies Program at the University in 1996. He was a faculty member at UT from 1995 to 2007. Patterson, who worked with student leaders in the early 1990s to convince UT administrators to create Africana Studies, then served as director of the program from 2007 to 2014.
In their book, Patterson and Alkalimat chronicle more than 200 years of African-American struggles for a better life in Toledo. With newspaper articles, academic papers, census data and popular writings about Toledo, the two pieced together the story of African-American organizations, institutions, events and individuals confronting oppression and other challenges.
"Readers will obviously come away with a better understanding of the black experience in Toledo, but black Toledoans will have a better appreciation for the rich legacy that they have inherited and of which they are a part," Patterson said.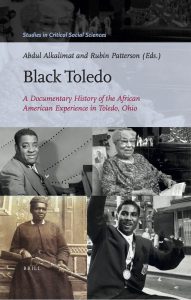 The 317-page book is divided into four sections: the origin of the black community, 1787 to 1900; the formation of community life, 1900 to 1950; community development and struggle, 1950 to 2000; and survival during deindustrialization, 2000 to 2016.
"Black Toledo" covers everything from the Underground Railroad to Frederick Douglass and Sojourner Truth speaking in Toledo in 1864, neighborhood segregation to fighting the Klu Klux Klan, the musical genius of natives Art Tatum and Jon Hendricks to the Hines Farm Blues Club, Black Panthers patrolling Dorr Street and the proliferation of African-American businesses, to memorable moments of boxer Wilbert "Skeeter" McClure who won a gold medal in the Olympics in Rome and legendary UT quarterback Chuck Ealey who led the Rockets to a 35-0 record from 1969 to 1971.
---
Wednesday, February 21st, 2018
Professional sales students from 34 universities across the United States will visit The University of Toledo College of Business and Innovation this weekend to compete in the third annual University of Toledo Invitational Sales Competition.
The Edward Schmidt School of Professional Sales at UT organizes this first and only national sales competition dedicated exclusively to juniors, sophomores and freshmen because graduating seniors are typically already placed in jobs due to high corporate demand.
"We believe that younger students are chomping at the bit to shine outside the shadow of a senior, and we are confident that they have the talent and coachability to compete on a national stage," said Deirdre Jones, director of the Edward Schmidt School of Professional Sales and the UT Invitational Sales Competition. "We are thrilled to bring tomorrow's top talent today to our sponsors so they can find the sales talent they need for internships and regular job placements."
Since 2016, more than a dozen corporate sponsors who send company representatives to serve as buyers and judges have hired 48 competitors. Hiring tripled between 2016 and 2017.
The sales competition will take place Friday and Saturday, Feb. 23 and 24 in classrooms and meeting rooms throughout the Savage & Associates Business Complex on the UT Main Campus.
The first rounds of the competition will take place from 9:15 a.m. to 12:15 p.m. Friday, followed by the wild-card round from 1:45 to 3 p.m. and quarterfinals from 4 to 5:40 p.m. The competition will conclude Saturday with the semifinals from 8:30 to 9:20 a.m. and the finals from 10:30 a.m. to 1 p.m.
The winners of the competition will be recognized at an awards luncheon at 1:30 p.m. Saturday in the Thompson Student Union Auditorium.
The event also will feature a career fair for participating students from 9:15 a.m. to 3 p.m. Friday in the Thompson Student Union Ingman Room featuring sales leaders and recruiters from sponsoring companies.
More than 100 sales leaders and recruiters who participate serve as buyers and judges for the role plays and also interact with the students during coaching and interviewing sessions and the career fair.
Sponsors include 3M, Owens Corning, Quicken Loans, Goodyear Tire and Rubber, and Procter and Gamble.
Participating universities include Baylor, Florida State University, Ball State, Oregon State, Temple and Purdue.
---
Tuesday, February 20th, 2018
More than 140 companies will attend the Spring 2018 Engineering Career Expo at The University of Toledo on Wednesday, Feb. 21.
The networking and hiring event will be from 12:30 to 4:30 p.m. on the first floor of Nitschke Hall and North Engineering.
Only UT College of Engineering students and alumni are eligible to attend this opportunity to connect with companies seeking the talent they need for success.
More than 700 engineering students and alumni are expected to attend.
Companies scheduled to participate include Cooper Tire & Rubber, Dana Inc., Marathon Petroleum, Matrix Technologies Inc., Owens Corning, Owens-Illinois Inc., PCC Airfoils LLC, Plastic Technologies Inc., R.W. Beckett Corp., Rudolph Libbe/GEM Inc., SSOE Group, The Lathrop Co., and ZF.
"The current job outlook for engineering students in The University of Toledo College of Engineering is certainly bright as evidenced by the record number registered to attend the college's spring career expo," said Dr. Vickie Kuntz, director of the Engineering Career Development Center that hosts the event. "Employers are seeking undergraduate students to participate in engineering co-op assignments, as well as their leadership development programs.  Employers are also seeking seniors and graduates for full-time employment."
The college hosts semi-annual career expos to give students the opportunity to network with potential employers.
"The University of Toledo College of Engineering's undergraduate mandatory paid co-op program is one of only eight mandatory engineering co-op programs in the country," Kuntz said. "Our students experience one full year of professional engineering experience before they graduate and they feel confident seeking full-time employment upon graduation. Co-op businesses are able to work with these students and are able to determine how the student fits within their organization. It's a win-win situation for our students and the companies who hire them."
---
Monday, February 19th, 2018
The director of the Space Telescope Science Institute in Baltimore, which operates NASA's Hubble Space Telescope and the soon-to-be-launched James Webb Space Telescope, is speaking on campus as part of The University of Toledo's continuing celebration of the 50th anniversary of the Ritter Astrophysics Research Center.
The free, public event featuring Dr. Ken Sembach and titled "Great Observatories, Present and Future" is 6:30 p.m. Thursday, Feb. 22 in Wolfe Hall Room 1205.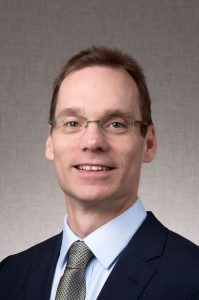 "Some telescopes are put into space to get above the blurring of our atmosphere and to detect light that our atmosphere otherwise blocks," said Dr. Jillian Bornak, associate lecturer in the Department of Physics and Astronomy and chair of the UT Astronomy 50th Anniversary Committee. "Dr. Sembach will talk to us about these great observatories and lay out the foundation for why we are excited for the view of the universe that the Webb telescope will give us."
Toledo has historic connections to deep space exploration and unraveling the mysteries of the universe.
In 1946, an astrophysicist from Toledo named Lyman Spitzer Jr. proposed building telescopes in space. Today, UT researchers and students use Spitzer and NASA's other space telescopes by downloading the data and engaging in the exploration of the universe from Ritter.
The James Webb Space Telescope, which will be the largest and most powerful when launched into orbit next year, is named in honor of Dr. James Webb, who received an honorary degree at the dedication of UT's Ritter facility on Oct. 13, 1967. Webb was the head of NASA at that time.
The Space Telescope Science Institute is operated by the Association of Universities for Research in Astronomy, which UT was selected to join in 2016 in recognition of the astronomy and astrophysics program's strengths in research, education and outreach.
Before becoming director of the Space Telescope Science Institute, Sembach served as interim director, Hubble mission head and Hubble project scientist. Previously, Sembach was the Far Ultraviolet Spectroscopic Explorer deputy project scientist for Large Science Programs at Johns Hopkins University. He also was a NASA Hubble Fellow at the Massachusetts Institute of Technology.
Sembach received a bachelor's degree in physics with honors in 1988 from the University of Chicago and a PhD in astronomy in 1992 from the University of Wisconsin-Madison.
---
Wednesday, February 14th, 2018
The University of Toledo is slated to lead eight out of the 21 new research projects to be funded with $3.5 million from the state of Ohio to address water quality and algal bloom toxicity.
UT, situated on the western basin of Lake Erie, is to receive nearly $1 million of the $3.5 million dedicated by the Ohio Department of Higher Education for these additional projects in the ongoing, statewide Harmful Algal Bloom Research Initiative, which began three years ago after the city of Toledo issued a Do Not Drink advisory for half a million water customers due to the level of microcystin detected in the water.
UT is one of the lead universities in the Harmful Algal Bloom Research Initiative, which consists of ten Ohio universities and five state agencies.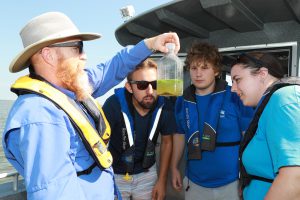 The selected projects focus on reducing nutrient loading to Lake Erie; investigating algal toxin formation and human health impacts; studying bloom dynamics; better informing water treatment plants how to remove toxin; and aiding the efforts of state agencies.
Dr. Tom Bridgeman, professor in the Department of Environmental Sciences, will lead a project to develop sampling protocols and collect samples to assess listing criteria that the Ohio Environmental Protection Agency may use to monitor the water quality of the open waters of the western basin of Lake Erie and to potentially assign official designations such as "impaired" or "unimpaired."
"Although it is obvious to nearly everyone that harmful algal blooms are impairing Lake Erie each summer, we need to develop objective scientific criteria that can be used to list the open waters of the lake as officially 'impaired,' and to remove an 'impairment' designation in the future if conditions improve sufficiently," Bridgeman said.
UT researchers also to receive some of the $988,829 in state funding for their projects are:
Dr. Jason Huntley, associate professor in the Department of Medical Microbiology and Immunology, will be developing and testing biofilters – water filters containing specialized bacteria that degrade microcystin toxins from lake water as it flows through the filter. These biofilter studies are aimed to develop cost-effective, efficient and safe drinking water treatment alternatives for the city of Toledo and other Lake Erie water municipalities.
Dr. Steven Haller and Dr. David Kennedy, assistant professors in the Department of Medicine, will investigate how cyanotoxins such as microcystin damage organs not only in healthy settings, but in settings that may increase susceptibility such as diabetes, obesity and inflammatory bowel disease. Their research teams are working in concert with experts in medicine, pathology, physiology, pharmacology and chemistry to not only to learn how microcystin affects organ function in these settings, but also to create new therapies to prevent and treat organ damage, especially in vulnerable patient populations.
Dr. Patrick Lawrence, UT professor in the Department of Geography and Planning, will use a transportation model to simulate potential distribution of volume of agricultural manure from permitted livestock facilities to surrounding farmland for application as a nutrient. The results will assist in determining the estimated acreage of land within the Lake Erie western basin where manure application could be undertaken and examine associated crop types, farming practices, soil types, drainage and other environmental conditions in those areas.
Dr. Saatvika Rai, assistant professor of environmental policy in the Department of Political Science and Public Administration, and Dr. Kevin Czajkowski, professor in the Department of Geography and Planning, will use GIS and remote sensing to assess the implementation of agricultural and farming practices in three sub-watersheds of the Maumee River Basin – Auglaize, Blanchard and St. Joseph – to identify where best management practices are being implemented. These maps will then be correlated with perceptions of farmers through surveys and interviews to identify hotspots and priority areas for policy intervention in the region.
Dr. April Ames, assistant professor in the College of Health and Human Services, will apply an industrial hygiene technique to the exploration of the presence of microcystin in the air using research boats on Lake Erie. Simultaneously, residents who live on or near Lake Erie will be surveyed about their recreational use and self-reported health.
"I am proud of the work that is being done, and that researchers from our public and private higher education institutions continue to work together to address this issue," said Ohio Department of Higher Education Chancellor John Carey. "Using the talent of Ohio's researchers and students to solve pressing problems makes perfect sense."
The Harmful Algal Bloom Research Initiative is funded by the Ohio Department of Higher Education with $7.1 million made available for four rounds of research funding since 2015. Matching funding from participating Ohio universities increases the total investment to almost $15.5 million for more than 50 projects, demonstrating the state's overall commitment to solving the harmful algal bloom problem.
Water quality is a major research focus at UT. With more than $14 million in active grants underway, UT experts are studying algal blooms, invasive species such as Asian carp, and pollutants. Researchers are looking for pathways to restore our greatest natural resource for future generations to ensure our communities continue to have access to safe drinking water.
The UT Water Task Force, which is comprised of faculty and researchers in diverse fields spanning the University, serves as a resource for government officials and the public looking for expertise on investigating the causes and effects of algal blooms, the health of Lake Erie and the health of the communities depending on its water. The task force includes experts in economics, engineering, environmental sciences, business, pharmacy, law, chemistry and biochemistry, geography and planning, and medical microbiology and immunology.
---
Wednesday, February 14th, 2018
The University of Toledo will bring engineering to life for elementary and high school students in celebration of Engineers Week.
The theme of this year's events is "Inspiring Wonder."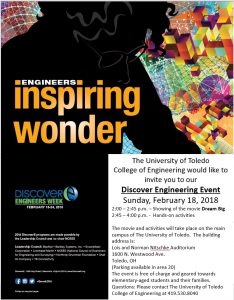 Discover Engineering is a free, public event geared toward elementary school students and their families from 2 to 4 p.m. Sunday, Feb. 18 in Nitschke Auditorium. It includes a showing of the movie "Dream Big," followed by hands-on activities organized by College of Engineering students.
The College of Engineering also will host its first Introduce a Girl to Engineering Day for students in 5th, 6th, 7th and 8th grades. Starting at 10 a.m. Thursday, Feb. 22, girls from the Toledo area will tour UT's engineering facilities and have lunch with College of Engineering students and professional engineers before spending the afternoon doing hands-on activities.
Area high school students will get the opportunity to be an Engineer for a Day at 9 a.m. on Tuesday, Feb. 20 when they tour UT's engineering facilities and have lunch with College of Engineering students and professional engineers before spending the afternoon shadowing a practicing engineering professional in the community.
"Participants will learn that engineering is not just about being good at math and science. It requires curiosity, creativity and teamwork, and it is also fun," said Dr. Lesley Berhan, associate professor in the UT Department of Mechanical, Industrial and Manufacturing Engineering and interim assistant dean of diversity, inclusion and community engagement. "About 20 percent of engineering degrees nationwide are awarded to women. We hope the students are inspired to see their future selves working in one of the many different fields of engineering to design, invent and create things to make our world better, safer, healthier and cleaner."
---
Thursday, February 8th, 2018
Thursday, February 15, 2018
Driscoll Alumni Center, Schmakel Room
5:30 p.m. Board of Trustees Dinner
Monday, February 19, 2018
Driscoll Alumni Center, Schmakel Room
12:30 p.m. Clinical Affairs Committee Meeting
1:15 p.m. Academic and Student Affairs Committee Meeting
1:30 p.m. Finance and Audit Committee Meeting
1:45 p.m. Trusteeship and Governance Committee Meeting
2 p.m. Board of Trustees Meeting
A luncheon for the trustees will be held at noon in the Driscoll Alumni Center Board Room.
 
---