NASA flight director for International Space Station to speak at UT Feb. 8
January 30th, 2018 by Christine Billau
An alumnus of The University of Toledo and NASA flight director for the International Space Station at Johnson Space Center's Mission Control in Houston will return to his alma mater as part of UT's continuing celebration of the 50th anniversary of the Ritter Astrophysics Research Center.
Dr. Robert Dempsey, who received a master's degree and PhD in physics from UT in 1987 and 1991, will speak at the University about guiding human space flights and astronomical exploration at 6 p.m. Thursday, Feb. 8 in the Driscoll Alumni Center Auditorium, Room 1019.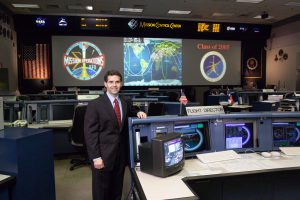 The event, which is titled "Houston, We Have a Problem – When Things Go Wrong on the International Space Station," is free and open to the public.
"We all have contingency plans, but what do you do when something goes wrong in space?" said Dr. Jillian Bornak, associate lecturer in the Department of Physics and Astronomy and chair of the UT Astronomy 50th Anniversary Committee. "If you enjoyed watching 'Apollo 13,' 'The Martian' or 'Gravity,' you will appreciate the window Dr. Dempsey will give into being the flight director of the space station."
Dempsey worked for Computer Sciences Corporation as a resident astronomer on the Hubble Space Telescope from 1992 to 1997, and for United Space Alliance as a command and data handling flight controller from 1997 to 2003. He joined NASA in 2003 as a communications and tracking officer for the International Space Station.
"We are especially excited because Dr. Dempsey is one of our own: He is an alum of The University of Toledo's Department of Physics and Astronomy," Bornak said. "I hope everyone joins us as we continue our year-long celebration of the golden anniversary of Ritter and our astronomy program."
The next event in honor of Ritter's 50th anniversary is 6:30 p.m. Thursday, Feb. 22 in Wolfe Hall Room 1205. It will feature Dr. Ken Sembach, director of the Space Telescope Science Institute, which handles the Hubble Space Telescope and James Webb Space Telescope that is expected to be launched next year.
Tags: College of Natural Sciences and Mathematics

Christine Billau is UT's Media Relations Specialist. Contact her at 419.530.2077 or christine.billau@utoledo.edu.
Email this author | All posts by Christine Billau
---