Volunteers to pack more than 150,000 meals for Caribbean hurricane relief
January 25th, 2018 by Christine Billau
More than 800 volunteers will gather in shifts at The University of Toledo to assemble thousands of meals for Caribbean hurricane relief Friday and Saturday, Jan. 26-27 in the Health Education Building on Main Campus.
"We are all very excited about this big campus-wide event and are working very hard to make it a big success," said Nick Johnston, a student studying finance in the UT College of Business and Innovation. "It's something bigger than ourselves. It's a win-win: We are learning invaluable leadership skills while at the same time helping address global issues like world hunger."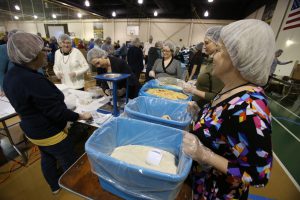 UT's participation in this two-day mobile pack event through the Feed My Starving Children program is sponsored by the College of Business and Innovation Klar Leadership Academy, which was founded in 2015 with the support of Steven Klar, a 1971 business alumnus and a New York City builder and real estate developer.
Klar will attend this event to work a production shift on Saturday with his wife, Kathy, and son, Ashton, who are coming in from New York.
Additionally, longtime UT benefactor and business alumnus Ed Kinsey is a primary sponsor of this year's event through the Kinsey Family Foundation and also will be in attendance to work a shift with his family.
Media is invited from noon to 2 p.m. Saturday, Jan. 26 in the Health Education Building on Main Campus to watch UT students, employees and alumni pack nutritious rice meals with vegetable blend, vitamins and minerals.
"I had the amazing experience of volunteering last year to make these nutritious packs for children in Haiti," said Natalie Zerucha, a student studying management and marketing in the UT College of Business and Innovation, who is a Klar Leadership Academy member. "I participated in the last shift possible last year, and we created a total of 34,776 meals, which feeds 95 kids for an entire year. My heart was so full to pray over the last shipment before it got on the truck."
"At The University of Toledo, we are all about developing student leaders who can fulfill the University's mission of improving the human condition," said Dr. Clint Longenecker, Distinguished University Professor and director of the Center for Leadership and Organizational Excellence in the College of Business and Innovation. "This event is a perfect example of our students developing leadership, servant-leadership, planning and team-building skills while serving a greater purpose — to help create solutions to the problem of world hunger."
Tags: College of Business and Innovation

Christine Billau is UT's Media Relations Specialist. Contact her at 419.530.2077 or christine.billau@utoledo.edu.
Email this author | All posts by Christine Billau
---