Archive for January, 2018
Wednesday, January 31st, 2018
"A Different World: Honoring Our Past, A Journey to Our Future" is the theme of The University of Toledo's 2018 celebration of Black History Month.
"We respect and acknowledge what has been done in the past and the groundwork that has been laid for our advancement," said Guyton Mathews IV, a UT graduate student pursuing a master of liberal studies degree who is serving as a graduate assistant for African-American Initiatives in the Office of Multicultural Student Success. "While there are some issues that we still face that can be related to the past, our adversity is different."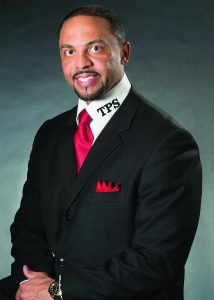 Dr. Romules Durant, superintendent of Toledo Public Schools, will give the keynote address at the Black History Month Kickoff Luncheon 11:30 a.m. Saturday, Feb. 3 in the Thompson Student Union Auditorium. The event will include singing and dancing performances.
"Black History Month is a time to remember and celebrate the achievements of black men and women who have shaped our history whether locally, nationally and internationally," Durant said. "My ultimate goal is that I can inspire someone toward greatness by sharing the challenges I've faced and the goals I've accomplished."
A Toledo native, Durant is a graduate of Waite High School and UT. He received bachelor of arts, master of arts and doctoral degrees in education from the University in 1998, 2002 and 2007, respectively. Since 2000, he has worked at Toledo Public Schools as a teacher, administrator and assistant superintendent; he became the district's 30th superintendent in 2013.
A former member of the UT Alumni Association Board of Trustees, Durant received the Judith Herb College of Education Outstanding Alumnus Award in 2015.
Listed by date, other Black History Month events will include:
Wednesday, Feb. 7
Black History Month Trivia, 8 to 10 p.m., Thompson Student Union Room 2591. Join the Office of Multicultural Student Success, the Black Student Union and the Multicultural Emerging Scholars Program for questions about black history, as well as the Black Card Revoked game.
Monday, Feb. 12
"Black GirlZ Rock," 6 to 9 p.m., Thompson Student Union Ingman Room. Zeta Phi Beta Sorority Inc. will honor women on campus who have made an impact on UT students. Appetizers will be served.
Thursday, Feb. 15
Black History Month Art Exhibit, 3 to 5 p.m., Thompson Student Union Trimble Lounge. The Office of Multicultural Student Success is inviting artists to share their works relating to black history and culture in a museum-style setting.
Tuesday, Feb. 20
Name That Tune: Black History Month Edition, 6:30 to 8:30 p.m., Thompson Student Union Room 2591. Teams will compete in a multiple round competition to guess songs from the 1960s to the present. Winners will receive a prize from the Office of Multicultural Student Success.
Friday, Feb. 23
Black Student Union Fashion Show, 7:30 to 10 p.m., Thompson Student Union Auditorium. Tickets: $10 in advance, $15 VIP available at Ask Rocky. General admission at the door will be $15.
Monday, Feb. 26
Black History Month College Preview Day, 8 a.m. to 3:30 p.m., Thompson Student Union. High school students can visit campus and learn about college life from members of several multicultural student organizations. For more information, call the Office of Multicultural Student Success at 419.530.2261.
All events are free unless otherwise noted.
For more information, contact the Office of Multicultural Student Success at 419.530.2261.
---
Tuesday, January 30th, 2018
An alumnus of The University of Toledo and NASA flight director for the International Space Station at Johnson Space Center's Mission Control in Houston will return to his alma mater as part of UT's continuing celebration of the 50th anniversary of the Ritter Astrophysics Research Center.
Dr. Robert Dempsey, who received a master's degree and PhD in physics from UT in 1987 and 1991, will speak at the University about guiding human space flights and astronomical exploration at 6 p.m. Thursday, Feb. 8 in the Driscoll Alumni Center Auditorium, Room 1019.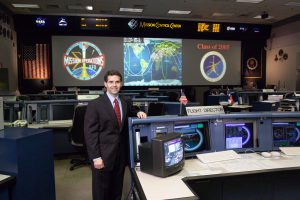 The event, which is titled "Houston, We Have a Problem – When Things Go Wrong on the International Space Station," is free and open to the public.
"We all have contingency plans, but what do you do when something goes wrong in space?" said Dr. Jillian Bornak, associate lecturer in the Department of Physics and Astronomy and chair of the UT Astronomy 50th Anniversary Committee. "If you enjoyed watching 'Apollo 13,' 'The Martian' or 'Gravity,' you will appreciate the window Dr. Dempsey will give into being the flight director of the space station."
Dempsey worked for Computer Sciences Corporation as a resident astronomer on the Hubble Space Telescope from 1992 to 1997, and for United Space Alliance as a command and data handling flight controller from 1997 to 2003. He joined NASA in 2003 as a communications and tracking officer for the International Space Station.
"We are especially excited because Dr. Dempsey is one of our own: He is an alum of The University of Toledo's Department of Physics and Astronomy," Bornak said. "I hope everyone joins us as we continue our year-long celebration of the golden anniversary of Ritter and our astronomy program."
The next event in honor of Ritter's 50th anniversary is 6:30 p.m. Thursday, Feb. 22 in Wolfe Hall Room 1205. It will feature Dr. Ken Sembach, director of the Space Telescope Science Institute, which handles the Hubble Space Telescope and James Webb Space Telescope that is expected to be launched next year.
---
Monday, January 29th, 2018
If you're curious about solving the Rubik's Cube or the break of a pitcher's curve ball, ask a mathematician or scientist.
Saturday Morning Science is back for 2018 at The University of Toledo with six programs to give the community the opportunity to learn about hot topics in modern science.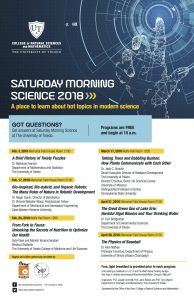 The free, public talks are presented by the UT College of Natural Sciences and Mathematics and kick off 10 a.m. Saturday, Feb. 3 in Memorial Field House Room 2100 with "A Brief History of Twisty Puzzles," most famously the Rubik's Cube.
"Puzzles are more important than most people realize," said Dr. Nathaniel Iverson, lecturer in the UT Department of Mathematics and Statistics, who will be leading the session and teaching strategies to solve a Rubik's Cube. "Mathematics is not just about numbers and calculations, but also about analyzing the world around you and solving problems. Puzzles are valuable for developing dexterity, problem-solving strategies, spatial reasoning, refinement of practice techniques, and intuition for higher-level concepts in mathematics."
A limited number of custom UT/Saturday Morning Science cube puzzles will be given away to attendees of the Feb. 3 presentation.
Listed by date, additional programs and speakers are:
Feb. 17: "Bio-inspired, Bio-hybrid, and Organic Robots: The Many Roles of Nature in Robotic Development" by Dr. Roger Quinn, director of the Biologically Inspired Robotics Laboratory at Case Western Reserve University, and Dr. Victoria Webster-Wood, postdoctoral fellow in the Department of Mechanical and Aerospace Engineering at Case Western Reserve University, in Memorial Field House Room 2100.
Feb. 24: "From Fork to Fauna: Unlocking the Secrets of Nutrition to Optimize Our Health" by Sally Itawi and Manish Karamchandani, medical students in the UT College of Medicine and Life Sciences, in Wolfe Hall Room 1205.
March 17: "Talking Trees and Babbling Bushes: How Plants Communicate with Each Other" by Dr. Jack C. Schultz, senior executive director of research development at UT and director emeritus of the Bond Life Sciences Center at the University of Missouri, in Wolfe Hall Room 1205.
April 21: "The Great Green Goo of Lake Erie: Harmful Algal Blooms and Your Drinking Water" by Dr. Tom Bridgeman, UT professor of ecology in the Department of Environmental Sciences, in Memorial Field House Room 2100.
April 28: "The Physics of Baseball" by Dr. Alan Nathan, professor emeritus at the University of Illinois at Urbana-Champaign, in Memorial Field House Room 2100.
"One theme running through this year's series is our relationship with nature," said Dr. John Bellizzi, associate professor of chemistry and biochemistry and co-director of Saturday Morning Science. "We're connected to the environment through the food we eat and the water we drink, and we can also draw inspiration from understanding how animals move and plants communicate."
All talks begin at 10 a.m. and include complimentary light refreshments.
For more information about the upcoming events, visit their Facebook page at facebook.com/SaturdayMorningScience.
---
Thursday, January 25th, 2018
More than 800 volunteers will gather in shifts at The University of Toledo to assemble thousands of meals for Caribbean hurricane relief Friday and Saturday, Jan. 26-27 in the Health Education Building on Main Campus.
"We are all very excited about this big campus-wide event and are working very hard to make it a big success," said Nick Johnston, a student studying finance in the UT College of Business and Innovation. "It's something bigger than ourselves. It's a win-win: We are learning invaluable leadership skills while at the same time helping address global issues like world hunger."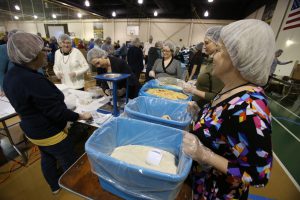 UT's participation in this two-day mobile pack event through the Feed My Starving Children program is sponsored by the College of Business and Innovation Klar Leadership Academy, which was founded in 2015 with the support of Steven Klar, a 1971 business alumnus and a New York City builder and real estate developer.
Klar will attend this event to work a production shift on Saturday with his wife, Kathy, and son, Ashton, who are coming in from New York.
Additionally, longtime UT benefactor and business alumnus Ed Kinsey is a primary sponsor of this year's event through the Kinsey Family Foundation and also will be in attendance to work a shift with his family.
Media is invited from noon to 2 p.m. Saturday, Jan. 26 in the Health Education Building on Main Campus to watch UT students, employees and alumni pack nutritious rice meals with vegetable blend, vitamins and minerals.
"I had the amazing experience of volunteering last year to make these nutritious packs for children in Haiti," said Natalie Zerucha, a student studying management and marketing in the UT College of Business and Innovation, who is a Klar Leadership Academy member. "I participated in the last shift possible last year, and we created a total of 34,776 meals, which feeds 95 kids for an entire year. My heart was so full to pray over the last shipment before it got on the truck."
"At The University of Toledo, we are all about developing student leaders who can fulfill the University's mission of improving the human condition," said Dr. Clint Longenecker, Distinguished University Professor and director of the Center for Leadership and Organizational Excellence in the College of Business and Innovation. "This event is a perfect example of our students developing leadership, servant-leadership, planning and team-building skills while serving a greater purpose — to help create solutions to the problem of world hunger."
---
Wednesday, January 24th, 2018
The UT Peace Fellows, which is affiliated with a new undergraduate minor in peace and justice studies at The University of Toledo, will hold a meeting and panel presentation focusing on the topic of peace and justice issues 7 p.m. Monday, Jan. 29 in Gillham Hall Room 5300.
The free event is open to students from any academic discipline, as well as campus and community members.
The UT Peace Fellows is a group of faculty, students and community members that meets three times a year to discuss current events, theory and research in peace studies and peace education, and how a community can contribute to help create a more peaceful and just society.
"We work together to bridge academic interests related to peace studies, to aid in the promotion of peace-related programs and events on campus, and to foster the roots of peace and justice into the core of the UT mission and culture," said Dr. Dale T. Snauwaert, professor of philosophy of education and peace studies.
The event will allow attendees to participate in group discussions and exchange ideas and research related to the topic of peace and justice issues.
Feature presentations will be given by Dr. Jeannine Diller, associate professor of philosophy and religious studies, and Dr. Hans Gottgens, professor of environmental studies.
"Drs. Diller and Gottgens will speak about their scholarship, which is situated in different disciplinary areas, yet they will both highlight how peace and justice issues impact their scholarship, teaching and service to the community," said Dr. Florian Feucht, associate professor of educational psychology and peace education. "The speakers are examples for how peace and justice connects and impacts our daily work and local community."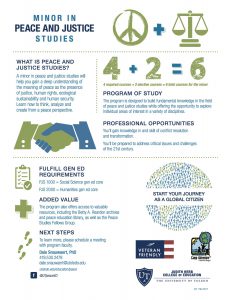 The Peace Fellows is affiliated with a new undergraduate minor in peace and justice studies at the University. The minor includes four core courses and two electives that students can take from across campus.
"By completing the peace and justice studies minor, students gain a deep understanding of the meaning of peace as not merely the absence of violence, but more broadly as the presence of justice, human rights, ecological sustainability and human security," Snauwaert said. "Students understand and are able to apply and create just and effective responses to threats to and violations of peace and justice on all levels of human society from the local to the global."
The program also offers access to resources such as the Betty A. Reardon Collection in the Ward M. Canaday Center for Special Collections in Carlson Library, as well as a peace studies and peace education library housed in Gillham Hall.
---
Wednesday, January 24th, 2018
Dream big and succeed — that's the message Gabe Salazar will deliver when he gives the keynote address at The University of Toledo's 34th Annual Conference for Aspiring Minority Youth Saturday, Jan. 27.
Sponsored by Toledo Excel and the UT Joint Committee, the conference for seventh- and eighth-graders, high school students and parents will start at 8:30 a.m. in the Thompson Student Union Auditorium. This year's theme is "Focus on the Future: Anticipating and Overcoming Obstacles."
Salazar will share his story of enduring hardships and pursuing success. He was born to a teen mother and abandoned by his biological father. Living in poverty, he turned to gangs for a sense of belonging. But injuries from street fights left him looking for something else. Enter a high school principal who began to mentor Salazar.
"Life has incredible future when you stay away from drugs, when you stay away from alcohol, when you stay away from gang violence," Salazar tells teens in an online video. "I want to tell you your dreams can come true if you surround yourself with mentors and pursue your education. Nothing else can stop you, and nothing can hold you back."
The first member of his family to go to college, Salazar attended Southwestern Assemblies of God University in Waxahacie, Texas, from 1996 to 2001 to pursue a degree in professional development with a specialization in theology.
He began his career as an inclusion specialist for special education and at-risk students at a middle school in San Antonio and was a church youth pastor. He discovered his gift: inspiring teens.
"I want students to know that there's hope, that they should never stop believing in themselves," Salazar said.
"This year we gave our students greater input in what they would like to see in a speaker, and Gabe Salazar fit all the criteria," said David Young, director of the Office of Excellence and the Toledo Excel Program. "As a motivational speaker, he has talked to millions of teens. His comedy and real-life stories encourage youth to make positive choices in their lives. He has been recognized as America's No. 1 Latino youth speaker by Popular Hispanics Magazine."
After Salazar's talk, there will be a session to provide an interactive setting to learn about and discuss bullying in all its forms.
Toledo Excel was established in 1988 to help underrepresented students, including African, Asian, Hispanic and Native Americans, for success in college. Through summer institutes, academic retreat weekends, campus visits and guidance through the admission process, students increase their self-esteem, cultural awareness and civic involvement.
Toledo Excel is part of the Office of Multicultural Student Success, which is in the Division of Student Affairs. The UT Joint Committee includes representatives from the University, Toledo Public and Parochial schools, and civic and community leaders from the city of Toledo. The mission of the committee is to bring together people in the community interested in the education of underrepresented youth. The UT Joint Committee also serves as an advisory board and support system for Toledo Excel.
Advance reservations for the free, public conference are encouraged; visit utoledo.edu/success/excel.
---
Wednesday, January 24th, 2018
A three-time cancer survivor and genetic testing advocate who inspired the film, "Decoding Annie Parker," will share her story at an event to provide information about cancer care in the community.
The University of Toledo College of Medicine and Life Sciences will host "An Evening With Annie Parker" Wednesday, Jan. 24, at the Maumee Indoor Theatre, 601 Conant St.
The free, public event will begin at 4 p.m. with the film screening, followed by a talk from Parker, and will conclude with a panel discussion with experts speaking about genomics, clinical trials, cancer biology and "living the new normal."
"We are grateful to have Annie Parker join us for this important evening," said Dr. Christopher Cooper, dean of the College of Medicine and Life Sciences. "Her story is not only compelling, it is inspiring to cancer survivors and their loved ones, and clinical care teams as well."
After Parker lost her mother and sister to cancer, and she was diagnosed multiple times personally, she became determined to understand her family's history with the disease. Parker has survived breast cancer, ovarian cancer and cancer in her liver.
In 1994, she became one of the first women in Canada to be tested for the BRCA1 gene mutation after Dr. Mary-Claire King, a geneticist at the University of California at Berkeley, had discovered the gene is responsible for many breast and ovarian cancers. Parker's results were positive for the gene. The story was the inspiration for the 2013 film, "Decoding Annie Parker." Parker also tells her story in her 2014 book, "Annie Parker Decoded."
The American Cancer Society estimates more than 1.7 million new cancer cases will be diagnosed in the United States in 2018. The local event is an effort to highlight the different treatments, new research and care options in the area.
"We remain committed to training the next generation of physicians and believe that by continuing to evolve available treatment options and enhancing our education and research, we will be that much closer to finding a cure," Cooper said.
---
Monday, January 22nd, 2018
The University of Toledo received today the decision from the Accreditation Review Commission on Education for Physician Assistants (ARC-PA) to reinstate accreditation for UT's Physician Assistant Studies Program.
Statement
"We are pleased the Accreditation Review Commission on Education for Physician Assistants has decided to reinstate accreditation of our Physician Assistant Studies Program, effective immediately. During this probationary period, we will work with ARC-PA to demonstrate how our program, curriculum and processes meet or exceed current standards.
This is good news for our students, whose success remains our top priority. The University is committed to providing a high-quality physician assistant education and training program. We will continue our work to enhance the quality of our PA program."
Christopher J. Cooper, M.D.
Dean of the College of Medicine and Life Sciences and
Executive Vice President for Clinical Affairs
Letter from the President
UT President Sharon L. Gaber sent a letter to campus this afternoon. It is available online here.
---
Friday, January 19th, 2018
The University of Toledo President Sharon L. Gaber has been recognized as one of the top higher education leaders for her focus on student success and a strong financial foundation for the institution.
Gaber leads the list of "5 Higher Ed Leaders to Watch in 2018 (and Beyond)" by Education Dive, an education industry publication that shares K-12 and higher education news and analysis.
The publication notes the University's cost-saving measures, including consolidated purchasing and salary restructuring, and efforts to improve student retention under Gaber's leadership.
"And Toledo's first woman president, whose research interests include community needs assessment of marginalized populations, Gaber has honed in on student success in her first two years at the helm of the University," the publication states.
Along with Dr. Gaber, the list includes Dr. Harold L. Martin Sr., chancellor of North Carolina A&T State University; Dr. Becky Takeda-Tinker, president of Colorado State University-Global Campus; Dr. Robert C. (Bob) Fisher, president of Belmont University; and Dr. Ruth Simmons, president of Prairie View A&M University.
Read the article at educationdive.com/news/5-higher-ed-leaders-to-watch-in-2018-and-beyond.
---
Wednesday, January 17th, 2018
An educational psychologist with an interest in enhancing classroom assessment for more effective teaching and learning has been named dean of The University of Toledo Judith Herb College of Education.
Dr. Raymond H. Witte will join UT on July 1 from Miami University where he is professor and chair of the Department of Educational Psychology.
"Dr. Witte is an experienced administrator, having served as department chair and associate dean. He is not only an accomplished scholar as a university professor, he had many years of experience working for public schools before joining academia," said Dr. Andrew Hsu, provost and executive vice president for academic affairs.
"He has a passion for student success, especially those of first-generation college students. I am glad to welcome him to The University of Toledo and look forward to working with him and the college to further improve our college and our student success."
"I am honored to be the new dean of the Judith Herb College of Education. I've always thought highly of the institution and been impressed with the quality and professionalism of the faculty and the administrators," Witte said. "I am looking forward to working and collaborating with the distinguished faculty and staff of the college, as well as all the members of the University and Toledo communities."
Witte joined the faculty of Miami University in 1999 and held a variety of additional administrative roles at the Oxford, Ohio campus including associate dean, graduate program director, department chair and assistant chair. Prior to his career in higher education, Witte was a school psychologist for the Jessamine County School District, Nicholasville, Kentucky where he also directed the kindergarten and preschool programs.
Witte received his PhD and master's degrees in educational psychology and bachelor's degree in psychology from the University of Kentucky.
His academic interests include working with students with learning disabilities assisting individuals and their families through transitions. As his career evolved, he became increasingly interested in effective assessment and has written two books and numerous articles on the topic.
Accordingly, Witte said he is a data-driven leader and he looks forward to getting to know the college staff and collaborating with them to ensure strong student enrollment and community partnerships.
Provost Hsu thanked Dr. Virginia Keil for her leadership while serving as interim dean of the Judith Herb College of Education since July 2015.
---