Clothesline Project on display at UT Sept. 28 to bring awareness about sexual assault
September 27th, 2017 by Christine Billau
As part of The University of Toledo's ongoing efforts to raise awareness about sexual violence, UT will hold its annual Clothesline Project this week.
The visual display bears witness to violence targeted against women. T-shirts are individually designed and crafted to publicly express the personal experience of a survivor. Some shirts share her words, story and emotions; other shirts created by family and friends pay tribute to one's memory.
The Clothesline Project will be on display from 11 a.m. to 2 p.m. Thursday, Sept. 28 on Centennial Mall. If it rains, it will be moved to the Thompson Student Union Trimble Lounge.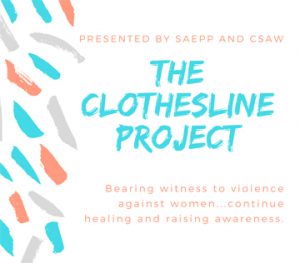 The T-shirt collection, which holds more than 200 shirts, coordinates a color to many types of abuse: white for those who died because of violence; yellow and beige for battered and assaulted women; red, pink and orange for survivors of rape and sexual assault; blue and green for survivors of incest and sexual abuse; purple for those who were attacked because of their sexual orientation; and black for women attacked for political reasons.
Jamie Wlosowicz, graduate assistant for the Sexual Assault Education and Prevention Program, said the event gives victims, family members and friends the opportunity to express how the assault affected or empowered them, while at the same time providing them an outlet to express their emotions and share their story in a creative way.
There are many resources available for survivors of assault; these include the University Counseling Center, YWCA advocate, campus advocate, sexual assault and domestic violence counselor, and a 24/7 hotline — 419.530.3431. Title IX accommodations, advocacy and assistance filing a University complaint also are available.

Christine Billau is UT's Media Relations Specialist. Contact her at 419.530.2077 or christine.billau@utoledo.edu.
Email this author | All posts by Christine Billau
---