UT equestrian team to bring horses to campus to raise funds for hurricane relief
September 15th, 2017 by Christine Billau
The University of Toledo is inviting the community to giddy up for a good cause.
The UT equestrian team is hosting Horses for Humanity to help those affected by hurricanes in Florida and Texas from 3 to 7:30 p.m. Friday, Sept. 15 in the grassy area south of Memorial Field House on Main Campus.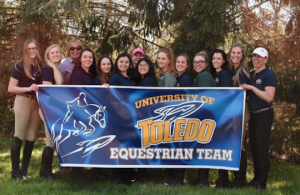 Four horses, some of which serve as therapy horses, will be on campus for people to ride for a $3 to $5 donation, which will go to the American Red Cross, and/or two canned goods for the UT Food Bank.
Cash collected will benefit hurricane relief efforts.
"We want to help as much as we can. We feel that bringing horses out will bring joy to people here, and the money will benefit the hurricane relief effort," said Andrea Woo, founder and co-president of the team.
Woo encouraged all who are interested to stop by regardless of skill level.
"Members of the team will be on hand to assist in riding, and you can always pet or feed the horses if you don't feel comfortable riding them," she said.

Christine Billau is UT's Media Relations Specialist. Contact her at 419.530.2077 or christine.billau@utoledo.edu.
Email this author | All posts by Christine Billau
---