UT scholars to host forum March 16 titled 'Immigration in the Time of Trump'
March 15th, 2017 by Christine Billau
The University of Toledo's fourth post-election forum since President Donald Trump was elected focuses on the topic "Immigration in the Time of Trump: The Executive Orders and Shifting Deportation Priorities."
The free, public event is 6 p.m. Thursday, March 16 at the West Toledo Public Library, 1320 W. Sylvania Ave.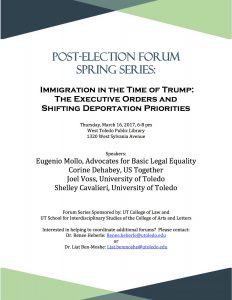 "Toledo is known for providing a warm welcome to refugees and representing the best of the American values of diversity and inclusion," said Shelley Cavalieri, UT associate professor of law. "This forum will provide community members a chance to learn from local experts about how the new executive order and the shifting deportation priorities of Trump's administration will alter the important work we are doing here in our city, and give all citizens a chance to engage in an informed dialogue about how we can continue to make Toledo a place of welcome."
Additional speakers include Dr. Joel Voss, UT assistant professor of political science; Eugenio Mollo, managing attorney at Advocates for Basic Legal Equality; and Corine Dehabey, resettlement coordinator for US Together in Toledo.
The event is sponsored by the UT College of Law and the School for Interdisciplinary Studies in the UT College of Arts and Letters.

Christine Billau is UT's Media Relations Specialist. Contact her at 419.530.2077 or christine.billau@utoledo.edu.
Email this author | All posts by Christine Billau
---