Archive for February, 2017
Thursday, February 9th, 2017
Wednesday, Feb. 15, 2017
Driscoll Alumni Center, Board Room
5:30 p.m. Board of Trustees Social Dinner
Monday, Feb. 20, 2017
Driscoll Alumni Center, Schmakel Room
12:30 p.m. Clinical Affairs Committee Meeting
1:00 p.m. Finance and Audit Committee Meeting
1:15 p.m. Board of Trustees Meeting
A luncheon for the trustees will be held at noon in the Driscoll Alumni Center Board Room.
Thursday, Feb. 23, 2017
Radisson Hotel, 3100 Restaurant
8:00 a.m. Board of Trustees Social Breakfast
Any questions may be directed to the Office of University Communications by calling 419.530.2410 or via email at meghan.cunningham@utoledo.edu.
---
Thursday, February 9th, 2017
The day Alex Sheen buried his father, he also started an international movement that includes walking 240 miles across Ohio to support victims of sexual violence, helping a man confess on YouTube to killing another in a drunk driving crash, and inspiring a dad with cancer to write his daughter 826 napkin notes to read every day at lunch until high school graduation no matter what happens.
Then a 25-year-old working in corporate software, Sheen was asked by his family to eulogize his father, University of Toledo alumnus Wei Min "Al" Sheen, a pharmacist who passed away in September 2012.
Calling Al Sheen an "average man who was exceptional at one thing," Sheen said his father was someone who kept his promises.
"Too often, we say things like 'I'll get to it' and 'tomorrow,'" Sheen noted in an excerpt from his website, becauseIsaidIwould.com. "One day, there is no tomorrow. The promises we make and keep and those we choose to dishonor define us and this world."
On that day in 2012 he handed out the first of his promise cards, nondescript pieces of paper that remind people of the value of commitment. More than five million have been distributed since then.
Sheen will have plenty of 'because I said I would' promise cards available during his public lecture 7 p.m. Thursday, Feb. 16, in UT's Doermann Theater.
During the free, public event, the final of the 2016-17 Jesup Scott Honors College Distinguished Lecture Series, Sheen will discuss the importance of accountability and the effect of a simple kept promise in today's society.
Sheen said handing out the first promise cards "set off a chain of events to the scope of which I may never understand."
The purpose of the cards is simple; house a written promise as a tangible reminder to fulfill a pledge. Since 2012, the "because I said I would" nonprofit has distributed more than 5.6 million promise cards to people in 153 countries.
Some of the promises, Sheen said, are small: "Keep my room clean" and "Sincerely compliment someone every day." Others have the capability to enact change and even save lives.
A woman donated a kidney to an acquaintance. A teenage girl testified against her attacker.
On YouTube, the man confessed, "I killed a man," and explained he was the drunk driver whose actions resulted in the death of a stranger. The accused's promise? "I will take full responsibility for what I have done." While the man is in prison, the video he made with Sheen has been viewed by millions and has spurred thousands of promise cards from people pledging not to drink and drive.
Sheen practices what he preaches. His own list of promises is current, visible and ranges from the innocuous — "Watch 'Gone With the Wind'" — to the exceptional.
He has walked across Ohio to support victims of sexual violence, spent 24 hours picking up trash in the Cleveland area, provided 24 hours of free rides for those who have been drinking, and raised enough funds to send 20 children with cancer to Walt Disney World, all on the spark of a promise.
"Alex's work is the perfect antidote to our busy lives, during which we forget to think about meeting longer term goals and commitments to ourselves and to others," said Dr. Heidi Appel, dean of the Jesup Scott Honors College. "Turning this into a social movement was a brilliant step to help us collectively meet our promises, and provides great inspiration for would-be social entrepreneurs among our students."
Sheen's movement has expanded to include the development of city chapters and outreach to schools, businesses and other organizations. His message remains uncomplicated: Accountability. Character. Hope.
"Make and keep a promise," Sheen wrote on his website, "to improve yourself, your family or your community. If you need a promise card to make the commitment real, we will send you one. The world is in need, so you are needed."
Seats are available. To reserve a free ticket to the lecture, go to utoledo.edu/honorslecture.
---
Wednesday, February 8th, 2017
University of Toledo Provost Andrew Hsu, Toledo City Councilwoman Cecilia Adams and other local luminaries will welcome guests and support the Ninth Annual Celebrity Wait Night from 6 to 9 p.m. Thursday, Feb. 9 at the Pinnacle, 1772 Indian Wood Circle in Maumee.
The Celebrity Wait Night is hosted by the Catharine S. Eberly Center for Women and will feature a dinner served by local celebrities, as well as a silent auction, scholarship recipient acknowledgement and live entertainment throughout the evening.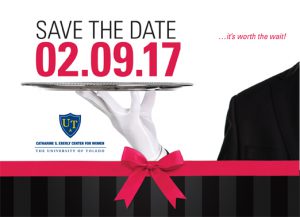 The event is sold out. 450 guests are expected to attend. Proceeds will support the Eberly Center's Women's Success programming, which provides training and workshops to those hoping to go back to school, make a career change or better themselves.
The center provides free resources and education on business etiquette, professional branding, resumé writing and more. Kate's Closet, a boutique-style shop that provides free professional clothing to UT students, is another Eberly Center resource that will benefit from event proceeds.
Dr. Shanda Gore, UT associate vice president for the Catharine S. Eberly Center for Women, said the goal of the Women's Success Programing is to teach people to be the best they can be.
"Students from all colleges seek out our support throughout the year," Gore said. "The Eberly Center is a resource not only for scholarships, but with programs that help keep them healthy, balanced and in school."
---
Wednesday, February 8th, 2017
Approximately 500 University of Toledo College of Business and Innovation students will participate in the college's spring job fair 1 to 4 p.m. Friday, Feb. 10 in the Thompson Student Union Auditorium.
Among the 110 companies recruiting business students on campus will be the Cleveland Clinic, Dana Inc., Lilly USA, Norfolk Southern Corp., Owens Corning, Owens-Illinois Inc., C.H. Robinson and ProMedica.
"Once again we are excited and happy for our students that so many well-known companies are coming to the UT College of Business and Innovation to find the talent they need," said Dr. Terribeth Gordon-Moore, senior associate dean of the College of Business and Innovation. "This reflects very positively on the quality of both our programs and our students. It also demonstrates the extremely dynamic and mutually beneficial relationship enjoyed by the College of Business and Innovation and recruiters for major national companies."
Employers are looking for undergraduate students to participate in business internships and their leadership development programs, as well as for seniors and graduates seeking full-time employment, according to Gordon-Moore. She encouraged UT business freshmen to attend the job fair and begin relationships with employers.
"This semi-annual job fair is part of what we do to prepare our students for their futures," Gordon-Moore said, adding that the college's Business Career Programs office works year-round to assist students in acquiring internships and jobs upon graduation. "We strive to provide the necessary resources so our students can conduct their own tailored job searches."
More than 85 percent of College of Business and Innovation students participate in internships, and the job placement rate for spring 2015 and 2016 business graduates was a record 93 percent.
---
Wednesday, February 8th, 2017
The University of Toledo's third post-election forum since President Donald Trump was elected focuses on the topic "Our Bodies, Ourselves in the Time of Trump" and implications of repealing the Affordable Care Act.
The free, public event to discuss health care, reproductive rights and LGBTQA+ issues is 6 p.m. Monday, Feb. 13 at the Kent Branch Library, 3101 Collingwood Blvd.
"Based on actions thus far and the 2016 presidential campaign, we know the Trump Administration will be approaching all three of these areas of policy with a different perspective from the previous administration," said Dr. Ally Day, assistant professor in the disability studies program at UT. "Our forum is designed to address changes and questions community members may have in relation to larger policy and their own health-care options."
Featured speakers include:
Karen Hoblet, UT associate professor of nursing
Robert Salem, UT clinical professor of law and chair of the Equality Toledo Board of Directors
Anita Rios, Ohio NOW
Hillary Gyuras, community education manager for Planned Parenthood of Greater Ohio
Sarah Inskeep, regional field manager for Planned Parenthood Advocates of Ohio
Katie Hunt Thomas, disability rights attorney for The Ability Center of Greater Toledo
The event is sponsored by the UT College of Law and the School for Interdisciplinary Studies in the College of Arts and Letters.
---
Tuesday, February 7th, 2017
The Journal of Great Lakes Research identified a University of Toledo ecologist's "high quality research" on harmful algal blooms as one of its five most highly cited papers for nearly three years.
In 2013 the quarterly journal published the paper titled, "A novel method for tracking western Lake Erie Microcystis Blooms, 2002-2011," by Dr. Thomas Bridgeman, UT algae researcher and associate professor of ecology.
Bridgeman's paper was cited 33 times between January 2014 and June 2016, according to Scopus Article Metrics. It ranks in the 98th percentile compared to aquatic science articles of the same age.
"It's nice to know that other people are using your work and building on what you have done," Bridgeman said. "Our goal is to advance the science and provide knowledge that ultimately benefits society, and I think my students and I did that here."
Bridgeman and his students developed a new method to measure how much harmful algae there is in the lake over the course of the summer and compared the harmful algal bloom from one year to another. In the paper, Bridgeman included data on a decade of harmful algal blooms in Lake Erie from 2002 to 2011.
"Other researchers are now using this method, and therefore cite our method when they publish their own studies," Bridgeman said. "In addition, the annual records are extremely valuable for any researcher who is trying to understand how the health of the lake has been changing and what we need to do to get harmful algal blooms under control."
"The widespread use of Dr. Bridgeman's work demonstrates that UT research is integrated into the region," said Dr. Tim Fisher, geology professor, chair of the Department of Environmental Sciences and interim director of the Lake Erie Center.
Bridgeman's research was a major contribution to the development of models that directly link the size of the annual harmful algal bloom with the amount of spring and summer phosphorus discharge from the Maumee River.
"Several of my colleagues are pursuing this line of research now," Bridgeman said. "Together our findings helped to convince the U.S. and Canadian governments that we need to decrease phosphorus entering Lake Erie by about 40 percent in order to reduce harmful algal blooms to a level that we can live with."
---
Monday, February 6th, 2017
Spoken word poet and HIV/AIDS advocate Mary Bowman will headline the Black AIDS Awareness Poetry and Paint Session 7 p.m. Wednesday, Feb. 8 at Club Evolution, 519 N. Reynolds Road.
"Mary is known to be fearless as she shares her story with audiences around the Washington metropolitan area," Kennyetta White, minority outreach coordinator for the UT Ryan White Program, said.
At 6 months old, Bowman was diagnosed with HIV. She found out about that diagnosis in fourth grade and began writing poetry to express herself in high school.
On-site HIV testing will be available during the event, which is sponsored by the UT Ryan White Program, Toledo-Lucas County Health Department, MPressive Sound and Club Evolution. Those who are tested will receive a $5 gift card when they receive their results.
Tickets for the event are $5 and can be purchased at the door.
Bowman's collection of poems, "Lotus," was named the National Underground Spoken Word Poetry Awards' Book of the Year in 2011. The book includes the poem titled "Dandelions," which is about her mother who died of AIDS-related causes in 1992.
"'Be the change you wish to see in the world' is a quote that Mary lives by, organizing community events to raise money for HIV/AIDS awareness, facilitating support groups for HIV-positive youth, and sharing her personal experiences being born HIV-positive through the art of spoken word," Richard W. Meeker, manager of fundraising and special projects for the Ryan White Program, said.
In addition to performing and writing poetry, Bowman has established an organization called POET (People Over Entertainment), which uses visual and performing arts to bring awareness and education about HIV/AIDS.
Bowman appeared at the University in 2015.
Local poets Huntor Prey, Lonnie Hamilton, Jordan Shawnee, Lorraine Cipriano and Shawonna Wynn also will take the stage. Elevated Thinkin and Kay Renee will be the hosts for the evening.
"Poetry is a great way to combine entertainment and education to raise awareness and nurture conscious and non-conscious thought," Moni Featchurs of MPressive Sound said.
"We added the paint element to engage the audience," White said. "Not everyone can express themselves effectively through words, so paint gives them another form of expression," White said.
"National Black HIV/AIDS Awareness Day events bring people together in a safe environment to promote change and encourage learning," Meeker said.
As of June 30, 2015, there were 968 persons living with HIV/AIDS in Lucas County, according to the Ohio Department of Health. Of those, 47 percent were white, 46 percent were African-American, 4 percent were Hispanic, and 1 percent Asian/Pacific Islander.
"HIV infection is still a major concern among communities of color due to fear, stigma and shame," White said.
Since 2000, the UT Ryan White Program has provided comprehensive care for individuals and families affected by HIV/AIDS. The program offers adult primary care, mental health counseling, case management, advocacy, and HIV testing in Lucas County and the surrounding area.
For more information, contact White at kennyetta.white@utoledo.edu or 419.383.3683.
---
Wednesday, February 1st, 2017
The community is invited to an event hosted by the Golden Alumni Society at The University of Toledo discussing the victory of President Donald Trump, the Electoral College and its history, and the effect of the 2016 election on the major political parties.
The Golden Alumni Society is comprised of UT alumni who graduated at least 50 years ago or who have reached the age of 75 since graduation.
The free, public program titled "The Election and the Future" features Dr. Jeffrey Broxmeyer, assistant professor in the Department of Political Science and Public Administration, 10 a.m. Friday, Feb. 3 in the UT Driscoll Alumni Center Schmakel Room. Reservations are required.
Retired Judge George Glasser is a member of the Golden Alumni Society and coordinator of the event. He graduated from UT with a bachelor of arts degree in 1951 and a law degree in 1953.
"This is the first time the Golden Alumni Society is hosting a program about an election," Glasser said. "The subject is on everybody's mind and stirring up a great deal of controversy and opinions. We want to serve the community by utilizing some of the fine resources we have at the University to provide information, discussion and answers to questions."
This semester Broxmeyer is teaching courses at UT about political parties and the presidency. His current research in American political development focuses on the wealth accumulated by party leaders during the 19th century.
"I plan to provide some historical context to the election results as well as a political science perspective on where the country is heading with the new Trump Administration," Broxmeyer said. "One of the main topics will be the development and impact of heightened political polarization on governing, political institutions and public discourse."
A question-and-answer session will follow Broxmeyer's presentation.
To sign up to attend the event, call the Office of Alumni Relations at 419.530.2586 or register online at toledoalumni.org.
---