Ryan White Program hosts inaugural event to support HIV/AIDS community
September 27th, 2016 by Sarah Velliquette
Ryan White Program hosts inaugural event to support HIV/AIDS community
The University of Toledo Medical Center's Ryan White Program will host a night of dinner and dancing to support HIV and AIDS patients and their families.
"Re-tie the Red Ribbon" is Saturday, Oct. 1 from 6-10 p.m. at Hensville in downtown Toledo. Tickets are $50 each and include a variety of food stations and live entertainment by Fu5ion.
"We are excited to kick off this brand new event in such a great venue," said Richard Meeker, manager of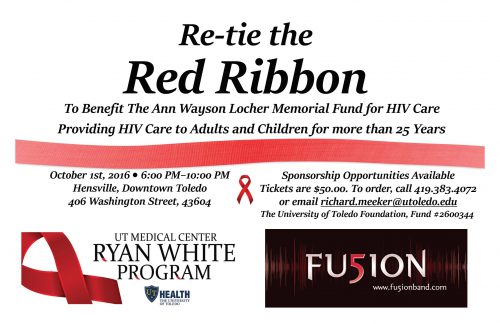 fundraising and special projects for the Ryan White Program. "The funds we raise will go to the Ann Wayson Locher Memorial Fund for HIV Care to provide support to adults and children in the Toledo area affected by HIV."
Ann Wayson Locher opened the first grant-funded free and anonymous HIV testing site in northwest Ohio in 1985 and was one of the key organizers of the Ryan White Program.
Her daughter said she was an infection control nurse who was passionate about caring for those in underserved populations.
"She focused in on HIV care in the 1980s and never looked back," Megan Locher said. "My siblings and I grew up in the clinic and as we got older we all volunteered there. The physicians, nurses and staff became members of our family. We learned the importance of giving back to the community and caring for those who were struggling."
The Ann Wayson Locher Memorial Fund was created in her honor upon her death in 2010. The fund continues the work she started and provides health care and social services for HIV and AIDS patients who have needs that cannot be covered by other agencies or programs.
"She was passionate about identifying gaps in health care and finding ways to reach those who needed help the most," her daughter said. "She didn't want patients to have to choose which health care services they could receive based on their financial or personal situation."
Meeker said the organization has seen an increase in the number of clients seeking assistance.
"The number of families requesting assistance for housing and basic living assistance has been on the rise in recent years," he said. "The goals of this event are to enlist the community in supporting these families and to raise awareness of HIV and AIDS in Toledo and northwest Ohio."
UTMC's Ryan White Program uses a multidisciplinary approach to provide health care services and support to persons living with HIV and AIDS in the Toledo area. It is the regional referral center for patients needing assistance.
"Mom and her team developed the program to be a place where people could get comprehensive care," Megan Locher said. "The team is made up of a dedicated group of physicians, nurses, nutritionists, social workers and financial counselors and so many more professionals who work tirelessly to provide a network of care to HIV and AIDS patients and their families. Her legacy lives on in the lives that continue to be improved through the services the Ryan White Program provides."
Call 419.383.4072 or email Richard.Meeker@utoledo.edu to order tickets.
Tags: The University of Toledo Medical Center (UTMC)

Sarah Velliquette is UT's Communications Specialist. Contact her at 419.383.5376 or sarah.velliquette@utoledo.edu.
Email this author | All posts by Sarah Velliquette
---