Archive for June, 2015
Tuesday, June 30th, 2015
As Dr. Sharon L. Gaber sets foot on The University of Toledo campus Wednesday, she will be doing so for the first time as UT's president.
Selected in March by UT's Board of Trustees, July 1 marks the end of a 10-month journey that has taken her from her post as provost at the University of Arkansas to the 17th president and first woman to lead UT in its 143-year history.
"Wednesday represents the end of a transition process for me, but it's a beginning for this institution," Gaber said. "Starting July 1, I'll be working with students and employees, elected and community leaders, and alumni and friends to elevate The University of Toledo on a national stage. Together we will demonstrate and create the excellence our students and this community need and expect from us."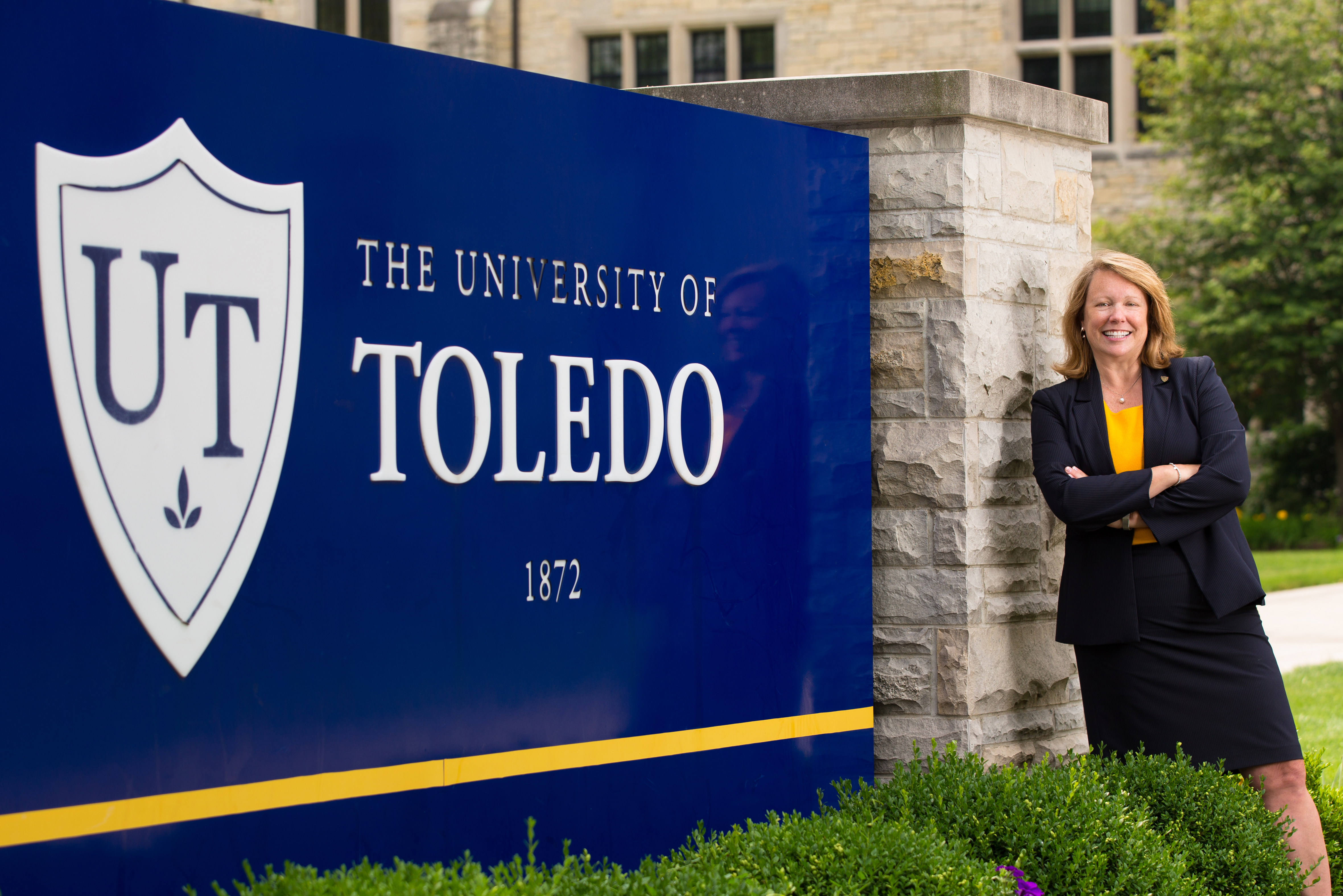 ** Media Opportunity **
Media are invited to join Gaber for part of her first day on the job. At 10:30 a.m. in Student Union Room 3018, the president will be meeting with success coaches to discuss ways to increase student retention and ensure students graduate on time. Around 11:15, Dr. Gaber will be available for 1-on-1 interviews prior to her noon departure. (Click photos to download high resolution images)
"I know I speak for the entire board when I say how excited we are for the leadership that President Gaber will provide The University of Toledo," said Sharon Speyer, chair of the UT Board of Trustees. "She brings with her an impressive track record of accomplishment and a clear vision of excellence for UT's future."
At UT, Gaber will focus on elevating one of the country's most comprehensive institutions of higher education through increases in externally funded research, student enrollment and graduation rates, philanthropic support, and the recruitment of leading academic and clinical faculty.
Also on Wednesday, Gaber will meet with her senior leadership team as well as Student Government and Faculty Senate leaders. Additionally, she will spend time on the Health Science Campus speaking with staff at the UT Medical Center.
Starting July 1, the new president will also be active on Twitter. Those interested can follow and connect with Gaber using the handle @UTPresident.
Biography
In addition to more than two dozen grants totally nearly $2 million, Gaber is the author of 40 peer-reviewed articles researching and analyzing regional and urban planning, public policy, and the social dynamics that affect community decision-making.
As president, Gaber serves on the board of trustees for the Toledo Regional Chamber of Commerce and the board of directors for the Regional Growth Partnership.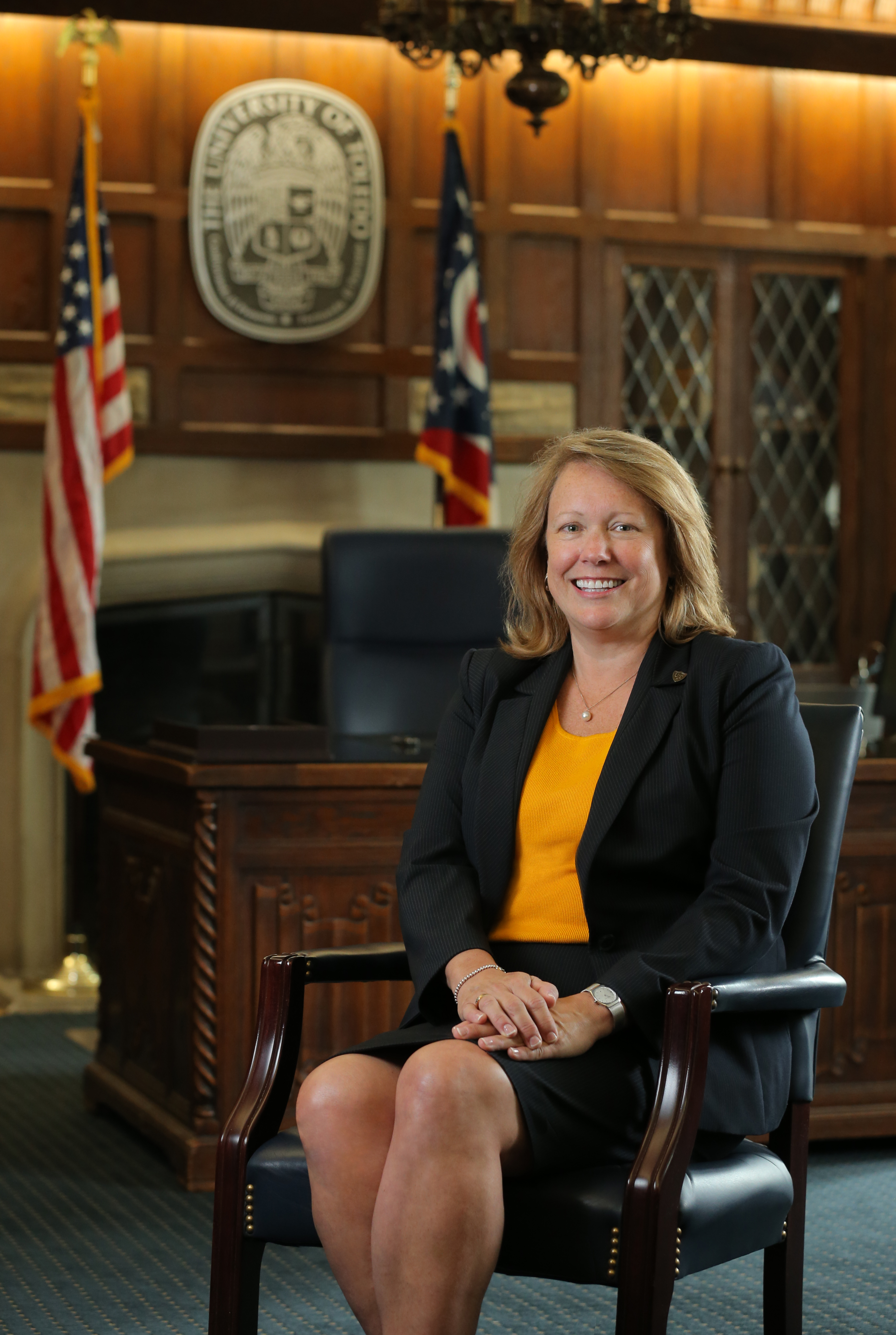 At Arkansas, Gaber was a member of the board of directors of the University of Arkansas Fayetteville Campus Foundation, the Washington Regional Medical Center, and Simmons First National Corp. She was also vice chair of the Arkansas Research and Technology Park board of directors.
She led the SEC Provosts Group, a partnership of the chief academic officers of the Southeastern Conference, and is a member of the Urban Affairs Association, the American Planning Association, the Association of Collegiate Schools of Planning and the Association of Public and Land-Grant Universities.
Prior to her time at Arkansas, she served in multiple roles in the provost's office at Auburn University; these included interim provost and vice president for academic affairs, senior associate provost, and associate provost for academic administration.
She served as an associate dean in the College of Architecture, Design and Construction and before that, was department chair and assistant chair in community and regional planning at the University of Nebraska-Lincoln.
Gaber, who co-founded the Women's Commission at the University of Arkansas, was named Academic Woman of the Year at Auburn in 2009 and earned the Professional Planner Distinguished Leadership Award presented by the Alabama Chapter of the American Planning Association.
She earned her bachelor's degree from Occidental College, a master's degree from the University of Southern California, and her doctorate in city and regional planning from Cornell University.
Media Coverage
The Blade (July 1, 2015)
13 ABC, WTOL 11, NBC 24 and FOX Toledo (July 1, 2015)
WTOL 11 (July 1, 2015)
The Blade (July 2, 2015)
89.7 WKSU (July 2, 2015)
KSL (July 2, 2015)
The Courier (July 2, 2015)
WFMJ (July 2, 2015)
WTOL 11 (July 2, 2015)
The Independent Collegian (April 29, 2015)
The Independent Collegian (April 29, 2015)
The Independent Collegian (Sept. 2, 2015)
---
Tuesday, June 30th, 2015
Nominations for the Diamante Awards are being accepted for this year's 26th annual event.
The Diamante Awards will be held Thursday, Sept. 10 at The University of Toledo Driscoll Alumni Center during National Hispanic Heritage Month which is celebrated Sept. 15 through Oct. 15. Carlos Ruiz, president of the Latino Alliance of Northwest Ohio, will emcee this year's event.
Founded in 1989 by IMAGE of Northwest Ohio, a local Latino advocacy group, the Diamante Awards celebrate the profound and lasting influence that Latinos have on American history, values and culture.
The awards recognize individuals and organizations for their outstanding achievements and service to Latinos. The event also serves to raise scholarship funds for Latino youth seeking advanced degrees.
The Diamante Awards initiative is a collaboration between The University of Toledo, Bowling Green State University, Herzing University, Lourdes University and Owens Community College.
Nominations are open now through Monday, July 24 in the following categories:
– Latino/Latina Youth Leadership: Recognizes a young person (individual) of Latino descent, between the ages of 16-21 who has made an impact within the northwest Ohio community.
– Latino/Latina Adult Leadership: Recognizes an adult of Latino descent, over age 21 who has demonstrated significant leadership in any area in northwest Ohio.
– Latino/Latina Adult Professional: Recognizes the contributions from professionals of Latino descent making a significant impact in their workplace or profession.
– Corporation/Community Agency: This is the only "group" category. Recognizes an entity for supporting and making an impact within the northwest Ohio community.
– Friend of the Latino Community: Recognizes the contribution of an individual, of non-Latino descent, who is making an impact on the Latino community in northwest Ohio.
Nomination forms can be found at diamantetoledo.org/nomination.html. For more information, contact Alexis DeAnda Martinez at adeanda@bgsu.edu or 419.372.2678.
---
Monday, June 29th, 2015
Huntington Bank will present scholarships totaling $6,600 to four University of Toledo College of Business and Innovation students on Tuesday, June 30.
The recipients, who each received $1,650, are Dana Thomas, marketing; Hala Abou-Dahech, human resource management; Richard Ference, finance; and Victor Pereira, supply chain management and international business.
The students will be presented the scholarships at 4 p.m. in the Huntington Sales Lab, located on the fourth floor of the college's Savage & Associates Business Complex on the UT Main Campus.
"We were extremely impressed with the recipients, their academic records at UT, and their personal achievements in life," said Joel Jerger, senior vice president of Huntington Bank, Toledo. "These students clearly reflect the capable and talented individuals that the University is developing, while the scholarships reflect Huntington's commitment to recognize and support such amazing people in Northwest Ohio. We look forward to continuing to work with the University as it educates the next generation of leaders."
Through an expanding banking program between Huntington Bank and UT, Huntington is providing $150,000 in academic programming and scholarships for students and additional convenient banking options on campus.
"Both The University of Toledo and the College of Business and Innovation are extremely grateful to Huntington Bank for their outstanding support of our tremendous students," said Dr. Gary Insch, dean of the college. "Huntington is serious about its role as UT's banking partner, and these scholarships reflect their commitment to provide meaningful financial support to some of our extraordinary business students."
"Graduating from college has always been a dream and a high-priority goal in my life," Abou-Dahech said. "I know for a fact that this dream would be extremely difficult, if not impossible to attain, if it wasn't for the generous donors who offer these scholarships to help fund our education as students. I want to thank Huntington for granting me one of these scholarships."
"I am honored to be a recipient of the Huntington Bank Scholarship," Thomas said. "It may sound cliché, but this scholarship means the world to me. I'm leaving in August to study abroad in Spain and this scholarship plays a major role in my ability to have the ultimate global experience. Words cannot express how grateful I am for the support of Huntington and its associates."
"I am honored and grateful for being selected as a recipient of the Huntington scholarship," Ference said. "I hope the committee knows how much this money will help me better achieve my career goals."
---
Thursday, June 25th, 2015
The United States Supreme Court is set to vote on King v. Burwell, a lawsuit challenging the availability of tax subsidies for people who purchase health insurance under the Affordable Care Act.
If the challenge succeeds, millions of Americans who obtained health insurance through federal exchanges could lose their coverage.
Challengers argue that the ACA only allows subsidies to be received through state-run exchanges and that the regulation as implemented by the IRS, which provides for subsidies on both state-run and federal exchanges, exceeds authority granted by Congress.
"The language at issue is that only state-created exchanges are allowed to give subsidies," said Lee Strang, professor of law at The University of Toledo. "However, only a few states set up exchanges."
Congress does not have the power to force states to set up exchanges. In fact, 34 states have declined to do so.
"Massive, partisan, 'you have to pass it to know what's in it' legislation is going to have errors," Strang said. "These errors could have been avoided by deliberate, open, bipartisan reform efforts."
According to Strang, if the challenge succeeds it could cause indirect harm to those who receive insurance through their employer because insurance companies would struggle to enroll enough customers to make their insurance plans feasible.
Rebecca Zietlow, Charles W. Fornoff professor of law and values at UT, echoed Strang's concerns.
"This challenge is based on three or four words in a 1,000 page document," Zietlow said. "The system is interconnected and companies are depending on people to buy insurance. If this passes, and people are no longer purchasing health insurance, it would completely destroy the market."
The ACA has had a profound impact on decreasing the number of hospital patients without health insurance. So far in 2015, just 1 percent of patients at The University of Toledo Medical Center UTMC have been uninsured, down from 4.5 percent in 2013.
"The impact on us is real," said Dr. Carl Sirio, chief operating and clinical officer for UTMC and senior associate dean for clinical affairs for the UT College of Medicine and Life Sciences. "The outcome will have a ripple effect across the country, primarily on those states without their own exchanges."
Ohio is one of the 34 states using a federal exchange. If the challenge passes, more than 150,000 Ohio citizens will be without health insurance.
To schedule an interview, contact Aimee Portala at 419.530.4279 or aimee.portala@utoledo.edu.
Media Coverage
13 ABC, WTOL 11 and FOX Toledo (June 25, 2015)
WTOL 11 (June 25, 2015)
The Blade (June 26, 2015)
WTOL 11 (July 5, 2015)
Leading Edge with Jerry Anderson (July 5, 2015)
---
Tuesday, June 23rd, 2015
UT Health is opening a new family medicine center in newly renovated space just off the Health Science Campus.
The UT Health Family Medicine Center will reunite the family medicine practice now located in the Ruppert Center and the family medicine residency practice that has been located on the St. Luke's Hospital campus since 2007. It will also include a Geriatric Medicine Center relocated from Lutheran Homes at Wolf Creek.
The ribbon-cutting ceremony will be 10 a.m. Tuesday, June 30 at the building now called Glendale Medical East, 3333 Glendale Ave.
"Bringing these three groups together will enable us to provide excellent patient access in a building that will see a new purpose," said Dr. Linda Speer, chairperson of the Department of Family Medicine. "We will continue to provide primary care for people of all ages from birth to the end of life in a setting that is physically up to date and attractive."
Glendale Medical East is the former Veterans Affairs Outpatient Clinic that was located on Glendale Avenue. The $3.6 million capital project included renovations for 28,000 square feet of the building with the remaining being shelled for future renovations. The project took six months.
The Geriatric Medical Center will be housed initially with family medicine and eventually in a separate space within the building as capital funds become available to renovate additional space.
Speer said the UT Health Family Medicine Center will be convenient for patients, while also fulfilling the public's demand for more primary care access including same day access. New patients are being accepted.
The trend in the recent past has been for everyone to see specialists, according to Steve Bailey, clinic manager of the UT Health Family Medicine Center. Therefore, patients have a lot of specialists, but they don't have a primary care physician to tie it all together, he said. Family physicians handle preventive care, chronic illness care, acute illness and injury care and minor procedures.
The opening of the center at Glendale Medical East coincides with the return of the UT Family Medicine Residency Program to UT Health. The program accepts four new residents each year.
"We are so glad to have the residency program fully integrated within the UT family," said Dr. Christopher Cooper, senior vice president for clinical affairs and dean of the College of Medicine and Life Sciences. "Resident often stay in the community, opening a practice or joining a hospital. It is critical that we attract the highest quality students for our residency programs and work to retain them here in Northwest Ohio."
Media Coverage
The Blade (June 26, 2015)
---
Tuesday, June 23rd, 2015
The Brooks Observatory at The University of Toledo is receiving a new telescope, replacing one that is more than 100 years old.
The Brooks Observatory hosts an array of small telescopes, including the six-inch Brashear refracting telescope, has been on UT's campus since 1931. The observatory is used primarily for public viewing and undergraduate instruction.
The Brashear telescope will be replaced by a new Celestron 14 Edge HD, mounted on a Paramount MX+ mount and placed on top of a Pier-Tech 3 pedestal.
In order to accommodate the sightlines of the new telescope the observatory, located on top of McMaster Hall on UT's Main Campus, will be significantly modified. The Brooks Observatory will be under construction for approximately four months.
"The current telescope in the dome is more than 100 years old and was originally housed on top of University Hall," said Alexander Mak, associate director for UT's Ritter Planetarium. "It is a historically significant telescope, having been manufactured by a very significant craftsman."
Dr. John Alfred Brashear, a late American astronomer and instrument builder, dedicated his time to manufacturing astronomical and scientific instruments.
The Brashear telescope, which has been in McMaster Hall since 1987, will be placed in storage.
The project is funded through support from the College of Natural Sciences and Mathematics and an endowment established by the late Helen and Elgin Brooks.
The updated facility will be a state-of-the-art instructional observatory that will continue the mission of undergraduate education and public outreach. New undergraduate laboratory exercises will be developed, and more public observing opportunities will be scheduled once work is completed.
During the renovations the Ritter Observatory, adjacent to the Brooks Observatory, will be open to the public on the first Friday of each month, immediately following the regularly scheduled 8:30 p.m. planetarium program.
Media Coverage
The Blade (June 26, 2015)
WTOL 11 (June 26, 2015)
WFMJ (June 26, 2015)
The Herald-Dispatch (June 27, 2015)
WBNS 10 (June 29, 2015)
Space Watchtower (July 9, 2015)
---
Thursday, June 18th, 2015
The University of Toledo Medical Center is expanding its Anti-Coagulation Clinic service as of July 1 to help patients understand and properly take their blood thinners.
The clinic will continue to be located in the Heart & Vascular Center at UTMC, 3000 Arlington Ave., but will include an extra room. The ribbon-cutting ceremony will be at 10 a.m. Thursday, June 25 at the Heart & Vascular Center.
"It is so important for patients to be properly educated about their blood thinners," said Yana Doughty, the new anti-coagulation pharmacist and outpatient pharmacy supervisor. "Some medications interfere with blood thinners and make them less effective or even dangerous. Some foods may even affect blood thinners and need to be monitored."
The clinic will continue to be staffed by nurses, but will grow to include Doughty and Dr. Laura Murphy, a UT Health physician. Current and new patients are welcome to utilize the clinic's expanded services.
"We are making it more centralized and more structured," Doughty said. "We are going from a walk-in system to an appointment-based model. We want to make sure that our patients are getting enough one-on-one time with our staff. We don't want anyone to feel rushed."
The staff will also perform testing, if applicable, to make sure medication levels are appropriate, conduct a bleeding risk assessment and adjust blood thinners like Coumadin doses based on testing results.
Additionally, the team will obtain a medication history and provide ongoing monitoring for drug interactions. This information will be shared with a patient's health care team.
Cindy Puffer, managed care pharmacy operations manager, said patients will appreciate spending significant time talking with a pharmacist who will sit down with them and monitor not only their anticoagulation medication but all other medications as well.
"It takes away the fear," she said. "Most patients who are on blood thinners have gone through some type of medical event like a heart attack or stroke. There is trepidation on the patient's part when it comes to taking medications and experiencing possible side effects. Having a face-to-face appointment with the pharmacist will make the patients feel better."
Media Coverage
NBC 24 (June 26, 2015)
---
Wednesday, June 17th, 2015
Cancer survivors will be coming together at the end of this month to celebrate and reflect on their journeys.
The first-ever reception in honor of Cancer Survivor Month will be 6-7:30 p.m. Thursday, June 25 at the Eleanor N. Dana Cancer Center.
Cancer survivors Jason Scott and Mike Welch will be available for media interviews. Seventy-five to 100 survivors are expected to attend.
"The day you are diagnosed with cancer is the day you become a survivor," said Renee Schick, organizer of the event and manager of Renee's Survivor Shop in the Dana Cancer Center. Once you survive cancer, you are changed. You are survivors of something that is very difficult. You are not alone."
Schick said doctors and nurses from The University of Toledo Medical Center are also invited.
"When you are getting treatment, it becomes something you do every day," she said. "It dominates your life. You develop special relationships with your caregivers. The reception will be a great chance for survivors to reunite with their caregivers and talk with other survivors."
Schick said some of those who attend might be disease free, but they could be suffering from the after-effects of cancer like lymphedema.
"We want to celebrate everyone who attends," she said. "There will be cookies and lemonade as well as crafts, giveaways and entertainment. Family and friends are invited, too, because they accompanied the survivor on the journey."
Schick expects this reception to become an annual event.
"It is something that we hope cancer survivors look forward to attending year after year," she said.
Media Coverage
13 ABC and FOX Toledo (June 25, 2015)
---
Tuesday, June 16th, 2015
The Lucas County Commissioners approved Tuesday the appointment of Dr. Jim Ferris, chair and professor of disability studies at The University of Toledo, as the Lucas County poet laureate.
The position was created in 2007, modeled after the national appointment, and Ferris is the second person appointed to that role. A poet laureate helps citizens develop a greater appreciation of the reading and writing of poetry.
Ferris replaces Joel Lipman, former UT professor of English and art, who held the position of poet laureate from 2008 to 2013. Lipman currently owns Abracadabra Studio of Poetics, located in Toledo's Warehouse District.
In the position, Lipman attended various outreach events to present poetry to the greater Toledo community.
"It's a real honor, and it's not something I was expecting," Ferris said. "I'm following a fabulous poet and a compelling advocate for the arts in northwest Ohio. Joel left me with big shoes to fill."
Ferris will serve a two-year term as poet laureate.
Ferris is the Ability Center Endowed Chair in Disability Studies at UT. He also is a poet and performance artist, holding a doctorate in performance studies. Ferris is the author of Slouching Towards Guantanamo, Facts of Life and The Hospital Poems. His writing has appeared in numerous publications, including POETRY, Text & Performance Quarterly, the Georgia Review and many weekly newspapers.
Media Coverage
The Blade (June 21, 2015)
The Blade (June 22, 2015)
---
Monday, June 15th, 2015
Most people don't find out they have lung cancer until it is too late.
However, if caught early enough, 85 percent of lung cancers are treatable with surgery.
Dr. James Willey, lung cancer expert and UT professor of medicine, will present information on lung cancer and life-saving CT scans at 6 p.m. Thursday, June 18 in the Eleanor N. Dana Cancer Center at The University of Toledo Medical Center
The free, public lecture is part of the Tie One On Awareness Lecture Series hosted by the Dana Cancer Center.
"It is important to be talking about this because lung cancer screenings have been shown to reduce deaths from lung cancer by more than 20 percent," Willey said. "In addition, just this year, Medicare has decided to reimburse people for the cost of lung cancer screenings.
The screenings, which are offered at the Lung Nodule Clinic at UTMC, are reimbursable for people who are 55 to 75 years of age with a heavy smoking history. This includes people who smoked at least a pack a day (20 cigarettes) for 15 years.
Willey said lung cancer is so deadly because it is typically not caught early enough to be cured by surgical means due to lung cancer not causing symptoms until it is very advanced. Fortunately, a CT scan can detect a cancer tumor at a very early stage while it is surgically curable, Willey said.
Each person who attends the lecture will be entered into a drawing for tickets to an upcoming sporting event or a gift certificate for spa services. To reserve a spot, email christopher.kosinski@utoledo.edu.
The Tie One On Cancer Awareness Lecture Series continues this summer. Upcoming Thursday lectures will be:
July 16 — Dr. Arun Baskara, UT assistant professor of surgery, will share his expertise on colon cancer.
Aug. 20 — Dr. Krishna Reddy, UT assistant professor of radiation oncology, will discuss radiation oncology as a cancer treatment option.
Media Coverage
The Blade (June 16, 2015)
---