Archive for May, 2015
Tuesday, May 26th, 2015
A national leader in legal education and property law will become The University of Toledo College of Law's next dean, pending approval by UT's Board of Trustees, University officials announced today.
Benjamin Barros, associate dean of academic affairs at Widener University's School of Law in Harrisburg, Pa., will be the college's next leader following a national search.
"Ben Barros has extensive experience in legal education and in the practice of law at two of the nation's top law firms, each with an international footprint," said John Barrett, interim provost and executive vice president for academic affairs. "As dean, Ben will bring with him innovative educational approaches that respond to the changes in the legal profession and ensure our law graduates continue to leave UT a step ahead of their peers as they pursue employment."
Barros said the strength of UT's law school was one of the key components that attracted him to the position.
"UT's law graduates have some of the best bar passage rates in both Ohio and Michigan and a big part of that is unquestionably the stellar faculty that comprise the College of Law," Barros said. "Faculty are regularly advancing national legal conversations in their published scholarship and are frequently the voices media at a national level reach out to for expertise.
"The result is an alumni base that is very successful in the profession and holds many prestigious and influential positions across the country," Barros said, also noting the college has positioned itself very competitively with its current tuition pricing.
Barros also emphasized the importance of a continued partnership with the local legal community for the college and UT's students.
Prior to joining Widener University, Barros worked as an attorney at the law firm Latham & Watkins, LLP, and before that at Debevoise & Plimpton, both in New York City. He has taught at both Fordham University and Catholic University.
Immediately after graduating law school at Fordham, Barros clerked for Judge Milton Pollack of the U.S. District Court for the Southern District of New York. He has a bachelor's and a master's degree in philosophy from Colgate University and the University of Maryland, respectively.
Barros is the founding editor of the Journal of Law, Property, and Society. He was one of the youngest educators to serve on the Executive Committee of the Association of American Law Schools and has served as chair of the AALS Property Section as well as president of the Association for Law, Property, and Society.
Earlier this year he published a textbook on property law with Aspen and Wolters Kluwer and has been published in leading philosophy journals including Philosophy of Science and Synthese.
A recipient of Widener law school's outstanding faculty award this spring, Barros said student success is the primary goal.
"The most rewarding part of being a law professor to me is seeing the transformation of my students in law school and following their career success," he said.
Barrett also thanked Daniel Steinbock for his service as the college's dean since 2011. He also served as interim dean in 2010.
"Under Dean Steinbock's leadership, UT law graduates passed the bar exam at some of the highest rates in Michigan and Ohio," Barrett said. "From faculty scholarship, to fundraising, to community engagement, Dan is leaving the deanship in a much stronger state. I know I speak for many when I say thank you for all he has accomplished on behalf of UT."
Legal Community's Reaction
"Ben Barros is an inspired choice to lead Toledo's Law School in these challenging times. He is a superb property scholar whose work I deeply admire. But more importantly, he is an energetic leader; an institution builder; and an entrepreneur. I know he will be a terrific success."
— Eduardo M. Peñalver, Allan R. Tessler Dean and Professor of Law, Cornell University Law School
"At a time of transformation in the legal profession, Ben Barros is exactly the type of dean law schools need as leaders. He is a superb scholar, he has a deep experience in practice, he has substantial administrative experience, and he is a thoughtful analyst of legal practice. Ben has the skills and insight needed to build for the future, and Toledo deserves congratulations on this wise choice."
— Bill Treanor, Dean, Georgetown University Law Center
"Dean Benjamin Barros is one of the nation's leading scholars of property law as well as a person of integrity and good judgment. The University of Toledo College of Law will be in good hands with him as the Dean."
— Joseph William Singer, Bussey Professor of Law, Harvard Law School
"Ben Barros is one of the leading lights of the rising generation of leaders in legal education. He has already served as one of the youngest members of the Executive Committee of the Association of American Law Schools (AALS) and in that role has developed a deep understanding of the issues confronting law schools around the nation. Ben is currently chairing the first program committee for the AALS Annual Meeting, which constitutes the largest gathering of legal educators in the world. Under his leadership, new categories of programs have been developed and he has attracted a range of great speakers and panels for the 2016 meeting. Ben stands out for his ability to develop innovative approaches to every task he handles, and also inspires others to do their best work. He also is a charismatic speaker and writer. Legal education has already benefitted from his talent and skills — and will undoubtedly benefit more in the future."
— Judith Areen, Executive Director, Association of American Law Schools
To download photo of Barros click image or utoledo.edu/media/downloads/BenjaminBarros.jpg.
Media Coverage
The Blade (May 26, 2015)
13 ABC (May 27, 2015)
The Blade (May 27, 2015)
The National Law Journal (May 28, 2015)
---
Tuesday, May 26th, 2015
Thursday, May 28, 2015
University Hall Conference Room 3580
10:30 a.m. Nominating Committee Meeting
Any questions may be directed to the University Communications Office by calling (419) 530-7832 or via email at jonathan.strunk@utoledo.edu.
---
Tuesday, May 26th, 2015
UT Health will host a Toledo Heart Walk pep rally from 11 a.m. to 2 p.m. Wednesday, May 27 in the mall area by the Mulford Library.
UT Health employee and heart attack survivor Violet Townsend will be among the attendees. She will be available for media interviews.
"I will be celebrating my second chance," the clerical specialist said. "It was scary having a heart attack. I went from not believing I had any heart issues to finding out that I had 70 percent blockage."
The pep rally called Heart-Palooza is the precursor to the Greater Toledo Heart Walk at 8 a.m. Saturday, May 30 at the Huntington Center in downtown Toledo. All UT employees, including Townsend, are participating with a goal of raising $40,000 for the UT team. Dave Morlock, CEO of UT Health, is the chairman of the 2015 Toledo Heart Walk.
"I challenged our employees to raise $40,000 to this worthy cause because we at UT Health understand more than anyone how crucial heart health is to a person's quality of life," Morlock said. "Millions of Americans live with heart disease, stroke or a cardiovascular condition. Money generated from this walk will help fund the valuable research, education and advocacy efforts of the American Heart Association."
Games, food and education will be among the festivities at Heart-Palooza. Harvey J. Steele from K100 Country will broadcast live from the event, which is free and open to the public. Reel 2 Real Studio will provide music.
Participants can pick up their UT team T-shirts during Heart-Palooza. Those who want to sign up for the Heart Walk can do so at the event.
"This is a great time for UT employees to come together and get excited about the Greater Toledo Heart Walk," said Andrea Jacobs, marketing coordinator for the Heart and Vascular Center at UT Health. "Even if you aren't able to participate in the actual walk, you can donate on behalf of a person or you can just come and support our walkers.
During Heart-Palooza can buy raffle tickets to win one of three prizes: an iPad, Fitbit or UT Health gift bag that contains branded merchandise and gift cards to Caffeini's and the hospital gift shop. Tickets will be $1 for one; $5 for six; and $10 for an arm's length of tickets. Proceeds from the raffle will go toward UT's $40,000 fundraising goal.
For more information, go to heart.org/toledowalk
Media Coverage
WTOL 11 and NBC 24 (May 27, 2015)
The Blade (May 28, 2015)
---
Friday, May 22nd, 2015
Dr. Yvette Roubideaux, senior adviser to the Secretary for American Indians and Alaska Natives with the U.S. Department of Health & Human Services, will address The University of Toledo College of Medicine and Life Sciences graduates at a commencement ceremony 2 p.m. Friday, May 29 at the Stranahan Theater.
There are 236 candidates for degrees, including 174 who will receive doctor of medicine degrees; 14 who will receive doctor of philosophy degrees; 10 who will receive master of biomedical science degrees; 29 who will who receive master of public health degrees; two who will receive master of occupational health degrees; and seven who will receive graduate certificates.
Roubideaux will be presented an honorary degree.
"We are honored to have the accomplished and nationally recognized Dr. Roubideaux speak to our graduating class," said Dr. Christopher Cooper, senior vice president for clinical affairs and dean of the College of Medicine and Life Sciences. "She has spent her illustrious career serving American Indians and Alaskan Natives. She is a compassionate physician, advocate and accomplished author on American Indian and Alaska Native health issues, research and policy. Her resume could be used as a roadmap for what future physicians could accomplish in academic medicine and public health."
Roubideaux is the senior advisor to the Secretary for American Indians and Alaska Natives within the U.S. Department of Health and Human Services. Previously, she served as the director of Indian Health Service, where she administered a $4.6 billion nationwide health care delivery program to provide preventative, curative and community health care to 2.2 million American Indians and Alaska Natives.
She had always planned to be a physician and spend her career treating American Indian patients. However, as she began her career, Roubideaux said she noticed the health disparities and determined she needed to do more. She moved into academic medicine and research to define the problems and look for solutions.
Roubideaux intends to offer the UT Health graduates, in particular future physicians, a message of hope and compassion.
"I definitely want to congratulate them and wish them well on their journey, wherever it takes them," she said. "I want to encourage them to always remember who they are serving. So much of medicine is moving to patient-centered care. It can be easy as a physician to forget what it is like to be a patient. I want them to always remember to be compassionate caregivers."
Roubideaux earned her medical degree from Harvard Medical School and completed a residency program in primary care internal medicine at Brigham and Women's Hospital in Boston. She then received her master of public health degree at the Harvard School of Public Health while also completing the Commonwealth Fund/Harvard University fellowship in Minority Health Policy.
Her career has been long and varied. Roubideaux was a medical/clinical officer at two Indian Health Service hospitals in Arizona before serving as an assistant professor of family and community medicine at the University of Arizona College of Medicine where she conducted research on the quality of diabetes care and directed programs to enhance American Indian and Alaska Native student enrollment in health and research professions.
She is the past president of the Association of American Indian Physicians and an active researcher on American Indian health policy and health issues with an emphasis on diabetes. She was the co-director of the Special Diabetes Program for Indians Competitive Grant Program on Diabetes and Cardiovascular Disease.
Roubideaux's honors include the 2008 Addison B. Scoville Award for Outstanding Volunteer Service, American Diabetes Association, the Outstanding American Indian Faculty Award from the University of Arizona Native American Student Affairs, and the 2008 Physician Advocacy Merit Award from the Columbia University Institute on Medicine as a Profession, among others.
Media Coverage
WTOL 11 and 13 ABC (May 29, 2015)
WTOL 11 (May 29, 2015)
The Blade (May 30, 2015)
The Blade (June 1, 2015)
---
Thursday, May 21st, 2015
There should be fewer days when Maumee Bay beaches are under a public health advisory this summer thanks to a wetland restoration project led by a University of Toledo professor.
The Great Lakes Restoration Initiative Project includes the addition of a sedimentation pond in Wolf Creek and treatment wetland at Maumee Bay State Park that will filter out Escherichia coli bacteria and phosphorus pollutants before runoff water enters Lake Erie.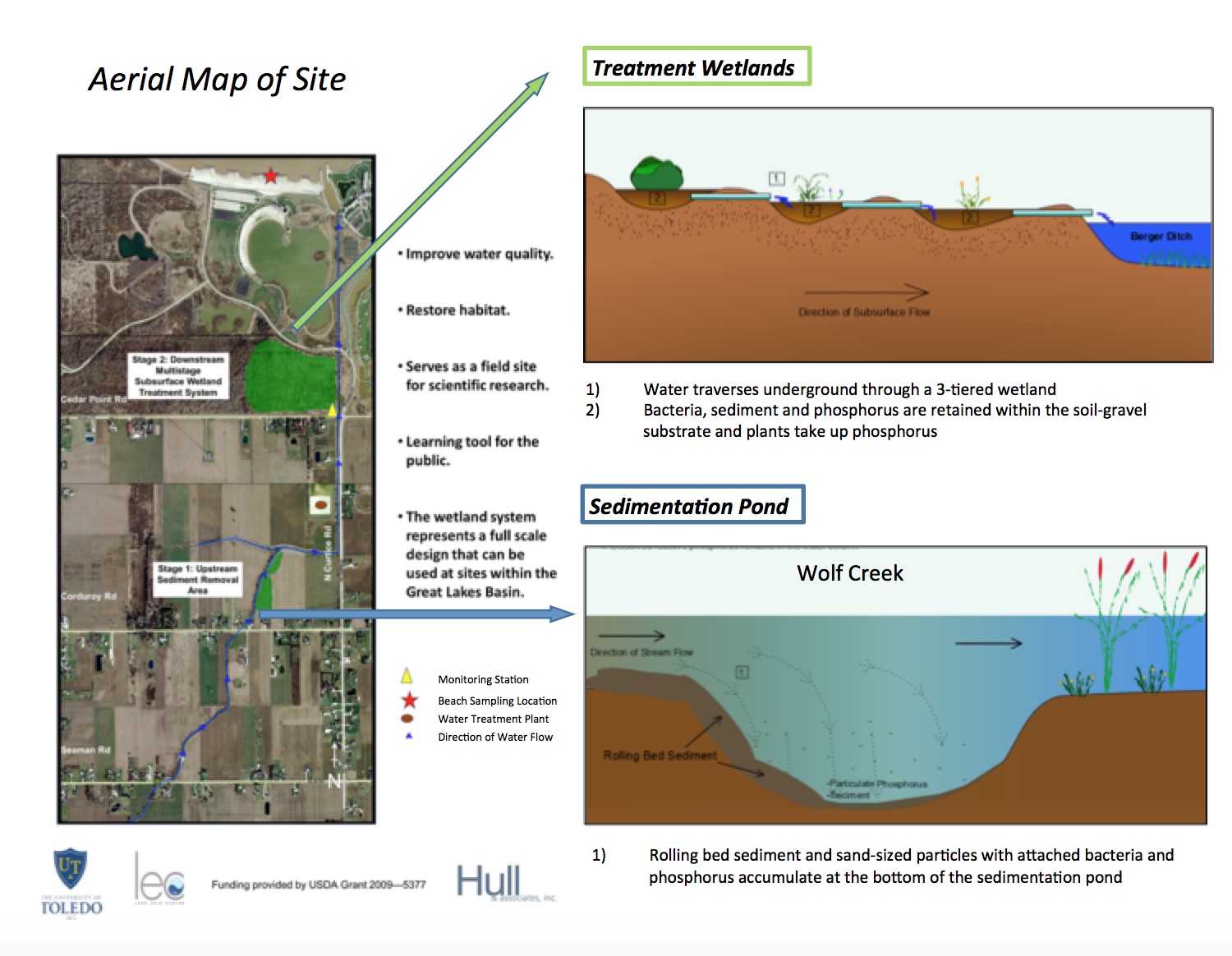 "The goal is for better water quality at Maumee Bay State Park, which in recent years has had health advisories posted 20 percent of the time due to high levels of bacteria in the water and that has had a negative impact on attendance to the beaches," said Dr. Daryl Dwyer, UT professor of environmental sciences, who led the restoration.
Congresswoman Marcy Kaptur and UT Interim President Nagi Naganathan will join Dwyer to recognize the completion of the project at 10 a.m. Wednesday, May 27, at the east entrance of Maumee Bay State Park on the corner of Cedar Point and North Curtice roads in Oregon.
The project was funded with two Great Lakes Restoration Initiative grants totaling $1.8 million called "Passive Treatment Wetland to Improve Nearshore Health and Reduce Nonpoint Source Pollution" and "Reduction of Sediment and Bacteria Loadings to Public Beaches at Maumee Bay State Park via Enhanced Riparian Habitat."
The two-stage treatment system begins with the sedimentation pond in Wolf Creek where rolling bed sediment and particles with attached bacteria and phosphorus would accumulate at the bottom of the pond. The design has the capacity to remove 20 years of sediment from the creek with the option to be dredged to extend the lifespan. The accumulated sediment would then be reused by farmers to fertilize their crops, Dwyer said.
The water would then traverse through a three-tiered wetland where additional bacteria, sediment and phosphorus are retained and the plants take up the extra phosphorus.
Early data observations show better than expected water quality improvements with a 94 percent reduction in E. coli bacteria and a 50 percent reduction in total phosphorus, Dwyer said.
Dwyer and his research team are investigating ways to scale up the project in the Maumee River watershed with other target locations for similar restoration projects to prevent the nonpoint source pollutants from entering Lake Erie in other areas.
Click here to download image.
Media Coverage
13 ABC, WTOL 11, NBC 24 and FOX Toledo (May 28, 2015)
The Blade (May 28, 2015)
Dredging News Online (May 29, 2015)
---
Wednesday, May 20th, 2015
The University of Toledo has been awarded a $355,000, two-year state grant to host the Minority Business Assistance Center (MBAC) Program, which assists small, minority and disadvantaged businesses by providing important services such as technical assistance, professional consulting, access to capital and assistance obtaining contract opportunities.
The MBAC Program, which will provide support for 17 counties in northwest Ohio, will be housed within UT's Minority Business Development Center (MBDC). The UT MBDC is one of only a few minority business-focused incubators across the country that supports a selective group of minority businesses through services such as counseling, networking opportunities, access to office space and conference rooms, and provides hands-on student learning experiences.
"We are excited about the confidence the state has in the University to award us this program, and about the support of our partners. Collaboration with the Toledo Regional Chamber of Commerce will allow for expansion on the prior success they have established with the program, and will allow for expansion of this opportunity to more students," said Dr. Shanda Gore, chief diversity officer and associate vice president for equity, diversity and community engagement at UT.
"With the combined partnerships and synergy of a single location, this creates a 'one stop shop' opportunity for minority owned businesses for the five primary counties and twelve secondary counties in Northwest Ohio," Gore said.
The University demonstrated the strength of its collaboration and support from the community for the success of minority businesses in their application for the grant, Gore said, a collaboration that will create an environment to help minority businesses flourish.
"This initiative is one more way The University of Toledo is leveraging its strengths in diversity and inclusion outward into the community and across the region," said Jovita Thomas-Williams, vice president and chief human resources officer. "We're incredibly excited to be working with community partners such as the Toledo Regional Chamber of Commerce to advance the region's economic interests in this way."
"The Toledo Regional Chamber of Commerce is proud to have been the host of the Minority Business Assistance Center since 2005. Now is the perfect time to take advantage of the increased synergy of housing the MBAC at The University of Toledo's Minority Business Development Center and incubator. We look forward to working closely with the University to continue nurturing minority entrepreneurship and economic development," said Wendy R. Gramza, CCE, president of the Toledo Regional Chamber of Commerce.
The MBAC program will officially be housed in the UT MBDC on Scott Park Campus as of July 1. An open house and ribbon cutting ceremony will be held the morning of July 7.
Media Coverage
The Blade (May 21, 2015)
---
Wednesday, May 20th, 2015
The University of Toledo chapter of Brothers on the Rise is expanding its mentorship initiatives to a small group of younger students.
The organization, dedicated to helping African American and Latino male students at The University of Toledo succeed, will host seventh graders from a local charter school today from 10 a.m. to 2 p.m. in UT's Student Recreation Center.
Faculty, staff and students involved with Brothers on the Rise will discuss the importance of making good decisions and show students various perspectives on college life.
"We're hoping to set a trend against the 'school to prison pipeline' through mentoring intervention," said Dr. Willie McKether, associate dean of social sciences, associate professor of anthropology and president of the UT chapter of Brothers on the Rise.
The "school to prison pipeline" is a national trend where children with learning disabilities or histories of poverty, abuse or neglect transition directly from school into the juvenile or criminal justice systems.
Brothers on the Rise plans to formally adopt the school and offer mentorship to a larger group of young men.
---
Wednesday, May 20th, 2015
Finding out a genetic mutation exists for breast cancer or receiving a cancer diagnosis can be life altering for a patient. Determining the best way to move forward can be just as daunting.
Dr. Helen Mabry, breast surgeon and UT assistant professor of surgery, will discuss these difficult choices at 6 p.m. Thursday, May 21 in the Eleanor N. Dana Cancer Center.
The free, public lecture is part of the Tie One On Awareness Lecture Series hosted by UT Health's Eleanor N. Dana Cancer Center.
"There is a nationwide trend of increasing bilateral mastectomies both among people who have a diagnosis of even early stage breast cancer where lumpectomy is still an option and people who have never had cancer, but find out they have a genetic mutation or other risk factors for breast cancer," Mabry said.
"Breast cancer is a very common disease in the United States, and a lot of us have known someone who has been affected by the disease or are personally involved with it," she said. "The decision-making process for treatment is personal and complex. This lecture is a review of some of the data that goes into that decision-making process."
Each person who attends the lecture will be entered into a drawing for tickets to an upcoming sporting event or a gift certificate for spa services. To reserve a spot, email christopher.kosinski@utoledo.edu.
The Tie One On Cancer Awareness Lecture Series continues this summer. Upcoming Thursday lectures will be:
•  June 18 — Dr. James Willey, lung cancer expert and UT professor of medicine, will present information on lung cancer.
•  July 16 — Dr. Arun Baskara, UT assistant professor of surgery, will share his expertise on colon cancer.
•  Aug. 20 — Dr. Krishna Reddy, UT assistant professor of radiation oncology, will discuss radiation oncology as a cancer treatment option.
---
Monday, May 18th, 2015
Accounting professionals from throughout northwest Ohio and southeast Michigan will attend a celebratory dinner recognizing the recent departmental accreditation from the Association to Advance Collegiate Schools of Business (AACSB) of the accounting department in The University of Toledo College of Business and Innovation. The event will be held at 5:30 p.m Tuesday, May 19 in The Inverness Club in Toledo.
The accounting department received notification of the accreditation in March following an onsite review of the program by the AACSB accreditation team earlier this year. It was the first attempt by the COBI accounting department to obtain the distinctive accreditation.
"This is a voluntary accreditation obtained by only 1.3 percent (183 institutions) of accounting programs in business schools around the world and it would not have happened without the extensive and generous support the accounting department has received from accounting professionals in the regional business community," said Dr. Hassan HassabElnaby, chair of the department. "Their continuing involvement with our students and graduates through mentoring, internships, jobs and financial support significantly contributes to our program's success, so we wanted to thank the individuals and companies in the accounting profession for their mutually beneficial relationships with the college"
"The expertise of these accounting professionals creates a high standard of performance that both informs and inspires our students," Dr. HassabElnaby added, "which further ensures employers in this region and across the country that our accounting department graduates are ready to perform on day one of their jobs."
The AASCB is an association of educational institutions, businesses and other organizations devoted to the advancement of higher education, and is the premier accrediting agency of collegiate business schools and accounting programs worldwide.
---
Tuesday, May 12th, 2015
High school girls will be exposed to careers in the sciences through hands-on activities when they visit The University of Toledo for the fourth annual Women in STEMM Day of Meetings.
The event, which goes by the acronym WISDOM, will take place from 8:30 a.m. to 2:15 p.m. Thursday, May 14, on UT's Main Campus and Health Science Campus. ** Click here for schedule of activities.**
The 160 girls will explore and perform experiments in physics and astronomy, chemistry, biology, engineering, pharmacy and medicine as they learn about science and technology.
The event is hosted by the Northwest Ohio Chapter of the Association for Women in Science, which organizes the exploration day to encourage young women to consider careers in one of the areas offered at the Women in STEMM Day.
"Girls are increasingly interested in science, but unfortunately few women pursue that interest in college or their careers," said Dr. Isabel Escobar, professor of chemical and environmental engineering, interim assistant dean for research development and outreach for the College of Engineering, and past-president of the Association for Women in Science. "Events like Women in STEMM Day aim to inspire girls to embrace the fun of scientific discovery and encourage careers in the field."
Students from Toledo Public, Washington Local and Oregon Schools, as well as from the Toledo Islamic Academy and Wildwood Environmental Academy will participate in WISDOM at the University.
The students will spend the day performing activities developed by faculty members in the UT colleges of Natural Sciences and Mathematics, Engineering, Pharmacy and Pharmaceutical Sciences, and Medicine and Life Sciences.
In addition to the Northwest Ohio Chapter of the Association for Women in Science, the event is sponsored by the Catharine S. Eberly Center for Women, Marathon Petroleum Corp., and the UT colleges of Engineering, Medicine and Life Sciences, Pharmacy and Pharmaceutical Sciences, and Natural Sciences and Mathematics.
Media Coverage
The Blade (May 14, 2015)
WTOL 11 (May 15, 2015)
---