Posts Tagged 'College of Health and Human Services'
Tuesday, June 4th, 2019
The National Youth Sports Program at The University of Toledo is celebrating its 50th year of providing income eligible youth with free educational and athletic activities.
The three-week summer camp, which kicked off yesterday, will be held weekdays from 10:30 a.m. to 3:30 p.m. through Friday, June 21.
About 150 area youth between the ages of 9 and 16 are expected to participate in this year's program, which helps children build social skills, confidence and healthy lifestyles.
"For 50 years, the administration at The University of Toledo has seen the National Youth Sports Program as an asset to the community and to the University. There's a lot of credit due to a lot of people, and I'm proud we're able to continue offering this enriching experience," said Dr. Ruthie Kucharewski, professor and chair in the School of Exercise and Rehabilitation Sciences, and administrator of the National Youth Sports Program.
A celebration to recognize the 50th university will be held at noon on Sunday, June 9, in the Health Education Center gym.
The National Youth Sports Program was established by an act of Congress in 1968. UToledo was one of the first universities in the country to offer the federally funded program the following year. Though federal funding for the program has since been cut, UToledo continues to host the camp annually through fundraising and in-kind donations.
More than 14,000 children are estimated to have participated during the program's 50 year history.
Participants receive instruction in a number of sports and recreational activities, such as soccer, basketball, track, swimming and fishing. Today's schedule includes basketball, softball and flag football.
In addition to the athletic and recreation therapy activities, the youth are provided educational and health programs; academic tutoring; information about nutrition and personal hygiene; peer-refusal skills; and alcohol, tobacco and other drug seminars.
The camp also has several field trips scheduled, including visits to the Indian Creek Zoo and Side Cut Metropark, and features a local guest speaker every day at lunch to inspire the children to become the best version of themselves.
"We want to make our community's youth well-rounded individuals. We're helping them to grow emotionally, psychologically, physically and socially through a variety of constructive recreational activities and educational experiences," Kucharewski said. "I think that the experiences the children have at NYSP helps stimulate their imagination about their future, about what they might aspire to be when they grow up."
---
Wednesday, February 13th, 2019
The University of Toledo is developing a virtual reality training to improve Ohio Medicaid providers' cultural competency and reduce implicit bias as a way to better understand the patients they serve. The virtual reality training focuses on the barriers to health care faced by those without stable, permanent housing.
UT faculty from the College of Medicine and Life Sciences and the College of Health and Human Services will conduct interviews and observe interactions in an area homeless shelter to build a realistic portrait of the health-care struggles experienced by individuals who depend on urban homeless shelters for their housing.
From that data, faculty and staff from the College of Medicine and Life Science, the School of Population Health in the College of Health and Human Services and the Interprofessional Immersive Simulation Center will create an interactive experience that will electronically place clinicians into a model homeless shelter as fly-on-the-wall observers.
"There's a lot of attention nowadays to how one's background and social structure impact not only their health but also how successful they are in using the health-care system," said Dr. Lance Dworkin, chair of UT's Department of Medicine and the primary investigator for the project. "If we understand that, we can integrate that knowledge into the care we provide so it's more effective."
The University also is building a robust evaluation component into the program that will monitor physical biomarkers such as heart rate, blood pressure and respiratory rate while participants are engaged in the simulation. Using assessment software developed by Dr. Scott Pappada, assistant professor of anesthesiology and bioengineering, and a co-investigator on the project, researchers will collect data before and after the simulation to learn how the program affects clinicians and whether it helps them connect with individuals who are marginalized by society.
The project is funded by a $1.24 million grant from the Ohio Department of Medicaid.
UT's work is part of a larger partnership between the Ohio Department of Medicaid and Ohio's medical schools, administered by the Ohio Colleges of Medicine Government Resource Center. Like many projects managed by GRC, the Medicaid Equity Simulation project is aimed at reducing health disparities, addressing the social determinants of health and improving patient care and health outcomes for Ohio's Medicaid population.
Over the course of the homeless shelter simulation, health-care providers will see rudimentary sleeping quarters, dining and social areas, observe the interactions between guests and staff and listen in on conversations gleaned from the real-life interviews.
"The big message here is how does one change clinical decision making based on what is learned about an individual in this environment," said Dr. Shipra Singh, assistant professor of health education and public health and a co-investigator on the project.
Singh, who is directing the scripts that will be used in the simulation, said those changes could be as simple as not forcing someone who has no access to reliable transportation to go to the back of the line if they're late for an appointment, or understanding that immediate lifestyle changes may not be possible.
"You need to listen to the patient rather than just look at them, and understand the cultural context they're coming from and what really matters to them," Singh said.
The program is expected to be ready to launch to Ohio Medicaid providers within The University of Toledo Medical Center in May and disseminated throughout the community by June.
---
Wednesday, February 14th, 2018
The University of Toledo is slated to lead eight out of the 21 new research projects to be funded with $3.5 million from the state of Ohio to address water quality and algal bloom toxicity.
UT, situated on the western basin of Lake Erie, is to receive nearly $1 million of the $3.5 million dedicated by the Ohio Department of Higher Education for these additional projects in the ongoing, statewide Harmful Algal Bloom Research Initiative, which began three years ago after the city of Toledo issued a Do Not Drink advisory for half a million water customers due to the level of microcystin detected in the water.
UT is one of the lead universities in the Harmful Algal Bloom Research Initiative, which consists of ten Ohio universities and five state agencies.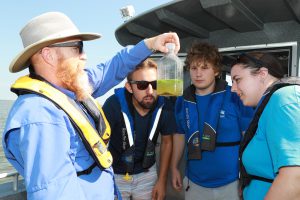 The selected projects focus on reducing nutrient loading to Lake Erie; investigating algal toxin formation and human health impacts; studying bloom dynamics; better informing water treatment plants how to remove toxin; and aiding the efforts of state agencies.
Dr. Tom Bridgeman, professor in the Department of Environmental Sciences, will lead a project to develop sampling protocols and collect samples to assess listing criteria that the Ohio Environmental Protection Agency may use to monitor the water quality of the open waters of the western basin of Lake Erie and to potentially assign official designations such as "impaired" or "unimpaired."
"Although it is obvious to nearly everyone that harmful algal blooms are impairing Lake Erie each summer, we need to develop objective scientific criteria that can be used to list the open waters of the lake as officially 'impaired,' and to remove an 'impairment' designation in the future if conditions improve sufficiently," Bridgeman said.
UT researchers also to receive some of the $988,829 in state funding for their projects are:
Dr. Jason Huntley, associate professor in the Department of Medical Microbiology and Immunology, will be developing and testing biofilters – water filters containing specialized bacteria that degrade microcystin toxins from lake water as it flows through the filter. These biofilter studies are aimed to develop cost-effective, efficient and safe drinking water treatment alternatives for the city of Toledo and other Lake Erie water municipalities.
Dr. Steven Haller and Dr. David Kennedy, assistant professors in the Department of Medicine, will investigate how cyanotoxins such as microcystin damage organs not only in healthy settings, but in settings that may increase susceptibility such as diabetes, obesity and inflammatory bowel disease. Their research teams are working in concert with experts in medicine, pathology, physiology, pharmacology and chemistry to not only to learn how microcystin affects organ function in these settings, but also to create new therapies to prevent and treat organ damage, especially in vulnerable patient populations.
Dr. Patrick Lawrence, UT professor in the Department of Geography and Planning, will use a transportation model to simulate potential distribution of volume of agricultural manure from permitted livestock facilities to surrounding farmland for application as a nutrient. The results will assist in determining the estimated acreage of land within the Lake Erie western basin where manure application could be undertaken and examine associated crop types, farming practices, soil types, drainage and other environmental conditions in those areas.
Dr. Saatvika Rai, assistant professor of environmental policy in the Department of Political Science and Public Administration, and Dr. Kevin Czajkowski, professor in the Department of Geography and Planning, will use GIS and remote sensing to assess the implementation of agricultural and farming practices in three sub-watersheds of the Maumee River Basin – Auglaize, Blanchard and St. Joseph – to identify where best management practices are being implemented. These maps will then be correlated with perceptions of farmers through surveys and interviews to identify hotspots and priority areas for policy intervention in the region.
Dr. April Ames, assistant professor in the College of Health and Human Services, will apply an industrial hygiene technique to the exploration of the presence of microcystin in the air using research boats on Lake Erie. Simultaneously, residents who live on or near Lake Erie will be surveyed about their recreational use and self-reported health.
"I am proud of the work that is being done, and that researchers from our public and private higher education institutions continue to work together to address this issue," said Ohio Department of Higher Education Chancellor John Carey. "Using the talent of Ohio's researchers and students to solve pressing problems makes perfect sense."
The Harmful Algal Bloom Research Initiative is funded by the Ohio Department of Higher Education with $7.1 million made available for four rounds of research funding since 2015. Matching funding from participating Ohio universities increases the total investment to almost $15.5 million for more than 50 projects, demonstrating the state's overall commitment to solving the harmful algal bloom problem.
Water quality is a major research focus at UT. With more than $14 million in active grants underway, UT experts are studying algal blooms, invasive species such as Asian carp, and pollutants. Researchers are looking for pathways to restore our greatest natural resource for future generations to ensure our communities continue to have access to safe drinking water.
The UT Water Task Force, which is comprised of faculty and researchers in diverse fields spanning the University, serves as a resource for government officials and the public looking for expertise on investigating the causes and effects of algal blooms, the health of Lake Erie and the health of the communities depending on its water. The task force includes experts in economics, engineering, environmental sciences, business, pharmacy, law, chemistry and biochemistry, geography and planning, and medical microbiology and immunology.
---
Thursday, December 7th, 2017
Any parent knows how toys seem to magically multiply and take over a house. Do children need so many toys?
A team of University of Toledo researchers studied whether the number of toys in a toddler's environment influenced their quality of play. Their findings: less is definitely more when it comes to creative, healthy play.
The results of the study come just in time for family and friends who are picking up holiday gifts for the children in their lives. The research, which will appear in the February issue of Infant Behavior and Development, suggests that an abundance of toys may create a distraction. Fewer new toys might be a better route this holiday season.
When toddlers had exposure to fewer toys, they played twice as long with the toys they had and in more sophisticated ways, said Alexia Metz, the study's lead investigator and a UT associate professor of occupational therapy.
As the mother of 12-year-old twins, Metz has personal experience with the proliferation of toys phenomenon.
"I was astonished by how much our home filled up with stuff," she said. "I wondered whether there was any risk to having that much stuff."
Metz said she also had observed people worrying whether their toddlers had attention deficit disorder. Toddlers, by nature, are distractible, but she wondered whether their environment might be a factor in how they played or how easily distracted they were.
Metz and her team of graduate students studied 36 toddlers from 18 to 30 months of age. The children visited the playroom lab twice. On one visit, the children played in a room with just four toys; on the other, they had access to 16 toys.
The team charted how many times the toddler picked up a toy; how long they played with it; and how many ways they played with it.
"When there were fewer toys, they played with them in more ways," Metz said.
In the 16-toy environment, many of the children played with 10 or more toys in the 15 minutes soon after they entered the room. By flitting from toy to toy, they didn't take the time to explore the ways they could use each toy, Metz said.
Fewer toys led to "higher quality play," meaning the toddler stuck with the toy for longer and played with it in more creative ways. Instead of stacking or tipping a toy, they began to hammer with it or feed it or hide it. This increased exploration may support development of motor and cognitive skills.
"Today there is the demand to have the latest and greatest toy that encourages a more technological mind. In this study, we used older toys that encouraged more creative play and tested the theory of is less really more?" said Carly Dauch, who graduated from UT in May following the completion of the study and is now an occupational therapist at the Wood County Board of Developmental Disabilities. "How the children played supported our hypothesis and provides support for deeper and richer play with fewer toys."
Michelle Imwalle and Brooke Ocasio, who also graduated in May, were the other graduate students involved in the project.
The bottom line for parents: "If your child receives an abundance of toys, you don't need to introduce them all at once," Metz said. "Save some for later and swap them out. If they have a chance to explore a few toys at a time, they might have a richer experience."
This is also good news for families who may feel guilty for not being able to shower their children with dozens of toys.
"They're not depriving their children of an opportunity for meaningful play," Metz said. "This is a less is more story."
To watch a video about the research, click https://youtu.be/E81tCkHP2Us. 
---
Tuesday, October 31st, 2017
UT students and the public will have a chance to hear appellate arguments when the Ohio Sixth District Court of Appeals convenes Wednesday, Nov. 1, in the McQuade Courtroom, located in Health and Human Services Building Room 1419.
Oral arguments at the free, public session hosted by the Paralegal Studies Program will begin at 9 a.m.
Presiding over oral arguments will be a panel of three judges from the Ohio Sixth District Court of Appeals: Arlene Singer, a 1976, UT law alumna; Thomas J. Osowick, a 1981 UT law alumnus; and James Jensen.
Arguments set for the session include appeals from a murder conviction and personal injury decision.
"This will be a great chance for UT paralegal students to observe judges and lawyers in a real court session," said John J. Schlageter III, senior lecturer and director of the Paralegal Studies Program. "The court's willingness to hold arguments on campus is appreciated as it provides an unparalleled experience and instruction for our students, as well as area high school students."
Approximately 100 students from Maumee and Whitmer high schools will be in Health and Human Services Building Room 1711 to watch a live stream of oral arguments from the courtroom.
After adjourning, the court will host a question-and-answer session with the audience.
The court's docket is available here. http://lcapps.co.lucas.oh.us/Courts/Appeals/CalendarsPDF/1336.pdf.
---
Thursday, October 5th, 2017
Toledo, Ohio – Oct. 5, 2017 – As the state of Ohio struggles with multiple critical health issues, Ohio University and The University of Toledo are coming together to find solutions. Today, Ohio University President M. Duane Nellis and University of Toledo President Sharon L. Gaber signed a "Memorandum of Understanding" to formalize the collaboration agreement between Ohio University's College of Health Sciences and Professions and The University of Toledo's College of Health and Human Services.
"The future of higher education is dependent upon collaboration across disciplines to develop innovative solutions to today's problems," says Ohio University President M. Duane Nellis. "This includes working in conjunction with experts at other institutions to enrich the experiences of our students, while working toward a better future for Ohio, our nation, and our world."
"This agreement aligns well with UT's strategic priorities of increasing academic success and strengthening our research efforts in areas that advance our mission – to improve the human condition," states University of Toledo President Sharon L. Gaber. "This collaboration will draw from each institution's unique strengths to help close the gap for Ohioans who lack access or adequate resources to obtain appropriate health care."
The health colleges of the two universities will form the Ohio Alliance for Innovation in Population Health, which will collaborate with The University of Toledo College of Law and Ohio University's Voinovich School of Leadership and Public Affairs, to help create community-specific ways to fix the state's health problems, such as opioid addiction, health-care access, chronic disease and infant mortality.
Each partner contributes unique strengths and robust research capabilities to the alliance. The collaboration also features joint academic offerings for students.
"Our institutions represent two of the largest health-focused colleges in Ohio with well over 100 faculty researchers between the two colleges," said Dr. Randy Leite, dean of the OHIO College of Health Sciences and Professions. "OUCHSP has vibrant applied health programming and The University of Toledo has a well-developed population health foundation. We are both strategically located in areas of the state with considerable disparity in health outcomes compared to the rest of the state and nation."
"We've developed the alliance to enhance outreach and improve lives in Ohio, as well as increase our infrastructure to more strategically engage in relevant research that matters," said Dr. Christopher Ingersoll, dean of the UT College of Health and Human Services. "By combining forces and assembling teams of experts, we will be able to compete for the resources necessary to solve the population health problems in our region and throughout the state."
The Ohio Alliance for Innovation in Population Health will research the often-ignored root causes of health issues and will incorporate partner organizations as sources of content expertise to build on networks of strong community relationships to develop and test solutions. The goal of this work is to establish best practices for addressing critical population health issues.
Rick Hodges, former director of the Ohio Department of Health and UT alumnus, was named director of the alliance to identify and collaborate with partner organizations across the state.
"I'm looking forward to working with the many excellent programs that are already in place across the state," Hodges said. "The alliance will serve as a collaborator, not a competitor."
One area of interest to Hodges is healthcare informatics, which is the study of resources and methods for the management of health information. According to Hodges, both the technology and the data currently exist to answer many public health questions, but they are not yet connected to each other. This type of information could lead to the creation of a variety of useful databases, such as a database showing space availability for drug treatment facilities in the state. While such a database exists to identify hospital bed availability, no comparable database exists for drug treatment facilities.
The alliance's first initiative will revolve around opioid abuse and addiction in Perry and Lucas Counties and other locations.
---
Friday, October 14th, 2016
For the second time in two weeks, The University of Toledo has received a grant to prevent and address sexual assault on college campuses and help victims.
Ohio Attorney General Mike DeWine awarded UT $286,782 to continue operations of the University's Center for Student Advocacy and Wellness, which was created last year.
The new funding is part of $79.5 million announced recently to support 356 crime victim service providers across the state through the Attorney General's Expanding Services and Empowering Victims Initiative. The funds being awarded are from the Victims of Crime Act provided to Ohio from the U.S. Department of Justice. The fund is financed by federal settlements, fines and fees.
"Victims come first, and we want to set the example of how to do this successfully for other universities across the country to follow," said Dr. Kasey Tucker-Gail, associate professor of criminal justice and director of the UT Center for Student Advocacy and Wellness.
"In the aftermath of a crime, it's critically important that victims have easy access to comprehensive care and services," DeWine said. "Through these grants, agencies throughout the state will be able to continue or even expand upon the ways they help victims of crime in Ohio."
Last week the U.S. Department of Justice awarded UT a $299,202 grant to enhance efforts to prevent and address sexual assault victimization on college campuses through the creation of a coordinated community response team. The team will develop prevention, education and intervention policies and practices for sexual assault, domestic violence, dating violence and stalking.
"This is a national issue that we are committed to tackling here at UT through education, prevention and research," said Dr. Megan Stewart, assistant professor of criminal justice and director of development and programming for the Center for Student Advocacy and Wellness.
The UT Center for Student Advocacy and Wellness is a community where education, advocacy and research intersect that strengthens the University's commitment to raise awareness and increase education and prevention of sexual assault and violence.
Media Coverage
The Blade (October 14, 2016)
---
Thursday, October 6th, 2016
The University of Toledo has received a competitive grant from the U.S. Department of Justice to enhance efforts to prevent and address sexual assault and victimization on college campuses.
The UT Center for Student Advocacy and Wellness will use the $299,202 grant to create a coordinated community response team to develop prevention, education, and intervention policies and practices for sexual assault, domestic violence, dating violence and stalking.
"Addressing victimization on college campuses is a national discussion right now and we want to be at the forefront of successfully addressing these issues and serve as an example to other universities on how to do it right by investing in education, prevention and intervention programming that are unique to a campus community," said Dr. Kasey Tucker-Gail, associate professor of criminal justice and director of the Center for Student Advocacy and Wellness.
The response team would include the UT Police Department, the Toledo Police Department, YWCA Hope Center and other University and expanded community partners working together to strengthen existing education and prevention programming and also the delivery of comprehensive strategies that help survivors heal.
"This is an aggressive community education initiative to encourage a culture that is comfortable talking about and identifying sexual and domestic violence so that we can better prevent and address these crimes that occur far too often on college campuses," said Dr. Megan Stewart, assistant professor of criminal justice and the program coordinator for the project.
The grant will support training on sexual assault, domestic violence, dating violence and stalking for members of the University community, the creation and implementation of a campus-wide bystander intervention program, and an awareness campaign with various activities and events throughout the school year to engage students.
The Justice Department's Office on Violence Against Women awarded grants totaling $25 million to address this important issue. Only 45 institutions of higher education in the country received funding for these initiatives. This announcement was made at the conclusion of September as National Campus Safety Awareness Month
"Schools that individualize their response to sexual, dating and domestic violence are better able to meet the unique needs of their student populations, especially underserved groups," OVW Principal Deputy Director Bea Hanson said. "Coordinated, comprehensive responses allow college communities to develop sustainable strategies to address these crimes."
Media Coverage
13 ABC (October 6, 2016)
---
Tuesday, September 20th, 2016
Every year thousands of children in the U.S. and around the world are forced to become victims of a criminal underworld and suffer in plain sight.
Survivors, social workers, law enforcement officers, educators, nurses and researchers from across the globe are coming together for a two-day conference at The University of Toledo to bring the sex and labor trafficking trades out of the shadows and help end the abuse through education and advocacy.
UT is hosting the 13th Annual International Human Trafficking and Social Justice Conference Thursday and Friday, Sept. 22 and 23 in the Student Union on Main Campus.
The conference is hosted by UT's Human Trafficking and Social Justice Institute and the Lucas County Human Trafficking Coalition.
"Human trafficking affects more than just the victims, it hurts the whole community," said Celia Williamson, UT professor of social work and director of the Human Trafficking and Social Justice Institute. "Since 2004, this annual conference has welcomed presenters from 31 states and 15 countries to educate social service, health care and criminal justice professionals on this form of modern slavery and the needs and risk of victims, as well as their customers and traffickers. We are laying the groundwork for future collaborative research, advocacy and program development."
One session allows participants to watch a video of UT medical students treating a human trafficking victim inside a state-of-the-art patient simulation suite at UT's Interprofessional Immersive Simulation Center on Health Science Campus. The victim is a high-tech medical mannequin that can bleed and breathe.
"Nearly 90 percent of sex trafficking victims encounter an ER or clinic, but only a quarter of health care professionals think that trafficking impacts their patients," Katie Bush, clinical simulation and education research associate, said. "This simulation presentation will showcase how our students going into the health care field are being trained to spot red flags of trafficking and help rescue victims."
Bush will discuss the simulation from 4 to 5 p.m. Thursday, Sept. 22 in the Student Union Room 3010-A.
U.S. Sen. Sherrod Brown is speaking 12:30 p.m. Friday, Sept. 23 in the Student Union Auditorium.
Additional speakers include:
FBI Special Agent James Hardie and Detective Pete Swartz with the Toledo Police Department, who specialize in investigating child sex trafficking as part of the FBI's Innocence Lost initiative, 11:15 a.m. Thursday, Sept. 22 in Student Union Room 2584.
International human trafficking expert Mohammad Ashraful Alam, who is presenting "Sex Trade Behind the Scene of Women and Girls Trafficking: A Case of Bangladesh" 1:30 p.m. Thursday, Sept. 22 in Student Union Room 2584.
Theresa Flores, a human trafficking survivor who will be presenting "The Healthcare Needs of Domestically Trafficked Women: Study Results" 2:45 p.m. Thursday, Sept. 22 in Student Union Ingman Room.
Click here for a full schedule of events.
For more information, visit traffickingconference.com or email traffickingconference@gmail.com.
---
Thursday, August 25th, 2016
Thursday nights can get a little noisy in UT's Health and Human Services Building. The thump of music and the banging of drumsticks can be heard coming from the multipurpose room as cancer survivors gather to literally pound themselves into shape.
 A new, six-week session of cardio drumming begins Thursday, Sept. 1. The class will meet weekly on Thursdays from 6 to 7 p.m. All equipment needed for the class is provided.
Cardio drumming is a cardiovascular workout that blends drumming, movement and dance to get the pulse racing and tone muscles. Participants wield weighted drumsticks to beat on a fitness ball during choreographed routines set to music.
"It can be intimidating at first but the steps are simple and it won't take long to get the hang of it," said Yvonne Naserdin, 10-year breast cancer survivor and class participant. "If you can do aerobics or dance, you can do cardio drumming."
Class instructors said the idea to offer cardio drumming at the Center for Health and Successful Living started after a former student invited them to attend a class.
"It was a great experience and combined physical, social and emotional wellness," said Wendy Maran, UT associate lecturer of recreational therapy. "We knew cardio drumming would be a hit and worked to get certified to get the foundational knowledge we needed to teach."
She and UT lecturer of recreational therapy, Holly Eichner became certified through Drums Alive early last year and kicked off the program last fall.
"We have had such a positive response," Maran said. "Our classes are very upbeat and coordinate the drumming and dance moves with the rhythm of the music to challenge our students mentally and physically."
While the class is designed to get participants moving, the instructors said they offer modified movements for those who have limited fitness or mobility issues due to treatment.
"We have people who drum while sitting on a chair and we have some who have a little less flexibility who do modified moves," Eichner said. "Regardless of how they are able to participate, they really get into it. Sometimes it's hard to hear the music over the banging of the sticks."
Participants have reported an improvement in fitness, muscle memory, rhythm and patterning. Naserdin said she has noticed a difference in her cardiovascular health and muscle tone since beginning the class.
"I have killer calves," she laughed. "My arms are firmer too and it helps with my cardio health concerns. I try to maintain a certain weight and I walk and take this class to help me stay in shape."
The instructors said the classes also are a great way to lift the spirits of cancer survivors.
"Many times participants come into class tired and not feeling like exercising, but we have a lot of fun moving and singing along to the music and before long they are dancing and laughing and leave energized and in a great mood," she said.
Naserdin said she leaves the class revived and ready to take on a new day and she encourages others to give the class a try.
"I leave with a whole new attitude," she said. "It was something I always wanted to try, and now I'm hooked. If you try it once, you'll want to come back."
Cancer survivors are invited to call UT's Center for Health and Successful Living at 419.530.5199 to register.
Media Coverage
13 ABC (September 2, 2016)
---