August 25th, 2021 by Christine Billau
The University of Toledo is welcoming students back to campus for the 2021-22 academic year.
Students began moving into their on-campus residence halls this week and UToledo President Gregory Postel will roll up his sleeves at 11:30 a.m. Thursday, Aug. 26, to personally help students and their families unpack their vehicles and get their belongings into their Parks Tower rooms.
The following day Dr. Postel and other campus leaders will welcome new Rockets at the New Student Convocation ceremony from noon to 1 p.m. Friday, Aug. 27, in Savage Arena, followed by a barbecue. The event kicks off a series of Welcome Weeks events taking place during the first weeks of fall semester.
Classes begin at UToledo on Monday, Aug. 30.
Other Welcome Weeks events include:
Saturday, Aug. 28 — Campus Activities and Programming Carnival, 8 to 11 p.m., Lot 10 on Main Campus. The carnival will feature activities such as a mechanical bull, rock climbing wall and extreme air, as well as carnival treats such as funnel sticks, snow cones and cotton candy.
Sunday, Aug. 29 —  Student Involvement Fair, 11 a.m. to 3 p.m., Centennial Mall. UToledo student organizations, campus departments and local campus partners will be on hand to connect with students and share information about opportunities to get involved outside of the classroom.
Tuesday, Aug. 31 — President's Backyard BBQ, 11 a.m. to 3 p.m. at Centennial Mall on Main Campus, and from 11 a.m. to 1:30 p.m. at the patio outside Four Seasons Bistro on Health Science Campus. All UToledo students, faculty and staff are invited for free food, activities and games.
Monday, Sept. 13 — Sundae on a Monday, 3 to 4 p.m., Centennial Mall. Enjoy an ice cream sundae and meet the University's senior leaders, including Dr. Gregory Postel, president, and Dr. Karen Bjorkman, provost and executive vice president for academic affairs.
Saturday, Sept. 18 — President's Tailgate, 1:30 to 3:30 p.m. in a tent near University Parks Trail and Rocket Hall. Stop by for free food before the UToledo-Colorado State football game.
---
August 10th, 2021 by Christine Billau
Singer, songwriter, fiddler and banjo picker Rhiannon Giddens is coming to The University of Toledo next month to give a free, public lecture.
The Grammy winner and MacArthur "Genius" grant recipient who explores the impact and continued relevance of early Black American music will share her story at the annual Edward Shapiro Distinguished Lecture 7 p.m. Monday, Sept. 13, at Doermann Theatre in University Hall.
Free admission tickets are required and available at the event website. Following CDC guidance, face masks are required. Doors open at 6 p.m. with first-come, first-served seating.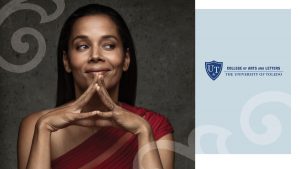 UToledo is partnering with the Toledo Symphony to welcome Giddens to town.
Giddens' lecture at UToledo follows her performance with the Toledo Symphony Orchestra 7 p.m. Sunday, Sept. 12, at the Toledo Museum of Art's Peristyle Theater featuring a program of jazz, blues, country, Gospel and Celtic music from her critically acclaimed albums.
"The Shapiro Lecture series is one of the premier intellectual events offered by the College of Arts and Letters at The University of Toledo," said Charlene Gilbert, dean of the UToledo College of Arts and Letters. "Each year we feature an individual who has reached the highest echelons of their profession, and this year we are honored to present musician, musicologist and historian Rhiannon Giddens.
"Ms. Giddens has made a name for herself both as a performer and an expert in music history, sharing the little-known but highly influential people and events that have shaped American music and society. Her work has earned her well-deserved awards, and we are thrilled to have her as our featured guest this year at The University of Toledo."
The annual lecture is made possible by the Shapiro endowment left by Dr. Edward Shapiro, professor emeritus of economics who retired in 1989, to provide opportunities for the University to bring world-renowned speakers to Toledo.
Past Shapiro Distinguished Lecture speakers include Elie Wiesel, Toni Morrison, Audra McDonald and Robert F. Kennedy Jr.
Tickets for Giddens' performance with the Toledo Symphony can be purchased by calling the box office at 419.246.8000 or visiting toledosymphony.com.
"Rhiannon Giddens is one of those artists who will go down in history for more than just their extraordinary talent," said Zak Vassar, president and CEO of the Toledo Alliance for the Performing Arts. "She is an all-around inspiring person, and her music reflects that. She fuses her operatic training with powerful, musical storytelling, giving a voice to some of the most important but forgotten people and events in history. We are proud to kick off our '21-22 season by bringing Rhiannon Giddens to our community. Her appearance is not to be missed."
Giddens' lifelong mission is to lift up people whose contributions to American musical history have previously been erased, and to work toward a more accurate understanding of the country's musical origins.
Giddens has performed for the Obamas at the White House, served as a Carnegie Hall "Perspectives" curator and received an inaugural Legacy of Americana Award from Nashville's National Museum of African American Music in partnership with the Americana Music Association.
Giddens began her musical studies at Oberlin Conservatory's Opera Theater. In 2005, Giddens attended the Black Banjo Gathering in Boone, North Carolina, where she met the future members of her band, the Carolina Chocolate Drops, the first African American string band to perform at the Grand Ole Opry. In 2011, the band won a Grammy for Best Traditional Folk Album for "Genuine Negro Jig."
In 2015, Giddens launched her solo career with the critically acclaimed album "Tomorrow Is My Turn," honoring the works of African American artists like Florence Quivar and Nina Simone.
Giddens made her acting debut with a recurring role on the hit television show "Nashville," playing the character of Hanna Lee "Hallie" Jordan, a young social worker with "the voice of an angel."
In 2018, Giddens became the host of the Metropolitan Opera's podcast series "Aria Code," which dives into some of the most legendary arias, exploring key moments in opera and how they affect the listener through emotions.
Giddens released a new album this year titled "They're Calling Me Home," which was recorded in Ireland during the COVID-19 lockdown and speaks of the longing for the comfort of home as well as the metaphorical "call home" of death, a tragic reality for so many during the pandemic.
---
August 3rd, 2021 by Christine Billau
Toxic algal blooms in the Great Lakes region cause mixed reactions in wildlife, from higher stress levels to weaker immune systems.
"We looked at four different species and found four different results," said Dr. Jeanine Refsnider, an associate professor of environmental sciences at The University of Toledo. "Although we are making substantial inroads toward understanding how microcystin affects human health, less is known about effects of microcystin on wildlife exposed to harmful algal blooms."
The UToledo research published in the journal Science of the Total Environment finds that physiological stress levels were higher in songbirds and snakes, and immune function was higher in snakes but lower in turtles, impacting their ability to fight off pathogens.
"While harmful algal blooms aren't directly causing exposed wildlife to die, the research suggests they are causing reptiles and birds to have generally worse health, putting their system at a disadvantage," Refsnider said. "The reptiles and birds are ramping up their response which can be harmful if you have a constantly elevated stress level in your body.
"In humans, if you have chronically high stress, you have distressed immune system. The indirect effects that stress has on other functions can be negative, such as lower reproductive output and population decline."
The research team, which included UToledo undergraduate students who are co-authors on the study, collected blood samples from two bird species and two reptile species in two locations: around Lake Erie wetlands before algal bloom season begins and Grand Lake St. Marys during algal bloom season.
The wildlife included in the study are barn swallows, red-winged blackbirds, Northern watersnakes and painted turtles.
Brittany Holliker, who graduated from UToledo in May 2020 with a bachelor's degree in biology, worked in the lab staining blood from watersnakes and tadpoles and analyzed them with a microscope to identify and record numbers of white blood cells.
"It is incredible that my undergraduate research is now part of a published study that can be used for wildlife conservation," said Holliker, who worked as an avian field technician in Mississippi after graduating from UToledo and is moving to Kansas to be a scaled quail field technician. "My experience at UT definitely helped me launch my career in wildlife biology by giving me the opportunity to become involved in interesting scientific research and by giving me knowledgeable professors who helped prepare me for the science field."
While the study found that turtles had weaker immune systems, snakes in the algal bloom site had stronger immune systems and birds showed no difference in immune function.
"Snakes are putting more energy into their immune system to fight off infection, but the extra immune energy has to come from somewhere else — maybe they're skinnier or maybe not reproducing quite as much," Refsnider said. "If they're increasing immune functioning to deal with the harmful algal bloom, that comes at a cost to something we haven't identified yet."
After identifying the inconsistent response of wildlife to harmful algal blooms, Refnsider next wants to track the movements of the animals through satellite or acoustic transmitters to see if they are changing their travel patterns to avoid experiencing the negative impacts.
---
July 8th, 2021 by Christine Billau
A new study conducted before COVID-19 busted open the leaky pipeline for women in leadership underscores the bias that men are naturally presumed to have leadership potential and women are not and highlights the increased efforts needed by organizations to address the incorrect stereotype post-pandemic.
The research published in the journal Frontiers in Psychology highlights the continuing bias in leadership assessments of women, explores the contradictions between the perception and the reality of women's leadership, and shows why the slow rate of career advancement for women will likely continue at a snail's pace.
"The impact of the COVID-19 pandemic on women's career progression will likely be felt for years to come as many women stepped away from the workforce," said Dr. Margaret Hopkins, professor of management in The University of Toledo's John B. and Lillian E. Neff College of Business and Innovation and lead author of the study. "This can only exacerbate the slow progress of women moving more fully into senior leadership roles — something that organizations and society must be fully attentive to correcting."
The contemporary view of effective leadership places a strong emphasis on social skills, flexibility and engaging others, behaviors typically associated with women.
But when women exhibit gender role behaviors such as teamwork and empathy, they also pay a price in their leadership performance assessments.
Based on data collected from a sample of 91 senior leaders in one U.S. financial services organization over three years, women were penalized in performance evaluations when they displayed those leadership characteristics.
On the other hand, women also were viewed negatively when exhibiting stereotypical masculine behaviors such as a competitive drive to achieve, task orientation and directing others. Men were positively evaluated for their leadership potential when exhibiting those same behaviors.
"Entrenched archetypes that define leadership as a masculine enterprise remain in spite of data that relates more stereotypical feminine behaviors to effective leadership," said Hopkins, an expert on women in leadership, executive coaching and emotional intelligence. "Our study found no evidence of acknowledging this more contemporary view of leadership when organizations actually assess women's performance and potential for leadership."
The researchers discovered that whether women demonstrated people-oriented, relational skills or whether they exhibited achievement-oriented behaviors, there was a negative effect on their leadership performance assessments and leadership potential appraisals. However, this was not the case for the male leaders in the study.
In order to change the dynamic, Hopkins said there are best-practice strategies that both women and organizations can take.
"My co-authors and I do not support the notion that the onus is on the women to change," Hopkins said. "Rather, organizational structures and systems must change to provide leadership opportunities for both women and men in equal measure."
She said organizational decision-makers can investigate organizational policies and practices to determine how they might be contributing to impediments for women in leadership roles.
Not only should leadership assessment instruments be examined for possible bias, but also the methods by which individuals conduct assessments of women leaders should be reviewed for inherent bias.
"Hiring procedures, training and development opportunities, benefits packages, leave policies, and performance, salary and promotional evaluations can all play a part in contributing to gender stereotypes," Hopkins said. "Organizational systems that rely on a limited framework for essential leadership behaviors will restrict their ability to recruit and develop outstanding leaders."
To help mitigate these inaccurate perceptions and biases of their leadership performance and potential, Hopkins suggests that women find both female and male allies and sponsors, create strategic networks, seek high-profile assignments to highlight their skills and abilities, and develop and communicate their individual definitions of career success.
The financial services organization at the focus of this study is one of the Top 100 U.S. Best Banks named by Forbes magazine. The sample of senior leaders included 26 women and 65 men, representative of the gender composition of the senior leadership team.
The researchers said a comparison of males and females in one organization ensured that any observed gender differences were not due to factors such as differences in industries or management hierarchies across organizations.
Researchers from UToledo, Bowling Green State University, Case Western Reserve University and San Diego Gas and Electric collaborated on the study.
---
July 8th, 2021 by Christine Billau
An alumnus of The University of Toledo will try to pass one of the most dangerous job interviews during Shark Week.
Randy Thomas, who graduated in 2019 with a bachelor's degree in environmental sciences, will compete on Discovery's first Shark Week series, "Shark Academy." The series premieres Sunday, July 11, streaming on discovery+, and airs at 10 p.m. Sunday, July 18, on Discovery Channel.
"Sharks were my first love as a kid," said Thomas, who grew up in Detroit. "College led me to believe I can do anything, and the chance to actively work with and research one of the world's most fascinating predators is a once-in-a-lifetime opportunity."
The new television series follows eight men and women on an intense six-week crash course to secure a crew spot on shark scientist Dr. Riley Elliott's next great shark diving expedition. The recruits work and live together on a research vessel for six weeks.
In a promotional video, Elliott said recruits will undergo an intense training program demanding physical and mental resilience.
"This is no vacation," said Elliott.
With a passion for animals and an enthusiasm for fellowship and community, Thomas has made the most of every opportunity that has come his way and never let himself believe he would fail.
Thomas is an alumnus of UToledo's Multicultural Emerging Scholars Program, which is designed to help first-year students make the academic, social and cultural transition from high school to college and inspire achievement in college-level courses.
"I had goals of playing football that were outmatched by my undeniable passion for animals, which led me to major in environmental science and bridge the gap between wildlife and humanity through wildlife education, adventure and outreach," Thomas said.
Dr. Jeanine Refsnider, associate professor in the UToledo Department of Environmental Sciences in the College of Natural Sciences and Mathematics, noted that being on-the-job and out of the research lab presents its own challenges.
"Fieldwork can be really hard, and often involves long hours in hot, cold, wet, and/or buggy conditions," Refsnider said. "Randy is a really hard worker and absolutely loves being in the field studying animals. He will be the first one out in the morning and last one back in the evening. He loves every minute of it no matter how unpleasant the weather."
After earning his degree at UToledo, Thomas' work took him around the world.
With Camp Adventure Youth Services, a program at UToledo directed by Dr. Sammy Spann, associate vice president for student affairs and dean of students, Thomas taught water safety skills to children in Japan.
He then worked for the U.S. Department of Defense in Bahrain as a child youth program coordinator and later moved to Key West, Fla., to serve as a marine science educator with the Pigeon Key Foundation.
It was in Florida, Thomas said, that he spotted an open casting call from a production company that had worked on reputable animal shows, put together an audition video and submitted it.
"Even though it's a competition where we worked both as teams and individually, the show is incredibly scientific and educational. I think that's what viewers will see," Thomas said. "Each week was progressively harder and more strenuous in the research and the competition."
"Shark Academy" is produced for Discovery by Double Act.
Visit Discovery's website to view the Shark Week 2021 schedule.
---
July 1st, 2021 by Christine Billau
The University of Toledo Ritter Planetarium is reopening to the public to transport families through space and time to view the wonders of the universe.
The first program, "Firefall," will be shown on the full dome every Friday at 8:30 p.m. from July 9 through Aug. 27.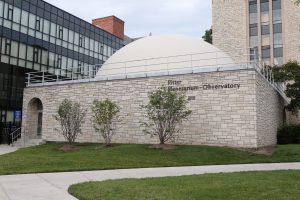 The immersive show explores how impacts from comets and asteroids have shaped Earth's history.
"We are really excited about the reopening because it means we get to share the wonders of the night sky with the Toledo community again," said Dr. Michael Cushing, professor of physics and astronomy and director of UToledo Ritter Planetarium.
"Firefall" is about civilization's beginnings in the hostile environment of space and how the ancient barrage continues today from harmless meteors — those brilliant streaks in the night sky — to mountain-sized boulders wandering perilously close to Earth.
Terrifying and majestic, these invaders from space are capable of utter destruction yet they have delivered life-giving water and most of the organic materials necessary for life.
Admission to the programs is $8 for adults and $6 for children, senior citizens and UToledo community members. All children younger than 4 are free. Doors will open 30 minutes prior to the show.
Alex Mak, associate director of Ritter Planetarium and an alumnus of UToledo, is retiring June 30.
"The re-opening is bittersweet," Cushing said. "Alex has been the heart and soul of Ritter Planetarium for 30 years, and his never-ending enthusiasm for both educating and inspiring the public about astronomy and science will be missed."
Heidi Kuchta, a UToledo alumna who received her bachelor's degree in physics and geology and her master's degree in an accelerated teaching program in the Judith Herb College of Education, will replace Mak as associate director.
Kuchta started working as an assistant at Ritter Planetarium seven years ago as a freshman and has worked to find creative ways to inspire and motivate children to engage with science.
"Heidi has been an indispensable member of our team for years, and we look forward to having her step into a leadership role," Cushing said.
Visit Ritter Planetarium's website for more information about "Firefall" and other upcoming programs.
---
June 28th, 2021 by Christine Billau
Scientists at The University of Toledo discovered new movement in sperm that provides innovative avenues for diagnostics and therapeutic strategies for male infertility.
The research published in Nature Communications finds that the atypical centriole in the sperm neck acts as a transmission system that controls twitching in the head of the sperm, mechanically synchronizing the sperm tail movement to the new head movement.
The centriole has historically been considered a rigid structure that acts like a shock absorber.
"We think the atypical centriole in the sperm's neck is an evolutionary innovation whose function is to make your sperm move better," said Dr. Tomer Avidor-Reiss, professor of biological sciences in the UToledo College of Natural Sciences and Mathematics. "Reproductive success depends on the ability of sperm to swim through female reproductive tract barriers while out-competing their rivals to fertilize the egg."
The study led by Ph.D. candidate Sushil Khanal builds upon the lab's previous groundbreaking discovery in human sperm that changed the dogma in reproductive biology: A father donates not one but two centrioles through the sperm during fertilization, and the newly discovered sperm structure called the atypical centriole may contribute to infertility, miscarriages and birth defects.
"Together, these studies call for a revision in our understanding of sperm centrioles both in sperm movement and in the early embryo," Avidor-Reiss said.
Avidor-Reiss believes this discovery can open the door to new possibilities to help families understand why they may be having trouble getting pregnant.
If the head and tail of the sperm aren't moving together, the sperm isn't going to move efficiently enough to get to the egg.
"If the centriole is defective, this coupling between the sperm tail and head is going to be defective," Avidor-Reiss said. "In a patient when we don't know what is wrong, potentially we can look at the way the sperm's tail moves and reverse engineer it to determine centriole functionality to determine couple's infertility."
He also said finding this movement can be used in the future to predict which sperm have a good centriole that can support life.
"Right now, people don't know what to fix," Avidor-Reiss said. "We can pinpoint the problem. This knowledge allows us to identify a subgroup of infertile men that was not revealed before."
The new research shows that in the sperm of mammals there is a cascade of internal sliding formations in the neck's atypical distal centriole, typical proximal centriole and surrounding material that links tail beating with asymmetric head kinking.
Using a STORM immunofluorescent microscope in the UToledo Instrumentation Center, the researchers were able to show the left and right side of the atypical centriole move about 300 nanometers relative to each other. Though it's a small number, it marks dramatic movement in a cell considering the average protein diameter is five nanometers.
Ph.D. student Luke Achinger, who recently graduated from UToledo with a bachelor's degree in biology, sang bass in the University's premier choral ensemble as an undergraduate and penned lyrics about his lab's new discovery, explaining how the new movement works in a song called "Twitch, Roll and Yaw."
"We love to promote science and art, and in this case, we are showing that the sperm beats in unity. The head of the sperm is not isolated from the tail. The neck including the atypical and typical centrioles may act as a morphological computer, or sperm brain, that coordinates the sperm movement," Avidor-Reiss said.
"The song is a creative way to understand a big change. The centriole always looked the same over the last billion years. It's one of most conservative structures in the cell. We found something different that functions in the opposite manner, evolving from a shock absorber to a transmission system."
This study was an international collaboration with Dr. Tzviya Zeev-Ben-Mordehai's lab at Utrecht University in the Netherlands, which performed state-of-the-art cryo-electron microscopy of the sperm neck, and Hermes Bloomfield-Gadêlha at the University of Bristol in the United Kingdom, who performed mathematical and waveform analysis.
---
June 25th, 2021 by Christine Billau
The Build-A-Trust Bowl-A-Thon, a single-day event designed to bring children and teens together with local police, firefighters and military personnel, returns Saturday, June 26, at New Glass Bowl Lanes, 5133 Telegraph Road in Toledo.
Established in 2015 by George W. Hayes Jr., an electrician at The University of Toledo, the event brings community members together to break down barriers and establish mutual respect.
The bowl-a-thon runs from noon until 3 p.m. All youth 17 and younger bowl for free, courtesy of JCILH Inc., which operates a number of local McDonald's restaurants.
Those 18 and older can bowl three games for $5 per person. Shoes are included.
"It's a one-day event with kids, cops, firefighters and some military coming together for a few hours just to mingle, bowl, have fun and not to be afraid of each other," Hayes said. "The intent is to build trust between men and women in uniform and everyone else so that we all realize that we are just people, regardless of who you are or what you are.
"It's a fun event that's very much needed. Regardless of where you are from, you are invited."
---
June 22nd, 2021 by Christine Billau
The University of Toledo Department of Theatre and Film will host a 100% online summer film camp for teens, ages 14-18, interested in learning the basics of filmmaking.
Scheduled from Monday, July 19, through Friday, July 30, the Virtual Filmmaker Summer Film Intensive is a two-week virtual filmmaking summer camp for teens looking to grow their narrative video-making skills. The camp will feature live, online class times and daily assignments, and the instructor, Quincy Joyner, assistant lecturer of theatre and film, will guide and mentor students every step of the way.
Upon successful completion of the camp, participants will be able to:
Articulate the components of story, character and narrative, and the effectiveness of communicating visually;
Conceive, design, and communicate a story cinematically employing practical filmmaking techniques; and
Demonstrate production etiquette and communication necessary to collaboratively produce a film.
The workshop will include:
Short script writing
Character development
Cinematography essentials
Practical lighting
The registration deadline for the Virtual Filmmaker Summer Film Intensive is Monday, July 5.
The camp fee is $400 — a $50 non-refundable registration fee due at signup and the $350 camp fee due by July 5 — which covers all materials needed for the workshop.
For more information, visit the Virtual Filmmaker Summer Film Intensive website, or to register, the camp's form is available online.
---
June 16th, 2021 by Christine Billau
Every time a dairy cow is bred and fails to become pregnant, a farmer loses a month of profits on the cow's milk. If it grows to two months, that's a 20% loss in profit.
"Cows and bulls can have suboptimal fertility, just like humans," said Dr. Tomer Avidor-Reiss, professor of biological sciences at The University of Toledo. "In the U.S. today, the average dairy cow takes three tries to become pregnant, being bred once each ovulation or estrous cycle."
The UToledo scientist is now using his advancements made in human fertility research to help farmers reduce their costs for dairy production.
The U.S. Department of Agriculture awarded Avidor-Reiss $500,000 to develop tools and methods for selecting bulls with superior fertility by building upon his groundbreaking discovery in human sperm that changed the dogma in reproductive biology: an atypical centriole.
Several years ago, he found that a father donates not one but two centrioles through the sperm during fertilization, and the newly discovered sperm structure may contribute to infertility, miscarriages and birth defects.
"The beautiful thing about investigating and developing centriolar biomarkers for bull sperm is that it could help us with our human male reproductive research," Avidor-Reiss said. "And the Council on Dairy Cattle Breeding, or CDCB, has an incredible database on bull fertility — it's a robust, publicly available statistical report on fertility because the farmer reports whether each mating of a bull and cow resulted in a pregnancy. There is no report like this on any other species."
The CDCB's database for Sire Conception Rate, which originated under USDA's guidance, was created to help dairy farmers "grade" the fertility of bull sperm.
The three-year project for the USDA continues the UToledo scientist's collaboration with Select Sires Inc., an Ohio company that sells cryopreserved bull sperm for artificial insemination.
"The cattle genetics industries are constantly searching for ways to better serve dairy and beef producers around the world," said Dr. Bo Harstine, director of research at Select Sires Inc. "Dr. Avidor-Reiss's research examining the role that a sperm cell's centrioles have in fertility could have major implications on our understanding of cattle breeding. As an Ohio-based biotechnology cooperative, Select Sires Inc. is proud to be partnering with The University of Toledo and Dr. Avidor-Reiss to bridge this research from the laboratory to real-world applications."
Avidor-Reiss's laboratory developed a quantitative method to determine sperm centriole quality, and preliminary results show that sub-fertile bulls have lower-quality centrioles.
"The University of Toledo's efforts to attract federally supported research are far-reaching and have an economic impact on our region," Congresswoman Marcy Kaptur said. "With USDA support, Dr. Tomer Avidor-Reiss will bolster knowledge about animal fertility and, in turn, the economic outlook for the dairy and cattle industry in northern Ohio."
---