March 6th, 2020 by Meghan Cunningham
UPDATE: BOARD OF TRUSTEES MEETINGS
Monday, March 9, 2020
5 p.m. Privileging and Credentialing Subcommittee Meeting
Libbey Hall, Second Floor Main Dining Room
This subcommittee will enter Executive Session immediately upon convening
the meeting to discuss privileged information related to the evaluation of
medical staff personnel appointments.
5:30 p.m. Special Board of Trustees Meeting and Dinner
Libbey Hall, Second Floor Main Dining Room
This Special Board of Trustees meeting will be held to discuss and take action on
amendments to the Board of Trustees bylaw 3364-1-11 "The University of Toledo
Medical Center and Clinical Operations" in order to be able to also discuss and take
action on amendments to the medical staff bylaws. An Executive Session will be
held to discuss trade secret under the Ohio Uniform Trade Secret Act, O.R.C.
Section 1333.61, et. seq. and the sale of property.
Any questions may be directed to the Office of University Marketing and Communications by calling 419.530.2410 or via email to meghan.cunningham@utoledo.edu.
---
March 3rd, 2020 by Meghan Cunningham
The University of Toledo will host a public forum featuring health experts to address the latest information on the novel coronavirus, now known as COVID-19.
The forum, "Protecting Health: Addressing the Spread of the Novel Coronavirus," will be held from 3 to 4:30 p.m. Wednesday, March 4, in Collier Building Room 1000A on the UToledo Health Science Campus.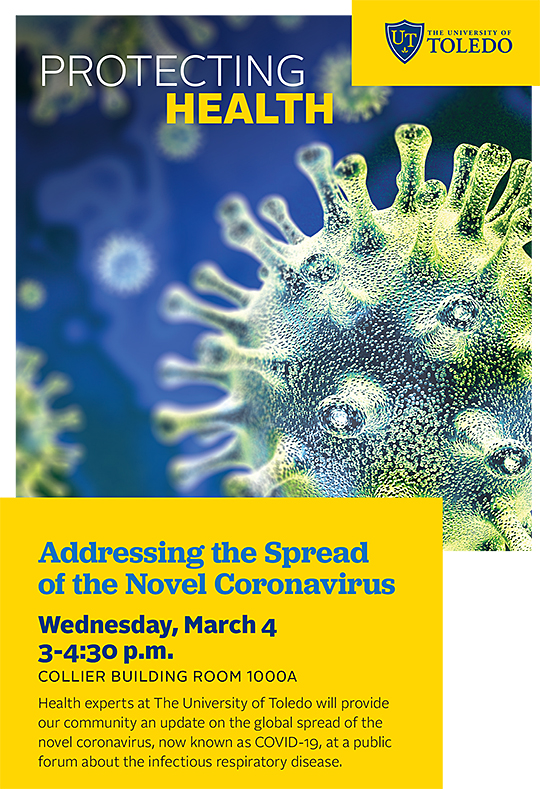 A panel of UToledo faculty experts will address the causes of the disease and how it spreads, ways to avoid exposure to infectious diseases, and efforts underway to respond to the outbreak. The discussion will be moderated by Dr. Joan Duggan, an infectious disease specialist and professor of medicine in the UToledo College of Medicine and Life Sciences.
UToledo experts on the panel will include:
Dr. Jennifer Hanrahan, associate professor of medicine and chief of the Division of Infectious Disease;
Dr. Jason Huntley, associate professor of medical microbiology and immunology;
Dr. Linda Lewandowski, professor and dean of the College of Nursing; and
Dr. R. Travis Taylor, assistant professor of medical microbiology and immunology.
The panel discussion will be followed by a question-and-answer session with guests in attendance. For those unable to make it to campus, the forum will be streamed live at utoledo.edu/video.
The free event is sponsored by the UToledo Office of Research and Sponsored Programs.
---
March 3rd, 2020 by Tyrel Linkhorn
The presidents of The University of Toledo and Owens Community College will sign a dual-admission partnership for nursing students at 8:30 a.m., Thursday, March 5, in Heritage Hall, Room 123.
The new program — the first of its kind in northwest Ohio — allows nursing students to jointly apply for admission at both Owens and UToledo, establishing a seamless pathway for students to earn an Associate in Applied Science degree in registered nursing from Owens followed by a Bachelor of Science degree in nursing from UToledo.
"Creating pathways for student success is an important part of Owens' strategic plan and we are excited for what this dual enrollment agreement with the University of Toledo means for our nursing students," said Steve Robinson, Ph.D., president of Owens Community College. "This seamless pathway from an associate to bachelor's degree will help remove another barrier to student success and we are proud to partner with The University of Toledo to make that happen."
"This is a wonderful way to strengthen our relationship with Owens and provide even more opportunities for students in our region, ensuring their success in the workplace," UToledo President Sharon L. Gaber said. "Having a baccalaureate degree increases opportunities for nurses, and it is important that we establish these types of partnerships to ensure individuals in our community have the strong educational foundation they need for a successful nursing career."
The new dual-admission program is designed to give students a sense of belonging at both institutions, while providing unique opportunities and support throughout their education.
Advisers from both Owens and UToledo will work with students from the start to ensure they are taking the courses needed to complete both degrees. Students also will have the ability to participate in UToledo events and programming, and to take courses at UToledo while working toward their associate's degree at Owens.
Upon completion of their associate's degree from Owens, students have a guaranteed spot in the UToledo College of Nursing's online R.N. to B.S.N. program, with no additional application or admission fee.
While a B.S.N. isn't necessary for licensure, recent surveys from the American Association of Colleges of Nursing have found that more than 80% of employers strongly prefer job candidates with a bachelor's degree. A number of studies also have shown patients who are cared for by nurses with higher levels of education have more positive outcomes.
The dual-admission program is open to new and continuing students at Owens. The institutions will begin taking applications on May 1.
---
February 28th, 2020 by Christine Billau
The state of Ohio awarded The University of Toledo a $474,287 grant to purchase new state-of-the-art equipment to train students in the areas of autonomous vehicle-sensing technologies, robotics and vision-based systems for automation.
The grant is part of $975,000 in funding in the region and $8 million across the state announced by Ohio Governor Mike DeWine this week through the Department of Higher Education's Regionally Aligned Priorities in Delivering Skills (RAPIDS) program for universities, community colleges and technical career centers to collaborate to enhance education and job preparedness in a variety of fields of strategic importance for the state's employers.
One of the state's nine regions, UToledo's group – a consortium that includes three universities, six private and community colleges, and two career and technical centers – is focused on working together to share new equipment and curriculum in the field of robotics and autonomous vehicles.
"The RAPIDS program awards offer a unique opportunity for Ohio's postsecondary educational institutions and employers to help address local workforce needs," DeWine said. "Students are able to gain access to top-notch equipment that helps better prepare them for available jobs."
"This investment focused on advanced manufacturing and cybersecurity in autonomous vehicles will significantly benefit students in our new graduate certificate program in vehicle mechatronics that we launched in collaboration with Dana Inc.," Dr. Mike Toole, dean of the UToledo College of Engineering, said.
Equipment is shared among campuses, allowing more students to get a quality education more affordably.
"When businesses and our higher education institutions are asked to work together to develop strategic plans for using these funds, it provides students with more opportunities for success while strengthening the regional workforce and Ohio's economy," Chancellor Randy Gardner, chancellor of the Ohio Department of Higher Education, said.
The RAPIDS program was launched in 2014.
---
February 27th, 2020 by Christine Billau
The Toledo Area Alumnae Club of Pi Beta Phi Fraternity for Women will host one of six book giveaways in the country to promote reading and literacy this weekend.
UToledo Pi Beta Phi sorority members will distribute 20,000 books to local children and schools from 9:30 a.m. to 3:45 p.m. Saturday, Feb. 29 in the Thompson Student Union Ingman Room.
The fraternity day of service is made possible thanks to First Book, a nonprofit with a mission to provide books to children from low-income families.
"Only six cities in the United States host fraternity day of service, and we are just so unbelievably honored to be one of the cities," Natalie Baxter, UToledo junior majoring in nursing and Pi Beta Phi president, said.
More than 150 volunteers from campus and the community will help distribute the books, which are suitable for children and teens.
"Pi Beta Phi believes that reading is a gateway to all of the many opportunities that are offered in the world. Reading takes you places, transforms you, and makes you feel empowered," Baxter said. "Pi Beta Phi believes that when there is one child that can't read, that is one child too many. If we just show one child all the amazing things reading has to offer, we have done what we have set out to do."
---
February 25th, 2020 by Christine Billau
Due to skyrocketing demand from employers for data-savvy professionals, The University of Toledo is offering two new undergraduate degrees in data science and analytics.
Beginning in fall 2020, the University will debut a bachelor of arts degree in data analytics in the College of Arts and Letters, and a bachelor of science degree in data science in the College of Natural Sciences and Mathematics.
"The ability to interpret large quantities of data, translate insight and understand broader implications is critical to success in modern organizations throughout every industry," Dr. Karen Bjorkman, provost and executive vice president for academic affairs, said. "These degrees will give our students a competitive edge in our rapidly changing economy driven by big data and the increasing exchange of information as part of our everyday life and culture."
Employment in data science is expected to grow nearly 20% between 2016 and 2026, according to the Bureau of Labor Statistics.
The undergraduate programs prepare students for employment in positions dealing with big data and data analysis in nonprofit, government and business environments. They share a core set of courses in econometrics, geographic information systems, data visualization and ethics.
UToledo is enrolling students to start in the fall semester who are interested in learning how to make informed, mathematically valid and ethically sound decisions based on the analysis of data.
The bachelor of arts degree in data analytics has an emphasis on social sciences and will prepare students for careers that focus on interpreting and applying structured data for clients who can use the data to make decisions.
Taking an interdisciplinary approach, the data analytics degree draws on the wide range of expertise in the College of Arts and Letters, from the social sciences to philosophy and visual arts. It includes courses in social statistics and quantitative research methods; computer science and engineering technology; and research and writing for different audiences.
"Focusing on important social, behavioral and cultural contexts, this experience will empower students to better understand the results of their work and to better communicate those results to their employers, policy makers or others in need of the information, especially nonprofit organizations who desperately need individuals trained to use data effectively in order to better leverage their resources as they work to solve challenging problems," Charlene Gilbert, dean of the College of Arts and Letters, said.
The bachelor of science degree in data science is designed to prepare students for careers that involve statistical tools to extract meaning from large data sets for specific applications. It includes courses in calculus; statistics and probability; object-oriented programming; and machine learning.
The data science degree emphasizes the analysis of data in the applied sciences with training in math and computer science to develop data from different sources and apply the results in fields ranging from astronomy to the environment to human health and beyond.
"In the past few years, our ability to collect detailed data has dramatically expanded, impacting every area of modern life," Dr. John Plenefisch, interim dean of the College of Natural Sciences and Mathematics, said. "However, our ability to extract useful information from this sea of data has lagged because we simply don't have enough data scientists. This new degree program will help out students gain the knowledge, skills and experience that will position them to succeed in this expanding career area."
Beyond the undergraduate degrees, UToledo also offers master's degree programs in business analytics in the College of Business and Innovation; a minor in data science in the College of Health and Human Services; a minor in data analytics in the College of Arts and Letters; and a concentration in data science in mathematics in the College of Natural Sciences and Mathematics.
---
February 24th, 2020 by Christine Billau
Second-year law student Damon Williams made history as he was selected to be the next leader of The University of Toledo Law Review.
Williams will be the first black student to hold the prestigious position of editor-in-chief in the publication's 52-year history.
"I am extremely grateful for the opportunity that I have been afforded," Williams said. "Becoming the first editor-in-chief with African-American heritage is an amazing milestone, and I am beyond honored."
The law review, which was first published at the UToledo College of Law in 1969, is a student-run journal written by law professors, judges and students.
"I am delighted that Damon was selected as editor-in-chief of The University of Toledo Law Review," D. Benjamin Barros, dean of the College of Law, said. "He's exceptionally bright and will be an excellent leader. Although we wish this milestone would have happened sooner, his selection is encouraging as it reflects progress."
"This is but a step in, what I hope to be, a continuing process for The University of Toledo," Williams said. "I am striving to help foster subsequent diversity milestones and continued Law Review success, and I look forward to my future collaboration with community members."
Law review members are selected as editor-in-chief after a highly-competitive, in-depth interview process. The elections committee considers academic performance, writing ability as demonstrated by their academic writing and editing throughout the year, and leadership potential.
"From a technical perspective, Damon's formal yet graceful writing style and his superior academic performance made him a competitive candidate among his peers," said Lindsey Self, law student and the current editor-in-chief of The University of Toledo Law Review. "He demonstrates conviction in his vision for the journal but is unafraid to take calculated risks. Damon's writing and leadership demonstrate a unique balance between sensibility and practicality with inventiveness and ingenuity – a balance that is difficult to find in practice, let alone law school."
Williams, who also serves as president of the Black Law Students Association, was born and raised in Toledo. He earned his bachelor's degree in criminal justice and master's degree in forensic science at Bowling Green State University.
He hopes his law degree will help him facilitate the social and political changes he wants to see in the world. Although he is still figuring out his next steps, Williams is considering a federal clerkship or doctor of juridical science.
"This is much bigger than me alone," Williams said. "I have a fantastic executive board in Hayley Mise, Cameron Morrissey, Kate Murray and Morgan Isenberg. Their continued excellence and support are essential to the success of the law review. In addition, Lindsey Self has been a shining north star, guiding me toward the path to success."
---
February 20th, 2020 by Christine Billau
Making her dreams come true, a recent graduate of The University of Toledo's physics program is in the midst of a sky-rocketing year.
Dr. Nicole Karnath earned her Ph.D. last summer and quickly moved to California to serve as instrument scientist at the SOFIA Science Center, which is based in NASA Ames Research Center, where she flies regularly aboard the world's largest airborne observatory.
On top of her already soaring career success, this week the Astrophysical Journal published Karnath's research completed while she was a UToledo student, sharing her discovery that reflects a new understanding of what happens at the early stages of star formation.
She credits her student research and the support of her advisor Dr. Tom Megeath, UToledo astronomy professor, for the job offer from NASA before she had her diploma.
"I am very happy. I enjoy the science, and I love studying the universe," Karnath said. "Astronomy is an international, collaborative field because we're working on telescopes all over the world and taking in huge amounts of data. The opportunities are there for students to break in. UToledo astronomy professors know so many people all over the world. Take advantage of their expertise, connections and need for help analyzing data. That's how I ended up here."
"Nicole made one of the most exciting discoveries to come out of our UToledo Star Formation group," Megeath said. "Just as a talent agent's biggest dream is to find the actor or actress who will become the next star, for an astronomer, the dream is to find the blob of gas that's in the process of becoming a star. Nicole has found four such blobs — collapsing gas clouds that are in the first 6,000 years of forming what is called protostar. In 'star years,' this is the first 30 minutes of their lives."
While a graduate student at UToledo, Karnath was part of an international team of astronomers who used two of the most powerful radio telescopes in the world to create more than three hundred images of planet-forming disks around very young stars in the Orion Molecular Clouds.
Pointing both the Very Large Array (VLA) and the Atacama Large Millimeter/submillimeter Array (ALMA) to the region in space where many stars are born, the result is the largest survey to date of young stars, called protostars, and their protoplanetary disks, or planets born in rings of dust and gas.
Among the hundreds of survey images, four protostars looked different than the rest and caught Karnath's attention.
"These newborn stars looked very irregular and blobby," Karnath said. "We think that they are in one of the earliest stages of star formation and some may not even have formed into protostars yet."
It is significant that the scientists discovered four of these objects, which Karnath estimates to be younger than 10,000 years old.
"We rarely find more than one such irregular object in one observation," said Karnath, who used these four infant stars to propose a schematic pathway for the earliest stages of star formation.
To be defined as a typical protostar, stars should not only have a flattened rotating disk surrounding them, but also an outflow – spewing away material in opposite directions – that clears the dense cloud surrounding the stars and makes them optically visible. This outflow is important because it prevents stars from spinning out of control while they grow. But when exactly these outflows start to happen, is an open question in astronomy.
One of the infant stars in this study, called HOPS 404, has an outflow velocity of only two kilometers per second, or 1.2 miles per second. A typical protostar outflow has a range of 10-to-100 kilometers per second, or 6-to-62 miles per second.
"It is a big puffy sun that is still gathering a lot of mass, but just started its outflow to lose angular momentum to be able to keep growing," Karnath said. "This is one of the smallest outflows that we have seen and it supports our theory of what the first step in forming a protostar looks like."
"These very young protostars don't match existing theory very well, meaning that we still have a lot to learn from future studies," Megeath said.
Karnath's stellar work continues in California at the SOFIA Science Center. SOFIA is a flying observatory made out of a modified Boeing 747, capable of making observations that are impossible for even the largest and highest ground-based telescopes.
SOFIA, which stands for Stratospheric Observatory for Infrared Astronomy, is a partnership of NASA and the German Aerospace Center and under contract with the Universities Space Research Association.
As an instrument scientist, Karnath is responsible for one of five instruments rotated on and off the telescope on the plane, depending on the type of data astronomers are looking to gather.
"I work on an instrument called FORCAST. It's an imaging instrument and also a spectrometer," Karnath said. "I'm up there making sure we're getting the filters needed or the different wavelengths, or looking at a certain target for the right amount of time, and also troubleshooting issues."
Karnath also is using SOFIA to continue her own research. She submitted a proposal and was awarded observation time on SOFIA scheduled for February 2021.
The curiosity and determination that first fueled her journey as a little girl still powers this successful woman in science today.
"My dad was an amateur astronomer who had a telescope and regularly had me looking at Saturn or a meteor shower," Karnath said. "I thought astronomy was the most fascinating subject I ever studied. In high school I enjoyed physics and learned that you could make a living off of this. I never looked back, and I'm so lucky that I still love it."
Karnath said she couldn't have accomplished so much so soon without the support of Megeath, the UToledo astronomy program, and past advisors at Lowell Observatory and Ohio State University.
"The best part of my job is handing over astronomical data from a cutting-edge observatory, such as the Spitzer Space Telescope, Hubble Space Telescope, ALMA, or the Lowell Discovery Telescope, to a graduate student and seeing the discoveries they make from the data. They never know exactly what they will find," Megeath said.
"In Nicole's case, she did an extraordinary job working with an international team spanning three continents and involving universities and institutes across the U.S., Chile and Spain. She combined data from two of the most powerful radio telescopes on Earth to discover these objects. The exciting part is that every discovery brings new mysteries to solve."
Prior to UToledo, Karnath earned a master's in applied physics from Northern Arizona University and a bachelor's in physics and astronomy from Ohio State University.
UToledo is a member of the Association of Universities for Research in Astronomy, a prestigious consortium of 47 U.S. institutions and three international affiliates that operates world-class astronomical observatories for the National Science Foundation and NASA.
---
February 18th, 2020 by Christine Billau
Professional sales students from 36 universities across the United States will visit The University of Toledo's College of Business and Innovation this weekend to compete in the fifth annual UToledo Invitational Sales Competition.
The sales competition, which features nearly 200 role plays selling a product and more than 300 interviews, will take place Friday and Saturday, Feb. 21 and 22 in classrooms and meeting rooms throughout the Savage & Associates Business Complex. The awards ceremony will occur Saturday afternoon in the Thompson Student Union.
The Edward H. Schmidt School of Professional Sales in the UToledo College of Business and Innovation organizes this first and only national sales competition dedicated exclusively to juniors, sophomores and freshmen because graduating seniors are typically already placed in jobs due to high corporate demand.
Formed in 2000 and endowed in 2002, the Edward H. Schmidt School of Professional Sales believes in transforming the profession of sales by creating knowledge, shaping people and making connections, and the UToledo Invitational Sales Competition is an ideal platform to accomplish just that.
"The UToledo Invitational Sales Competition plays a central role in increasing sales program enrollments nationwide and fueling the tomorrows of future sales leaders and organizations," said Deirdre Jones, director of the Edward H. Schmidt School of Professional Sales and the UToledo Invitational Sales Competition. "The competition is the conversation starter for universities nationwide to engage early with freshman and sophomore students, and it is also a vehicle for students to pay it forward and shape their leadership skills as a peer coach."
The first rounds of the competition will take place from 9:15 a.m. to 12:15 p.m. Friday, followed by the wild-card round from 1:45 to 3 p.m. and quarterfinals from 4 to 5:40 p.m. The competition will conclude Saturday with the semifinals from 8:30 to 9:20 a.m. and the finals from 10:30 a.m. to 1 p.m.
Approximately 100 sales leaders and recruiters who participate serve as buyers and judges for the role plays and also interact with the students during coaching and interviewing sessions.
Sponsors include 3M Co., Goodyear Tire & Rubber Co., Mediasite, Rocket Mortgage by Quicken Loans and Polymershapes, among others.
Participating universities that will be in attendance at this year's event include Kansas State University, the University of Cincinnati, Florida State University, Clemson University, the University of Minnesota and Baylor University. The University of Toledo Edward H. Schmidt School of Professional Sales also will have a team competing.
---
February 14th, 2020 by Christine Billau
Saturday Morning Science is returning this month to The University of Toledo.
The free, public talks will begin at 10 a.m. in Wolfe Hall Room 1205 on Main Campus.
Another eclectic and cool slate of topics will be explored, according to Dr. Joseph Schmidt and Dr. John Bellizzi, co-directors of Saturday Morning Science.
"There's really an aspect of randomness to selecting the topics," Schmidt, professor of chemistry, said. "If it's something that sounds fun and is even tangentially related to science we'll do it."
"We try to do stuff that is on the mind of people in the community as well," Bellizzi, associate professor of chemistry and biochemistry, added. "For instance, we had someone from Flint come down and talk about clean water."
Schmidt and Bellizzi would like people to leave these talks with an appreciation and a greater understanding for any given field of science.
Sessions are appropriate for middle school students and older.
Listed by date, Saturday programs and speakers will be:
Feb. 22: "Glass Is a Verb, and So Are You" by Dr. Jane Cook, director of the College of Earth and Mineral Sciences Museum and Art Gallery at Pennsylvania State University in University Park.
Feb. 29: "Bon Bon Bon and the Chemistry of Chocolate" by Alexandra Clark, chocolatier and owner of Bon Bon Bon in Hamtramck, Mich.
April 4: "What's Happening With Solar Cell Science and Technology These Days?" by Dr. Michael Heben, professor in the UToledo Department of Physics and Astronomy, and Endowed Chair at the Wright Center for Photovoltaics Innovation and Commercialization.
April 25: "The Science of Jams, Preserves and Marmalade" by Tara Grey, jam maker and owner of Gus & Grey in Detroit.
May 2: "Life, But Not Alive" by Dr. Kate Adamala, assistant professor of genetics, cell biology and development at the University of Minnesota in Minneapolis.
All talks include complimentary light refreshments donated by Barry's Bagels. The program is funded by the Office of the Dean of the College of Natural Sciences and Mathematics.
---