April 15th, 2022 by uteditor
The University of Toledo will upgrade its on-campus living options for students through a new collaboration with a national student housing partner.
The UToledo Board of Trustees approved during its Wednesday meeting for University leadership to move forward with expanding its relationship with Collegiate Housing Foundation and American Campus Communities, which developed and manages Honors Academic Village on the northwest corner of Main Campus.
"We are looking forward to this opportunity to allow UToledo to significantly upgrade our campus residence halls in response to what our current students have asked for and what prospective students are looking for," UToledo President Gregory Postel said. "We look forward to partnering with these leaders in the student housing industry to transform the on-campus living experience for our Rockets."
The 35-year ground lease agreement will invest between $184 and $271 million, depending on changing market costs, in upgrades to campus residence halls and addressing deferred maintenance and existing debt. Collegiate Housing Foundation and American Campus Communities responded to a request for proposals process for UToledo's campus housing operations.
Approximately $100 million will be capital investments in campus residence halls, beginning with a deep renovation of Presidents Hall.
The Presidents Hall renovation will take place during the next two years transforming the living spaces and providing increased flexibility with four-person, six-person and eight-person suites that feature modern design and furnishings, and the addition of kitchenettes. An addition to the building also is planned to add even more flexibility with single and double rooms for students looking to have that living option.
Multipurpose spaces also will be added for more study and social spaces in the building. University leaders have held several focus groups with students and are seeking additional input on what students want to see in the renovated building that is expected to open in fall 2024.
Plans will be developed to renovate UToledo's additional residence halls through the partnership, which include International House, MacKinnon Hall, McComas Village, Ottawa Hall and Parks Tower. UToledo plans to close Academic House.
---
April 15th, 2022 by uteditor
The University of Toledo is making changes to its tuition structure to better attract high-performing students outside of Ohio to come to campus.
The Ohio Department of Higher Education recently approved UToledo's request to reduce the out-of-state surcharge to $100 per semester for the 2022-23 academic year. The UToledo Board of Trustees approved the change at its February meeting.
"As part of our strategic efforts to grow enrollment and provide opportunities for more students to receive an amazing UToledo education, we need to increase our efforts to recruit students from outside our northwest Ohio region while continuing to be a school of choice for our neighbors in our community," said Dave Meredith, vice president for enrollment management. "Reducing the out-of-state surcharge both reduces a financial barrier to enrollment and also improves the transparency of the cost and value of a UToledo degree."
Students who are not residents of Ohio pay approximately $9,360 more per academic year to attend UToledo than in-state students. Currently, students with a GPA of 3.0 or higher receive an $8,000 discount, bringing the total out-of-pocket expense to $1,360.
This new program pilot for the upcoming year will charge a flat $100 surcharge per semester for qualifying out-of-state students directly from high school who enroll for the first time in fall 2022 with a minimum 3.5 GPA in high school.
UToledo will evaluate the pilot program in the upcoming academic year and if successful intends to seek approval from the state to continue the reduced fee moving forward.
---
April 15th, 2022 by uteditor
The Ohio Department of Higher Education awarded The University of Toledo a five-year, $893,760 grant through the Choose Ohio First program to provide scholarships to academically talented, underrepresented minority students pursuing all majors in the College of Engineering.
Ohio Lt. Gov. Jon Husted and Ohio Department of Higher Education Chancellor Randy Gardner recently announced more than $42 million for 44 colleges and universities across the state to boost Ohio's efforts to strengthen the state's workforce in STEM-related fields while supporting an estimated 4,850 Ohio students.
"Employers express to us a desire to diversify their workforces," said Dr. Lesley Berhan, associate dean for diversity, inclusion and community engagement in the UToledo College of Engineering and associate professor of mechanical, industrial and manufacturing engineering. "The Choose Ohio First grant will enhance our continued efforts to recruit, retain and graduate students to pursue careers in engineering — offering financial support, industry partnerships, mentoring, job training and leadership opportunities."
Professional development is a central aspect of the program, Berhan said, and students will regularly interface with regional employers who are members of the UToledo Engineering Corporate Partners program.
"The Choose Ohio First scholarship is just one example of how Ohio continues to invest in growing our STEM talent," Lt. Governor Jon Husted said. "We want our students to stay and work in Ohio. These scholarships will help young Ohioans gain valuable STEM skills, preparing them for one of Ohio's many in-demand jobs and ensuring businesses have the talent they need to succeed."
The Choose Ohio First scholarship program began in 2008 to increase the number of Ohio students enrolling in and successfully completing STEM programs at Ohio's public and independent colleges and universities.
Students who receive a Choose Ohio First scholarship are required to participate in a work-based learning opportunity such as a STEM internship, co-op or research to help them transition effectively to the STEM workforce after graduation.
"These opportunities are possible thanks to the many business partners that work with our colleges and universities and their Choose Ohio First scholars," Gardner said. "Those relationships create win-win situations for the students as well as the companies that may hire them as their future workforce."
---
April 12th, 2022 by uteditor
Rather than digging to identify unmarked mass grave sites or evidence to locate missing persons, cutting-edge technologies are helping law enforcement agents, forensic scientists and historians uncover attempts to hide victims.
New research by geophysicists at The University of Toledo published in the journal Forensic Science International validates the potential of methods called electrical resistivity and ground-penetrating radar as useful tools in the search for clandestine graves, with mass graves having a stronger and different "geophysical signature" compared to individual ones.
Related results of the research also are published in the journal Frontiers in Environmental Sciences.
"While the entire search process ultimately requires excavating shallow graves to retrieve human remains as evidence to prosecute suspects and bring closure to families of victims, engaging in such excavation without useful leads on the exact location of the graves will mean excavating large areas, which is difficult, time consuming and destructive," said Dr. Kennedy Doro, assistant professor in the UToledo Department of Environmental Sciences and lead investigator of the study. "It also could lead to altering the target evidence."
Using an innovative experiment design of mass and individual graves with human cadavers willingly donated for scientific research, researchers used ground-penetrating radar, electrical resistivity tomography and electromagnetic imaging from the surface before the burial through six months after the burial.
Helping direct the final excavation to more definite areas, researchers can provide an underground picture or geophysical signature to identify areas with unusual signals that may be related to excavation and human decay.
Electrical resistivity is a fundamental property of a material that measures how strongly it resists electrical current.
Researchers found that resistivity increases immediately after burial and decreases as time goes by.
Ground-penetrating radar shows the position of the graves and the human remains as disturbed and curved reflectors; however, it is limited by the presence of rock fragments distributed within the soil at the site where this study was carried out.
The experiment was established in May 2021 and consists of a mass grave with six human remains, three individual graves and two empty control graves dug to the same size as the mass grave and individual graves.
UToledo led the geophysical study in collaboration with other scientists from the University of Toronto and Linnaeus University and forensic anthropologists at Texas State University, which operates a 26-acre human decomposition and forensic taphonomy facility located at the Freeman Ranch in San Marcos.
"These initial results validate the capability of geoelectrical methods in detecting anomalies associated with disturbed ground and human decay, while ground-penetrating radar is limited by the geology of the site," Doro said.
Before starting to dig undisturbed ground, the team measured its electrical resistivity tomography, electromagnetics and ground-penetrating radar.
After excavating the land, the researchers analyzed soil profiles and added sensors at the grave sites to monitor changes in soil moisture, temperature and electrical conductivity.
"The availability of advanced tools and techniques with high accuracies, capable of covering a large investigation area within a short time without necessarily altering the target evidence, is crucial to the success of forensic investigative searches," Doro said. "Most previous studies in this direction only assessed individual graves using pigs as proxies for humans. We used both individual and mass graves as well as human remains donated for science."
---
April 11th, 2022 by uteditor
A national expert on the reproductive rights movement will discuss how Roe v. Wade has had an outsized place in the understanding of reproductive rights as part of The University of Toledo College of Law's Cannon Lecture series.
Dr. Felicia Kornbluh, a professor of history and gender, sexuality and women's studies at the University of Vermont, will give her free, public lecture, titled "Both Sides: Reproductive Rights and Justice Beyond Roe v. Wade," at noon on Wednesday, April 13, in the McQuade Law Auditorium at the Law Center.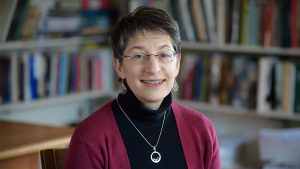 Kornbluh will draw upon the findings in her latest book, "A Woman's Life is a Human Life: My Mother, Our Neighbor, and Reproductive Rights and Justice — New York and the Nation." The forthcoming book, which is being published by Grove Atlantic Press, is a history of reproductive politics that starts with a pair of neighbors on the eighth floor of a New York City apartment building.
Kornbluh's research has followed her mother and her neighbor, Dr. Helen Rodríguez-Trías, into the feminist law-reform campaigns in which they made their most renowned contributions, efforts to decriminalize abortion in New York State that succeeded three years before Roe, and a campaign to regulate surgical sterilization in New York City that resulted in national regulations from the then-Department of Health, Education and Welfare, which has since been renamed the Department of Health and Human Services.
"We are excited to welcome Dr. Kornbluh," said Rebecca Zietlow, associate dean for academic affairs at the College of Law. "She is a nationally known expert on the history of the reproductive rights movement and a well-respected professor of history and gender studies."
Kornbluh publishes regularly for the scholarly and popular press, most recently publishing on abortion rights and the federal courts for The American Prospect, the Washington Post and The Forward. Kornbluh teaches the history of feminism, the history of U.S. law, the U.S. since 1945 and American Jewish history.
She also serves as chair of the board of directors of the Planned Parenthood Federation of America-Vermont Action Fund, which is on the verge of adding a Reproductive Liberty Amendment to the state constitution. Since moving to Vermont in 2009, Kornbluh has served as director of Gender, Sexuality and Women's Studies at the University of Vermont, president of the university's faculty union and a member of the state Commission on Women.
Kornbluh received her bachelor's degree from Harvard-Radcliffe and her Ph.D. from Princeton.
The Cannon Lecture Series was established in 1980 to honor former Toledo attorney Joseph A. Cannon. The series hosts nationally known individuals who explore both the humanistic dimensions and limitations of our legal system.
---
April 4th, 2022 by uteditor
In recognition of National Donate Life Month, The University of Toledo Medical Center and Life Connection of Ohio will host a flag-raising ceremony on Wednesday, April 6.
The event, which will begin at 11 a.m. outside UTMC's main entrance near Mulford Library, serves to celebrate donors and recipients while also raising awareness about the ongoing need for organ, eye and tissue donors in northwest Ohio and around the country.
Nearly 110,000 Americans, including more than 3,000 Ohioans, are currently waiting for a life-saving organ transplant, with another person added every 10 minutes.
UTMC, northwest Ohio's only organ transplant center, completed a record 174 kidney transplants in 2021, up from 112 in in 2020.
This year's flag-raising ceremony, which coincides with National Living Donor Day, will feature a father who received a life-saving kidney transplant at UTMC in 2017 after his daughter donated one of her kidneys.
For more information on organ, eye and tissue donation or to register as a donor, visit Life Connection of Ohio's website.
---
March 21st, 2022 by Christine Billau
"Sons of Toledo," a short film created by faculty and students at The University of Toledo in collaboration with community partners, will premiere Saturday, March 26, at the Toledo Museum of Art Peristyle, 2445 Monroe St.
Dr. Matt Foss, associate professor of theatre and film, co-wrote and produced the film, and more than a dozen UToledo students worked on the film as production assistants, actors and behind-the-scenes photographers.
The film, which tells the story of a Toledo barber who wakes up to an early-morning phone call giving him the news that his brother was killed, has been screened at national and international festivals, including the Mammoth Film Festival in California, the Phoenix Film Festival, FilmFest in Washington, D.C., and was a finalist at the Tokyo International Short Film Festival.
The evening kicks off with a red-carpet event from 5:30 to 6:15 p.m. Participants are encouraged to arrive at the Peristyle entrance on Art Museum Drive, near the UToledo Center for the Visual Arts.
"Since the film was made for, with and about Toledo, we'd like to celebrate any and every community member who comes to the film that night," Foss said.
The premiere begins at 6:30 p.m. with a screening of a special prologue documentary on the work of children from the Mott Branch of the Toledo Lucas County Public Library and their commitment to peace in our community, followed by "Sons of Toledo."
The film was produced in association with Glacity Theatre Collective and Madhouse, Inc., with support from ProMedica, the Arts Commission, Ohio Humanities, Ohio Arts Council, the city of Toledo and Turning Row LLC.The event is free and open to the public.
---
March 21st, 2022 by Christine Billau
After a two-year hiatus, the International Dinner will return for its 44th year 6 p.m. Saturday, March 26, in the Thompson Student Union Auditorium.
Hosted by the International Students Association, the event known as I-Dinner is a UToledo tradition spanning more than four decades featuring international culture, performances, a fashion show and food.
"The theme of this year's event is 'Where the Flowers Bloom' to signify new beginnings, especially after the rough couple of years we've all had," said Rachael Onuigbo, a junior from Nigeria studying nursing and president of the International Students Association. "This event gives our international students and staff an opportunity to showcase and express their different cultures and for local students to experience the wealth of diversity in the UToledo community."
The event will feature dishes from more than eight restaurants in the Toledo area.
"We have appetizers like spring rolls, baked empanadas, plantains, tiki chaat and fatayer," Onuigbo said. "Main dishes include jollof rice, jerk chicken, pan fried noodles and biryani. Non-alcoholic drinks like bubble tea, horchata and zobo will be available too."
Dessert will include baklava, gulab jamun and churros.
There will be performances from several organizations, including UToledo Jalwa, Japanese Students Association, Korean Students Association, Chinese Students and Scholars Association, Persian Students Association and the Saudi Club.
"We're excited to bring back the global cultural experience that provides students from 83 different countries around the world the opportunity to showcase their culture, traditions, cuisine and sense of community," said Sara Clark, director of the UToledo Center for International Studies and Programs.
Tickets for the International Dinner are $15 per person in advance or $20 at the door. A table of eight can also be purchased in advance for $100. Tickets can be purchased on the Office of Student Involvement and Leadership website.
This year's I-Dinner's will benefit Halim Clinic, a local clinic that provides free healthcare to everyone. All profits will go towards the International Students Association's philanthropy, and donations can be made at the event too.
---
March 17th, 2022 by Christine Billau
The community is invited to a free lecture by an Islamic studies scholar at The University of Toledo about U.S. support for authoritarian governments in the Middle East and how it is suppressing the democratic and reformist interpretations of Islam that had taken shape in the 20th century and making the region dangerous for the world.
"My lecture will offer how the global civil society can help save not only Islam but also democracy by protecting institutions and forums of free inquiry," said Dr. Ovamir Anjum, UToledo Imam Khattab Endowed Chair of Islamic Studies.
Presented by the UToledo Center for Religious Understanding, the event, which is titled "America's Meatgrinders: How Authoritarians are Reshaping Islam in the Middle East," is 7 p.m. Monday, March 21, in the McQuade Law Auditorium.
"Scholars once referred to Saudi Arabia, our oldest ally in the region and the staple of our oil-addicted economy, as 'America's Kingdom'; today, that kingdom has become America's 'meatgrinder,' and is now being used to butcher journalists, countless reformist clerics and citizens," Anjum said. "The counter-revolution, or the long winter after the brief Arab Spring of 2011, seems to be here to stay as ruthless autocrats like the crown prince Mohammad Bin Salman of Saudi Arabi and Mohammad bin Zayed of the United Arab Emirates have perfected the formula to use the War on Terror to suppress any dissent."
Addressing how that is altering Islamic doctrine, Anjum's talk will focus on a particular case, the governance of the Prophet Mohammad in Medina, which was once interpreted to provide justification for constitutional limits on the rulers' power and citizens' rights but is now employed — by the clerics authorized by the autocrats — to justify unquestionable power to the ruler.
"Whereas Muhammad had declared 'speaking truth to power' the highest form of religious action, even peaceful protests and moderately critical tweets are now deemed religiously prohibited and met with indefinite imprisonment and worse," Anjum said.
The event is part of the UToledo Center for Religious Understanding's annual lecture series. The center promotes a deeper understanding of religion on campus and throughout greater Toledo.
---
March 16th, 2022 by Christine Billau
During Women's History Month, a nationally acclaimed disability history scholar at The University of Toledo will lead a discussion about Dorothea Dix and her efforts on behalf of the mentally ill and prisoners.
The event is part of the 2021-22 speaker series presented by the Roger Ray Institute for the Humanities at the UToledo College of Arts and Letters in collaboration with the Toledo Lucas County Public Library.
Dr. Kim Nielsen, Distinguished University Professor and chair of disability studies, will present the free, public program titled "Dorothea Dix: A 19th Century Female Activist and Her Complex Legacies" from 6 to 7:30 p.m. Wednesday, March 23, at the main branch of the Toledo Lucas County Public Library, 325 Michigan St.
"Dix was an asylum and prison reformer, and later the Civil War Superintendent of Union Army Nurses, who shaped U.S. psychiatric healthcare," Nielsen said. "Her work prompted officials to fund a vast expansion of medicalized, racially differentiated insane asylums between 1830 and 1875."
Nielsen wrote several books about Helen Keller and is the author of "A Disability History of the United States" and co-editor of the award winning "Oxford Handbook of Disability History." Her most recent book, "Money, Marriage, and Madness: The Life of Anna Ott," analyzes a mid-19th century female physician incarcerated for two decades at the Wisconsin State Hospital for the Insane.
This presentation about Dix is her first discussion of what she hopes will be her next book.
---