June 10th, 2020 by Christine Billau
Gamers, get ready.
The University of Toledo is one of the founding members of the Esports Collegiate Conference, which begins gaming competitions in the fall semester.
UToledo students will go through tryouts to join the varsity esports team, which will practice several times a week and compete against other universities in the Mid-American Conference (MAC).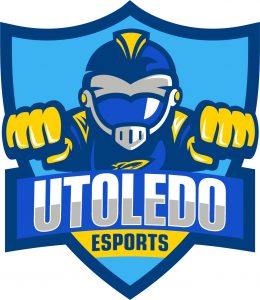 The MAC announced June 10 the new Esports Conference that will feature fall and spring seasons with teams from UToledo, University of Akron, Ball State University, Bowling Green State University, University at Buffalo, Central Michigan University, Eastern Michigan University, Kent State University, Miami University, Northern Illinois University, Ohio University and Western Michigan University.
"We are excited to be part of a historic opportunity for our students that facilitates high-quality gaming competition against MAC universities," Tony North Jr., assistant director of programs and leadership development in the UToledo Office of Recreational Services, said. "We're looking for high-character individuals with skills necessary to compete at a high level for esports, such as good hand eye coordination, fast reaction time, good reflexes, sound decision-making skills and good communication."
The Esports Collegiate Conference will provide structure, scheduling and championship opportunities for its membership, with competition beginning in the 2020-21 academic year. The conference is an independent entity and will operate separately from the MAC.
An Esports Collegiate Champion will be crowned in each game title with the champion earning an automatic bid to the national postseason tournament.
Titles being considered for fall 2020 are Rocket League, Fortnite, Super Smash Brothers, Madden or FIFA. Spring season competition will be in Overwatch and League of Legends.
"The creation of Esports Collegiate represents the foresight of our presidents to establish a stand-alone competitive framework for collegiate esports competitors and enthusiasts," MAC Commissioner Dr. Jon Steinbrecher said.
The number of players on a team depends on a game title.
"Each game title is essentially a different sport that requires a different roster size," North said. "In the spring, League of Legends will require a minimum of five players, as well as two or three subs, and Overwatch requires a minimum of six players, as well as two or three subs."
Students will have the opportunity to compete from their residence hall, home or a team location on campus.
"The nice things about esports is that you don't have to be in a specific location to compete," North said. "Students will have the ability to compete from wherever they are. However, we're working to finalize a temporary esports location on campus to host practices and competitions."
Information and criteria for UToledo tryouts will be announced when finalized.
Visit esports-collegiate.com for more information about the new conference.
---
June 9th, 2020 by Christine Billau
Toledo, Ohio – The University of Toledo's Board of Trustees has announced the finalists it is considering for the position of interim president. During the June 8 Special Meeting, the Board unanimously voted to interview three candidates for the interim leadership appointment.
The Board contracted with AGB Search which specializes in executive leadership searches exclusively for higher education. The firm's managing principal, and former president of Ohio University and UToledo alumnus, Dr. Roderick McDavis, led the search bringing forward potential candidates for the Board's review.
"I believe I speak on behalf of the entire Board when I say that we are extremely pleased with the caliber of candidates AGB has brought forward for consideration," UToledo Board of Trustees Chair Mary Ellen Pisanelli said. "These candidates' interest in the leadership position is a testament to the national reputation of our outstanding faculty and The University of Toledo."
Following a brief discussion about the priorities for a transitional leader, the Board voted to interview three candidates:
Dr. Christopher Colenda – President emeritus at West Virginia University (WVU) Health System and former chancellor for health sciences at WVU. During his tenure, the WVU Health System grew to include eight owned or affiliated hospitals throughout the state of West Virginia. Among his many academic leadership appointments, Colenda also served as vice president for clinical affairs and dean of the College of Medicine at Texas A&M University. He holds an M.D. from the Medical College of Virginia of Virginia Commonwealth University, a M.P.H. from Johns Hopkins University and a bachelor's degree in chemistry from Wittenberg University. He completed residencies in pathology at Case Western University, behavioral medicine and psychiatry at University of Virginia and general preventive medicine at Johns Hopkins University. He was also the chief resident in the Department of Psychiatry and completed a fellowship in public mental health, both at Emory University.
Dr. Gregory Postel – Former interim president and former executive vice president for health affairs at the University of Louisville (UofL) and current senior client partner representing healthcare services and higher education at Korn Ferry, an organizational consulting firm. Postel has extensive experience with academic medical center and university operations. He also served as CEO of UofL Physicians. As interim president he led the successful removal of UofL's accreditation probation with the Southern Association of Colleges and Schools Commission on Colleges (SACS-COC) and restructured the UofL athletics department. He led the UofL's budget reset necessitated by a $50 million shortfall. Among his many administrative accomplishments, Postel designed and implemented two academic affiliations including an eight-year, $33 million per year pediatric affiliation with Norton Healthcare and a $23 million a year adult affiliation agreement with KentuckyOne Health. A graduate of the College of Wooster with a bachelor's degree in chemistry and an M.D. from Case Western Reserve University School of Medicine, he completed a residency in radiology at the Cleveland Clinic Foundation and a fellowship in neuroradiology at the Mayo Clinic Foundation.
Dr. Chuck Staben – The former president and current professor of biology at the University of Idaho (U of I). Under his leadership U of I grew research more than 25%, increased student retention and graduation and doubled fundraising exceeding $50 million annually. His administrative experience also includes provost and vice president for academic affairs at the University of South Dakota and vice president for research at the University of Kentucky. He earned his Ph.D. in biochemistry at the University of California, Berkeley and his undergraduate degree in biochemistry at the University of Illinois, Champaign-Urbana. He also completed post-doc training at Stanford University and Chiron Research Laboratories.
The University is expected to launch a national search for the next president in the fall.
---
June 5th, 2020 by Christine Billau
Due to the COVID-19 pandemic, the UToledo Board of Trustees will conduct its meetings remotely.
Monday, June 8, 2020
4 p.m. Special Board of Trustees Meeting
Join via WebEx:
Meeting number (access code): 160 379 7388
Meeting password: zZDU2ksv6p3
Join via Phone:
+1-415-655-0002
Meeting number (access code): 160 379 7388
The Board of Trustees will immediately enter Executive Session upon convening the meeting to discuss the employment and compensation of a public employee.
Any questions may be directed to the Office of University Marketing and Communications by calling 312.805.3001 or via email to christine.billau@utoledo.edu.
---
June 5th, 2020 by Tyrel Linkhorn
The University of Toledo is adjusting its fall semester calendar as an additional measure to protect the campus community during this COVID-19 pandemic.
UToledo will begin the fall 2020 semester on Monday, Aug. 17 — one week before the planned first day of class — and is making additional adjustments to the fall academic calendar so that students will end the on-campus portion of their studies by the Thanksgiving holiday.
In adjusting the semester, UToledo also is eliminating fall break, which was planned for Oct. 22 and 23. All final exams will be completed remotely the week of Nov. 30 – Dec. 4. These changes to the academic calendar will not impact the number of weeks in the semester as students will still be on campus for the regularly scheduled 15 weeks.
"Adjusting the fall semester in this way provides our students a great on-campus learning experience while also reducing the potential risk of exposure with students, faculty and staff traveling during the Thanksgiving holiday. We want to avoid, as much as possible, the potential for a member of our campus community to contract and spread the virus when returning to campus," said Dr. Karen Bjorkman, provost and executive vice president of academic affairs.
With the change in the academic calendar, students will have the opportunity to move-in to the residence halls beginning Aug. 2 and continuing through Aug. 15. More information on the move-in process and scheduling will be sent to residential students in the coming weeks. Students graduating in December will be able to move out of the residence halls after their final examination(s).
"There are a number of uncertainties about COVID-19, but our public health and infectious disease experts have been working closely with local and state health officials to implement proactive strategies to mitigate risk while ensuring our students' academic success," said Dr. Amy Thompson, UToledo vice provost and public health scholar. "In the event that a 'second wave' of this virus in late fall becomes a reality, this strategy is one of many preventative measures UToledo can take now to protect our students and our campus community."
UToledo continues to finalize its Rocket Restart plan to put measures in place to promote a safe return to on-campus operations. Additional details will be released in early July.
---
June 2nd, 2020 by Christine Billau
The University of Toledo is hosting a campus conversation about the death of George Floyd at 5:30 p.m. Thursday, June 4.
The free, public event titled "Dialogues on Diversity Virtual Townhall" can be accessed on WebEx using the access code 160 282 6992. The meeting password is HSfu4PQF6D3. Join by phone at 415.655.0002.
Participants include:
UToledo Police Chief Jeff Newton;
Benjamin Davis, UToledo law professor;
Dr. Monita Mungo, UToledo assistant professor of sociology;
Dr. La Tasha Sullivan, director of the University Counseling Center;
Nyah Kidd, president of the Black Student Union;
Darren Gordon, former president of the UToledo chapter of the Student National Medical Association;
Giselle Zelaya, president of the Latino Student Union;
Nick Thompson, president of Student Government;
Anjali Phadke, vice president of Student Government; and
Asher Sovereign with the Sexuality and Gender Alliance.
"The events of the past week have brought to light the critical role higher education can and must play in facilitating open and honest discussions that empower us as a community and a nation to translate our ideals into actionable change," Dr. Willie McKether, vice president for diversity and inclusion, said.
The University of Toledo is a community that celebrates and respects people of all backgrounds and experiences. As an institution, we remain committed to building an inclusive environment free of racism, sexism, bigotry and other negative influences.
---
May 30th, 2020 by Christine Billau
The University of Toledo is a community that celebrates and respects people of all backgrounds and experiences. As an institution, we remain committed to building an inclusive environment free of racism, sexism, bigotry and other negative influences.
The events of the past week have brought to light the critical role higher education can and must play in facilitating open and honest discussions that empower us as a community and a nation to translate our ideals into actionable change.
As such, UToledo will be hosting a virtual roundtable on Thursday, June 4 at 5:30 p.m. It is through this open dialogue that we can move forward, together, and breathe.
Access information will be released next week.
---
May 27th, 2020 by Tyrel Linkhorn
Nearly half of individuals who contract COVID-19 experience changes in their sense of taste, a new analysis led by a University of Toledo researcher has found.
The systematic review, published in the journal Gastroenterology, could provide yet another diagnostic hint for clinicians who suspect their patients might have the disease.
"Earlier studies didn't note this symptom, and that was probably because of the severity of other symptoms like cough, fever and trouble breathing," said Dr. Muhammad Aziz, chief internal medicine resident at UToledo and the paper's lead author. "We were beginning to note that altered or lost sense of taste were also present, not just here and there, but in a significant proportion."
Aziz and his research collaborators analyzed data from five studies conducted between mid-January and the end of March. Of the 817 patients studied, 49.8% experienced changes to their sense of taste. Researchers suspect the true prevalence could be even higher because some of the studies were based on reviews of patient charts, which may not have noted every symptom.
"We propose that this symptom should be one of the screening symptoms in addition to the fever, shortness of breath and productive cough. Not just for suspected COIVD patients, but also for the general population to identify healthy carriers of the virus," Aziz said.
Prior research has found that a significant number of people who have COVID-19 don't know they've been infected and may be spreading the virus.
Aziz and his research collaborators suspect an altered sense of taste is more prevalent in patients with minor symptoms, though more studies are needed to validate that suspicion. Even so, changes in an individual's sense of taste could be a valuable way to identify carriers who are otherwise mostly asymptomatic.
Taste disorders are tied to a variety of viral illnesses. The review did not attempt to identify the reason that COVID-19 is causing changes in patients' sense of taste; however, researchers theorize it could be COVID-19's ability to bind to what's known as the ACE-2 receptor, which is expressed in epithelial cells on the tongue and mouth.
Because the novel coronavirus was unknown prior to its emergence in January, scientists have been moving rapidly to learn more about both the virus and the disease it causes.
Aziz said the drip of new information shows the need for more scientists to dig into the impacts of COVID-19.
"A lot of things are being missed, which is why I think researchers from every field should try to look into this and see if it's affecting their specialty in one way or another," he said. "Who knows what systems this virus is affecting. If we can catch it earlier in the disease course, we can prevent the spread of the virus and potentially have ways of managing it."
---
May 26th, 2020 by Christine Billau
Before water produced during hydraulic fracturing is disposed of in waterways or reused in agriculture and other industries, chemists at The University of Toledo are zeroing in on water quality and environmental concerns of fracking wastewater to determine if it is safe for reuse.
The research scientists of the new Dr. Nina McClelland Laboratory for Water Chemistry and Environmental Analysis at UToledo created a new method that simultaneously identified 201 chemical compounds in fracking wastewater, called produced water.
The research, which is published in the Journal of Separation Science and was carried out in collaboration with scientists at The University of Texas at Arlington, shows that many of the chemicals found in produced water are carcinogens, solvents and petroleum distillates that can directly contaminate drinking water sources.
"The issue with produced water is that this is a very new and overlooked source of pollution, and disposal and purification practices are not yet fully optimized to guarantee total removal of environmental pollutants," said Dr. Emanuela Gionfriddo, assistant professor of analytical chemistry in the UToledo Department of Chemistry and Biochemistry and the School of Green Chemistry and Engineering. "Our work aimed to provide a new, simple and cost-effective method for the comprehensive characterization of chemicals and fill the gap of knowledge currently existing about the chemical composition of this waste product of the oil and natural gas industry."
Scientists and natural gas companies are seeking creative ways to use produced water because current treatment processes to remove salts and radioactive substances – processes that include reverse osmosis and distillation – are expensive.
"Current methods for chemical characterization of produced water can give an estimate of the total amount of contamination but do not give information about what type of contamination is present," Gionfriddo said. "It could be that a molecule can be still very toxic even if present at very low concentration, or it has the potential to accumulate in the body over time, so the point is to know exactly what is in produced water, not only how much."
Gionfriddo's research outlines how the chemists developed and optimized a thin-film, solid-phase microextraction approach to characterize the organic compounds in the produced water.
The team identified many chemicals, including a pesticide called atrazine; 1,4-dioxane, an organic compound that is irritating to the eyes and respiratory tract; toluene, which at low exposure has health effects like confusion, weakness, and loss of vision and hearing; and polycyclic aromatic hydrocarbons, which have been linked to skin, lung, bladder, liver and stomach cancers.
"There are many chemicals that still need to be identified at this time," said Ronald Emmons, UToledo Ph.D. candidate. "More research also is needed to test the uptake of these chemicals in crops when produced water is recycled for agriculture. We need to study if and how these chemicals from the produced water can accumulate in the soil watered with produced water and if these chemicals can transfer from the soil to the crops."
The collaborative research between UToledo and UT Arlington will continue using the new method for screening the presence of toxic molecules in produced water samples from various sampling sites in Texas.
UToledo scientists also are developing new methods for the extraction of heavy metals and rare earth elements that will aid the full characterization of produced water samples.
---
May 14th, 2020 by Christine Billau
The University of Toledo is among four Ohio universities to receive a total of $2.08 million from the Ohio Department of Higher Education's Harmful Algal Bloom Research Initiative in this year's round of state funding to address Lake Erie water quality and find solutions for algal bloom toxicity.
UToledo scientists situated on the western basin of Lake Erie from diverse research areas were awarded $613,436 to lead four projects related to protecting public health:
Dr. April Ames and Dr. Michael Valigosky, assistant professors in the School of Population Health in the College of Health and Human Services, will assess microcystin inhalation risk to shoreline populations;
Dr. Steven Haller, assistant professor in the Department of Medicine in the College of Medicine and Life Sciences, will work to create a new therapy for microcystin exposure and hepatotoxicity using naturally occurring Lake Erie bacteria that removes microcystin released by harmful algal blooms in drinking water;
Haller also will conduct deep phenotyping of human organ biobank specimens for cyanotoxin exposure in at-risk populations; and
Dr. Von Sigler, professor of environmental microbiology in the College of Natural Sciences and Mathematics, will investigate any risks to beach visitors who come in contact with sand along a beach which has had bloom-enriched water wash up on the shoreline.
"Foreshore sands are frequently contacted by beach visitors and are known to play a crucial role in accumulating bacteria, often harboring potentially pathogenic bacteria in densities exceeding those in nearby waters," Sigler said. "Although no data is currently available that describes the ecology of microcystis in sands, there is potential for human health impacts."
UToledo and Ohio State University lead the Harmful Algal Bloom Research Initiative, which consists of dozens of science teams across the state and is managed by Ohio Sea Grant.
Researchers from UToledo, Ohio State University, the University of Akron and Bowling Green State University will lead 12 newly announced projects – four from UToledo – to track blooms from the source, produce safe drinking water, protect public health and engage stakeholders.
The selected projects focus on reducing nutrient loading to Lake Erie, investigating algal toxin formation and human health impacts, studying bloom dynamics, and better informing water treatment plants how to remove toxins.
"Thanks in part to past HABRI projects, the primary threat of microcystin algal toxin to our Lake Erie-sourced drinking water has been greatly diminished," said Dr. Thomas Bridgeman, professor of ecology, director of the UToledo Lake Erie Center and co-chair of the Harmful Algal Bloom Research Initiative. "Even under the best-case scenario, however, we are likely to be living with harmful algal blooms for many years to come. This new set of HABRI projects allows us to follow up with questions about other algal toxins such as saxitoxin and anatoxin that we know much less about, long-term exposure to toxins, and secondary routes of exposure, such as inhalation."
Harmful algal blooms are not only a Lake Erie problem.
"Many lakes and rivers across Ohio are having similar issues," Bridgeman said. "Several new projects are dedicated to helping smaller Ohio lakes and rivers use remote sensing, groundwater tracing and improved toxin-testing methodology."
Previous HABRI projects have developed algal toxin early warning systems for water treatment plants, changed the way state agencies collect data for fish consumption advisories, and helped modify permit procedures for safer use of water treatment residuals as agricultural fertilizer.
"Lake Erie is an invaluable resource and a true treasure for the state of Ohio, and we have a responsibility to do all we can to preserve it and protect it," said Randy Gardner, chancellor of the Ohio Department of Higher Education. "I'm pleased that our university researchers are collaborating to lead this endeavor."
The projects also aid the efforts of state agencies such as the Ohio Environmental Protection Agency (OEPA), Ohio Department of Agriculture, Ohio Department of Health, and Ohio Department of Natural Resources.
"Direct engagement with these front-line agencies continues to allow HABRI scientists to develop research proposals that address both immediate and long-term needs of the people tackling this important statewide issue," said Dr. Kristen Fussell, assistant director of research and administration for Ohio Sea Grant, who leads the initiative's daily administration.
A total of $9.1 million in funding was made available through ODHE in 2015 and designated for five rounds of HABRI projects. Matching funding from participating Ohio universities increases the total investment to almost $19.5 million for more than 60 projects, demonstrating the state's overall commitment to solving the harmful algal bloom problem.
Information about HABRI projects, partner organizations and background on the initiative is available on the Ohio Sea Grant website.
The UToledo Water Task Force, which is comprised of faculty and researchers in diverse fields spanning the University, serves as a resource for government officials and the public looking for expertise on investigating the causes and effects of algal blooms, the health of Lake Erie and the health of the communities depending on its water. The task force includes experts in economics, engineering, environmental sciences, business, pharmacy, law, chemistry and biochemistry, geography and planning, and medical microbiology and immunology.
Water quality is a major research focus at UToledo, with experts studying algal blooms, invasive species such as Asian carp, and pollutants. Researchers are looking for pathways to restore our greatest natural resource for future generations to ensure our communities continue to have access to safe drinking water.
---
May 14th, 2020 by Christine Billau
Feeling powerless to help her native country in Africa amid the coronavirus pandemic, an electrical engineer at The University of Toledo found a way for people in the Democratic Republic of the Congo (DRC) to build their own breathing machines from scratch using equipment and materials accessible to them.
Using Twitter, Dr. Ngalula Sandrine Mubenga, assistant professor of electrical engineering technology, tapped into her worldwide network of engineers with ties to the DRC and engineers and students inside the DRC.
Mubenga is the founder of the STEM DRC Initiative, a nonprofit organization that has awarded scholarships to pay all costs associated for more than 60 students in the Congo to go to college since 2018, including transportation and books.
"There are less than 1,200 ventilators in a country with nearly 85 million people, and about 50 of those machines are in the capital city of Kinshasa," Mubenga said. "Kinshasa will need a minimum of 200 ventilators by mid-May when COVID-19 cases are expected to peak in the Congo."
In the DRC, there are more than 1,000 confirmed cases of coronavirus, more than 40 deaths caused by the new coronavirus and about 3,000 suspected cases. An estimate last week showed the country had a maximum capacity of 200 tests per day for the whole country.
"When I was watching the news here in Ohio and heard the President of the United States announce that General Motors was going to build 100,000 ventilators, I thought, 'What is going on in the Congo?'" Mubenga said. "We have the opportunity, means, technology and knowledge to do that here, but the Congo is a state that is rebuilding its infrastructures with very few factories for assembly."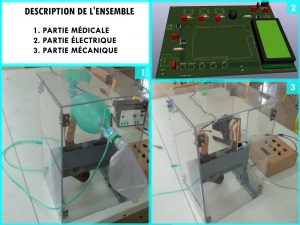 In three weeks, the team of about 20 people who answered her call to volunteer worked together – through videoconferencing and emails – and developed a prototype of a life-saving ventilator using open-source specs from the Massachusetts Institute of Technology. The working prototype next needs to undergo testing and certification, which Mubenga hopes to accomplish by the end of this year.
"It costs up to 30,000 U.S. dollars to buy a ventilator right now," Jonathan Ntiaka Muzakwene, who teaches engineering on the faculty of Loyola University of Congo, said. "Dr. Mubenga is timely to respond to the needs of our country and help save lives."
Mubenga teamed up with many partners, including a hospital in Kinshasa and the national trade school.
Dividing the team based on their talents, they built an emergency ventilator that makes use of Ambu resuscitator bags commonly hand-operated in hospitals by medical professionals to create airflow to a patient's lungs until a ventilator becomes available. The new device includes a mechanism that automates the squeezing and releasing motions.
"Instead of having a doctor or a nurse pressing the bag manually, we have a machine pumping the bag so the patient can breathe," Mubenga said.
Muzakwene and his engineering students inside the DRC made use of their school's 3D printer in their work to fabricate, assemble, program and test the prototype, a process made more challenging because of troubles with internet access, expert resources, and unclear laws and standards for validation of the technology.
"All the materials, components, parts and equipment necessary for the production of these ventilators are difficult to find here on site in the DRC," Muzakwene said. "The big challenge then is to find what we need to make these ventilators locally here in the country, challenges that the United States does not have."
"A ventilator is very delicate," Mubenga said. "You have medical, mechanical and electrical specifications that have to be met. And while MIT provided most of the design documents, it did not include the most important piece until very recently: the controls code of the model. We're talking about how to get feedback from different sensors to the microcontroller and adjust the system based on that feedback."
The controls adjust the timing and compression of the Ambu bag based on three main input parameters: the volume of air pushed into the lungs, the ratio between inspiration and expiration time, and the respiratory rate, or breath per minute.
The task is personal for Nicole Bisimwa, a student at Loyola University of Congo. She worries about friends, family and loved ones across the African country.
"The clinics of Ngaliema and university have only one ventilator each, which is sorely insufficient in case they have several patients who need it," Bisimwa said. "Limiting international trade is a barrier to supply, but we continue to find solutions to overcome this problem. Any help is welcome."
The project also is personal for Mubenga, who understands the life-changing power of technology. When she was 17 years old in the DRC, she waited three days for surgery after her appendix burst because there was no power at the hospital.
"I was living in a small town called Kikwit, far away from the big and beautiful capital city of Kinshasa," Mubenga said. "I was very sick, doctors needed to do surgery, but they couldn't find any gas to turn on the power generator. For three days, my life depended on electricity. I was praying. I could not eat. And decided if I made it alive, I would work to find a solution so people wouldn't die because of lack of electricity."
The hospital found fuel to power the generator, doctors did the surgery and Mubenga survived.
Mubenga started studying renewable energy at the UToledo College of Engineering in 2000 and earned a bachelor's degree, master's degree and Ph.D. in electrical engineering. After earning her professional engineer license in Ohio, she went on to found her company called the SMIN Power Group, which develops and installs solar power systems in communities throughout the DRC.
Mubenga next plans to test the ventilator prototype using software from the DRC that can be accessed online.
"We still have a lot to do, but this prototype is a big step," Mubenga said. "We are putting together the clinical team of doctors who will provide feedback so we can improve the device. After that we will proceed through certification. We have applied for funding to help spark production, but we're committed to continue volunteering our time, talent and resources. Taking action to find a solution is our way to bring light in this dark, gloomy time. It's the right thing to do."
---