Archive for the 'News Release' Category
Thursday, May 7th, 2020
The University of Toledo's Art on the Mall will not take place this summer due to the coronavirus pandemic.
This year's event would've been the 28th annual juried art fair featuring artists from around the country displaying and selling their creations in acrylic, glass, jewelry, mixed media, oil, pen and ink, photography, pottery, textiles, fibers, and many other forms.
"With the continued uncertainty surrounding the COVID-19 pandemic and for the safety of our alumni, artists, volunteers and community, The University of Toledo Alumni Association has made the difficult decision to cancel the 2020 Art on the Mall juried art show that was scheduled for July 26," Ansley Abrams-Frederick, director of alumni programming in the UToledo Office of Alumni Engagement, said.
This is the first time the University's signature summer tradition has been canceled since it started nearly three decades ago.
"We thank our artists, sponsors, volunteers, community and friends, and appreciate their understanding during these difficult times," Abrams-Frederick said. "We look forward to this event in the future."
---
Monday, May 4th, 2020
While public discussion during and after the 2016 presidential campaign between Donald Trump and Hillary Clinton largely focused on emails and email servers, a team of political science scholars zeroed in on email communications distributed by the campaigns and found that email is still an important campaign tool despite its mundane nature.
In their new research titled "The (surprisingly interesting) story of email in the 2016 presidential election" published in the Journal of Information Technology and Politics, Dr. Jeff Broxmeyer, assistant professor of political science at The University of Toledo, and Dr. Ben Epstein, associate professor of political science at DePaul University, explored 10 months of emails leading up to Election Day and analyzed ways that emails sent by campaigns reveal varied strategies and goals of campaigns.
Notably, Trump campaign e-mails were more participatory, fitting the populist theme of the campaign, and the Clinton campaign made the surprising strategic decision to stop direct e-mail communication to passive e-mail subscribers more than two months before Election Day.
"Trump's campaign was oddly silent with emails through the primary and the general up until October. When it revved up, turns out his campaign had fewer appeals to donate and more appeals to do something – show up to an event or make phone calls," Broxmeyer said. "That was a big outlier because we found that most of the top-tier candidates – the serious ones – ran sophisticated, full-gauge operations and used email extensively and almost entirely as an ATM to ply supporters with appeals for small donations, including Bernie Sanders despite his mobilizing rhetoric."
A window into campaign intensity, the researchers found that Clinton was sending eight emails a week to her supporters at peak; U.S. Senator Ted Cruz stopped campaign emails long before the Republican National Convention; Jim Gilmore, former governor of Virginia and chair of the Republican National Committee, didn't send a single email to supporters; and Lincoln Chaffee sent a total of eight campaign emails to his supporters.
The emails showed the degree to which campaigns existed on paper, but were not actively being run.
"Some candidates – also-rans – claimed they weren't getting enough attention from the press, but they didn't really try to communicate at all with their own supporters, people who went on the website and actually signed up to be on the email list," Broxmeyer said.
The researchers were surprised by the Clinton campaign's decision to stop sending emails to accounts that had not engaged with the campaign since signing up for emails.
"The Clinton campaign made that move in August, nearly three months before the end of the election and just as the Trump campaign started ramping up its email campaign," Epstein said.
"Overall this study demonstrates how some strategies, such as the frequency of emailing, focus on fundraising, and consistent forms of interactions have become widely accepted norms. It is clear that e-mail remains valuable for campaigns and an important subject for scholarship, despite its mundane nature."
---
Thursday, April 30th, 2020
The senior design expo, a tradition in The University of Toledo College of Engineering for decades, is for the first time moving online amid the coronavirus pandemic.
Students split into 75 teams will present projects ranging from a tricycle for a girl with cerebral palsy; a portable, bicycle-powered electric generator; and a triple-balloon catheter system that stops blood flow in vessels during surgical repair.
"The College of Engineering is excited to hold our first-ever virtual senior design exposition," Dr. Matthew J. Franchetti, associate dean of undergraduate studies and professor of mechanical, industrial and manufacturing engineering, said. "The students, instructors and clients overcame massive difficulties when they were thrust into an emergency remote learning environment and not able to work face to face. This event will celebrate the students' dedication and commitment to their problem-solving projects."
To attend the Expo on Friday, May 1, click on the links below:
Visitors can enter the senior design teams' personal WebEx rooms directly through the Virtual Senior Design Expo Projects and Virtual Rooms, where you can find the following information:
Team Project Overview
Design Team Members
Team Leader and their contact information
Faculty Adviser
Client/Sponsor (if applicable)
Informational Video (if applicable)
Guests will be able to sort projects by major and live presentation
As part of required senior design/capstone projects, UToledo engineering teams worked with local businesses, industries and federal agencies to help solve technical and business challenges. Students will present their final prototypes, provide demonstrations and answer questions about their experiences.
---
Thursday, April 30th, 2020
SPECIAL BOARD OF TRUSTEES MEETING
Due to the COVID-19 pandemic, the UToledo Board of Trustees
will conduct its meetings remotely.
Friday, May 1, 2020
10 a.m. Special Board of Trustees Meeting
Join via Phone:
+1-415-655-0002
Meeting number (access code): 733 155 167
The Board of Trustees will immediately enter Executive Session upon convening
the meeting to discuss the employment and compensation of a public employee.
Any questions may be directed to the Office of University Marketing and Communications by calling 419.350.3879 or via email to meghan.cunningham@utoledo.edu.
---
Wednesday, April 29th, 2020
Advancing our country's global leadership in solar energy technologies, The University of Toledo is a founding member of a new organization called the U.S. Manufacturing of Advanced Perovskites Consortium, which is focused on moving a breakthrough new technology out of the lab and into the marketplace to enhance economic and national security.
The group is working together to accelerate U.S. commercialization of perovskite solar cell technology in partnership with leading domestic companies, including First Solar, one of the world's largest manufacturers of solar cells and a company that originated in UToledo laboratories.
Known as US-MAP, the consortium's founding members are UToledo's Wright Center for Photovoltaics Innovation and Commercialization; the U.S. Department of Energy's (DOE) National Renewable Energy Laboratory (NREL) located in Golden, Colorado; Washington Clean Energy Testbeds at the University of Washington; and the University of North Carolina at Chapel Hill.
"Perovskites have the potential to become a game-changer for solar and many other fields," Martin Keller, NREL director, said. "By combining our research efforts, this new consortium will bring this technology to market sooner than if we were all operating alone."
Perovskites are compound materials with a special crystal structure formed through chemistry.
Dr. Yanfa Yan, UToledo professor of physics, has had great success in the lab drawing record levels of power from sunlight by using two perovskites in a so-called tandem architecture on very thin, flexible supporting material.
Yan's efforts have increased the efficiency of the new solar cell to about 23 percent. In comparison, silicon solar panels on the market today have around an 18 percent efficiency rating.
Dr. Michael Heben, UToledo professor of physics and McMaster endowed chair, also is a leading researcher in this field working on studying the reliability of perovskite solar cells.
"We have a talented team of physicists on faculty making significant advancements using perovskites to make solar energy more affordable, working closely with students and our industry partners," Heben said. "UToledo is already well known internationally for its work on cadmium telluride solar cells, which are already being manufactured at large scale by First Solar. We are proud to share our resources and expertise to support U.S. companies in the face of international competition and help the country have control over our energy infrastructure."
"I applaud The University of Toledo and the National Renewable Energy Lab for their new and exciting partnership advancing U.S. leadership in solar energy technology," Congresswoman Marcy Kaptur said. "The U.S. Manufacturing of Advanced Perovskites Consortium will move our country and region forward in solar energy development at a time when it is needed more than ever. As the Chair of the House Appropriations Subcommittee on Energy and Water Development, I will continue to prioritize Department of Energy programs that help fund these important programs through competitively awarded grant opportunities. I thank The University of Toledo, the National Renewable Energy Lab, and other partnering organizations, including First Solar, for their commitment to solar energy."
In addition to harnessing sunlight to generate electricity, perovskites have shown promise in a range of other applications, including solid-state lighting, advanced radiation detection, dynamic sensing and actuation, photo-catalysis and quantum information science.
Early research investments by DOE's Solar Energy Technologies Office, its Office of Science, the Department of Defense and by the domestic industry partners have enabled the United States to engage at the forefront of many of these technology areas and has fostered a vibrant community of industrial leaders.
US-MAP founding members will form the executive board that will oversee successful completion of projects. The executive board and the member institutions will be informed and guided by an industrial advisory board (IAB) composed of new U.S. startups and established companies in the perovskite area. The founding members of the IAB are six U.S. industry players: BlueDot Photonics, Energy Materials Corporation, First Solar, Hunt Perovskites Technologies, Swift Solar and Tandem PV.
US-MAP capability providers will share research and development, validation, and pilot manufacturing capability and experience, which should reduce development costs and times to minimize technology risks for potential investors. The main focus areas of the consortium include durability, development of advanced analytical tools, scalable manufacturing tools, in-line metrology and more with each partner providing capabilities according to their areas of strength. The commercial members will have access to the array of research facilities at the four founding members or other capability providing institutions.
The organizers and members of US-MAP have already begun expanding this network to include the University of Colorado at Boulder and the SLAC National Accelerator Laboratory.
The founding organizers of the US-MAP consortium will explore funding from a variety of sources including industrial members and the federal government.
Leadership of the consortium will be provided at NREL by Dr. Joseph J. Berry, senior scientist and perovskite team lead, and Dr. Jao van de Lagemaat, director of the Chemistry and Nanoscience Center, who will work with the key points of contact of the other founding members institutions and industrial advisory board.
"Forming this collective will enable innovation in the U.S. that will strengthen our position in these important materials and associated technologies," Berry said.
For more information about US-MAP, visit www.nrel.gov/research/us-map.html.
NREL is the U.S. Department of Energy's primary national laboratory for renewable energy and energy efficiency research and development. NREL is operated for the Energy Department by The Alliance for Sustainable Energy, LLC.
---
Tuesday, April 28th, 2020
Following the announcement of President Sharon L. Gaber's appointment as the fifth chancellor at the University of North Carolina Charlotte, The University of Toledo Board of Trustees will convene a special meeting in the near future to consider transitional leadership options to ensure a seamless transition as the University prepares for a national presidential search.
Known for her focus on student success, interdisciplinary research and advancing the University's reputation as a nationally recognized public research university, Gaber has served as the president of The University of Toledo since July 2015. She announced Tuesday that she has accepted the leadership position of UNC Charlotte.
In a letter to campus, Gaber thanked members of the University community for their hard work, dedication and support. "Together, we have made great strides to improve student success and elevated the national stature of UToledo."
During her tenure, UToledo has significantly increased student retention and graduation rates; strengthened research efforts; and added programs and training to improve diversity, inclusion and sexual assault awareness.
"On behalf of the Board of Trustees, I want to thank President Gaber for her leadership, service and commitment to our mission to provide a world-class education for tomorrow's leaders," UToledo Board of Trustees Chair Mary Ellen Pisanelli said. "Together, we have celebrated many accomplishments and faced challenges head on. We wish her nothing but success in her future endeavors."
Pisanelli added, "As stewards of the University and the state, we will continue to focus our efforts on addressing the fiscal challenges that universities and hospitals across the nation are confronting including exploring all options regarding the future of UTMC."
"Challenges remain for all of higher education, but I remain confident that UToledo's future is brighter than ever," Gaber said. "I am certain that with the Board's leadership they will not only find the next president that the University deserves, but also that the University will continue the momentum to become an even stronger institution."
---
Tuesday, April 28th, 2020
Students at The University of Toledo are stepping up to help fellow students who are struggling financially during the coronavirus pandemic.
Nearly 60 student organizations mobilized to donate $187,000 to the Rocket to Rocket Fund that is supporting students in need during the public health emergency.
The donation comes from University-allocated funds that student organizations had budgeted for activities, events and campaigns for the spring semester that they now can't use.
"When we got word that funding was frozen, we asked if we could put it toward students who had lost their jobs and can't pay their rent or buy groceries," Becca Sturges, Student Government President and fourth-year neurobiology major, said. "We worked together to collectively pool the money to give to students in need. Whether we can be together on the campus we love or not, we support each other, especially those of us facing tremendous financial stress and anxiety right now."
The student organizations that contributed about two-thirds of the massive donation include Campus Activities and Programming (CAP), Latino Student Union, Student Government, Student Bar Association, Dancing Rockettes, WXUT, Sports Clubs and Black Student Union.
"I am so grateful for our students' altruistic and generous nature," said Dr. Phillip "Flapp" Cockrell, vice president for student affairs and vice provost. "These funds will be used to help hundreds of needy students. Our student leaders are living our mission of improving the human condition, and I could not be more proud of them."
The Rocket to Rocket fund provides emergency relief for students in need. Donations help students facing financial hardships pay for housing, utilities, car repairs, medical bills, food and toiletries.
Make a donation and learn more about the drive on the Division of Student Affairs website.
UToledo students can apply for up to $500 by completing the University's application for Rocket Aid.
---
Tuesday, April 28th, 2020
A new 2.3-acre, 332-kilowatt solar array on Health Science Campus is expected to save The University of Toledo nearly $30,000 a year while increasing the amount of renewable energy powering the University.
The HSC Tech Park Solar Field is located off of Arlington Avenue along Main Technology Drive near the Facilities Support Building.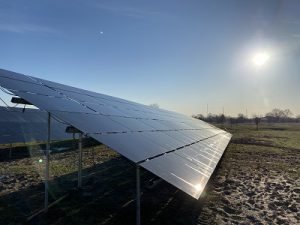 First Solar, one of the world's largest manufacturers of solar cells and a company that originated in UToledo laboratories, donated 365 kilowatts of its Series 5 modules to the University in 2017, valued at $192,000. Approximately 10% of the donated modules are being reserved for maintenance.
A senior design team made up of UToledo students studying mechanical, industrial and manufacturing engineering worked with UToledo Facilities and Construction to identify the site and prepared construction engineering drawings with assistance from JDRM Engineering. The UToledo Student Green Fund approved spending $350,000 to cover the costs to install the array. The construction contract was awarded to Solscient Energy LLC after a public bidding of the project.
The projected electrical production over the 25-year life of the system will be more than $700,000, enough to power about 60 homes annually.
"The University of Toledo continues to reduce its carbon footprint and strengthen its commitment to a clean energy future," said Dr. Randy Ellingson, professor in the Department of Physics and Astronomy. "Thanks to First Solar's generous donation of modules and UToledo working to keeping costs down, the array will produce some of the lowest cost solar energy in the state of Ohio. We are excited to connect our students to these solar projects. They gain valuable experience with this fast-growing energy technology that generates carbon-free electricity directly from sunlight."
Based on avoided combustion of fossil fuels, the array will prevent the release of approximately 6 million kilograms of carbon dioxide while generating approximately 10.5 gigawatt hours of clean electricity for Health Science Campus.
A portion of the value of the electricity generated will go to a fund for use on future renewable energy projects.
Building on its more than 30-year history advancing solar technology to power the world using clean energy, UToledo researchers are pushing the performance of solar cells to levels never before reached.
Last year, the U.S. Department of Energy awarded UToledo $4.5 million to develop the next-generation solar panel by bringing a new, ultra-high efficiency material called perovskites to the consumer market.
The U.S. Air Force also awarded UToledo physicists $7.4 million to develop solar technology that is lightweight, flexible, highly efficient and durable in space so it can provide power for space vehicles using sunlight.
Plus, the U.S. Department of Energy last year awarded UToledo physicists $750,000 to improve the production of hydrogen as fuel, using clean energy – solar power – to split the water molecule and create clean energy – hydrogen fuel.
---
Monday, April 27th, 2020
The University of Toledo is coordinating emergency financial assistance programs for current students experiencing financial hardship as a result of the COVID-19 pandemic through existing financial aid processes.
"We know many of our students are struggling due to the economic impact of COVID-19 and want to get this financial relief to them as quickly as possible," said Gina Roberts, assistant vice president of enrollment management. "We've compiled emergency funds available for students and have streamlined the application process to expedite the distribution in an effort to assist as many students as possible."
CARES Funds
UToledo is expected to receive $13.5 million in funds from the federal Coronavirus Aid, Relief and Economic Security (CARES) Act to help mitigate financial impacts from the COVID-19 pandemic. Of this total, $6.7 million will be used to immediately assist current students experiencing financial hardships caused by the pandemic. The funding can be used for immediate needs, such as food, housing, course materials, technology, healthcare and childcare.
Students enrolled for spring 2020 who received a federal Pell Grant will receive a one-time grant of $500, and no application is required. About one-third of the federal relief dollars will be used to prioritize aid to these students.
All current students need to use the existing Rocket Aid application to request CARES funds. To be eligible to receive CARES funding, a student needs to be eligible to receive federal aid by having a valid Free Application for Federal Student Aid (FAFSA) or equivalent documentation on file. The Office of Student Financial Aid will determine eligibility based on guidelines from the U.S. Department of Education.
CARES funding applications will be processed as quickly as possible to get this emergency aid to students as soon as possible. UToledo's goal is to process the first awards by the end of the week.
The new federal relief dollars available are in addition to the more than $1 million in emergency aid that has already been awarded to UToledo students.
Rocket to Rocket Fund and Other Emergency Aid Available
In recent weeks individuals and organizations on campus and in the community have made generous donations to help students who need financial assistance amidst the COVID-19 pandemic.
The COVID-19 Student Emergency Support Crowdfunding Campaign surpassed its goal two months ahead of schedule, raising more than $93,000 thanks to the generosity of more than 590 donors.
Student leaders also donated $187,000 of their unused funds that had been planned for spring events and activities.
And Team Sports, a local sportswear company and longtime support of Rocket athletics, has raised more than $7,000 through the sale of face masks that feature the Toledo Rocket logo and "Toledo Rocket Strong" T-shirts.
Those donations support the Rocket to Rocket Fund that provides relief of up to $500 for students who need help paying for housing, utilities, car repairs, medical bills, food and toiletries.
In addition, the Eberly Center for Women has set aside $20,000 from its Center for Women Progress Fund to provide grants of up to $1,000 for students, prioritizing those who are caring for children or experiencing intimate partner violence.
And the Office of Student Financial Aid also makes available $1.4 million in emergency aid available for students each year from donor supported funding accounts.
Each student who submits a Rocket Aid application will be evaluated individually to identify funding sources available to help them with expenses and keep focused on their studies.
"Once a student submits the Rocket Aid application, our team will review their situation and identify the best options for emergency aid, access to federal student or parent loans, financial planning assistance or referrals to community resources," Roberts said.
The Financial Emergency Intervention Program and Rocket Aid application process was formalized earlier this academic year to help organize the financial assistance options available to students.
It is even more important now to follow this process, Roberts said, because there are a number of financial resources available to assist students facing financial hardships because of the current pandemic.
"By having all of these assistance programs coordinated we can get students aid more quickly and make our dollars stretch farther to help more students," Roberts said.
---
Wednesday, April 22nd, 2020
"Women and COVID-19: Advancing Gender Justice Amidst a Pandemic" will be the topic of an online panel discussion 5:30 p.m. Thursday, April 23.
The Catharine S. Eberly Center for Women at The University of Toledo will host the virtual event.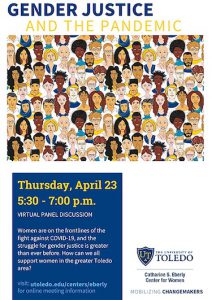 "The discussion will explore how gender, race, class and ability status shape women's experiences with COVID-19 and the pandemic," said Dr. Angela C. Fitzpatrick, director of the Eberly Center. "UToledo faculty and key leaders from the greater Toledo area will share what they are doing to advance gender justice and provide strategies for how we all can uplift women during this critical time."
Panelists will be:
• Dr. Sharon Barnes, associate professor and chair of the UToledo Women's and Gender Studies Department;
• Nina Corder, founder and managing director of Women of Toledo;
• Dr. Ally Day, UToledo associate professor of disability studies;
• Lisa McDuffie, president and CEO of YWCA Northwest Ohio; and
• Wendy Pestrue, CEO and president of the United Way of Greater Toledo. Join the virtual panel discussion on WebEx.
The meeting number is 476 036 323, and the meeting password is equity.
---