Author to Discuss Financial Cold War April 22
April 21st, 2022 by uteditor
The author of the book "Financial Cold War: A View of Sino-US Relations from the Financial Markets" will give a free, public lecture at The University of Toledo Law Center to discuss how international finance intersects with geopolitics and the role financial markets play in the rivalry between China and the U.S.
The event featuring James Fok is 6 p.m. Friday, April 22, in the McQuade Law Auditorium. Book sales and signing start at 5:30 p.m.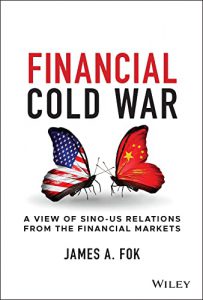 Fok, whose book was published in December, is a financial and strategic adviser to corporations and governments. He served as a senior executive at Hong Kong Exchanges and Clearing from 2012 to 2021.
Free guest parking will be available during the event in area 12.
Visit the College of Law website for more information about the event.
uteditor is
Email this author | All posts by uteditor
---